Are you getting ready for your vacation to Aruba?
Whether you like to prepare and plan your vacation to a T or you're more of a "wing it" and "go with the flow" kind of person, it is always helpful to do a bit of research before traveling to a foreign country!
We thought it may be nice to save you some time and round up some of the most important things to know before you travel to the One Happy Island!
Entry Requirements for Aruba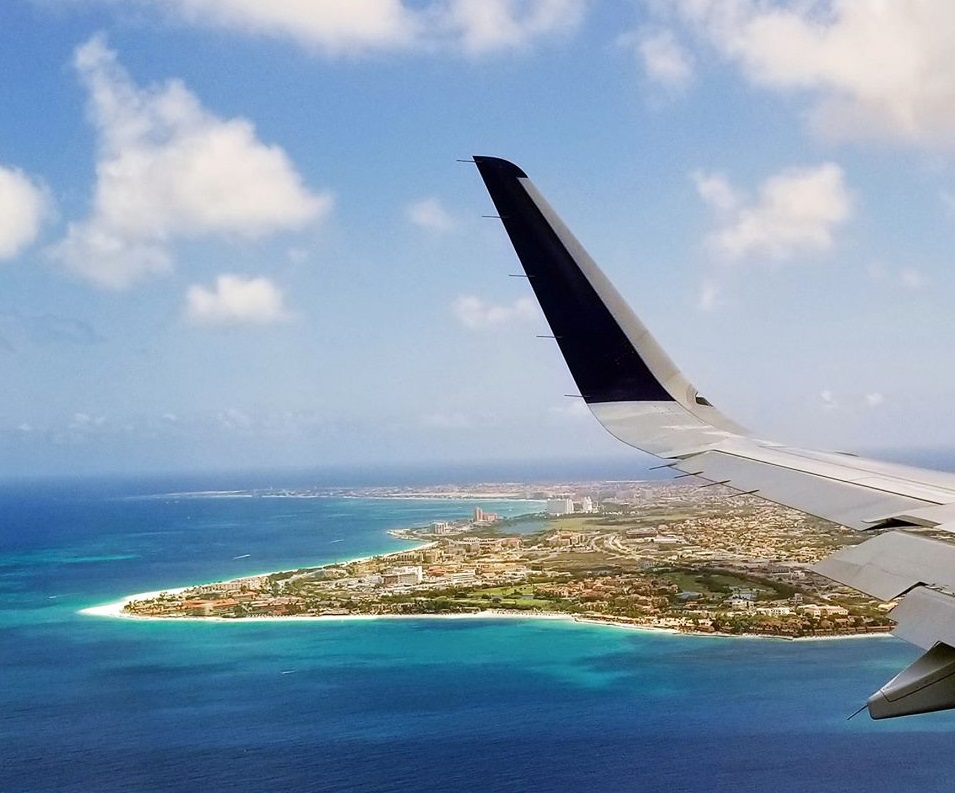 First, and foremost you must have a valid passport (a passport card is not accepted for air travel to Aruba, only via cruise ship).
If you are traveling (arrive in Aruba and return to your country of residence) before your passport expiration date, no matter how close, you are guaranteed entry to Aruba. There is no requirement for traveling an "X" amount of months before your passport expiration date.
Important to note: Some nationals require a visa to enter Aruba. View a list of nationals who are exempt of this requirement and do not need a visa.
If you find that you require a visa please view Aruba's Entry Requirements  to double check if you happen to fall under the listed criteria that exempts you of this visa requirement. For example, if you hold a valid residence permit of the US, another part of the Kingdom of the Netherlands, Canada, The Schengen Territory, UK, or Ireland you are exempt of the visa requirement.
Lastly, it is important to confirm whether or not you fall under the criteria for a requirement of the Yellow Fever Vaccine ( it is mandatory for those traveling to Aruba from certain countries of Central America, Latin America and Africa).
* Please note this information is as stated by the Aruba Tourism Authority. For official confirmation, recent updates and any legal decisions to be made it is always necessary to contact and refer to Aruba's Immigration Department (DIMAS). Our content is provided for general information purposes only.
What is the best time of year to travel to Aruba?
Any chance you get, duh! All jokes aside, the best time to travel to Aruba really depends on one's preference. To make the right decision (for you), it is important to note the differences of high season and low season on the island.
High season runs approximately from December – end March and low season, from April – end November. During high season you will find the island to be much busier, the hotel areas and beaches will be somewhat on the full side and airfare and accommodation costs increase. There are also a lot of activities and festivals going on – If you are looking for more action this is definitely the time to go!
A big part of high season is Aruba's favorite time of year, Carnival season! Carnival starts beginning of January and can run until March (the schedule varies a bit every year). Aruba's 2020 Carnival schedule is set to be released in November – so stay tuned!
When it comes to low season, prices go down and so do the number of people. You will find the island to be a bit more roomy and quiet. There will be considerable less traffic on the roads and less people on the beach! Looking for a more quiet, tranquil stay? This is the time! Don't worry there are still plenty of activities and events going on (Aruba has year round festivals).
Pack Coral Reef Safe Sunscreen!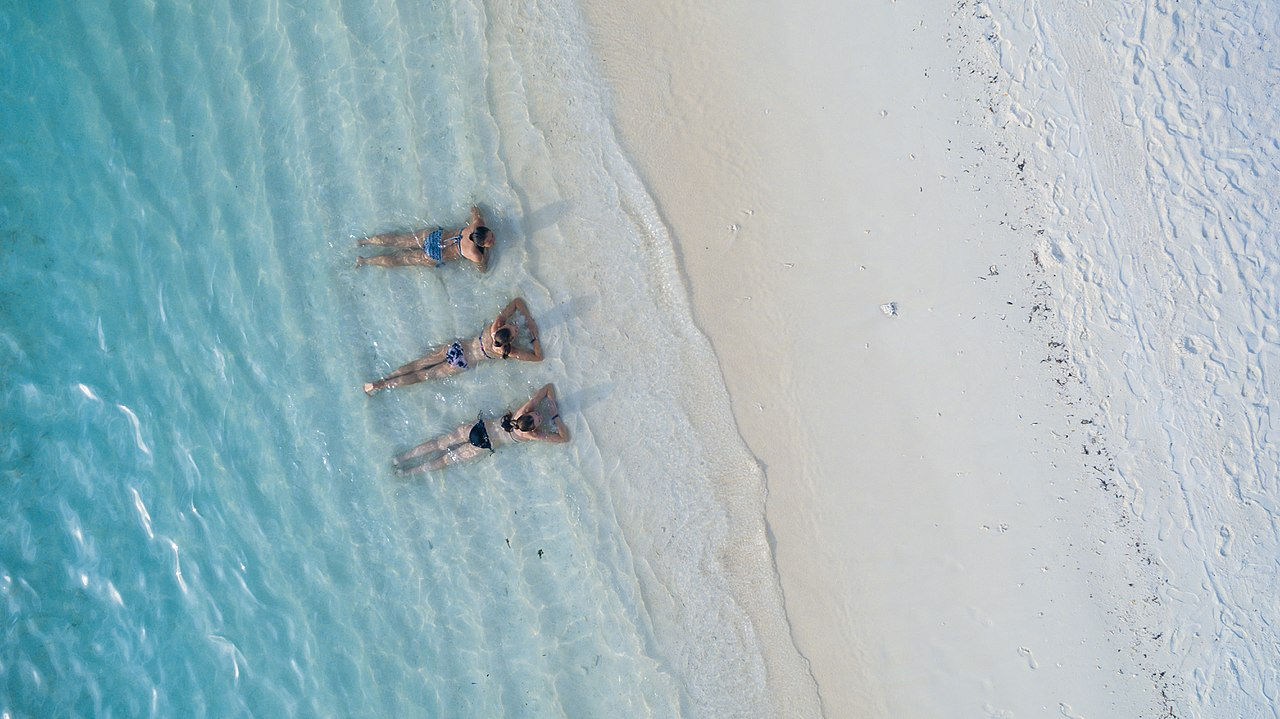 Aruba, the Caribbean and the rest of the world has plenty of beautiful coral reefs and marine life. It is OUR job and responsibility to help preserve and protect them before they disappear!
So, in an effort to do so, our island has banned sunscreens containing oxybenzone (as of 2019) to keep the harmful chemicals from negatively impacting the environment and marine life. While the ban has already been put into effect, it will be more strongly enforced starting January 2020.
There are plenty of reef safe sunscreens that are available to purchase and at reasonable prices (depending on your brand of choice). If you aren't able to purchase any in your country of residence before your trip, no worries, there are an assortment of reef safe sunscreens for you to purchase on the island! Just visit the grocery store, closest botica (pharmacy) or any stores that carry Arubalife Organics or Aruba Aloe products.
Aruba's Currency and Money Exchange
Aruba's currency is the Florin, denoted by the letters, 'Awg.' but also known as 'Afl.'.
Luckily, for our visitor's convenience the US dollar is also accepted on the island! The exchange rate granted by stores, resorts, restaurants and other various places of business is Awg. 1.75 to Awg. 1.80 per US dollar.
Not traveling with cash? Or do you need to exchange some money? Don't fret, that can easily be done! There are plenty of ATM's located around the island and if you don't have time to visit a bank to exchange money you can visit one of the casinos located in the resort areas.
PS – Aruba just released a brand new series of florin banknotes!
What language is spoken in Aruba?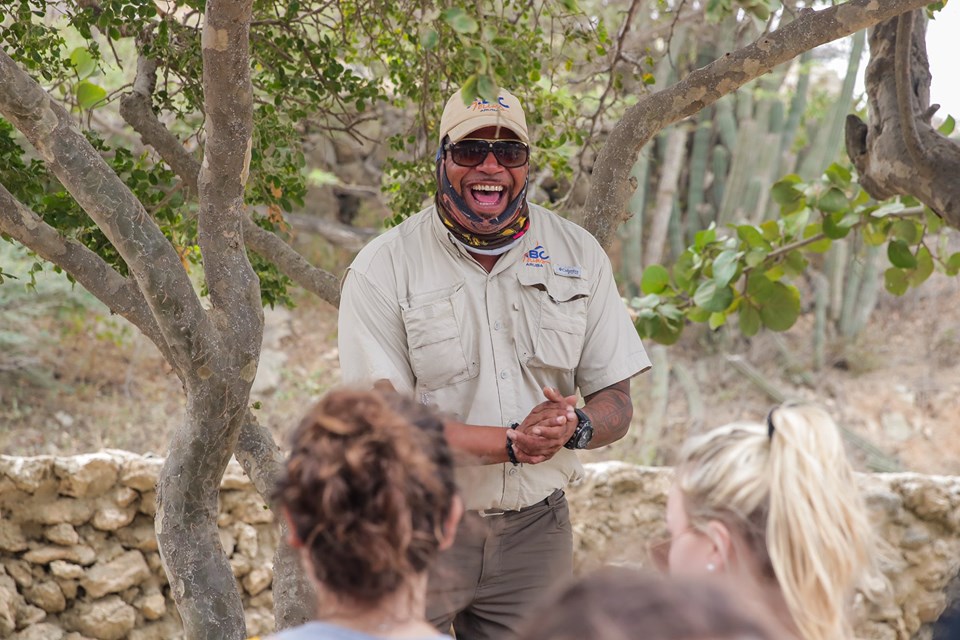 One of the many beautiful aspects of Aruba is the diversity and number of languages spoken on the island. Making it almost impossible to not be able to communicate with someone!
Papiamento, the official language of Aruba, is a creole language comprised of Spanish, Dutch, Portuguese, French and English.
In addition to Papiamento, the majority of locals also speak Dutch (Why Dutch you ask? We are an independent country within the Kingdom of the Netherlands) and many even speak and understand Spanish.
To top things off, many locals speak and understand English as well!
Cell Phone Use in Aruba
Let me remind you, you are going on vacation, so you should try to limit your cell phone and screen time to a minimum! Discover some of the best ways to unplug during your vacation in Aruba.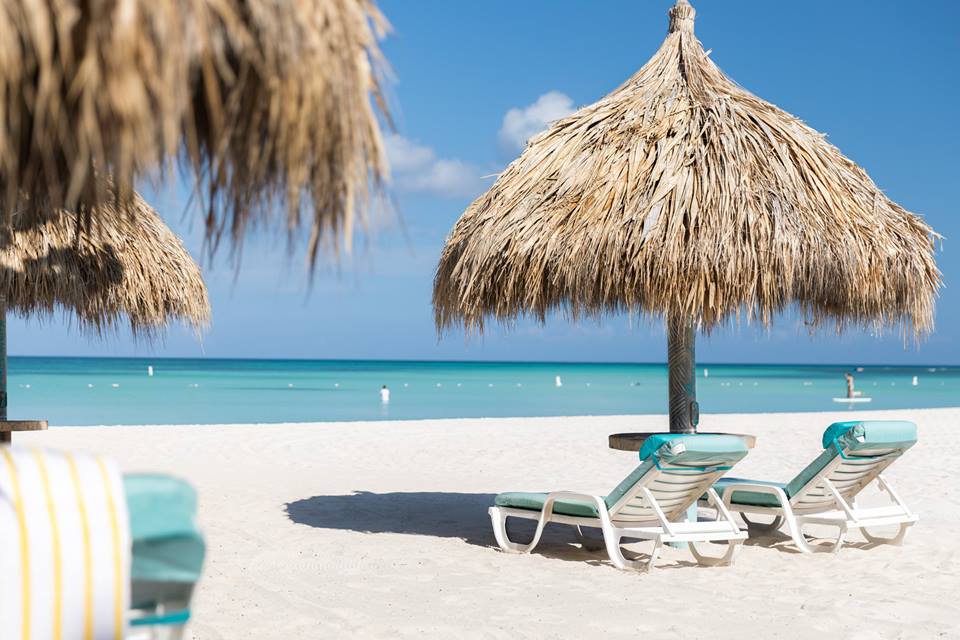 Wi-Fi is easily accessible in many parts of the island, particularly the resort and downtown area. Many resorts offer public Wi-Fi networks and other places of business such as restaurants or bars require a password or check-in procedure.
If Wi-Fi is not sufficient for your desired phone use, then we recommend contacting your phone provider before you travel to Aruba to ask whether your phone is 'unlocked'. If it is, you're in luck! This allows you to purchase and use a local Aruba SIM Card so that you can make calls and send messages.
Once you've purchased a SIM Card there is no need to purchase or sign up for a phone plan, simply head on over to a Setar or Digicel shop (or any supermarket or gas station on the island for that matter).  Here you will be able to purchase prepaid cards (available for different amounts ranging from Afl. 5 – 50) so that you can browse the web, check your email, chat with friends and post to one of your many social media apps all day long to make all of your friends jealous! But again, try not to… ahem, unplug!
Which type of outlets are used in Aruba?
If you are traveling from the US or Canada there is no need to bring an adapter or converter as the outlets here are the same as in the US (voltage standard of 100 – 127 V).
However, if you're not from the US or Canada, you might want to check if your devices need 220V or 110V (for example). If you need a particular European or UK voltage then you may require a converter to make sure your device can plug into the 'US-style' outlets used in Aruba. You can buy these in your home country or in Aruba at hardware stores or smaller supermarkets for a low price.
I'm here, I've arrived at the airport! Now how do I easiest get to my resort or vacation accommodation?
Bon bini na Aruba (welcome)! Yay – you've finally made it!
With all of your planning and travels behind you it is now officially time to get on 'island time' and relax!
If you're worrying about how to best get to your resort or accommodation have no fear it is quite an easy and quick process! Once you exit the arrivals department of the airport, taxis are ready and waiting. There will be a short line to wait in and then you will receive a slip of paper marking your destination and set fare rate, yes that's right, all official, registered taxis adhere to a set fare rate! All prices are per taxi, not per person. It is important to note that on holidays, Sundays or after 11 PM additional charges to the regular rates apply.
Also, if you are traveling with a large group it is good to know that there is a maximum of five passengers allowed in a taxi. It is possible to arrange for a larger taxi, such as a van. See more details about taxis in Aruba here.
If taking a taxi is not your thing you can choose from several airport transportation services or rent your own car! There are various car rental offices located directly at the airport. Reserve your car before you arrive in Aruba. Valid US and international driver's licences are accepted for driving in Aruba.
What is the best way to get around on the island?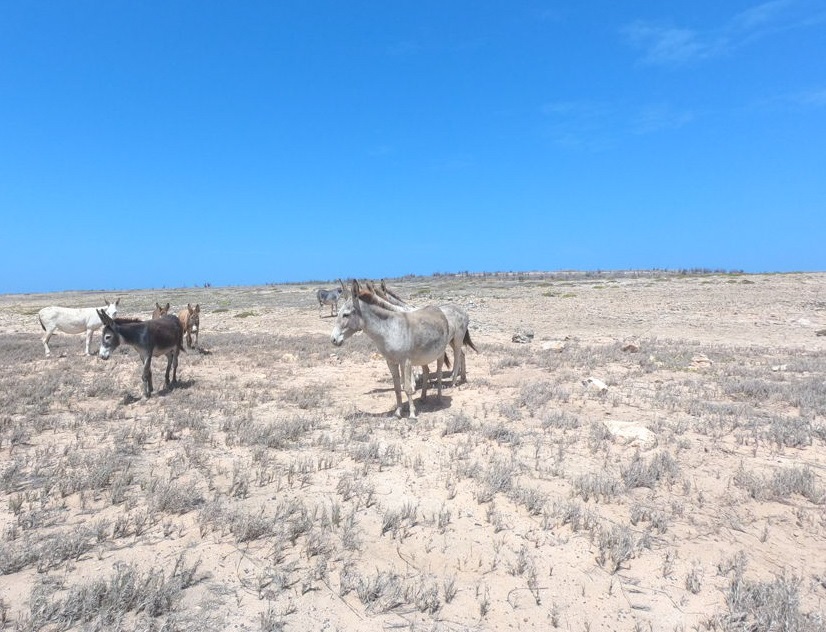 This absolutely all depends on your plans for when you're here. If you envision lounging on the beach most of your days and walking to nearby restaurants and shops, or traveling downtown just one day, then walking, taking taxis or the public bus will be sufficient.
If you are more on the adventurous side and want to explore the island (try visiting the wild North coast) on your own time, when and where you want, then we urge you to rent a car! There are plenty of car rental companies to choose from and the majority provide free drop-off and pick-up. In addition, you can take advantage of some great savings on car rentals with our VisitAruba Plus Discount Card!
Don't forget to download our free VisitAruba Mobile App so that you can make use of a handy GPS map that works offline!
Get iPhone app | Get Android app
For those of who are down for an island adventure but rather let a professional lead the way so you can enjoy Aruba's sights and attractions to the fullest, there are plenty of guided tours to choose from!
Is Aruba's water safe to drink?
Yes, yes and yes! The tap water in Aruba is of high quality and perfectly safe to drink. Aruba's water is pure and refreshing, distilled in a saltwater desalination plant and meets the highest standards of quality of the World Health Organization. So, in short… don't waste your money on bottled water in the store!
Are there grocery stores nearby the hotel area?
Yes! Super Food and Ling & Sons are both large supermarkets within a short drive and in some cases, walk from the resort areas (low and high rise hotels). While you will find many Dutch and international products you will also see a large selection of US products.
Roundabout and Traffic Knowledge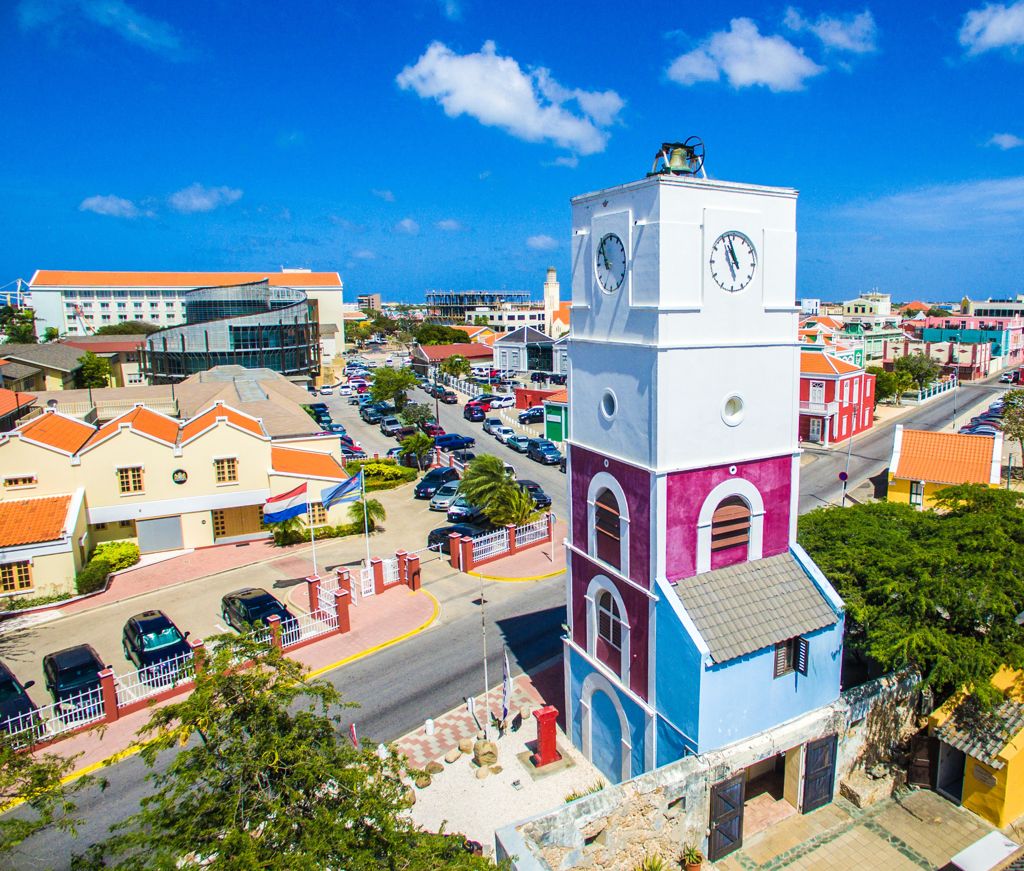 You will soon learn (if you haven't already) that roundabouts are just about everywhere in Aruba. No seriously, they are all over… and we are building more, so driver, be alert and cautious!
Roundabouts are a great method for regulating the flow and safety of traffic. However, it is very important to know the traffic rules regarding these lovely circles of fun!
On roundabouts, the traffic approaching the roundabout must yield to traffic that's already on the roundabout. In other words traffic on the roundabout has the right of way and drivers entering the circles must wait for an opening. We recommend checking with your car rental company or trusted local, with regards to the proper lane usage when entering a roundabout.
In addition to the roundabouts it is very important to note that there is no right on red!
Lastly, if you find yourself in an unfortunate situation (traffic accident) do not move your car from where the accident took place (yes, even if you find yourself blocking traffic, don't worry us island people will know how to get around you).  Make sure to call the police right away and if need be, your car rental company who will notify the appropriate insurance company.
View more details on driving in Aruba.
Tipping and Service Charge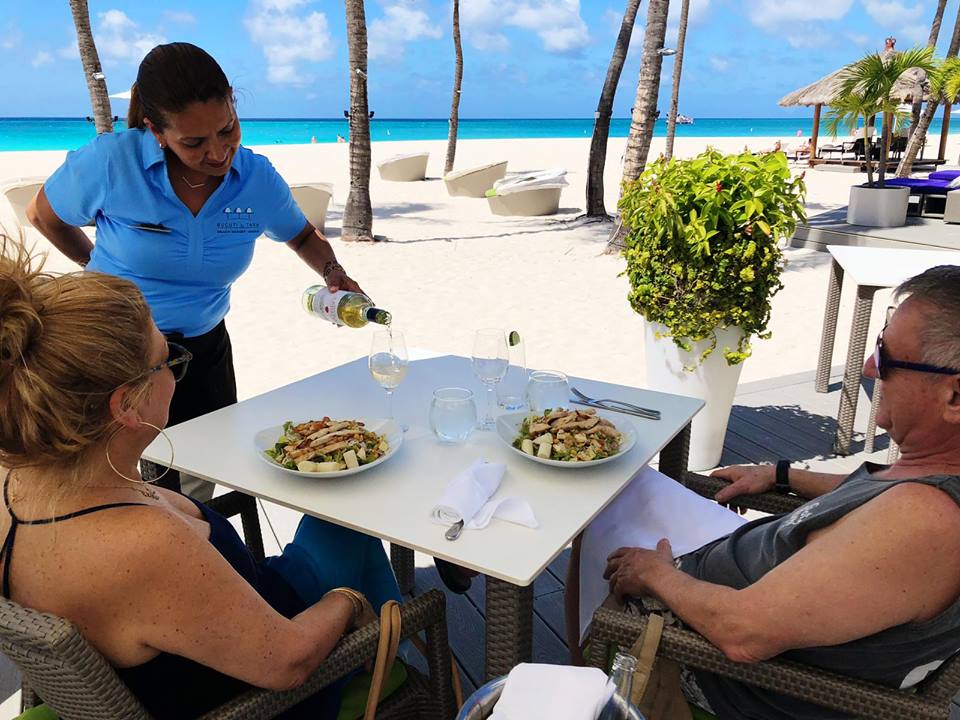 It is always your personal choice whether or not you wish to tip or not. If quality and friendly service was given tips are always appreciated! It is important to note that most restaurants include a 10-15% service charge on your bill (it is up to each individual restaurant on how this service charge gets distributed among employees). If you received excellent service it is always appreciated to leave an additional tip reflecting the service given!
Beaches are Public!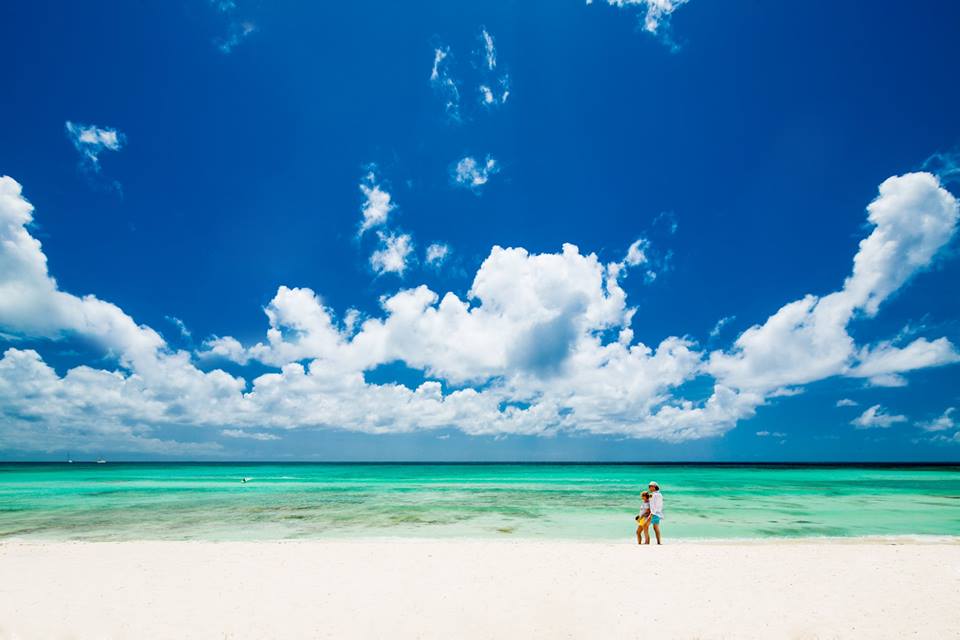 Lately there has been some discussion on whether or not one can make use of any palapa (a built in the ground, umbrella like structure made out of dried palm leaves) or certain beach areas. Know this, every beach in Aruba is public (Renaissance Island and De Palm Island being exceptions, as they are privately owned islands that you must purchase a day pass for in order to access).
Since all beaches are public, so are the built in palapas located on these beaches. You have the right to sit under any unoccupied palapa of choice (with your own beach chair), even if it is in front of a resort. However, it is important to note that you cannot sit under an umbrella that belongs to the resort itself (resort property) or if it is located on the actual property of the resort, such as near their pool or in some cases at the start of the beach.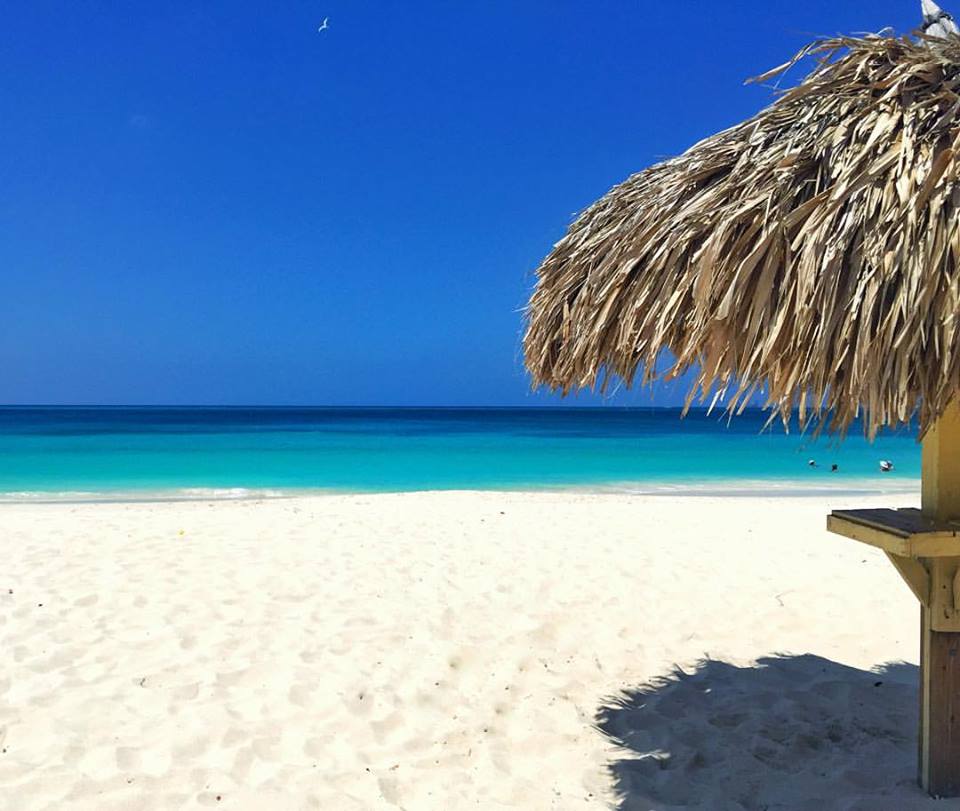 If you cannot find a free palapa, there are many water sport companies located at Palm Beach, Eagle Beach and Arashi Beach that rent out umbrellas and lounge chairs for your convenience!
Beach etiquette tip – If you know you are not going to be on the beach for several hours please refrain from plopping your belongings underneath a palapa to mark it as "taken",  this will give other beach lovers the chance to enjoy their well deserved beach day as well!
We hope our above tips and information help make for a smooth and happy stay in Aruba!
I would like to leave you with one last piece of advice… remember, you are on vacation on a happy and sunny island in the Caribbean, so please leave all your worries "at the door" and allow yourself to acclimate to "island time" as quickly as possible… we promise it will do you plenty of good!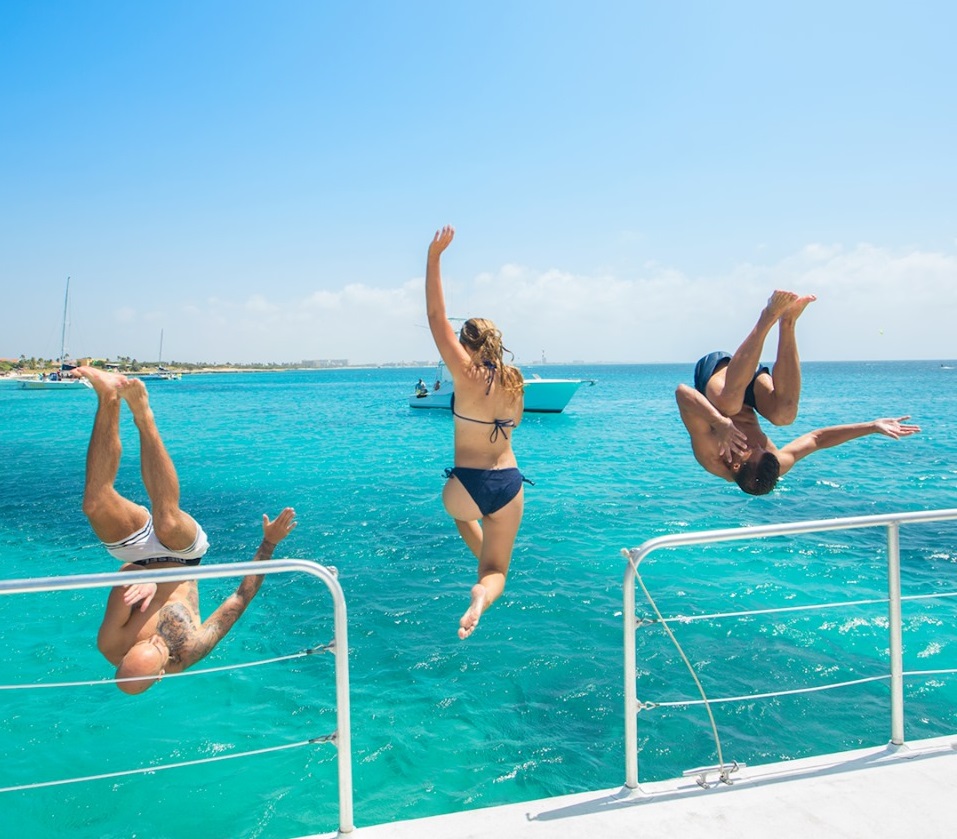 For more information and things to do in Aruba visit our website.