Summer is upon us and if you are planning a last-minute trip with your significant other, you might just want to put Aruba at the top of your list. Check out our recommendations for the best things to do and discover why summer is the perfect time for your couple's getaway to Aruba!
Be a part of a very special vow renewal ceremony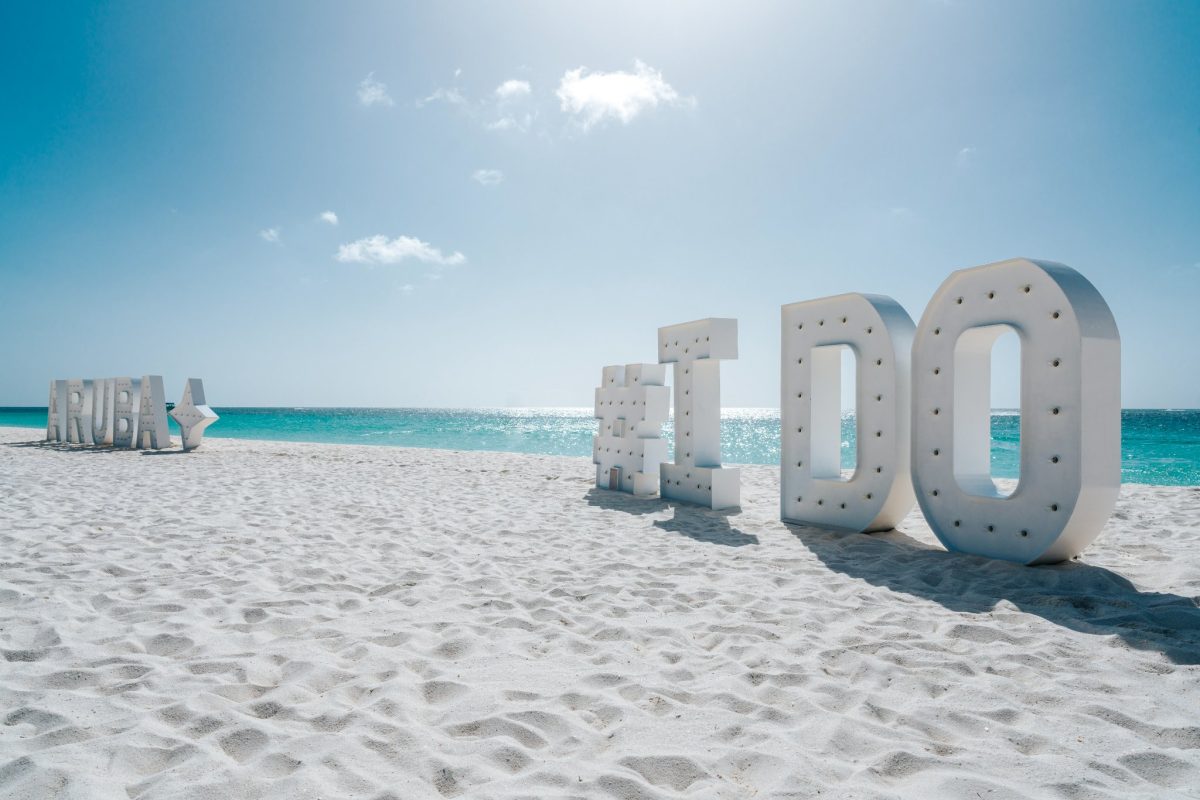 This year marks the 5th edition of Aruba's "I Do" Vow Renewal ceremony, the largest vow renewal ceremony in the Caribbean. The ceremony is scheduled for August 9th, 2023. It will take place during Aruba's glowing sunset hour on the one and only, world-famous Eagle Beach, recently voted the no. 1 beach in the Caribbean and no. 2  beach in the world!
Do you want to create memories that will undoubtedly last a lifetime and join in on this dreamy and romantic experience? To take part in this special day, simply register with the Aruba Tourism Authority. Couples are encouraged to dress in white with pops of Caribbean colors. The ceremony is free, yes you've read that right, free! So, will you take part in the Caribbean's most romantic day of the year?
Dreamy and extensive dining options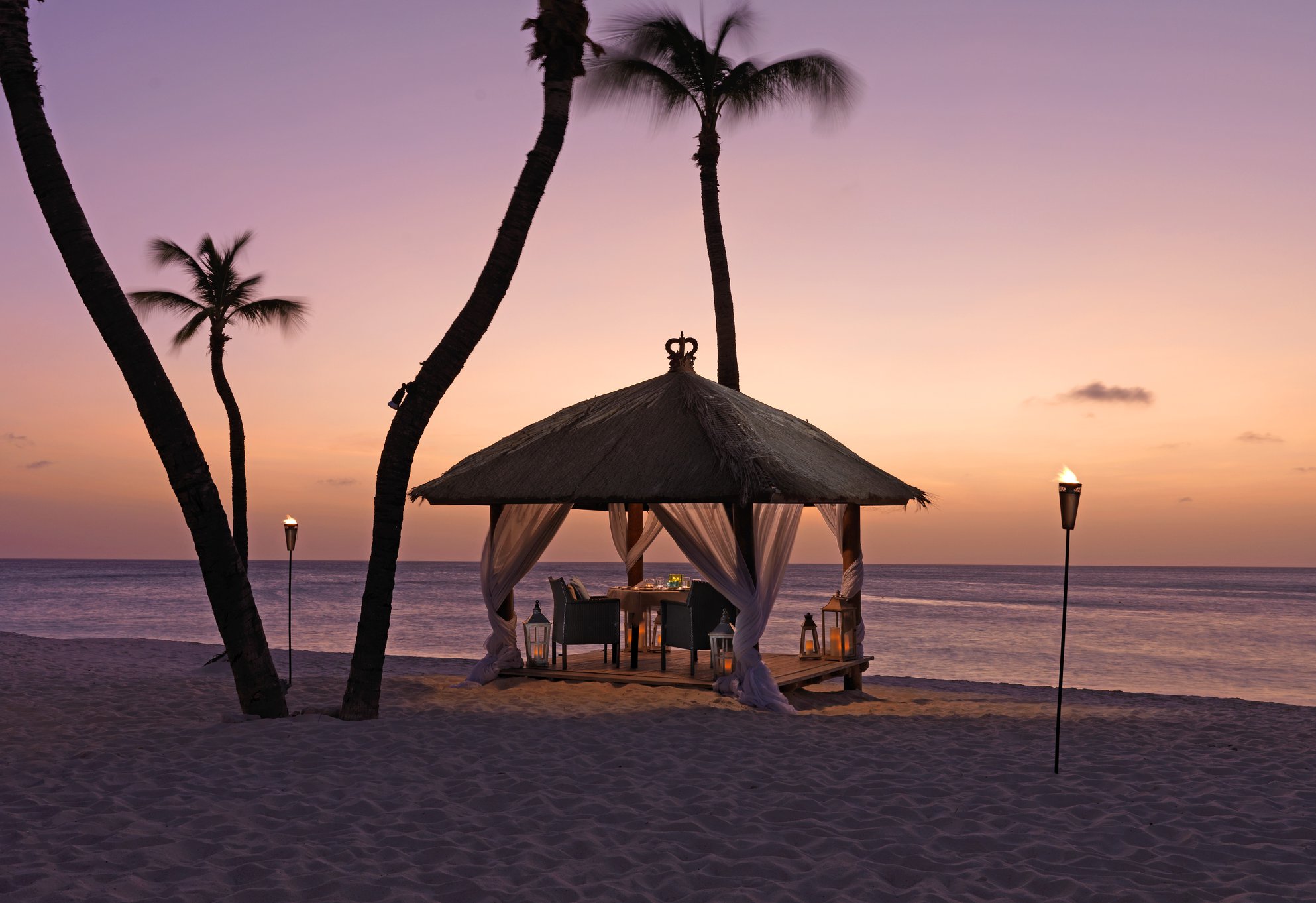 Toasting to each other with a bottle of fine wine as the sun goes down, and enjoying a magical moonlit dinner on the beach… yes, some call it cliche, we call it dreamy because it is, especially in Aruba! Beach dining with your toes in the sand, just you and your love, just can't be topped when it comes to romantic experiences.
However, with that being said, romantic dining in Aruba is not only limited to beach dining, there are plenty of other options to be found. For instance, try a restaurant nestled in charming historic buildings of downtown Oranjestad, or opt for dining in a lush and cozy tropical garden with twinkling lights draped overhead. The great thing about planning your vacation during the summer months is that it falls in Aruba's low season, meaning the island is less busy and you'll be able to make your special dinner plans with ease, rather than stressing to make reservations way in advance.
Browse romantic dining options and view a full restaurant guide here. 
Less crowds, more intimacy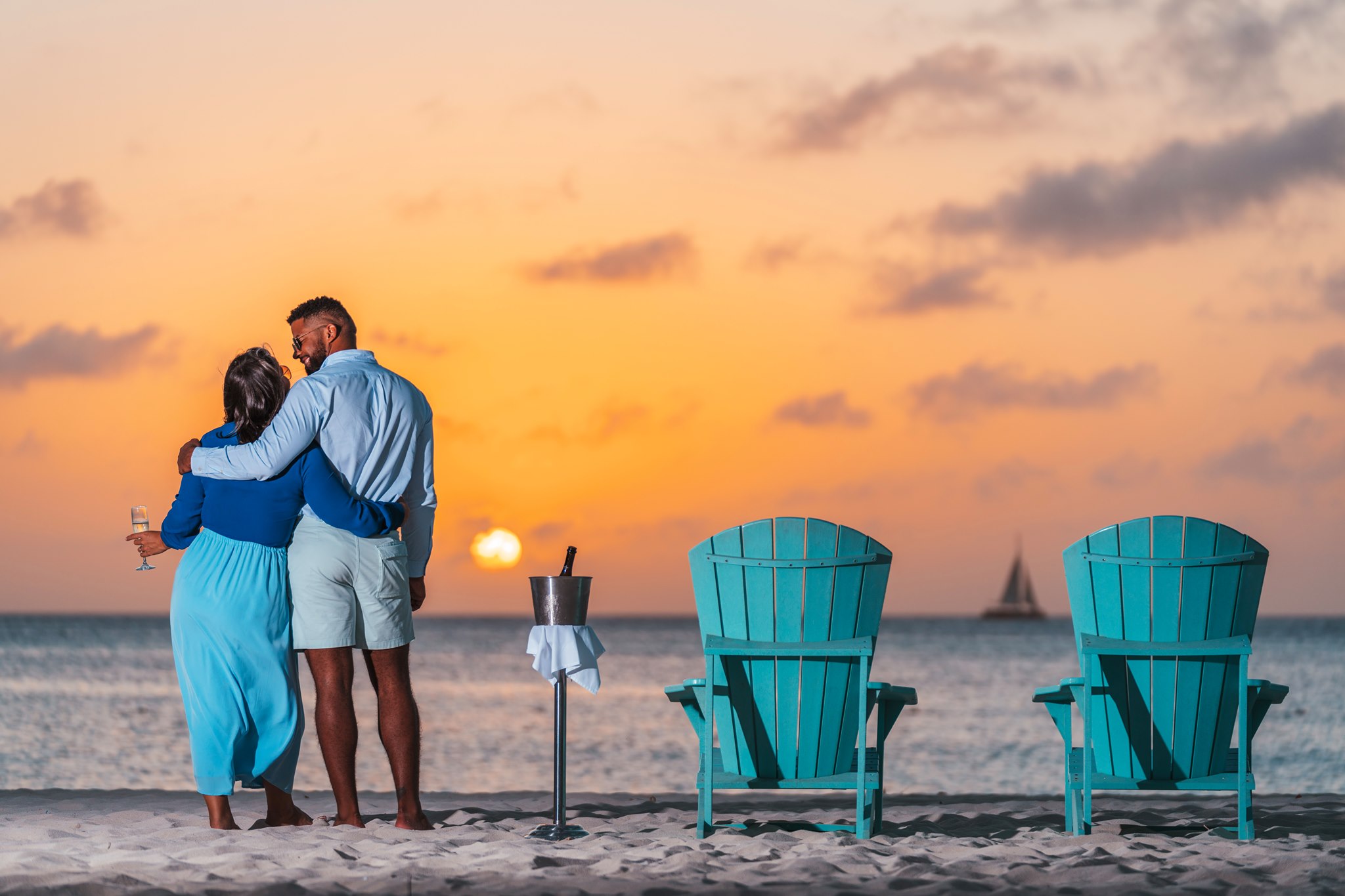 As mentioned earlier, the summer months fall in Aruba's low season, meaning fewer visitors on the island, allowing you to enjoy more peace and quiet and take advantage of the open space to easily explore and experience the island.
Imagine calm, relaxing beaches with plenty of open space, and not stressing about having to make dinner or activity reservations far in advance. Rather, go with the flow and make some of your plans last minute.
Fun and romantic activities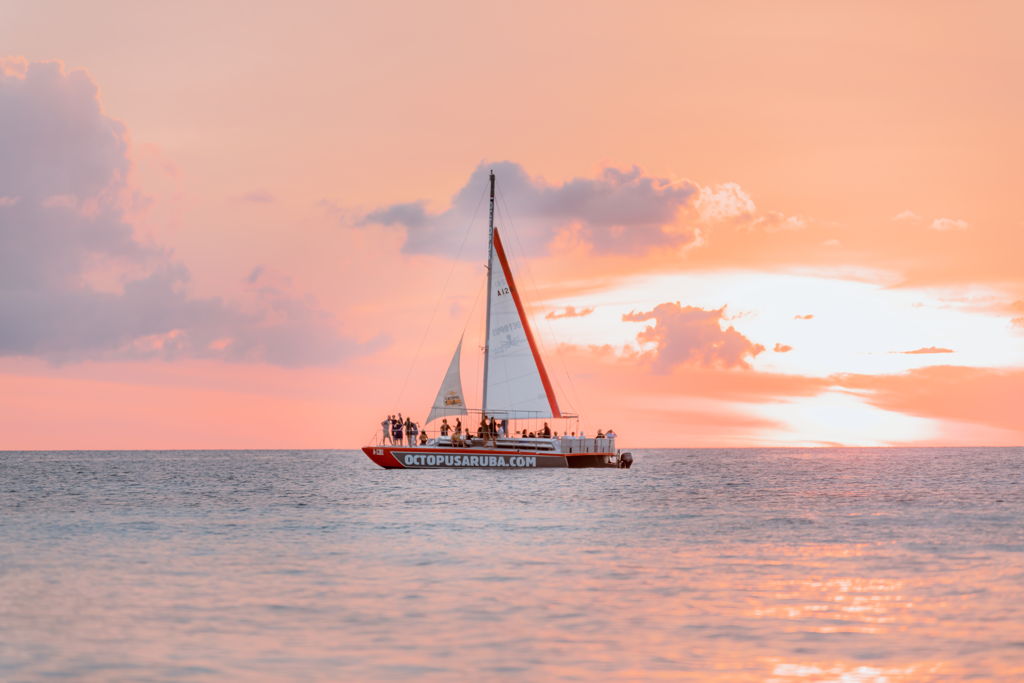 Getting lost in nature
Get lost in nature by going on a hike in Arikok National Park (Join our virtual hike for a preview). From relaxing walks on the beach to hiking our island's trails immersed in nature, you have plenty of options and they all include breathtaking views! Other hiking areas include: Hooiberg, Alto Vista Chapel, and the North coast near the California Lighthouse and Westpunt.
Want to cool off and take advantage of the pretty blue Caribbean Sea? Try paddleboarding or kayaking in Aruba's crystal clear water and mangroves.
Sail the pretty Caribbean blues
Go on a catamaran or sailboat cruise. Choose from a variety of different cruises, whether you are in the mood for snorkeling, drinks, sunset gazing, or a romantic private dinner!
Here are some great sailboat or catamaran operators to choose from: Octopus Aruba, The Tranquilo, Delphi Watersports, Pelican Adventures, Red Sail, and Around Aruba Tours.
View more options for a fun day out on the water!
Sunset gazing
Simply find a quiet spot on the beach to sit and gaze, or, if you want to elevate the sunset glow experience even further, book a catamaran or sail cruise to witness the beauty from out on the water. Hungry? Try one of these beachfront restaurants or beach bars with a Caribbean sunset view to remember!
View the sunset times in Aruba so you can plan out your sunset date perfectly.
Island adventure
For all of those thrill-seeking partners, Aruba has got plenty for you to explore! Some sights and attractions in Aruba tend to be a little hidden and take a true adventure to get to (psst – add these 7 places to your list). There are many ways to get there, whether you prefer to rent a jeep, a UTV for two, or to take a tour led by a professional guide, you will find the right one for you. Explore and discover Aruba's beauty together on a rugged adventure… but don't forget to take a dip in one of the natural pools to cool off! There is truly so much to see: ride through Arikok National Park, visit the Bushiribana Gold Mill Ruins, the Alto Vista Chapel, discover caves and the less populated, untouched wild beaches on the East coast.
And for the true history and culture enthusiasts, browse our downtown guides for things to do in Oranjestad and in San Nicolas (also known as Sunrise City).
View an extensive list of tours and activities to choose from.
Spa day
Book yourselves a couples massage and full spa day! What better way to get a relaxing, zen-filled experience and unwind! Enjoy a specialized spa or wellness treatment from Hilton Aruba's eforea Spa or Renaissance Aruba's Okeanos Spa.
Select the perfect spa for you and your lucky plus one.
Palapa for two
While there is plenty to do on the island, sometimes all you really need is a relaxing beach day, with just the two of you. Pack a cooler and hit the road with your bae, it's time to spend the day relaxing on Aruba's warm and sunny, white-sand beaches! Try the one and only dreamy Eagle Beach or venture further away to Mangel Halto and get lost in the mangroves.
There are so many breathtaking beaches to fall in love with, so we suggest adding a few to your list and spending a day or two beach hopping. You may very well end up finding your favorite beach and staying there for the remainder of your trip, and that is perfectly fine, but, at least you were able to see many of the diverse beaches the island has to offer.
Get a closer look at Aruba's breathtaking beaches.
Browse our site to view more things to do and see in Aruba.
*Main featured image by Bucuti & Tara Beach Resort