From leisure walks on the beach to hiking our natural trails, you have options and they all include a spectacular view. Go on a guided tour or get in your car, drive up to your favorite spot, and start hiking. You'll find a lot of beautiful spots on the North Shore of the island. Here are three of our favorites.
Arikok National Park
With all of its hidden gems, Arikok is definitely the most popular one and it actually just won Best Caribbean Attraction by USA TODAY 10 Best this week!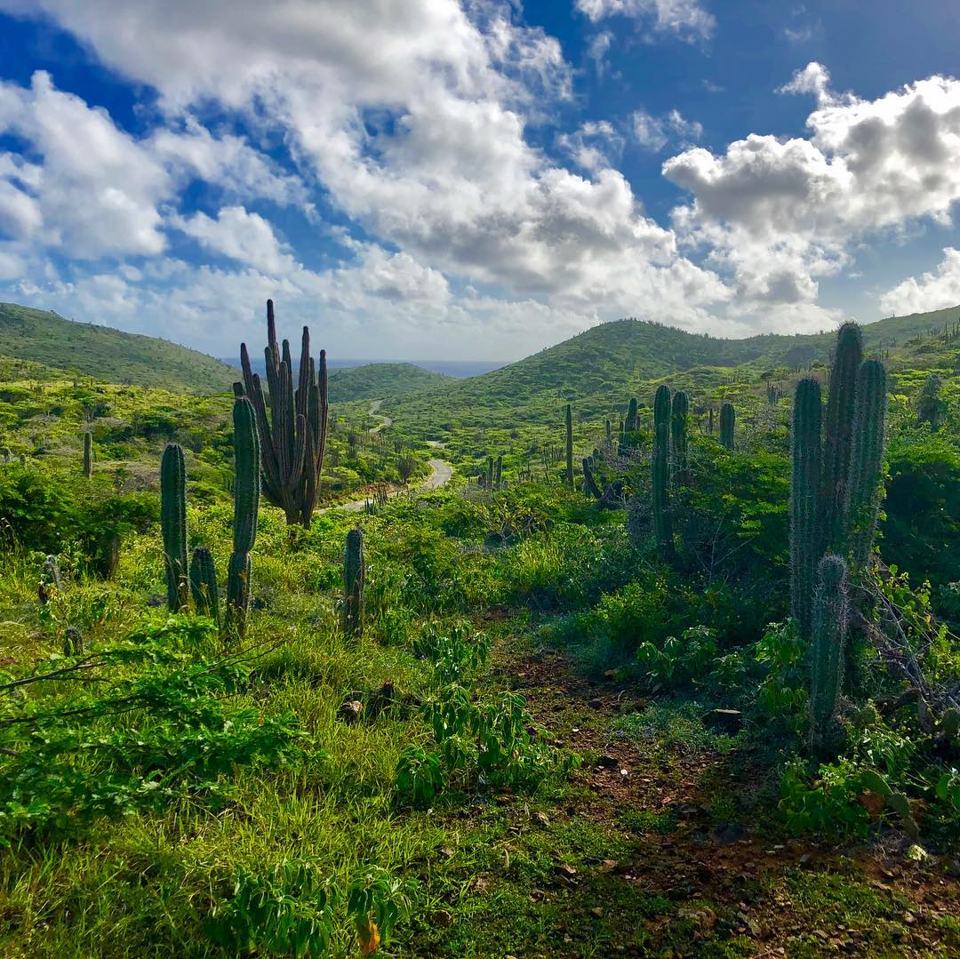 The park itself has 6 different trails; including sand dunes, challenging hills, historical caves, abandoned gold ruins and mines, as well as limestone cliffs. If you hike up to the top of Aruba's highest point – Mount Jamanota – you will see a 360-degree view of the island.
Most trails are clearly marked within the park but we recommend you do this hike with a tour guide. They know the best spots, they can give you a history of the spots you're visiting, and you don't have to stress yourself on how to get back to your car. Aruba is small and it's hard to get lost but hey, you never know.
To find a tour guide, you can contact Arikok National Park or you can check out EL Tours to find out about their tours. Sign up in prior to your visit as these spots fill up.
If you decide to take the hike on your own, we suggest you check in at the Welcome Center of the Park to get directions, tips, and find out if there are any changes to the trails – they're likely to change due to weather or natural causes.
If you're here during a full moon, ask the Park if they have any Full Moon tours – what a fun way to walk the park, right?
Alto Vista Chapel
In Aruba you can basically drive up to any spot, park, and start walking but we love to start out at Alto Vista Chapel. It's a place for peace and reflection. There's a beautiful labyrinth – it's a great way to start or end your hike.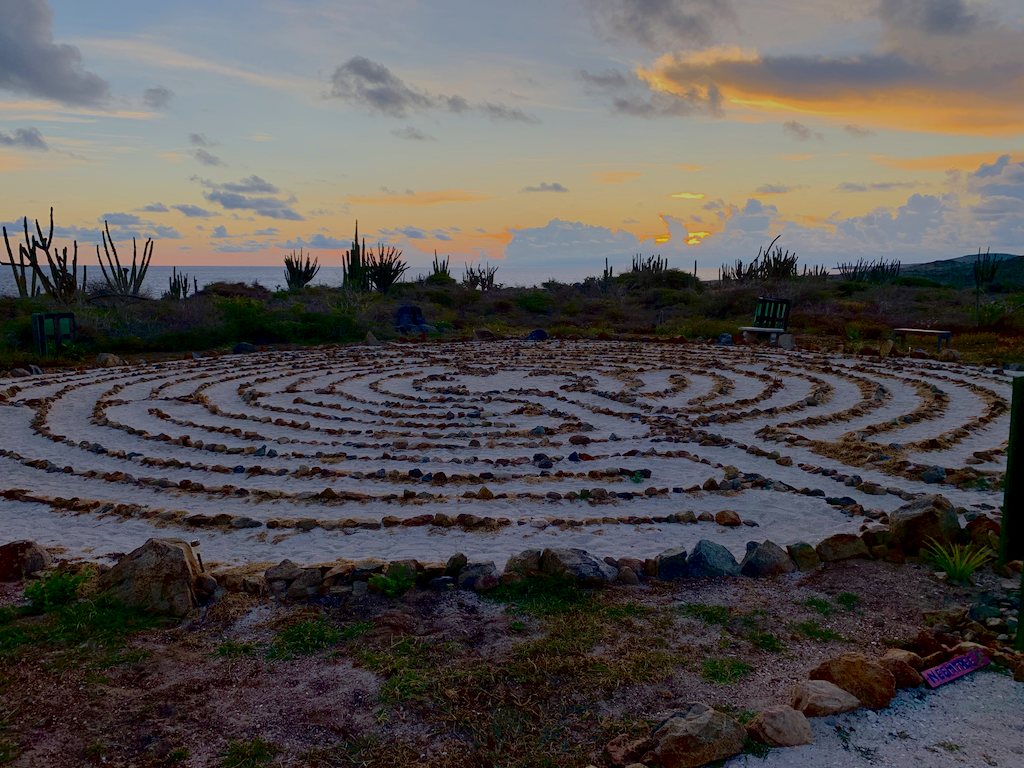 It's also a great starting point for your walk along the many trails by the ocean. Just park behind the Chapel and start your hike. Remain close to the ocean (or at least in eye sight) to make sure you always stay on track. Ready to go back? Just walk back close by the ocean until you see the Chapel – you can't miss it.
Hooiberg
Hooiberg (translated to haystack) is a volcanic foundation that rises 165 meters (a little over 541 feet) above sea level and is located near the center of Aruba. Even though it seems like the highest point of the island – it's the 2nd highest – Jamanota is the highest at 189 meters (a little over 620 feet).
It's visited daily by tourists and locals who come to enjoy the spectacular view and get a great workout at the same time.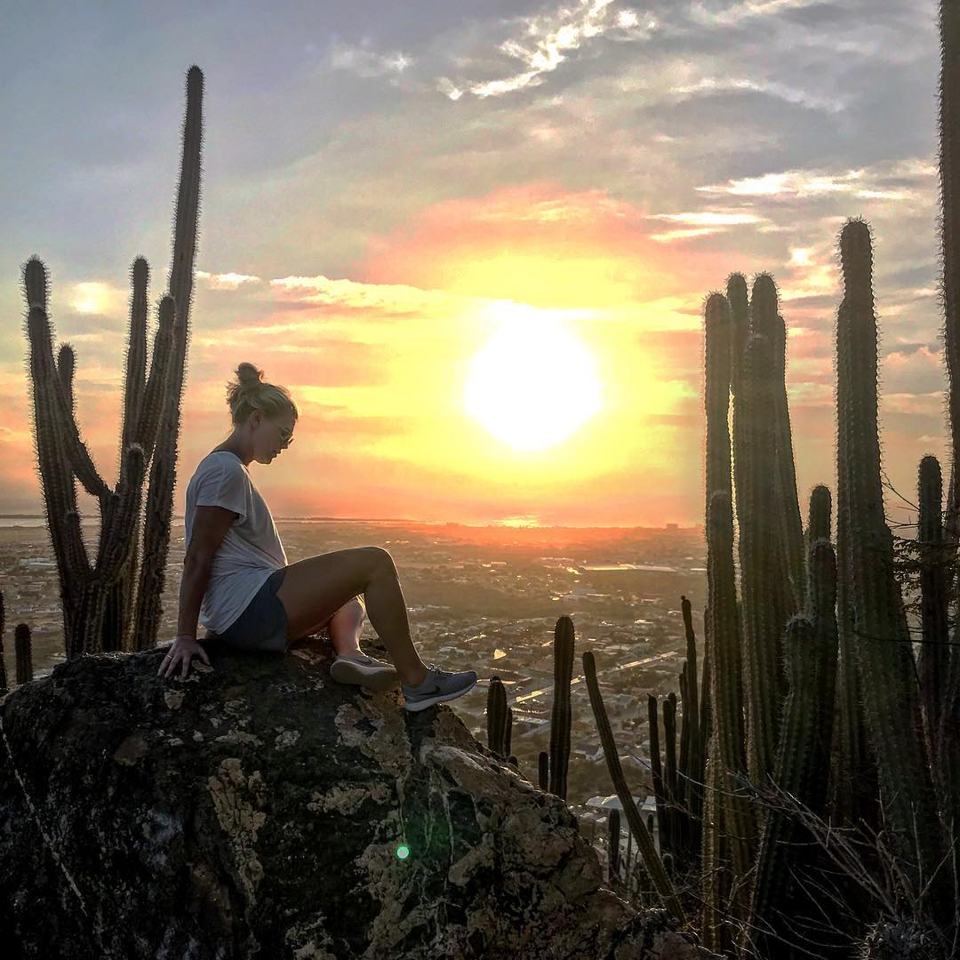 Rather than going for a long walk, you'll be going up the stairs (about 587 steps) and the end result is a beautiful 360-degree view over our island and on clear days, you can even see the coast of Venezuela.  A great time to do this is around sunrise or sunset.
Hooiberg is covered with cacti, divi-divi trees, and some Kibrahacha trees that flourish and decorate the mountain with beautiful yellow flowers after heavy rainfall.  And if you're lucky, you may see a tribe of goats roaming around.
Want more?
Looking for more spots to hike? No problem, we've got you covered:
Don't feel like hiking? You can also rent a mountain bike or join a bike tour with Aruba Active Vacations.
Don't Leave Home Without…
Here's your must-have list of things to take with you on your hike:
A hat
Reef-safe sunscreen (You can get it in Aruba or bring it from home, keeping in mind of Aruba's new ban on oxybenzone – a chemical found in many sunscreen products)
Sneakers or hiking boots
Water – lots of it!
Your phone for pictures and to have on you just in case
Bring along a flashlight if you're going to visit any of the caves
OK, that's it for now. Have fun on your hikes and don't forget to take tons of pictures.  Share with us on Facebook & Instagram and tag us along: @visitaruba #visitaruba
See you on the trails! 😎