How does gazing at a dreamy white sand beach and endless shades of Caribbean blues with a cold, refreshing cocktail in hand sound? Not too shabby right? I would say life could be worse… much worse!
Well, it only gets better – I'm going to share a little tidbit of important information about Aruba with you, here it comes… EVERY hour is HAPPY in Aruba!
Yes, you've read that right. Take that watch off, put that cell phone away… there is no need to check the time to see if it's almost happy hour yet. Every hour is happy hour in Aruba!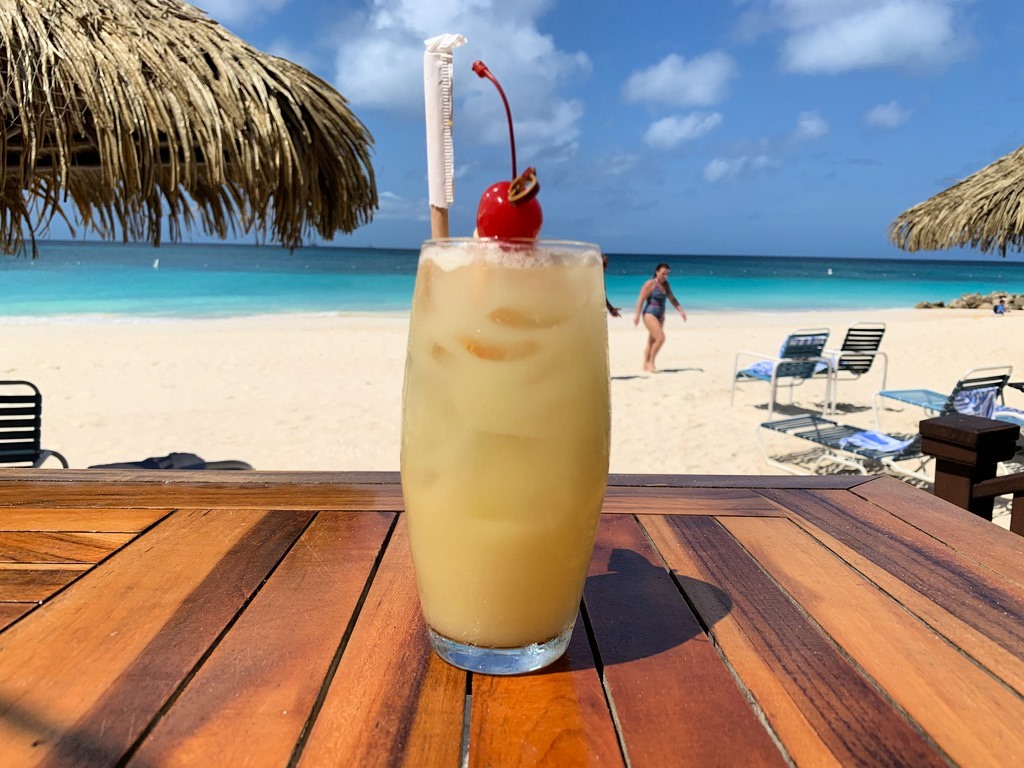 The island is filled with bon (good) vibes, year-round sunshine, smiles… and dushi (sweet/tasty) cocktails! So with that being said don't feel obliged to wait until 5 o'clock to order that frozen cocktail (or mocktail) of choice, worry not, there is no judgment in Aruba, only a happy time to be had from sun up till' sundown!
As a professional beach bar bum myself (yes, that's a thing) I felt compelled to share some of my favorite spots in Aruba for putting your feet up, feeling the warm sunshine on your face and sipping the day away.
Important notice: No plastic straws were used or endangered the environment while creating this blog. Plastic straws and single-use plastics are now banned in Aruba!
First stop…
PELICAN NEST BAR & SEAFOOD GRILL
Drink to try: Summer Love
Location of watering hole: Pelican Pier, located between Holiday Inn Resort Aruba and Playa Linda Resort in Palm Beach.
What to expect: This is a hot spot in Palm Beach… expect action, a loud siren signaling the beginning of happy hour, fun music, friendly and entertaining bartenders, specialty jumbo cocktails (frozen and on the rocks), mouth-watering seafood dishes, and delicious appetizers to make your tummy smile… oh, and not to mention mesmerizing views of turquoise water surrounding your every turn! If you go to Pelican Pier once, you are sure to come back for more!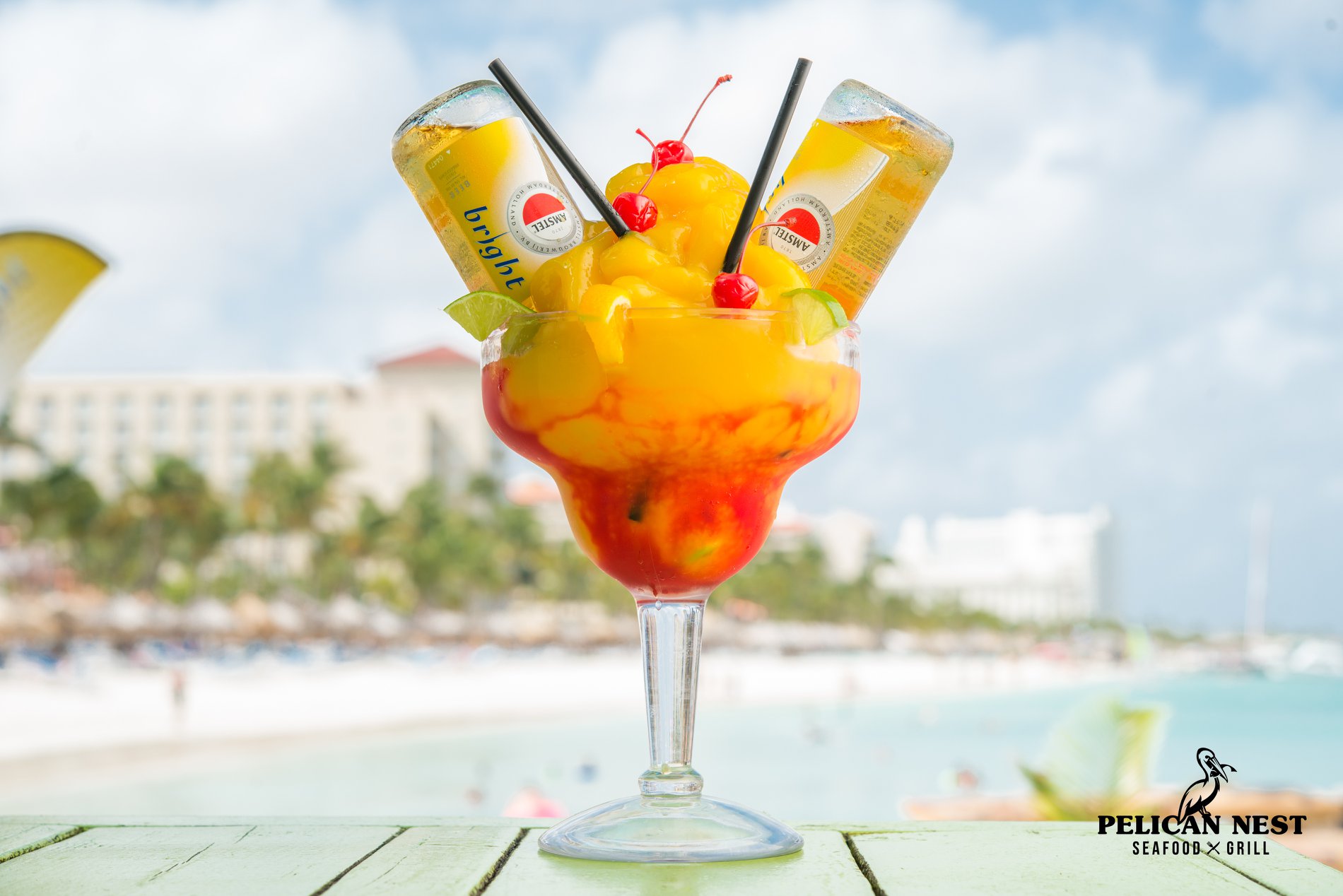 Tip: If you're a seafood lover make sure to order Martin's Platter, you can thank me later!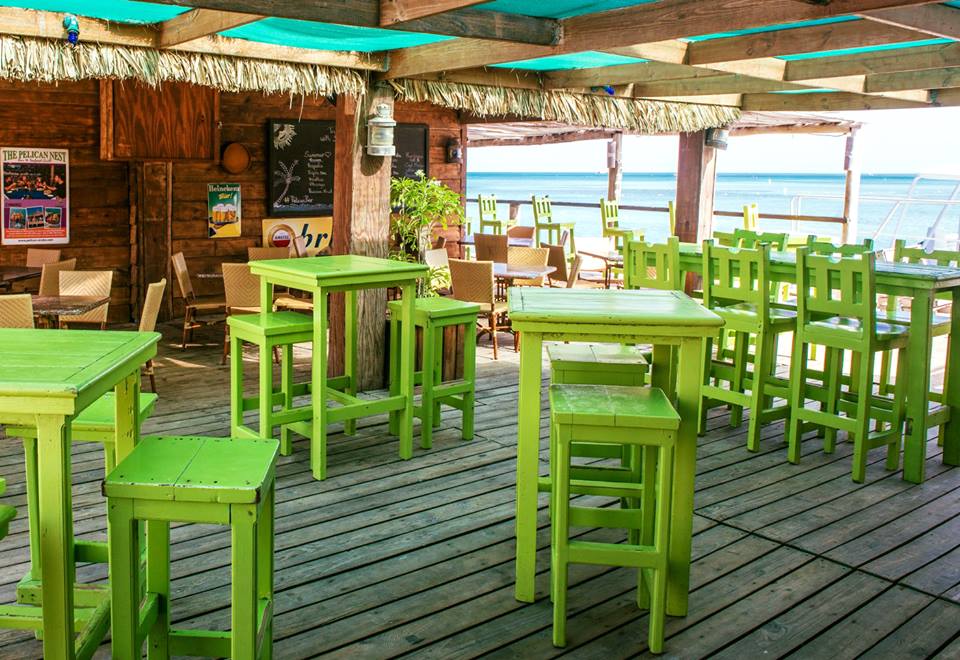 MOOMBA BEACH BAR & RESTAURANT
Drink to try: Aruba Ariba
Location of watering hole: On the beach nestled between Marriott Aruba Surf Club and Holiday Inn Resort Aruba in Palm Beach.
What to expect: Your trip to Aruba is not complete without a visit (or 5) to MooMba, one of the most popular spots on the island! MooMba provides the perfect balance of relaxation on the beach and entertainment at the bar. It's a party any day of the week, MooMba is always bound to be a great time. So be sure to snap a pic holding their famous "I am MooMBa" sign, enjoy all of the interesting people you will meet, and make sure to catch the breathtaking sunset light up the sky!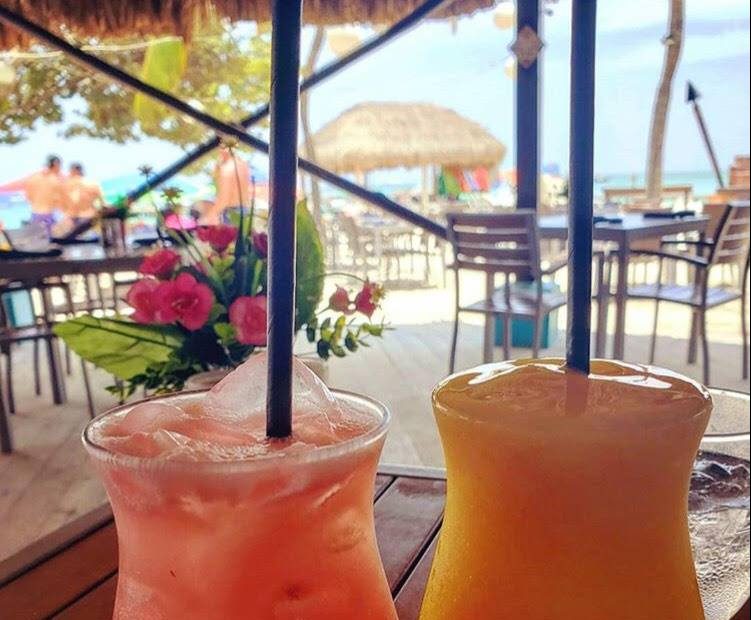 Tip: This is a great place to meet and mingle with both locals and tourists! You can also enjoy live music just about any day of the week!
MATTHEW'S BEACHSIDE RESTAURANT
Drink to try: Blue Hawaii
Location of watering hole: Casa del Mar Beach Resort, located just past the pool area you will find the bar and restaurant beachside.
What to expect:  Visit Matthew's Beachside Restaurant just once and you will feel at home right away. The staff is always extremely welcoming and kind making it hard to leave when the time comes. Other than the warm welcome the first thing you cannot help but notice is the gorgeous view! Located right on the beach (Eagle Beach) Matthew's has a picture PERFECT backdrop for you to enjoy while sipping your frozen concoction. With delicious food, refreshing cocktails, friendly service, and specials, you can't go wrong with Matthew's!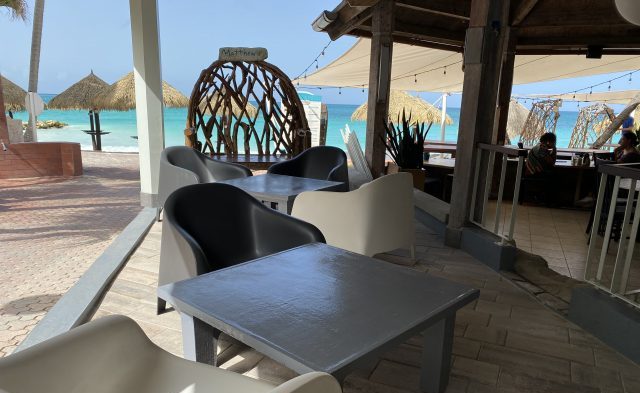 Tip: Matthew's offers THREE happy hours 7 days a week! Need I say more? I didn't think so.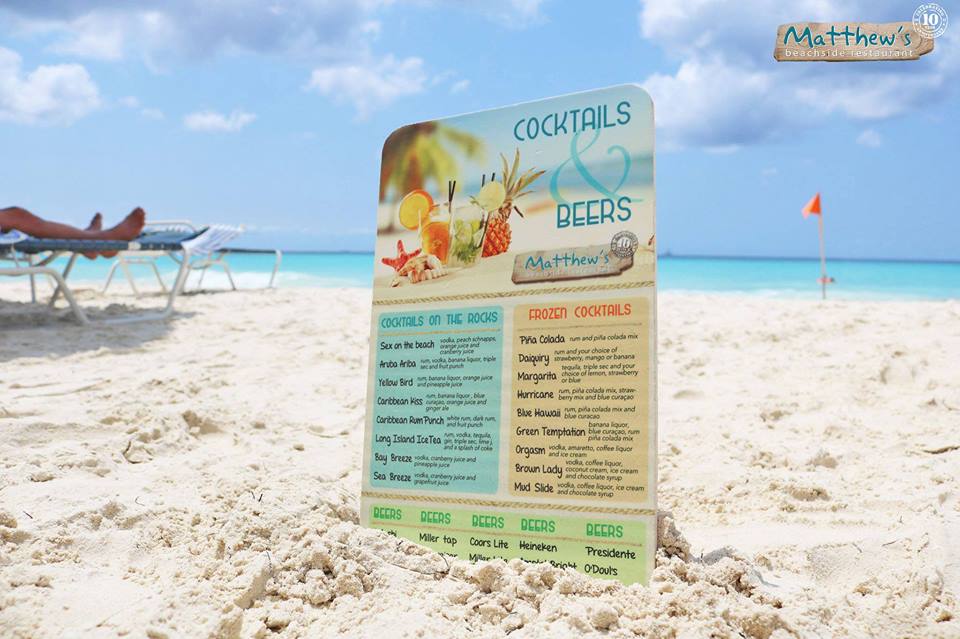 BUGALOE BEACH BAR & GRILL
Drink to try: Caribbean Ocean Tea
Location of watering hole: De Palm Pier, located between Hilton Aruba Caribbean Resort and Riu in Palm Beach.
What to expect: A fun, bright, colorful atmosphere. Picture perfect views of the crystal clear water of Palm Beach. Some of the most fun and energetic bartenders and staff members. Bugaloe is well known for putting on a good karaoke show and have quite some talented singers on their team (don't worry, it's fun, quality karaoke not the kind that has you covering your ears wondering when it's over). Their food menu is quite extensive so you're sure to find a delicious appetizer or lunch option. Those with children will be happy to hear it's family-friendly. When you're in need of some fun or a quick bite to eat Bugaloe is a great choice!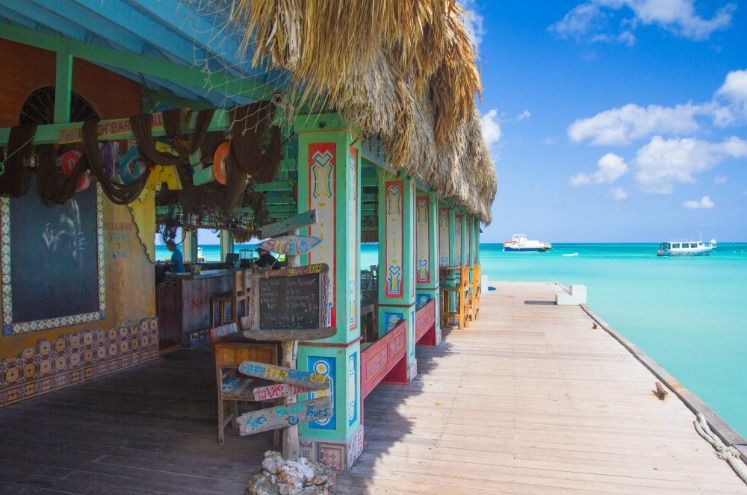 Tip: Try their loaded Bugaloe fries and ceviche. Oh, and don't forget to ask about their karaoke party night, even if you don't want to get behind the mic yourself (I can relate) it is so fun and entertaining to watch!
Surfside Beach Bar
Drink to try: Frozen Beer Margarita
Location of watering hole: On Surfside Beach, next to Reflexions and nearby the airport.
What to expect: Want to have a fun, chill day at the beach? Surfside is a laid-back spot where you can have a delicious bite to eat and catch up with friends over a bucket of ice-cold beer (or cocktail, whichever you prefer)! They also have friendly-priced umbrella and lounge chair rentals for their patrons. Since they are located close to the airport runway, you will be able to watch the planes come in, making for some fun sky gazing!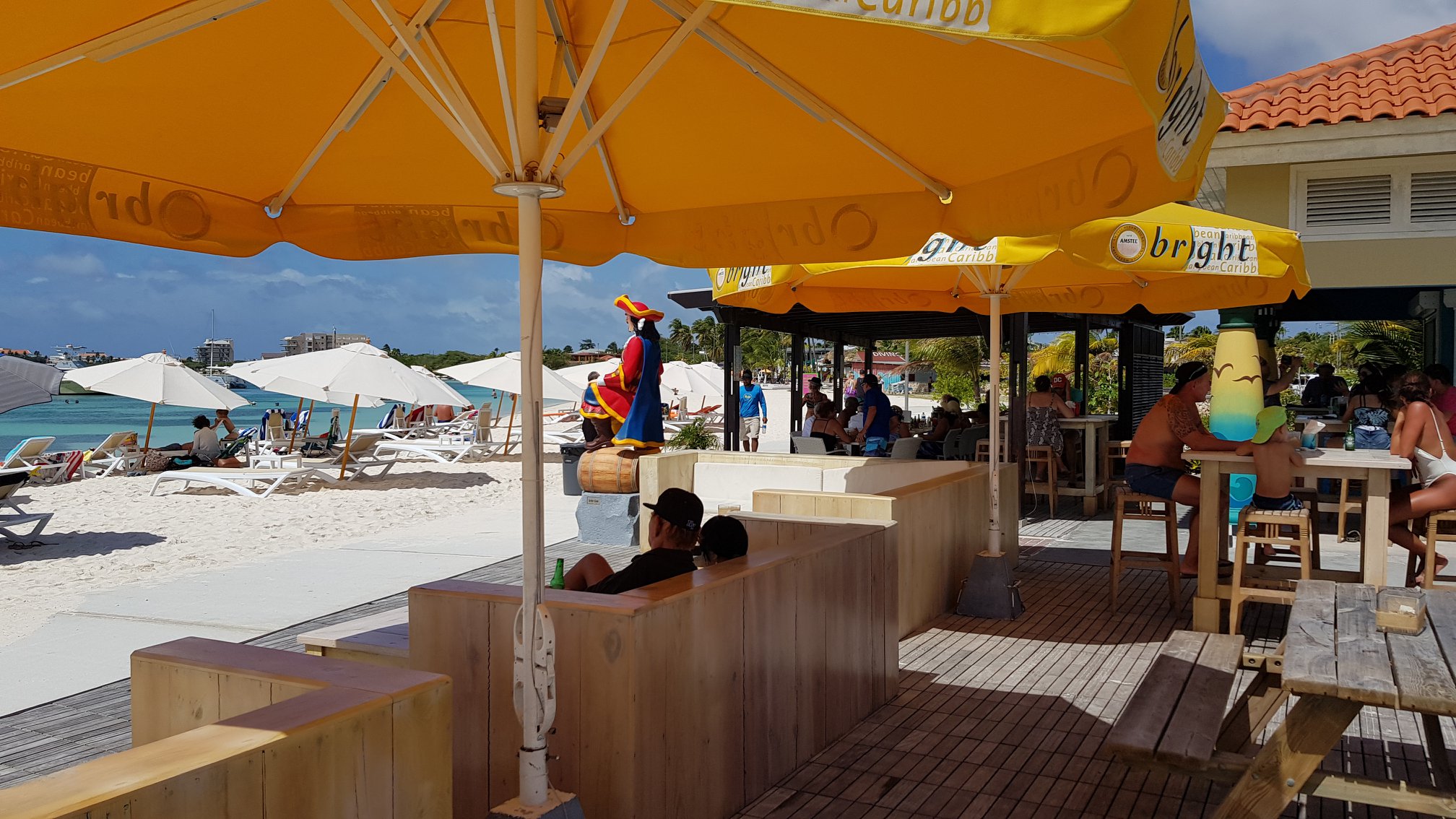 Tip: In addition to their already friendly regular menu prices, they have great happy hour and beer bucket deals to take advantage of!
BEACH BAR ARUBA
Drink to try: Beach Bar Loaded Rum
Location of watering hole: On Druif Beach, directly across from Divi Golf & Beach Resort
What to expect: Quite the picturesque beach bar. It has a spacious bar and patio area overlooking Druif Beach, and let me tell you, the view does not get any better than this! With a great food and drink menu, friendly staff, and fun music… this is truly a spot for everyone. Take a break from the sun in their shaded bar area or choose to get some sunshine on their patio with friends and keep the happy vibes rollin'!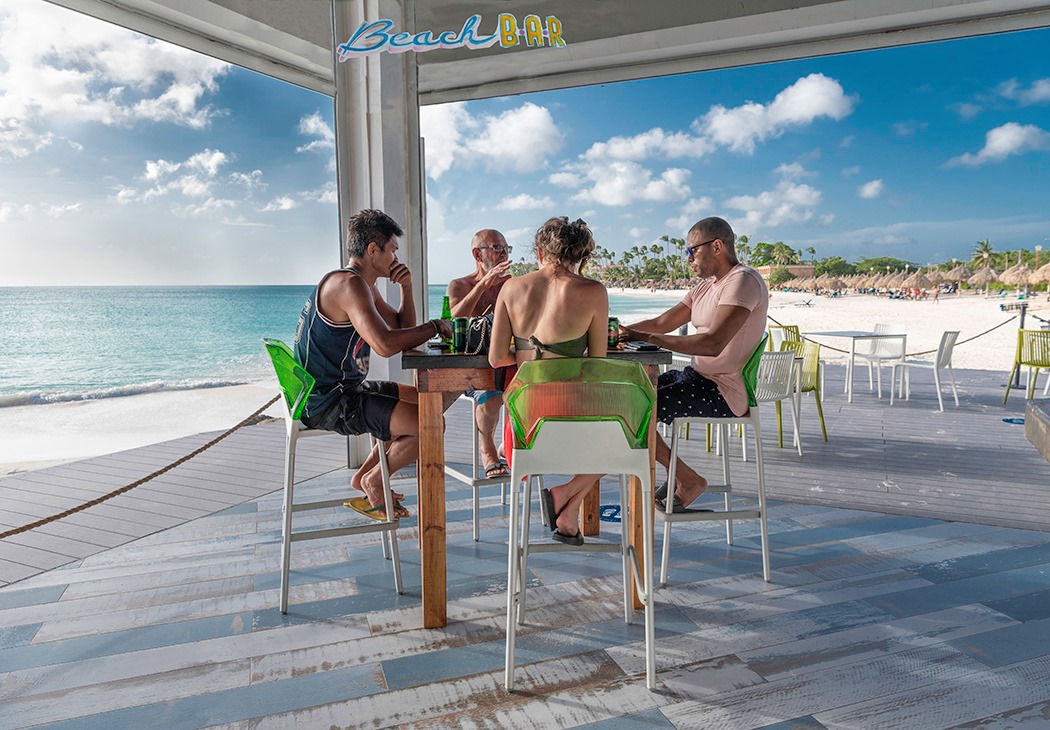 Tip: This is one of the most magical places to watch the sun go down in Aruba! The sunset glow at this location is just simply breathtaking!
So, if you've checked these off your list already, congratulations… you are officially a Beach Bar Bum too!
If not, it's true what they say… there really is a <insert drink of choice here> somewhere out there thinking about you too – and this one is ready and awaiting your arrival in sunny and happy Aruba!
Now the choice is up to you, which bar or bars (wink face) will you park your bum at for the duration of your vacation? Feeling rather parched and ready to start beach bar-hopping? Check out our list of 15 Happy Hour Spots for more details on happy hour deals.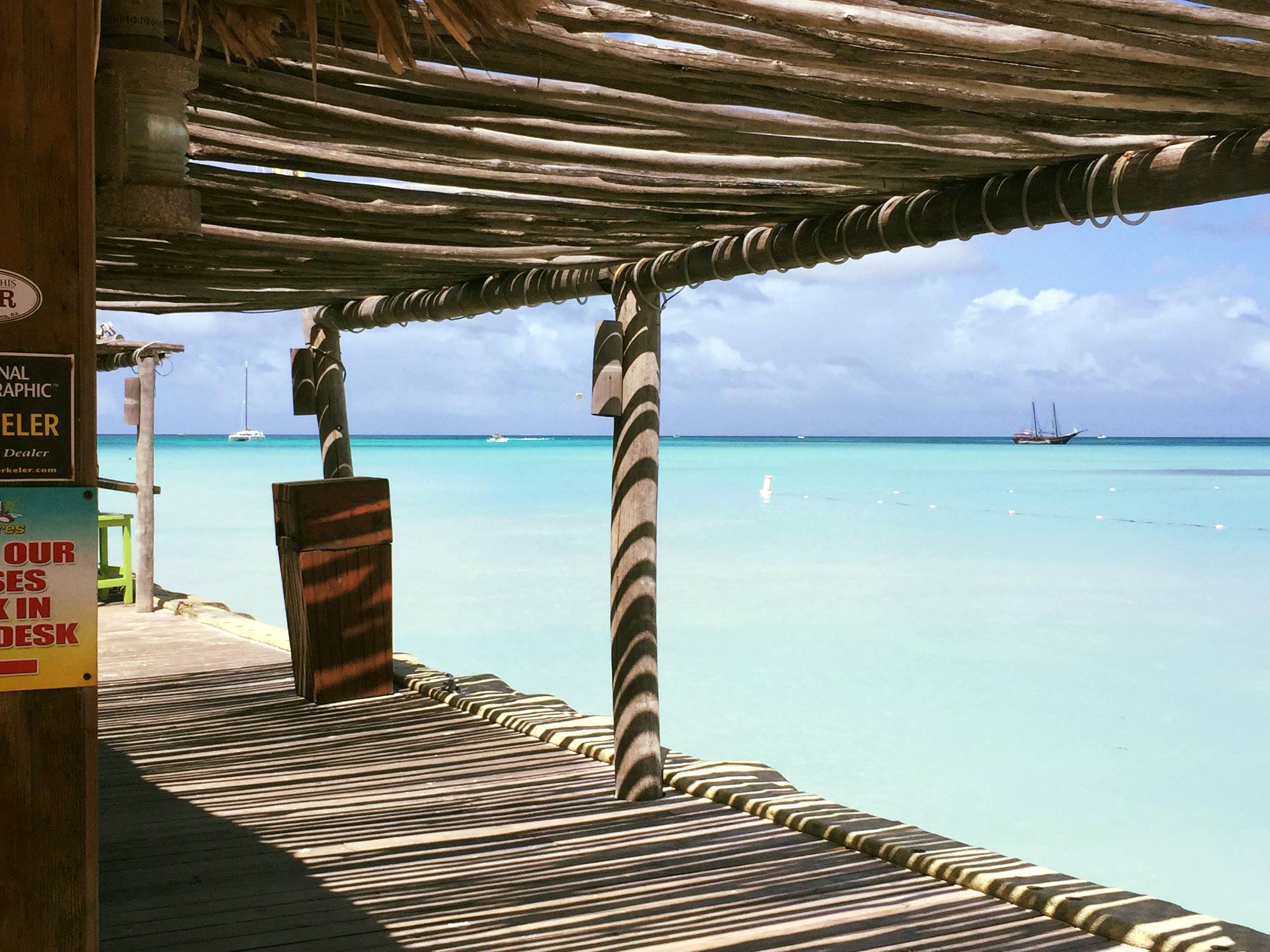 Also, be sure to follow us on Facebook and Instagram to get a taste of paradise on a daily basis!