If you're considering a quick trip to Aruba and are wondering if it's possible to fit in enough of all there is to see and do on the island within such a short stay, we are here to help!
Check out our recommendations to make the most out of your 4-day stay and enjoy the best activities, sightseeing, dining, and beach lounging.
Save our proposed itinerary and feel free to make alterations based on your preferences:
Day 1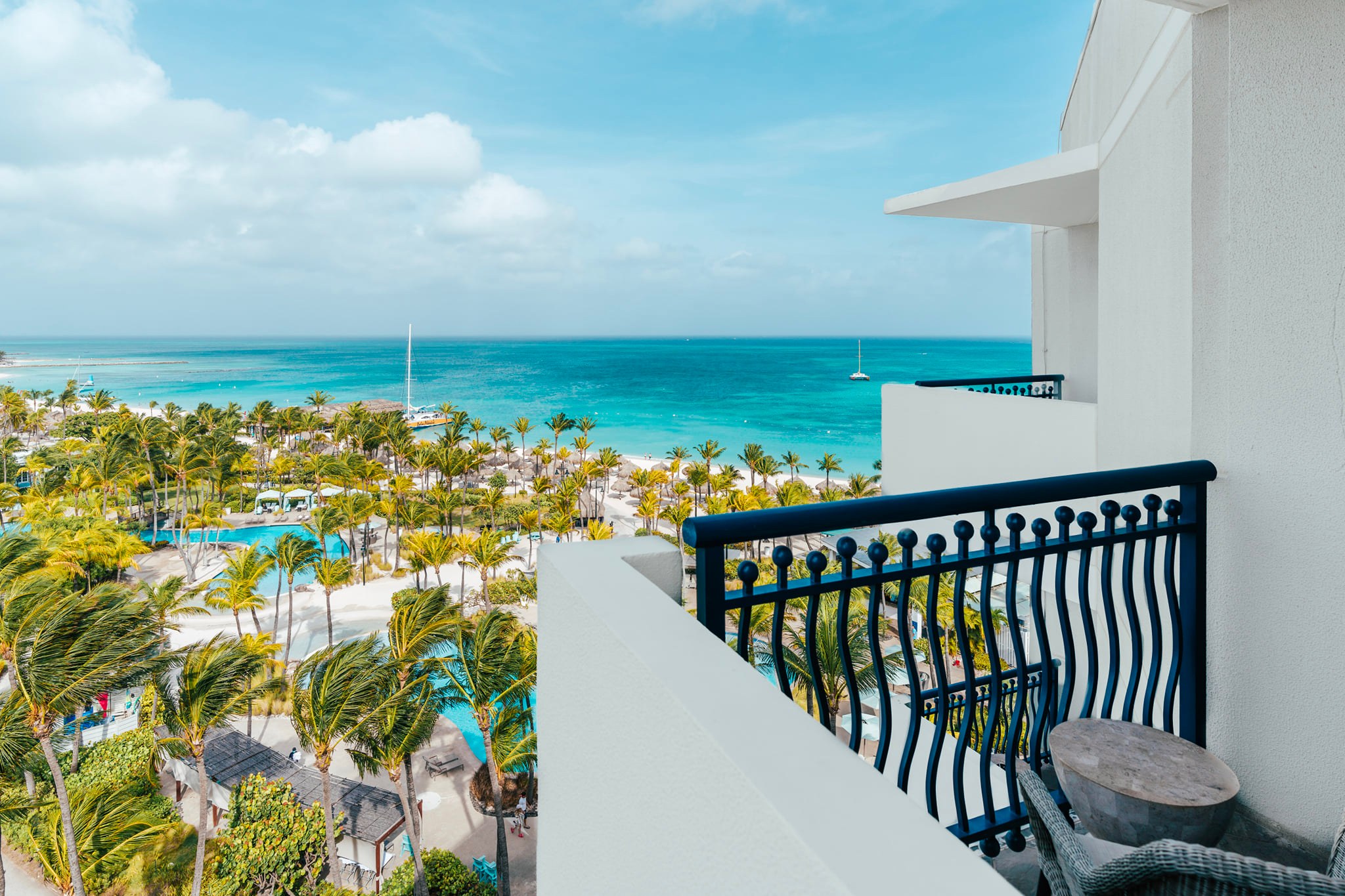 Arrival on our happy and sunny island
Get your rental car
We recommend renting a car or jeep, for either two days or your entire stay so that you can explore the island when and where you want. Do keep in mind there are plenty of guided island tours to join so don't feel obligated to rent a jeep in order to explore the more rugged areas of the island. Renting a car will be just fine to explore the different areas, and to visit restaurants and beaches. If you choose to only rent a vehicle for part of your stay, the public bus is easily accessible and taxis are readily available in most areas.
Car rental companies either have an office located directly at the airport or they will arrange to pick you up at the airport and take you to their office to get the car. And then you'll be on your way!
Stop at the grocery store for necessities
If you have time before your hotel or vacation rental check-in, stop by Ling & Sons or Super Food for your grocery essentials (shop light, think breakfast, snack, and must-have items only). Since your stay is short we recommend eating out for lunch and/or dinner to experience as much of Aruba's dining as possible. Shopping tip: don't waste your money on buying bottled water in the store, Aruba's water is high quality and is perfectly safe to drink!
Head to a nearby beach and watch the sun go down
It's your first day, you need to see the beautiful sea and feel the sand between your toes! Walk or drive to a nearby beach. We recommend making your way to Eagle Beach, a gorgeous widespread, soft white-sand beach… the absolute perfect place to watch the sun go down on your first night. Check the sunset times in Aruba so you don't miss the island's glowing sunset hour.
Happy Hour
It's your first day in Aruba, we suggest treating yourself to a little happy hour action if you have the time before dinner. Check out some of our favorite happy hours and beach bars here.
Casual dinner
It's your first day and you've likely been up since early in the morning traveling so we recommend taking it easy. Plan for an early and casual dinner nearby where you're staying. There are plenty of options in the high and low-rise hotel areas. If you're in the Eagle Beach area try Matthew's, Ricardo's or Water's Edge. And if you're in the Palm Beach area try Pelican's Nest or Quinta del Carmen. Check out our blog for more dining recommendations or view an extensive list of restaurants here.
Day 2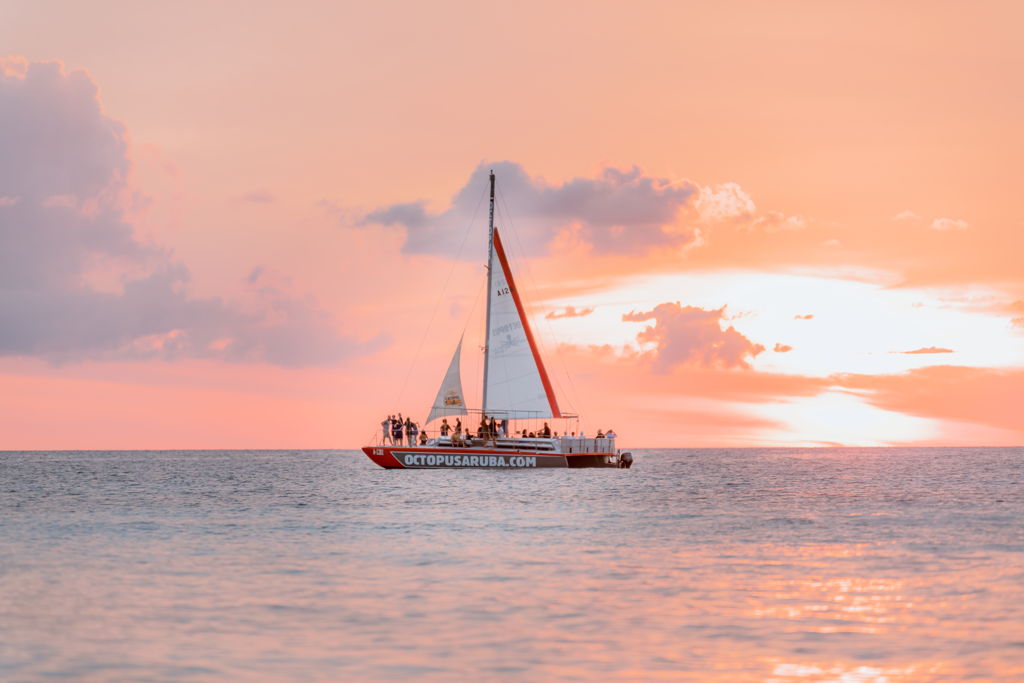 Breakfast at 'home'
Enjoy breakfast at your hotel or vacation rental to start the morning off on island time, slow and easy.
Beach, please
It's your first day to really relax and unwind, rather than outdoing yourself and going on an island excursion, do a little beach hopping and then spend the afternoon soaking up some sunshine at your favorite one. View our recommended beaches. Many beaches have restaurants, bars or snack huts nearby however we recommend packing a cooler with some refreshing beverages and snacks so that you are fully prepared for the day!
Can't sit still at the beach? Try one of these exhilarating water activities.
Snorkel or sunset cruise
To perfect your first full day, book yourself an afternoon snorkel or early evening sunset cruise. Trust us, you won't be disappointed! It's a great way to take in all of the beautiful surroundings of our lovely Caribbean island, explore the marine life, as well as enjoy a few bites and cheers to your vacation (PS:  almost every catamaran or sailboat cruise tour includes an open bar, enjoy!).
Indulge in a nice dinner
How about toes-in-the-sand dining at Barefoot? Fine dining at Senses? Or dining within a gorgeous tropical oasis at Sunset Grille? Downtown dining at El Gaucho, Yemanja or Lima Bistro? Find more options here.
Day 3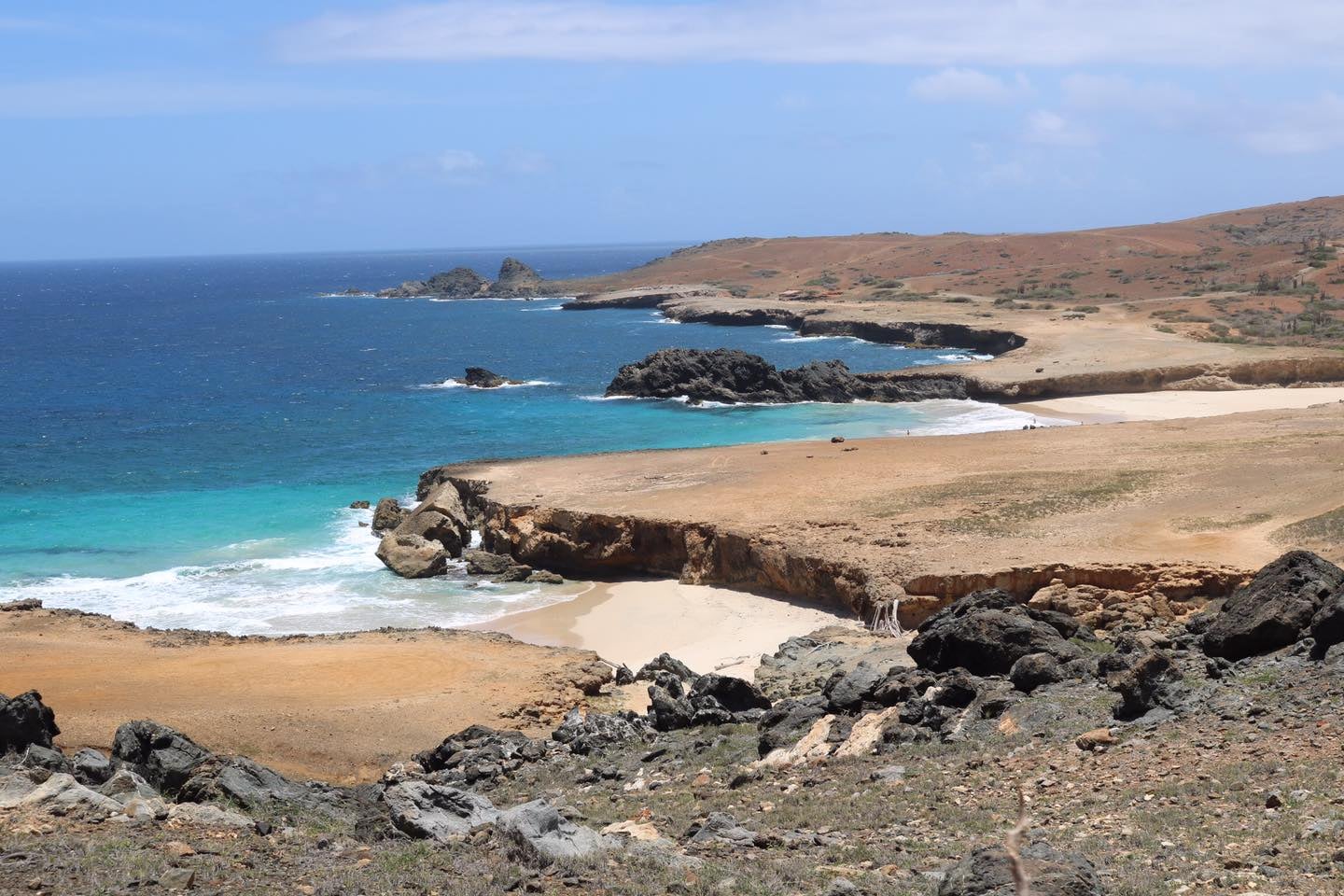 Local Breakfast
You can't visit Aruba without trying our local breakfast delight, Pastechi! You'll find locals lined up at neighborhood snack places for this quick breakfast bite on the go. They're filling and the perfect quick meal for a day out on the road exploring the island What is a pastechi? A pastechi is deep-fried dough in a half-crescent shape, and is filled with different delicious fillings, such as ham and cheese, chicken, ground beef, salted fish, tuna, veggie chop suey, and more. Many snack places also serve amazing and piping hot empanadas. Want to do a sit-down breakfast? Head to one of the Dutch pancake restaurants on the island and try a sweet and savory large Dutch pancake or delightful melt-in-your-mouth poffertjes.
We recommend grabbing your breakfast in the downtown Oranjestad area, this way you can take a walk around and take in the vibrant, colorful surroundings. There are plenty of stores and stands for shopping, as well as museums to check out, some must-see museums include Ft. Zoutman and the National Archaeological Museum. For more things to do and see downtown, check out our blog.
Island adventure 
Now that you've gotten the fuel you need it's time to hit the road. After you've checked out downtown Oranjestad, we recommend visiting Arikok National Park. Our island's national park covers about 20% of the island and is the perfect place to explore the diverse natural beauty that Aruba has to offer. Simply purchase a day pass at the park's visitors center and be on your way! You can do so by jeep or opt for a more active and environmentally-friendly way and go hiking. There are plenty of natural sites and attractions (caves, gold ruins, wild beaches, hiking trails, natural pools, and more) that can be found within the park as well as outside of the park, on the rugged east coast of the island. Some more stops to add to your list include Bushiriana Ruins, Natural Pool (Conchi), Quadirikiri Cave, Small Cave Pool, and the California Lighthouse.
If you don't have a jeep or rather have someone show you the way versus exploring on your own, there are plenty of guided island tours to choose from, browse them here.
Take a siesta
After a long day of island adventure, you might just want to take this advice, get a little rest in your room or have a relaxing snooze on the beach to gear up for the fun evening ahead!
Dinner time
Perhaps aim for a later dinner time tonight since you've likely had a long day of island exploring. Browse restaurants here. Or if you have a full kitchen where you're staying enjoy dinner at 'home'.
Hit the town for a fun night out
There are plenty of bars and lounges to be found in Palm Beach, the high-rise hotel area. You can also head downtown for some fun, more under-the-radar spots. View a list of bars here.
Day 4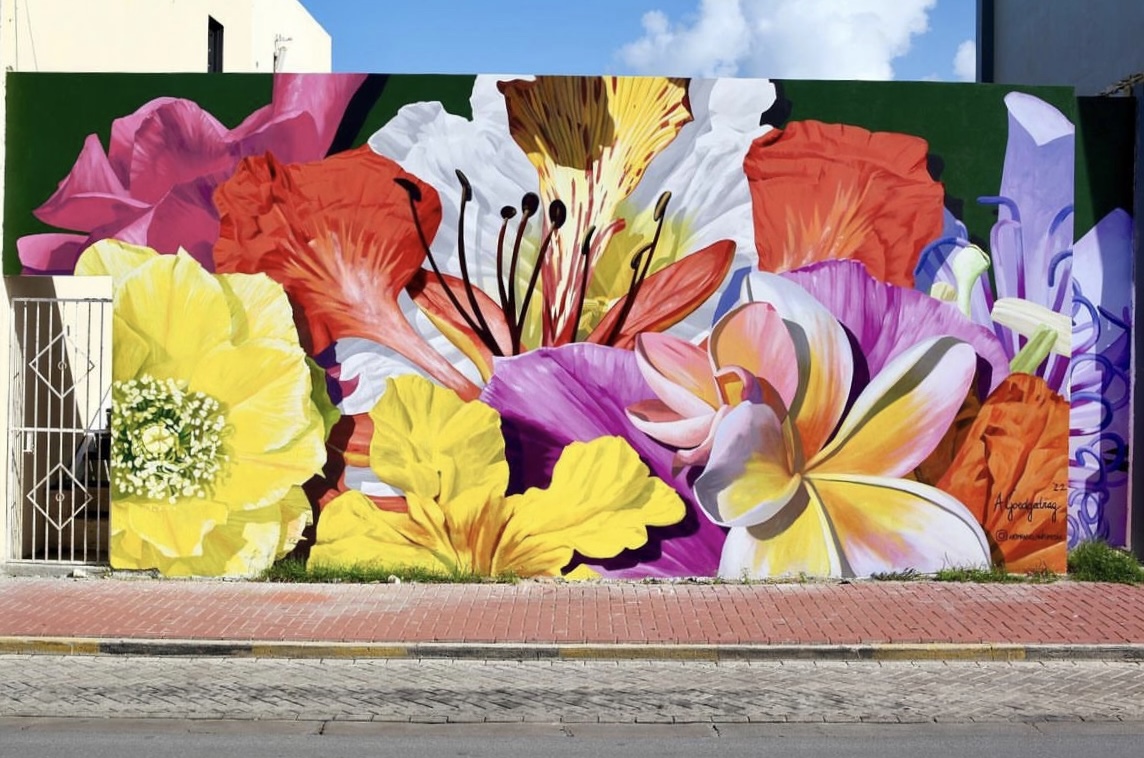 Explore San Nicolas
Make your way to the beautiful and vibrant city of San Nicolas on the Southeastern end of the island. We recommend strolling around and taking in all of the beautiful surroundings. It's home to a vibrant art scene, with a great display of street art including large wall murals and mosaic art, as well as art galleries that showcase local talent and creativity. You'll find much of our island's art in San Nicolas. New murals are added every year so don't forget your camera to snap some shots. We also recommend visiting the Museum of Industry, situated in the water tower, it offers plenty of information on Aruba's historical rise with regard to the island's industrial development. San Nicolas is home to the refinery, which up until the 70's was the largest in the world. Employing about 7000 people from 56 different countries. Since then, the refinery is not in use anymore but the effects are still felt in San Nicolas, Aruba's cultural hub.
After a morning of exploring San Nicolas stop by Kulture Cafe for a late breakfast or early lunch, located at the Nicolaas Store monument.
Relax at Baby Beach
Since you're already in the area, head further South to the very tip of the island to Baby Beach, approximately just a 10-minute ride away. Tip: Since it's on the way, stop by Boca Grandi or Grapefield Beach to enjoy the views of one of our island's empty, wild and untamed beaches! Once you reach Baby Beach, enjoy a relaxing afternoon at this calm and shallow beach, it offers quite a different setting than other beaches on the island. We recommend bringing a cooler along with drinks, however, if you can't, no worries, there are two restaurants by the beach. Tip: there is a bathroom on-site as well, so if you want to freshen up a bit before heading out don't forget a change of clothes.
Grab dinner on the way back, local-style
On the way back to your hotel or vacation rental, stop by one of the restaurants in the area for some great seafood and Caribbean cuisine. We recommend trying Kamini's Kitchen, O'Niel Caribbean Kitchen, Neighba, Zeerovers, Marina Pirata, or Fish House Island Bar & Restaurant.
Prep for your departure tomorrow
Pack up your things as much as possible so that you can enjoy a slow and easy morning before heading to the airport tomorrow. Take it easy for the night or head to a casual nearby bar for some music and cheers to your last night on the island.
Departure Day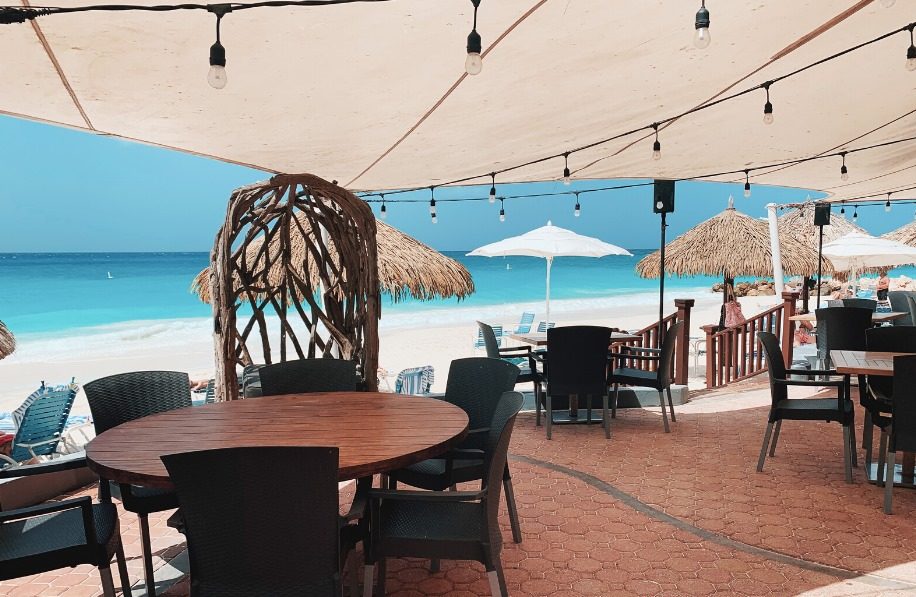 Breakfast with a view
Head to a restaurant on or near the beach so you can get that breathtaking view one last time. For a perfect view and delicious breakfast, try Matthew's, Ricardo's, Hadicurari, or Bugaloe Beach Bar.
Head to the airport (sigh)
Don't worry, you'll be back! And most likely you'll decide to stay for a longer period of time to experience more of our sunny and happy island. PS: For less stress, give yourself enough time and arrive at the airport 3 hours prior to your flight.