Often, many vacations are planned around special occasions among couples or summer break for the kids, but why not take the time to plan a little escape for you and your best girlfriends?
Life is busy and sometimes it can feel as if it's going a mile a minute. It's important to slow things down every now and then and get some quality time together with your besties! Go celebrate your friendship and take a break from your everyday routine with a little trip to paradise! Boys, this applies to you too, grab your buds and jet set to this little happy island in the Caribbean. But today, I need to remind you, it's all about the girls, yes, girls only!
Here are some ideas to spark your planning for your girls' trip to Aruba:
Farmer's market and flea market shopping
This is a fun way of shopping locally and taking home something memorable from your trip (of course you can also shop for someone other than yourself and bring home a gift for a lucky friend or family member!).
You will find a flea market downtown stretched along the marina (just off the main boulevard) and across from the cruise ship terminal. If you are feeling daring and want to head a bit deeper into the island (where the locals roam) attend the Farmer's Market at the Ostrich Farm! It is held the first Sunday of each month and displays all sorts of fun and unique local vendors to shop from! Check out our Downtown Oranjestad video for some more shopping inspiration.
Get some exercise, island-style
There are plenty of ways to stay fit and active while on vacation in Aruba, and most importantly you can have lots of fun while you're at it! Sometimes you need a good active day to get the blood flowing and reenergize. Some options are: to go on a nature hike in Arikok National Park (check out our hike for some inspiration), rent a bicycle from one of the many stations located around the island making for a super fun and green way to explore Aruba (pedal your way around the island and bring out those inner "Now and Then" vibes, go paddleboarding by the mangroves in the Spanish Lagoon, try SUP yoga on Palm Beach, or if balancing on the water isn't your thing, there are plenty of yoga classes to join – on land!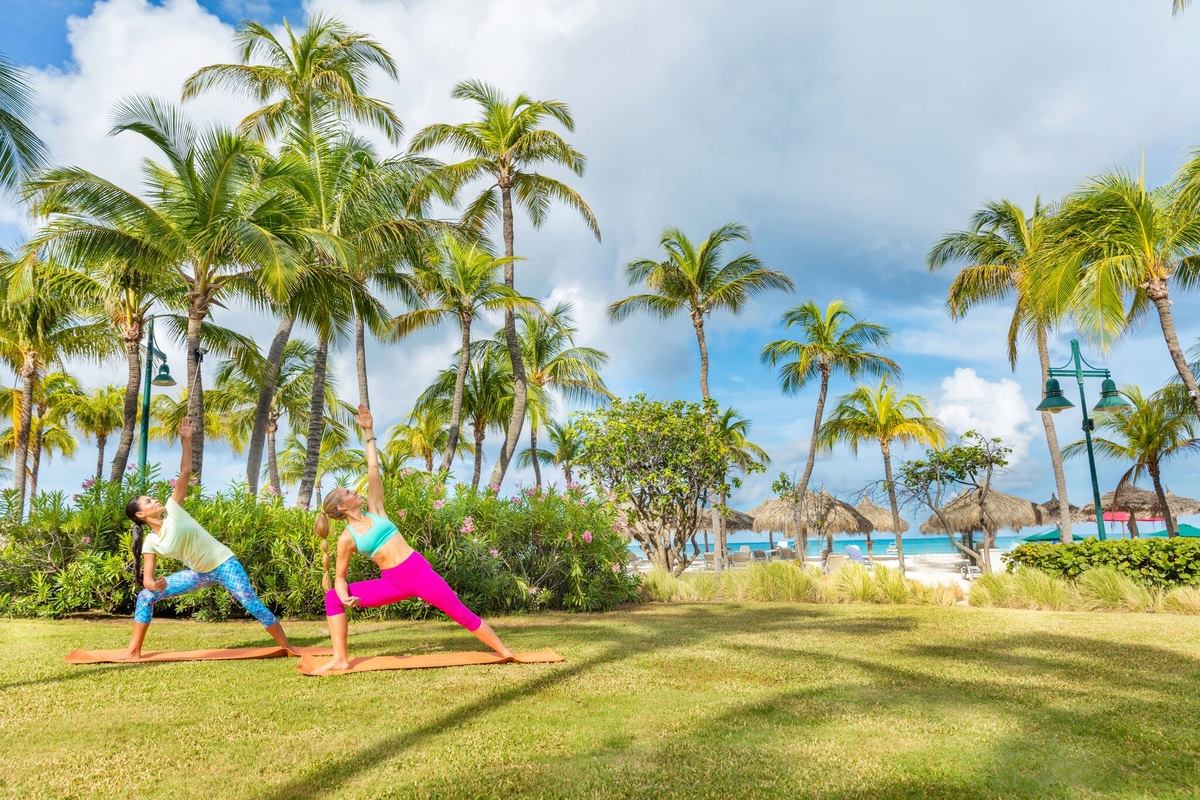 Treat yourself to a spa day
While this idea may sound a bit cliché, you haven't had yourself a proper spa day until you've experienced one in paradise! A self-care day with the girls followed with an afternoon on the beach or poolside, it truly doesn't get any better! It's the perfect way to unwind. Try eforea Spa at Hilton Aruba Caribbean Resort or Okeano's at Renaissance Aruba Resort (try their private Spa Cove located on Renaissance Island and enjoy an afternoon with the flamingos afterward).
Picnic on the Beach
Hit the nearest grocery store, stock up on your favorite food and drinks, pack your cooler, and head to the beach! Some of my beach suggestions for your picnic day include Boca Catalina, Arashi, Eagle Beach, or Mangel Halto. There is nothing like a girls' day on the beach, especially when you are properly equipped. Too lazy to shop and eager to get to the beach? There are now local picnic companies you can order from that will deliver baskets with goodies to your desired location!
PS – Don't forget to pack a fun game, plenty of water, a beach-proof speaker for some tunes, reef-safe sunscreen, and some snorkel gear! Make sure you stick around for Aruba's breathtaking sunset, you don't want to miss it!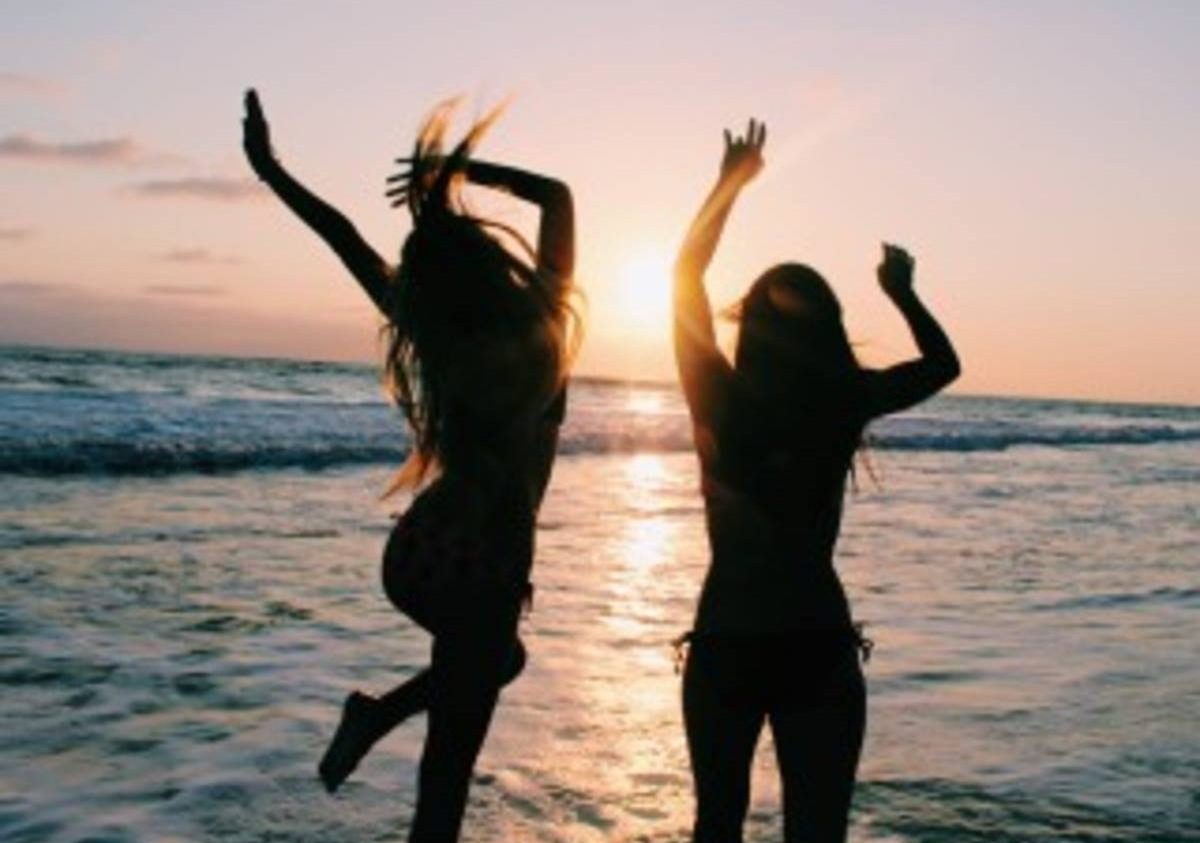 Island adventure with the girls
While a day on the beach with the girls might be your number one priority, don't forget to dedicate a day to explore other areas of the island, such as the wild East Coast. Here you will find some real island adventure! We suggest renting a 4×4 vehicle, such as a jeep, UTV or ATV. Be sure to check with a local or tour guide before you head out, jot down some exciting and harder-to-reach destinations on your adventure itinerary and get to exploring! Check out our landmarks and wild beaches videos for some ideas. Rent your UTV or ATV with Around Aruba Tours or if you prefer to join a guided tour, check out: El Tours, Pelican Adventures, and Kini Kini.
Important note: UTV's and ATV's are now banned from Arikok National Park. If you would like to enter the park you can do so by jeep or on foot ( hiking).
Volunteer at a local animal organization, walk and cuddle with furbabes
Other than wine, chocolate, and cheese we all know (or you should know) there is one more effective way to a girl's heart, and that is… a furbaby! Some prefer dogs and others are more into the purring felines, whichever you are more into, I think we can agree they are all super cute, sweet, and full of love! In Aruba, unfortunately, we face an overpopulation of strays and our island can use a helping hand when it comes to giving the animals a better, safer, and healthier life.
So, with that being said, grab your girls and head to one of the many non-profit animal organizations on the island to volunteer. They hold many events, such as adoption days, farmer's markets, garage sales, and beach dog walks. PS – By volunteer, I mean snuggling, petting, and caring for as many of Aruba's furry friends as possible! Doesn't sound too bad, right? Who knows you may find yourself bringing one home (wink face).
A cool way to help: One of the most needed and valuable ways of contributing to a better life for the dogs and cats in Aruba is to offer yourself as a flight volunteer. If you are not able to adopt a dog or cat in need yourself, you can always assist in bringing one to their new home (such as in the US or Europe) as your travel back home from your Aruba vacation. If you are interested, simply contact Aruba Flight Volunteers or one of the many organizations, and they will be happy to provide you with more details and arrange the entire travel of the adopted pet. Oh, and it will cost you nothing, yet the reward of giving this furball a new life filled with love and good health will be oh-so-very satisfying!
Dinner with your toes in the sand
Toasting to your friendship with a bottle of your favorite bubbles as the sun goes down, and enjoying a magical moonlit dinner on the beach… it is simply heavenly and makes for an incredibly memorable evening in paradise!
There are plenty of beach dining options in Aruba, here are several to consider: Barefoot Restaurant, Bucuti's Elements Restaurant, and  Renaissance Resort's "Dinner Under the Stars" on their private island. View more dining options in Aruba here.
There are plenty more things to add to your girls' trip itinerary, for more ideas browse our site!