Right about now, everyone could use a little "me day" at the spa, don't ya think? Times have been rather trying as of late. Making it the perfect time to treat yourself to a day of relaxation, rejuvenation and some much-needed rest!
With this being said, we recently went back to our favorite heavenly oasis, Hilton Aruba Caribbean Resort's eforea Spa! And, we are here to tell you, whether you are a spa regular or a newbie, on vacation or a local, the eforea Spa experience is just what the doctor ordered – trust us!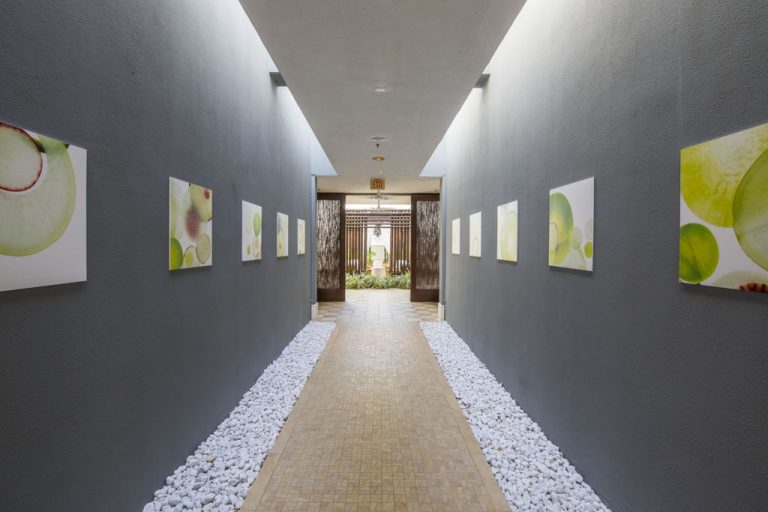 The spa has worked hard to prepare and reopen for their customers once again, presenting their brand new protocols to ensure the highest standards are met when it comes to safety and hygiene!
Comfort, relaxation and safety all in one
Spa Manager, Sofia and Massage Therapist, Maudlyn were so very helpful, delightful and comforting during every step of our seamless spa experience.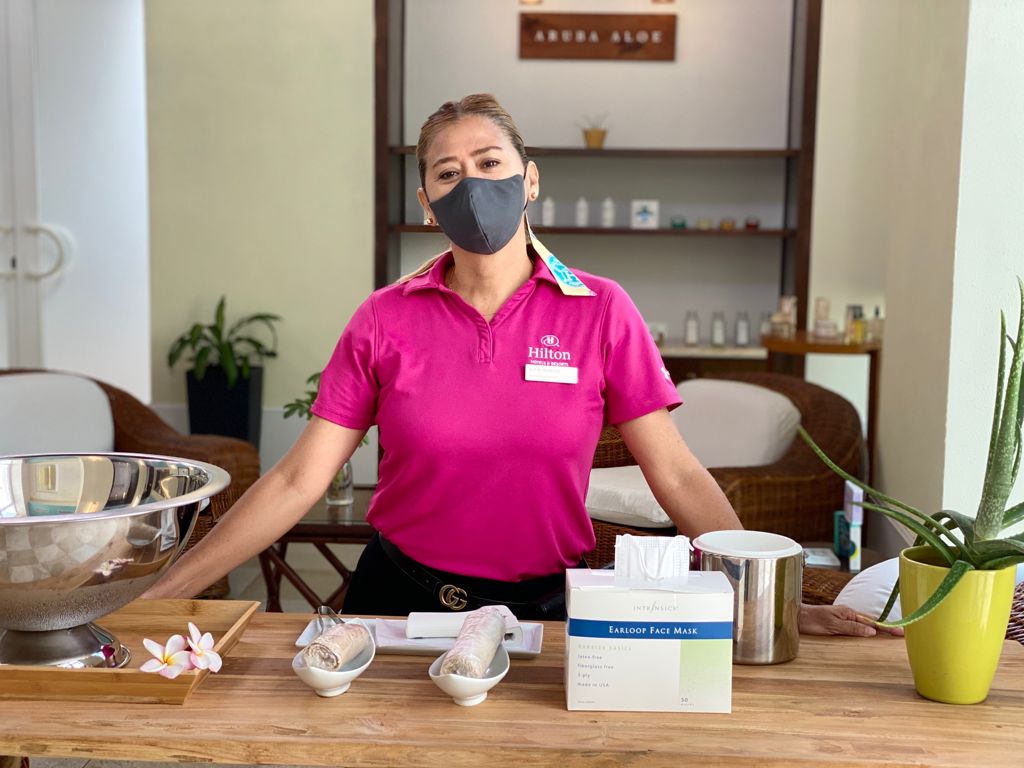 The spa environment and ambiance is pure zen! Located beachfront at the Hilton Resort, the spa includes outdoor cabanas and their large indoor spa, including a Japanese-inspired bamboo relaxation area that one must experience for themself! Simply sitting there lounging around in your cozy robe is extremely relaxing and enjoyable!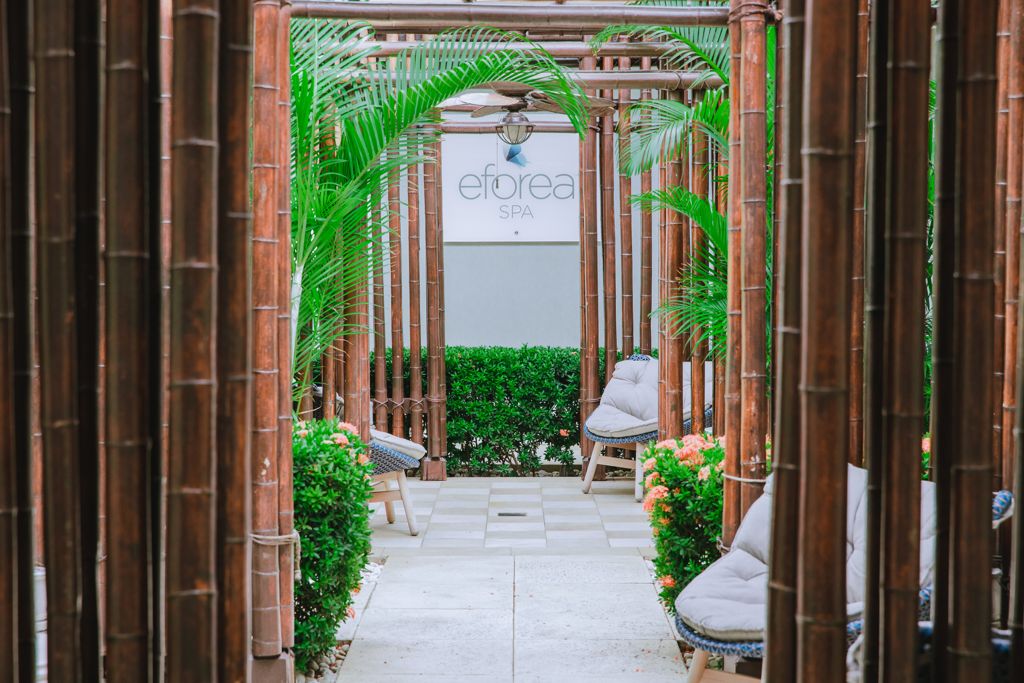 Soothing Treatments and Services
Having experienced the Aloe Vera Rum Massage (which was divine) previously, we thought it was a good idea to try something different, and get rid of all our tense knots and muscle soreness with their Fitness Muscle Massage.
Massage Therapist, Maudlyn as exceptional, very professional and really caters to your needs. The entire process was seamless, from the moment we entered the spa lobby they were waiting on us and brought us back to our room right away. Before entering the room, you will see a Hilton CleanStay sticker on the door, meaning the room has been sanitized and properly cleaned before your arrival and treatment starts, which we found very reassuring!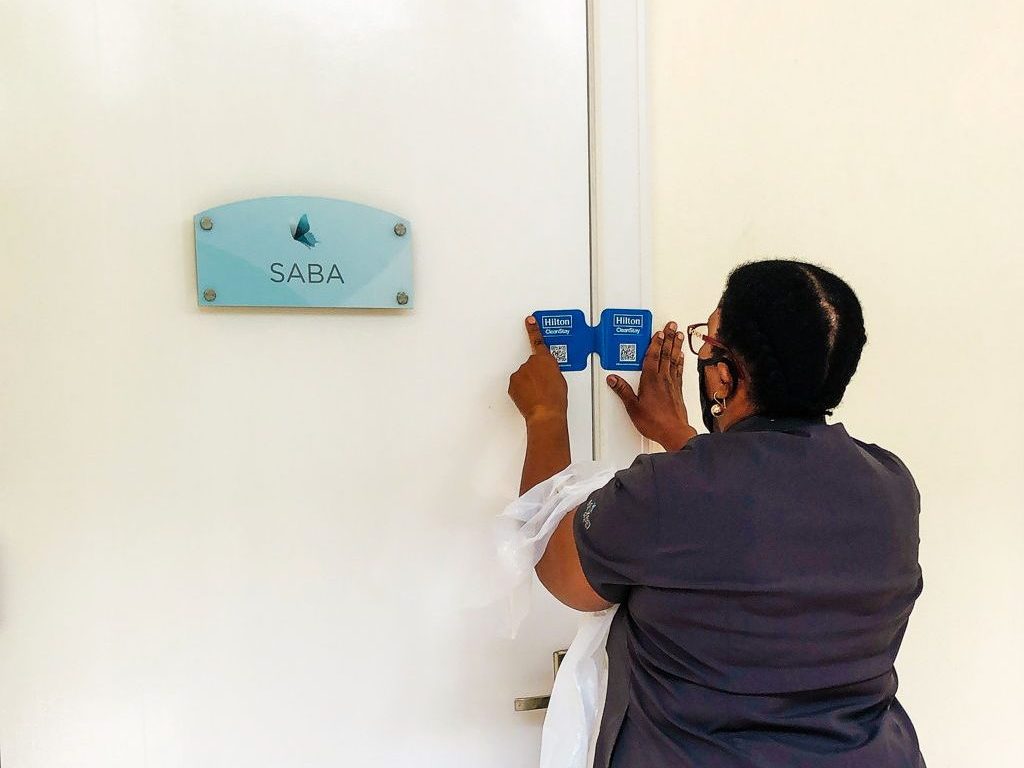 Then your therapist washes your hands making for a very soothing and calming start. The massage itself was extremely thorough, relieving, and effective, we highly recommend it for anyone in need of alleviating some tension and muscular stress! Once the massage comes to an end, you are offered a glass of Champagne or a mimosa (cheers!) to enjoy in their tranquil oasis area, truly a perfect way to end the spa experience.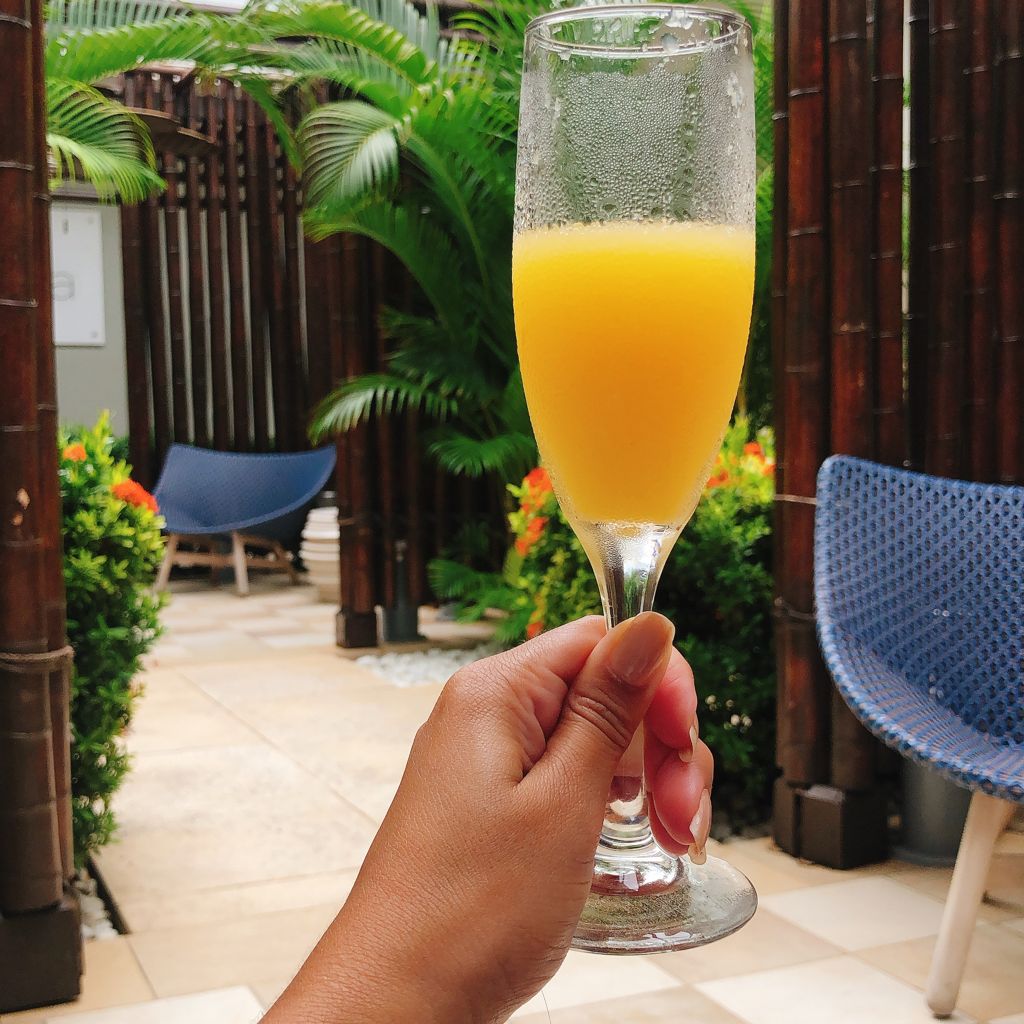 The spa has many signature treatments to choose from. If you prefer ultimate relaxation we recommend the Aloe Vera Rum Massage, if you prefer to take it up a notch to medium pressure, then go for their Aruba Caribbean Massage. And if you find that you really need some work done and want high pressure, opt for their Fitness Muscle Massage.
They really have infinite possibilities when it comes to their offered treatments and services, from an array of massages, scrubs, body polishes, hair cuts, manicures, and pedicures! You can even maximize any treatment by selecting from one of their add-ons!
Take a look at their full Spa Menu here to select the right treatment for you!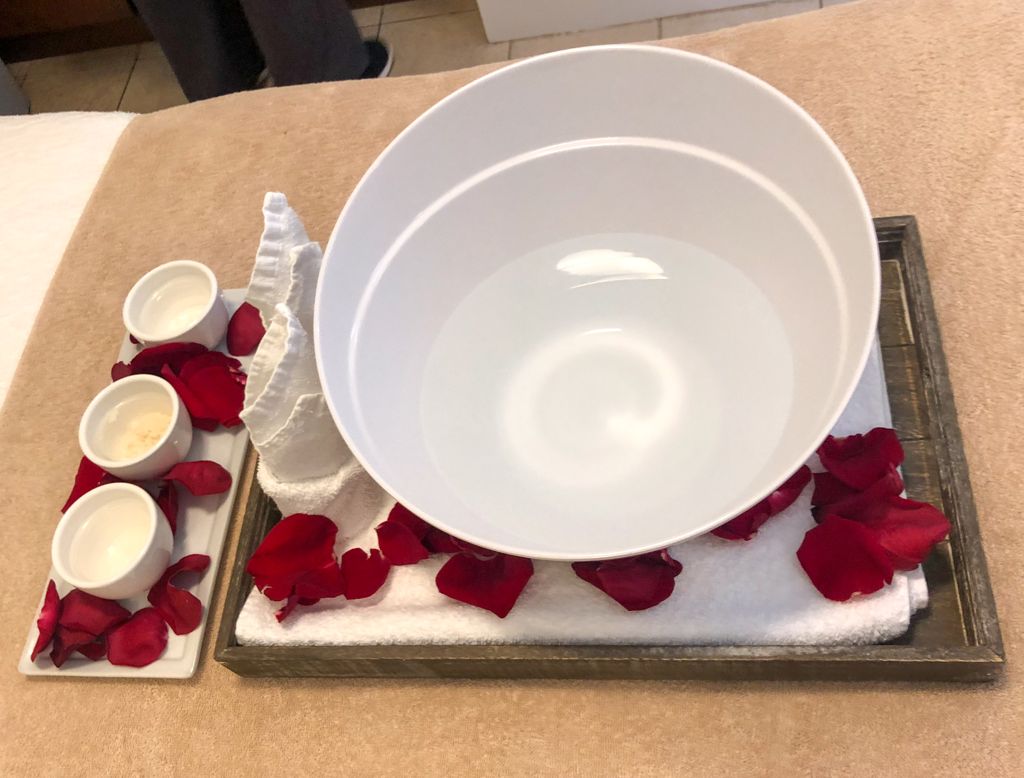 The following measures are being taken to ensure your safety:
Cleaning and hygiene protocols have been made even more rigorous, including additional time between services for sanitation and the removal of all shared items.

Additional measures have been taken to comply with physical distancing requirements, including the staggering of appointment times and spacing of seating areas.

Spa Team Members are required to wear a face mask and face shield at work in accordance with the Centers for Disease Control (CDC) and World Health Organization (WHO) guidelines.

Spa guests are required to wear a face mask that will be provided at the spa

The locker rooms and hydrotherapy facilities are closed at this time. The spa does not offer waxing or facial treatments at this moment.

Upon arrival, you will be greeted in the reception area and escorted directly to your treatment rooms. We therefore kindly ask you to shower prior to your arrival.

You must wash your hands often with soap and water for at least 20 seconds and/ or use an alcohol-based hand sanitizer that has been provided in the spa.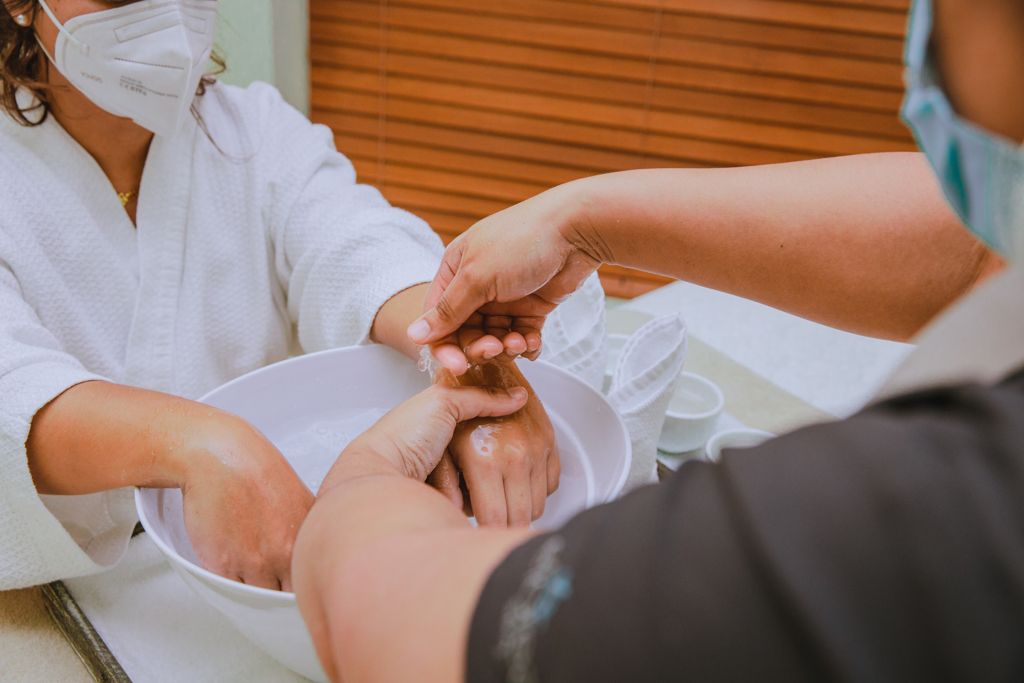 Psst – They also have a new Contactless Menu (for treatments that don't involve therapists touching you) as well as a Family Menu.
Ready to soothe your mind, body and soul? The spa is open from 9 am – 6 pm, daily. Book your eforea Spa experience today and get pampered in paradise!