Aruba's flora and fauna are finally getting the chance to flourish and enjoy this time of peace and solitude as they should! There is less smog and pollution in the air, less trash found on the ground and there are fewer humans interfering with our wildlife's habitats.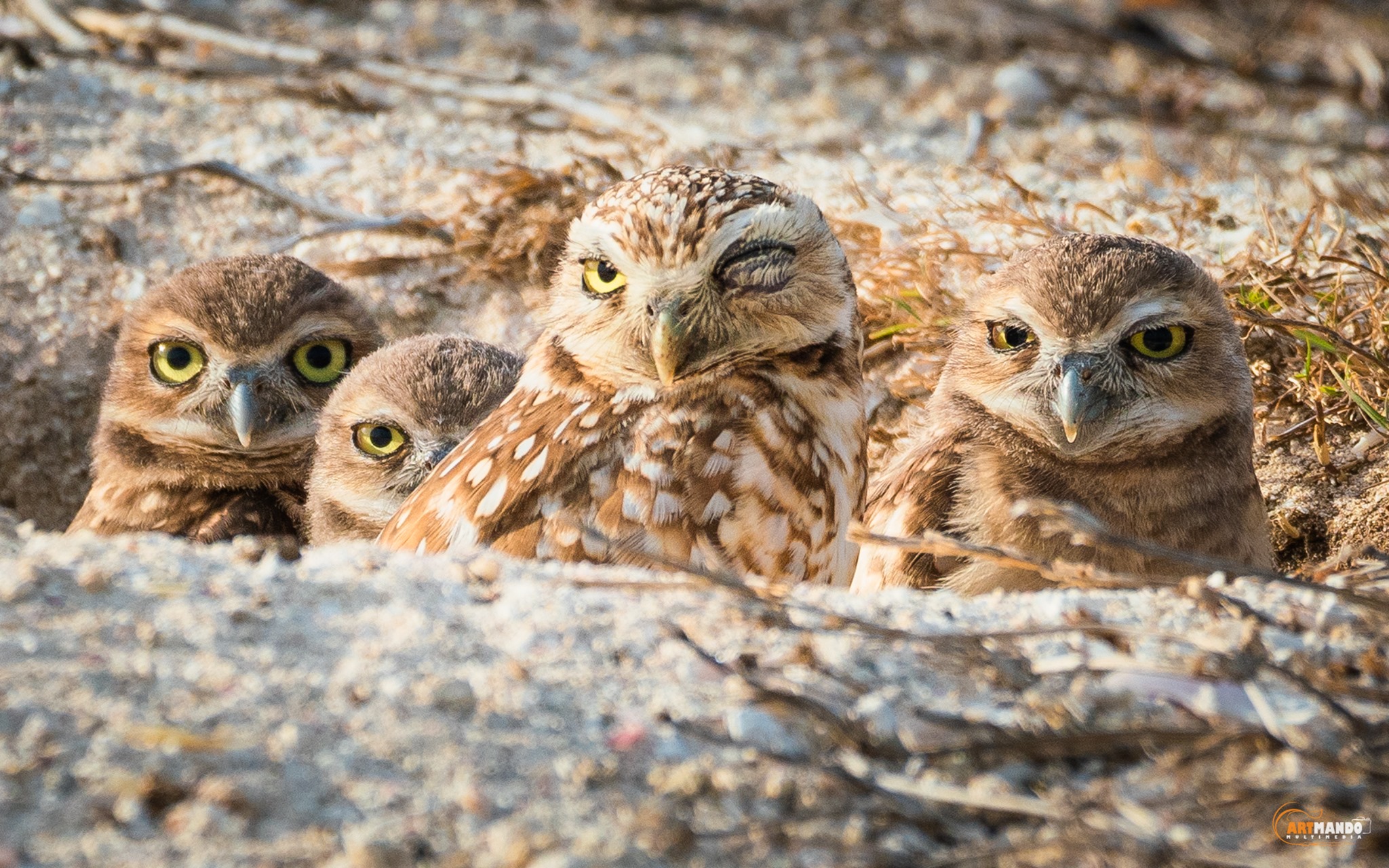 We are seeing an increase in bird sightings in different areas across the island, a significantly greater presence of marine life, and rapid growth of flora (however, we could use a little rain right now so if you can do a rain dance for us we will be ever so grateful!). It is evident, our island's nature is reaping the benefits of this downtime. This is an opportunity for us as humans to witness this miraculous restoration taking place and learn from it. We must do everything we can to encourage its growth and protect our environment.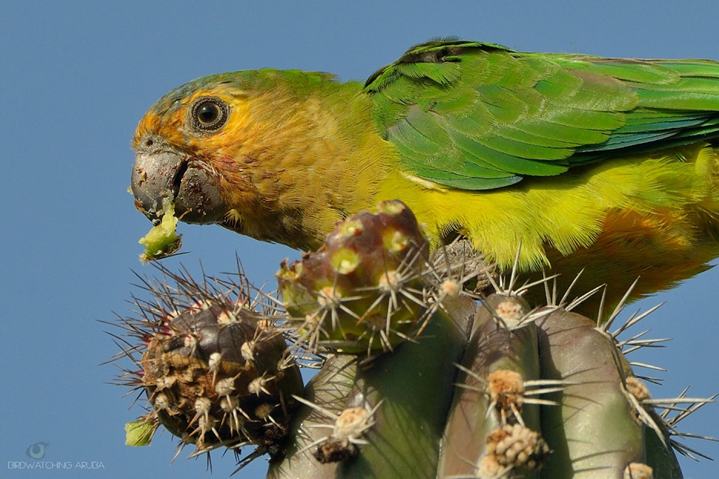 With such a beautiful (and all-natural) renovation project underway, we thought, what better way to get an up-close look than by going on a hike and getting lost in nature!
Where to you ask? For us, that was an easy decision, there is no better place than Arikok National Park! It is simply the perfect place to escape and completely immerse yourself in nature. Yes, that's right…no pinging of cellphone notifications, no honking cars, and no thumping stereo sounds. Only tranquil sounds of birds singing, the wind blowing in the trees, and ocean waves crashing ashore!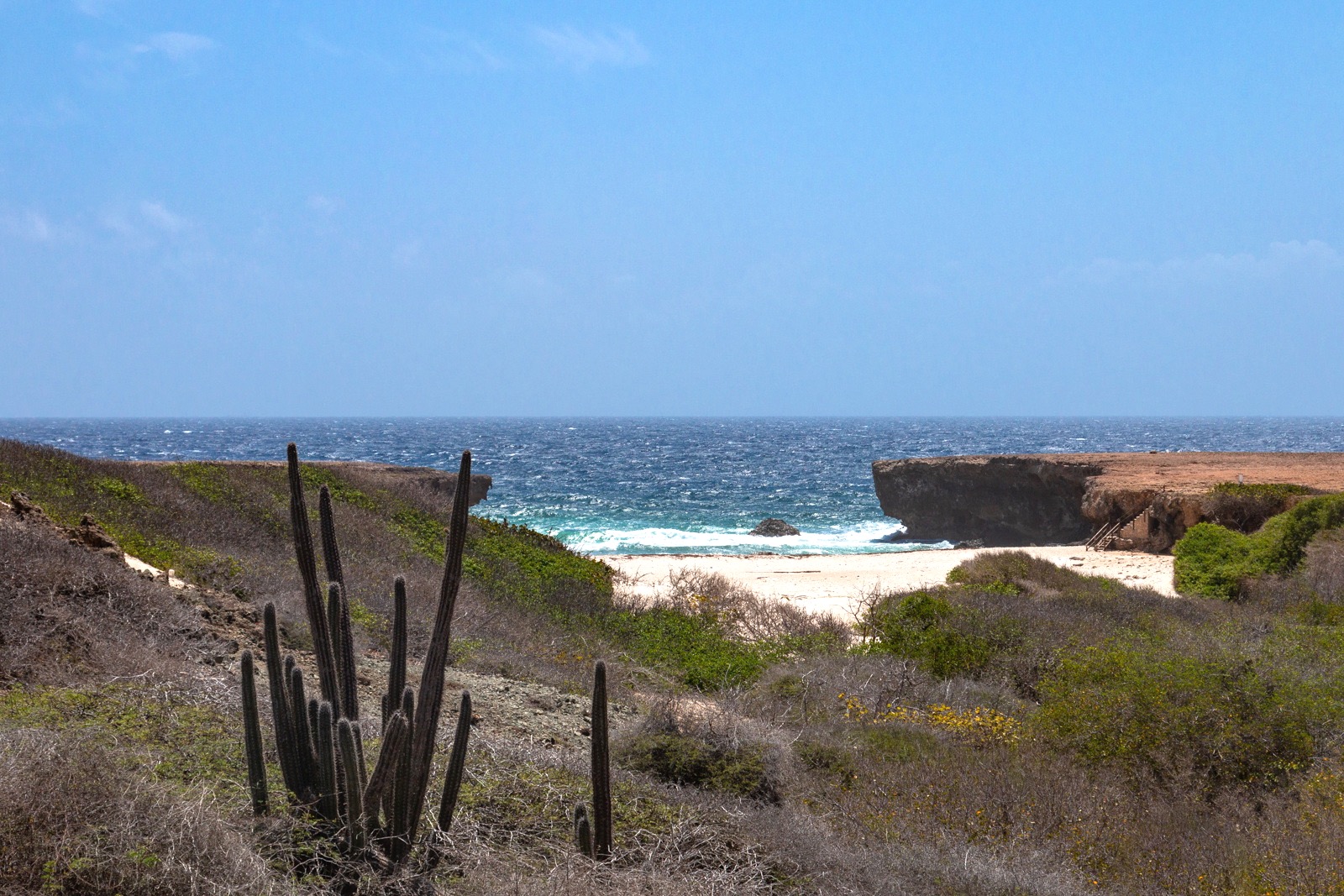 I could go on and on about our island's breathtaking beauty but I much rather you see it for yourself. So, with that being said, it's time to grab your water bottle, positive zen-filled energy, and get a little 'peace' of paradise for yourself!
Let's go (virtual) hiking in paradise!
Hike Recap:
Location: Arikok National Park
Our island's national park takes up 20% of the island and is filled with endless trails, wildlife, flora, caves, beaches, natural pools, blowholes, underground mines, and more! The rangers work very hard on a daily basis to keep the park clean and protected, keeping both nature and visitors safe. Not only do they keep us safe but they have plenty of interesting knowledge to share with us! There truly are so many things to see and learn in this park (for visitors and locals alike).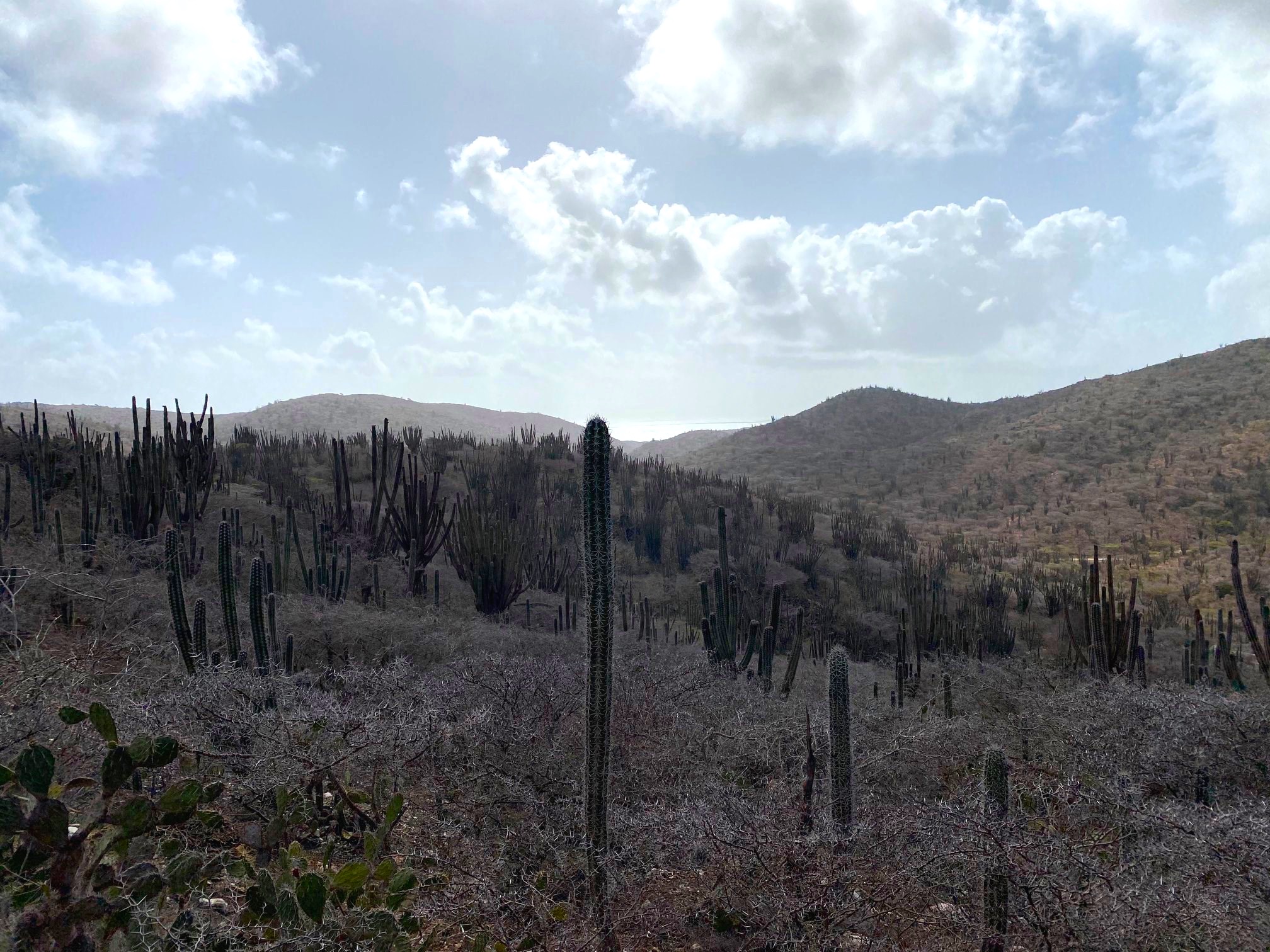 Did you know: The three highest points in Aruba are Sero Jamanota (no. 1), Sero Arikok (no. 2) and Hooiberg (no. 3). Sero Cabai comes in at number four, just one meter short of Hooiberg! Some even argue it could be taller than Hooiberg, what do you think to be true?
If you plan on visiting the park to experience a hike for yourself, here are some "dos & don'ts" for you to consider: bring plenty of water, sunblock, comfortable sturdy shoes, snacks, sunglasses, a hat, and more water! The sun in Aruba is no joke especially out 'in the wild', so you want to be as protected as possible. Also, very important, don't touch or eat any plants or fruit that you are not familiar with, as it could be poisonous. Lastly, always be aware of thorns, prickly plants, and cacti – they are everywhere… so watch your step!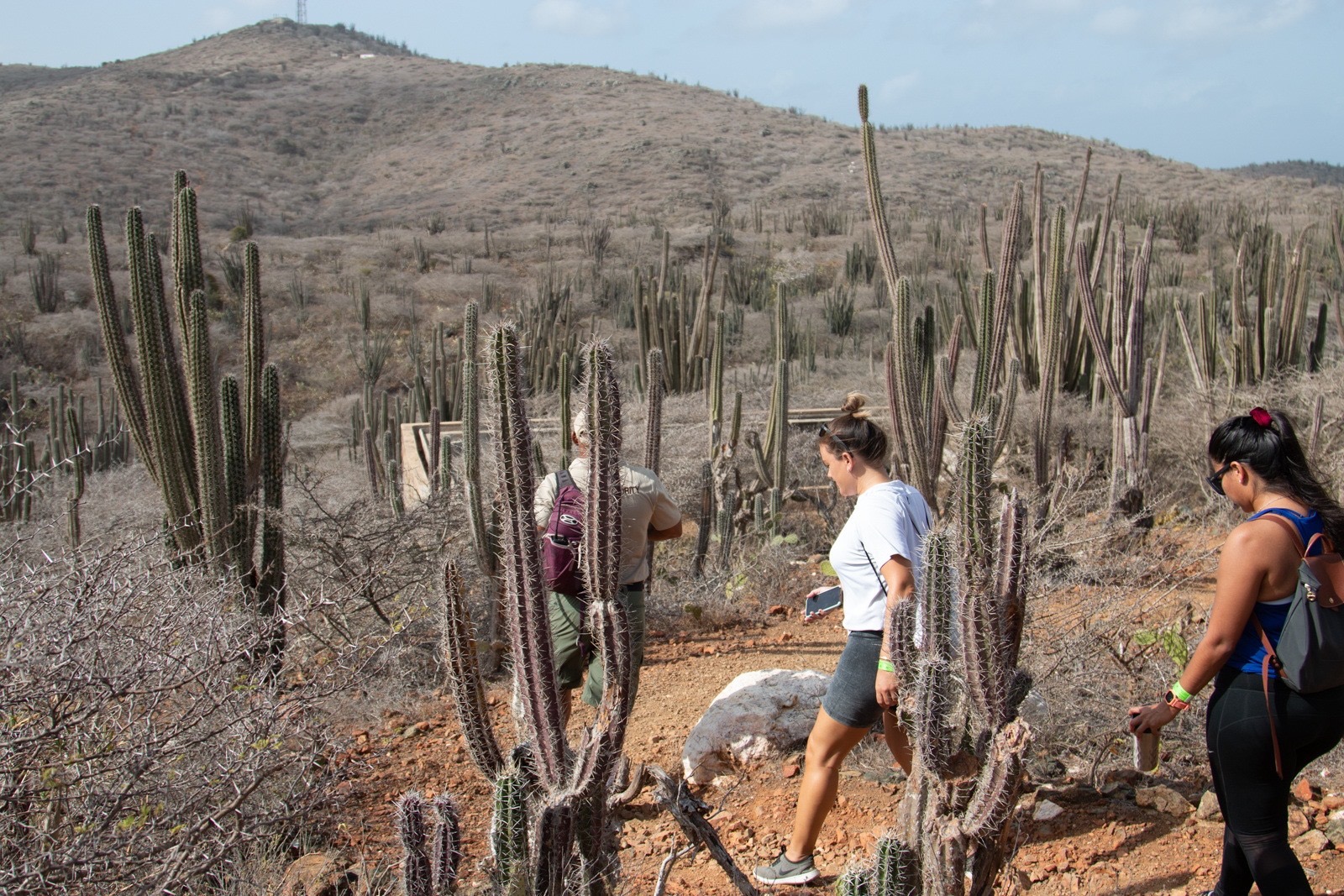 Route
Main Entrance of Arikok Park (Visitor Center)  – Miralamar trail – Rooi Prins – Boca Prins – Boca Druif – Dos Playa – Rooi Tambu – Road back to Main Entrance of Arikok Park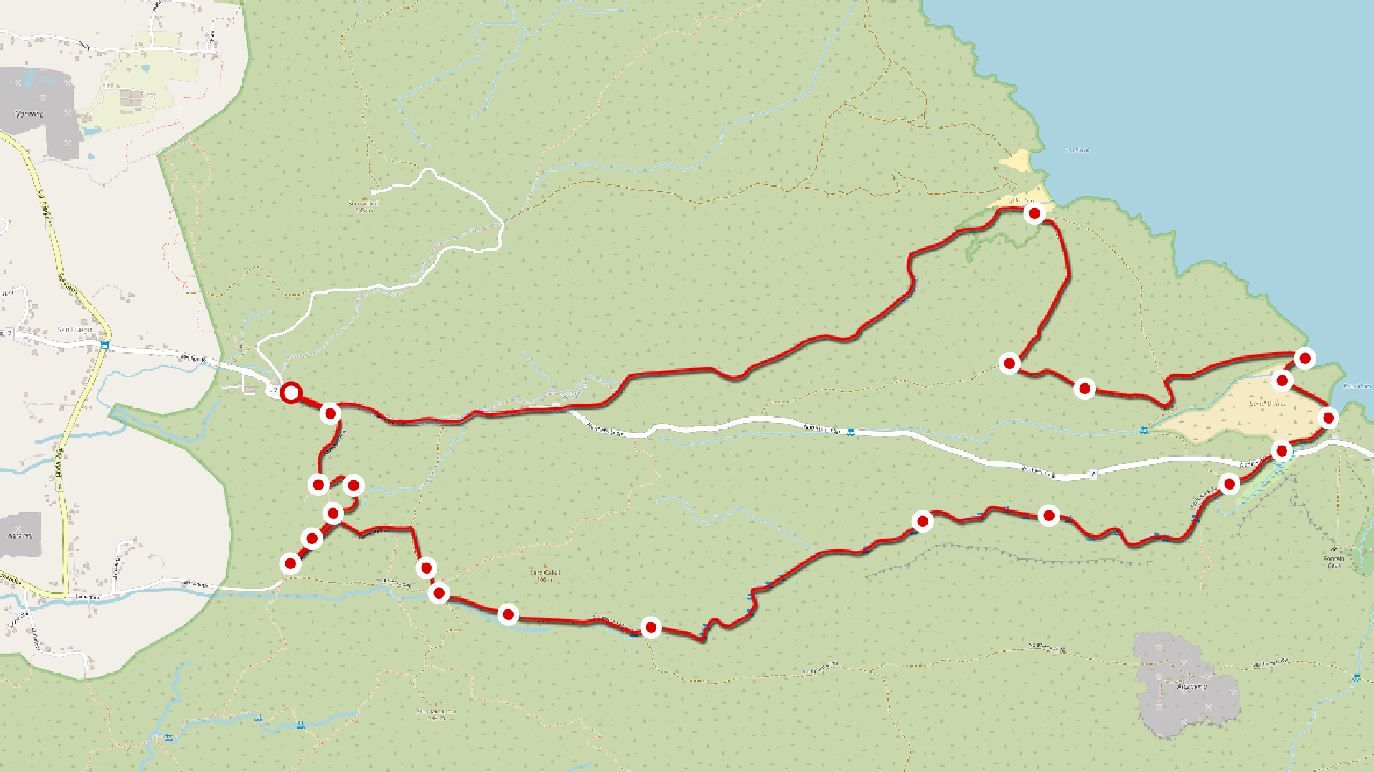 Guide: Ranger Rambo
His name says it all (well almost all). Just like you may imagine, he is strong and fit, an ex-marine who very much enjoys an active lifestyle (he is always outdoors unless he's at the gym). Although his exterior may resemble the well-known movie character Rambo, his character is refreshingly different. He is very kind and is filled with passion. He has a genuine love and respect for all things nature. I like to think of him as the "Maui of Arikok" (Moana Disney movie reference).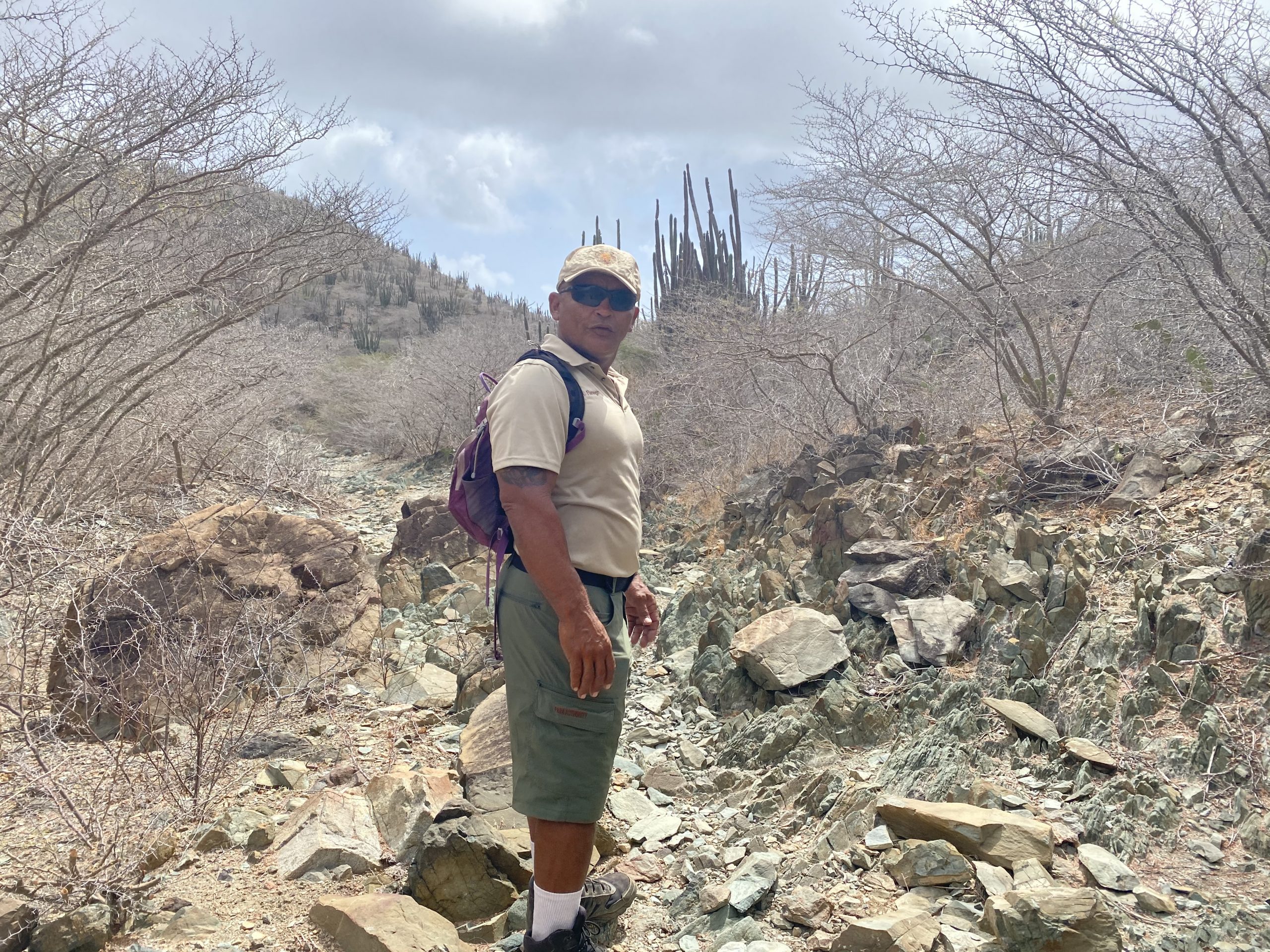 He has so much knowledge to share it's incredible! Any rock, plant, tree, bird, cactus, flower, fruit, prickly, you name it… he can tell you what it is called, it's importance, and has a local story behind the name to connect it with our island's culture. Planning on going for a hike when you're on the island? Rambo is your guy!
Scenery
Picture stunning desert-like landscape with rough terrain. Surrounded by hills, rock walls & formations, plenty of cacti, and other unique flora.  You will find numerous dry riverbeds (roois) leading to beautiful bocas (secluded wild bays) at the rough coastline. Such a breathtaking sight to see.. nothing but the smell of saltwater in the air and wild blues crashing before you.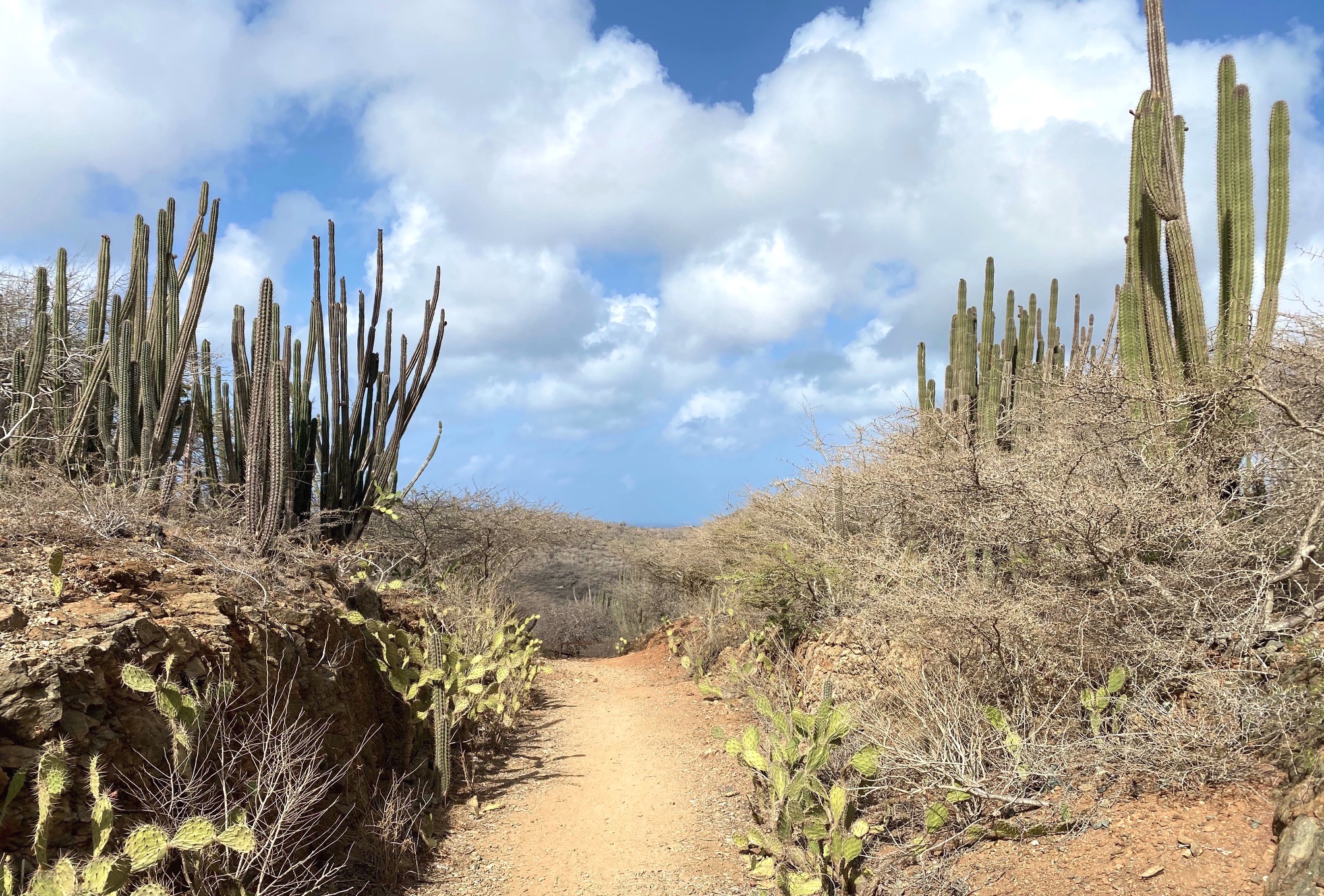 Along our hike, we came across various flora and fauna, and Ranger Rambo was kind enough to name each one and explain its background.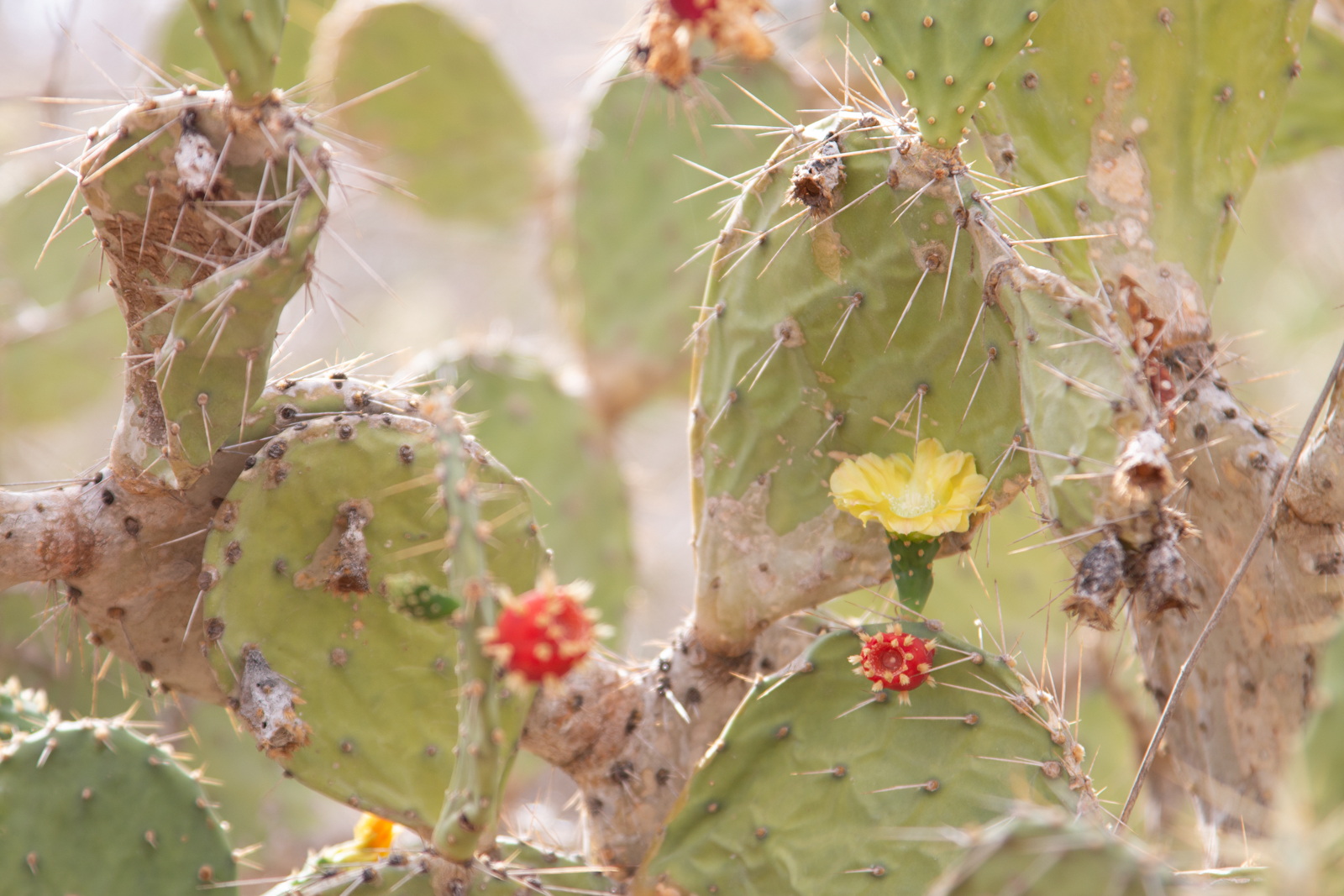 Here is some of what we saw along the way (be sure to check out our video to see if for yourself, up close!): Walishali (a type of 'sage' that works wonders), Infrou Cactus, Tuna Cactus, Mata di Calbas, Organ Cactus, Wayaca (tree), Bringamosa (burning nettle), Watapana (Divi tree), Volcanic Rock, Skid Rock, Coral Formations, Wara Wara (bird), Trupial (bird), Wild Goats, Snakes, Bats, Kododo Blauws (lizards), and much more!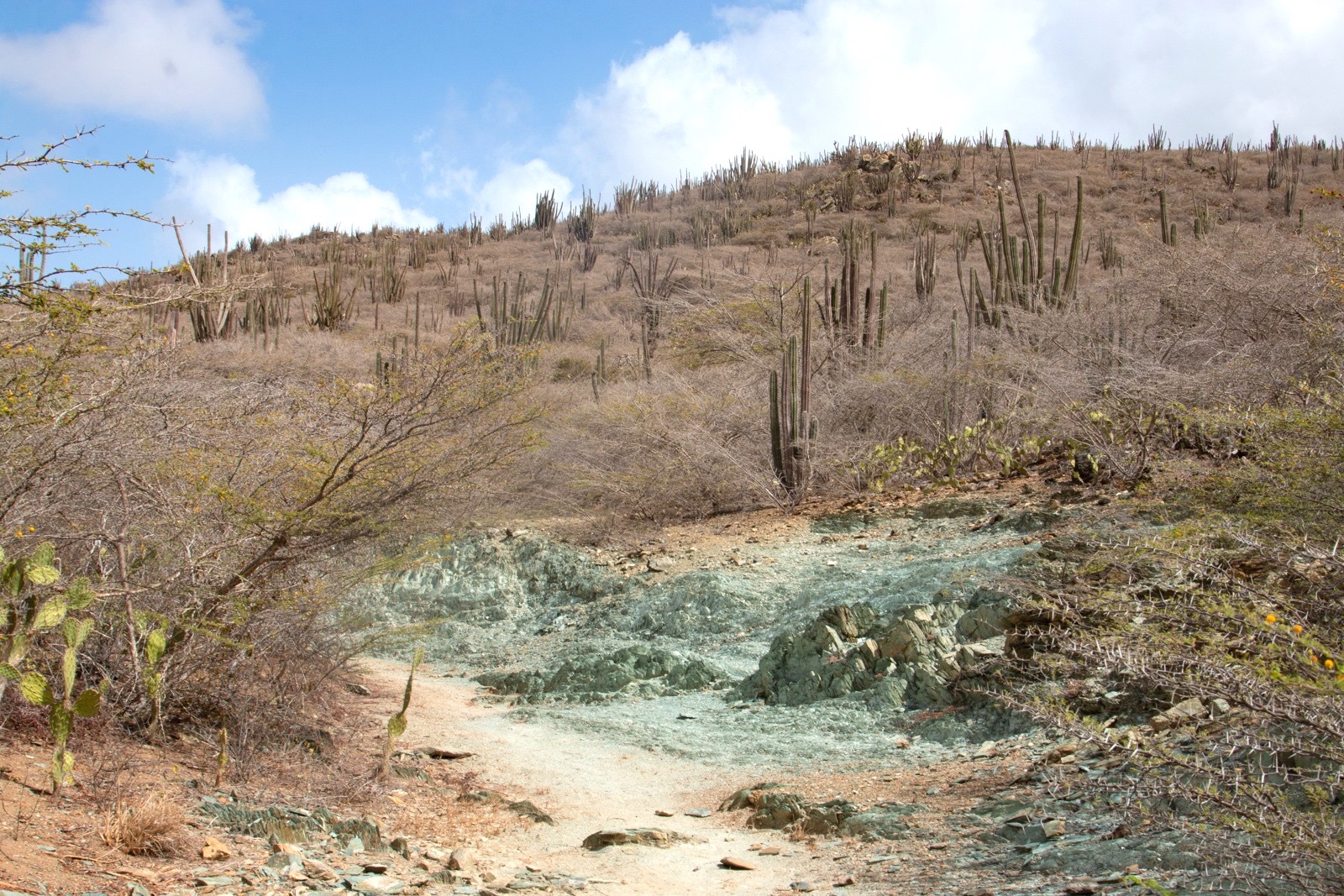 In addition to the great amount of flora and fauna, we saw unique geological, historical, and cultural sites, including underground mine tunnels, blowholes, Boca Prins, Boca Druif, Dos Playa, Sero Jamanota, Sero Arikok … just to name a few!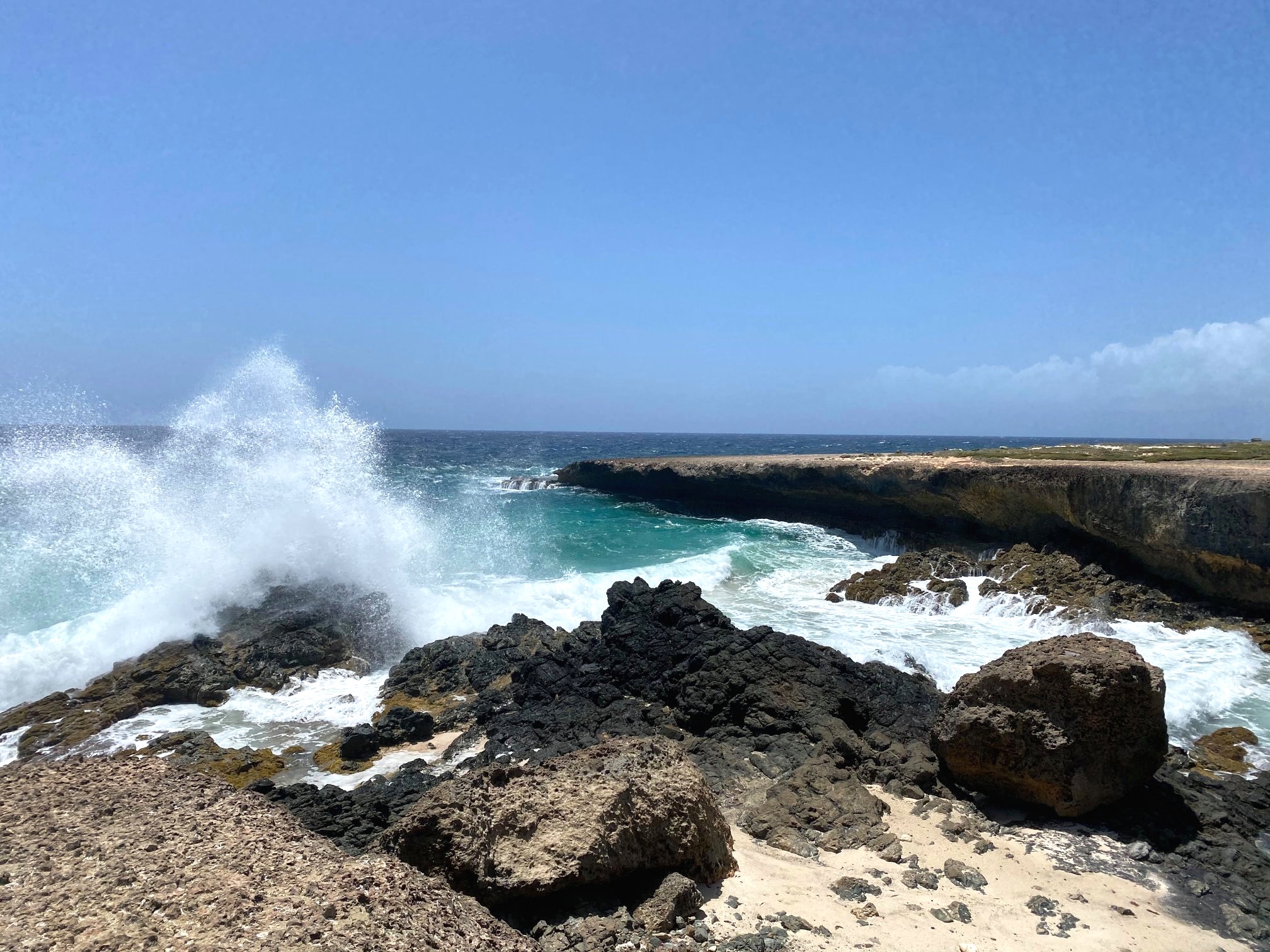 If you have any specific questions about all that you can discover in Arikok National Park we recommend contacting a ranger. We also suggest following Aruba Flora & Fauna on Facebook for more information on our island's diverse and beautiful nature!
Distance: 11.33+ Kilometers (7.04 mi)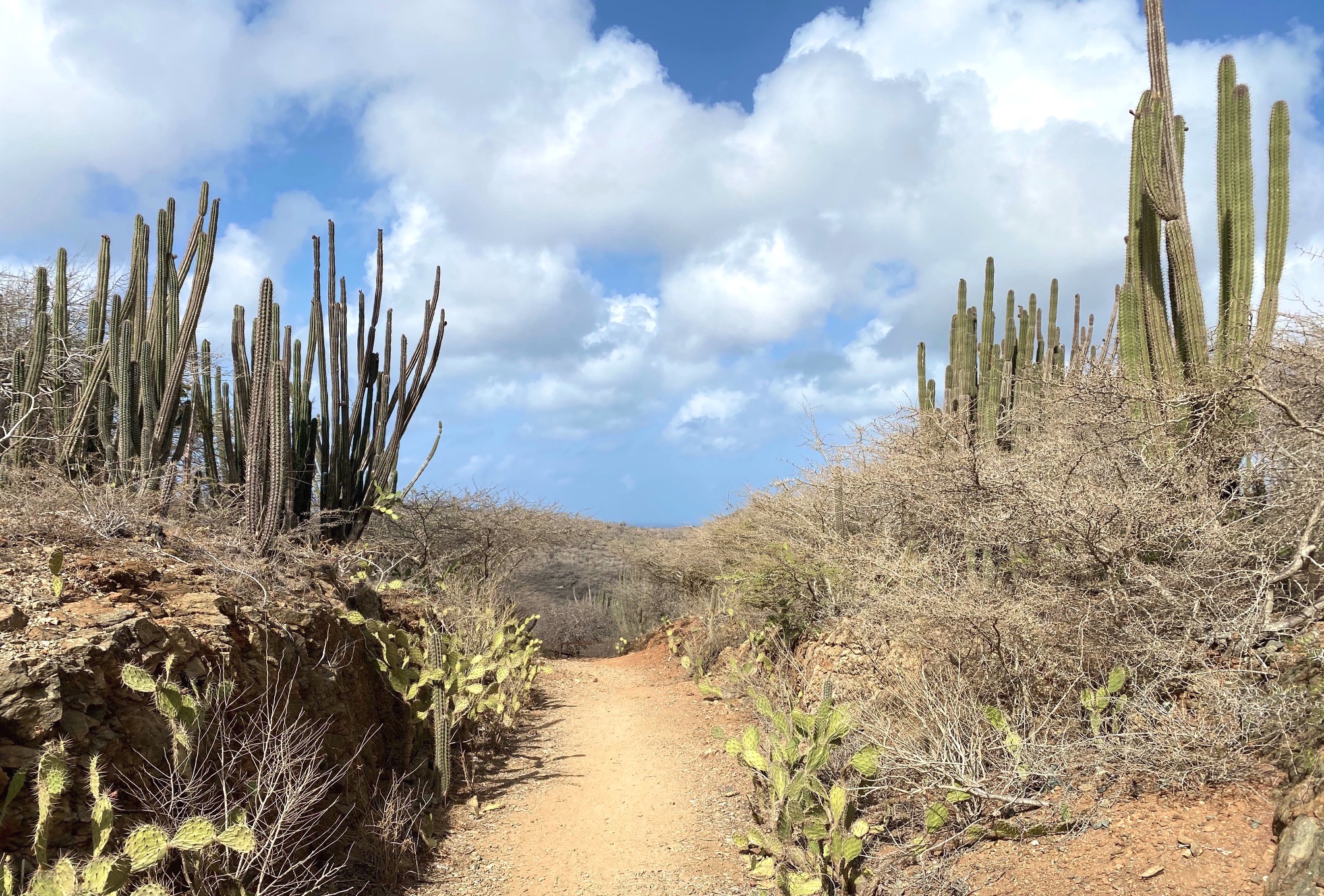 We hope you enjoyed seeing a different side of our "One Happy Island" and that you will plan a hike for yourself next time you're here (in person)!
Did you miss our last "Virtual Aruba Experience"? We went beach hopping in paradise… check it out!
PS – Don't forget to subscribe to our newsletter to get the latest information on Aruba and travel announcements!