Bucuti & Tara Beach Resort is a fabulous, adults-only property located on Aruba's Eagle Beach – arguably one of the most gorgeous stretches of beach in the world. Known for having ample space on the immaculate, white sand beach and a stunning view of the Caribbean Sea, as well as offering fabulous amenities and red carpet hospitality, guests at Bucuti now have one more reason to feel amazing about their vacation.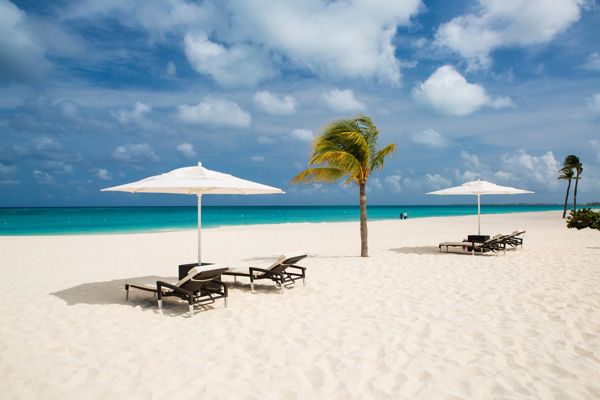 On August 28, 2019, Bucuti & Tara was awarded the most important certification a hotel can achieve in this day and age – Carbon Neutrality. CarbonNeutral® certification is a global standard awarded to businesses that have reduced their carbon dioxide (CO2) emissions to net zero. CO2 is a greenhouse gas that traps heat in the atmosphere and is a significant contribution to climate change.
Climate change used to be a hotly debated topic in the scientific community until it became clear that unsustainable human practices have put the ecosystem of our beautiful planet into peril. A young Swedish high school student turned environmental activist, named Greta Thunbeg, recently made global headlines by speaking on behalf of Climate Justice Now at the UN Climate Change Conference in Poland. Her heartfelt speech opened eyes all over the world as people were confronted by the stark reality that the youth of the world are terrified for their future.
None of this came as a surprise to Ewald Biemans, owner/CEO of Aruba's Bucuti & Tara Beach Resort because he is an absolute visionary. Since opening the doors of Bucuti & Tara, Ewald has been a champion of sustainability. Today, that's not really a novel concept, but Bucuti & Tara has been a favorite romantic getaway spot since 1987 – a time when most of us were just beginning to learn about the effects CO2 would have on the atmosphere. In the 31 years since then, Ewald has taken Bucuti & Tara from an ecologically conscious, community-minded establishment to a complete carbon neutral/net zero/climate nuetral resort.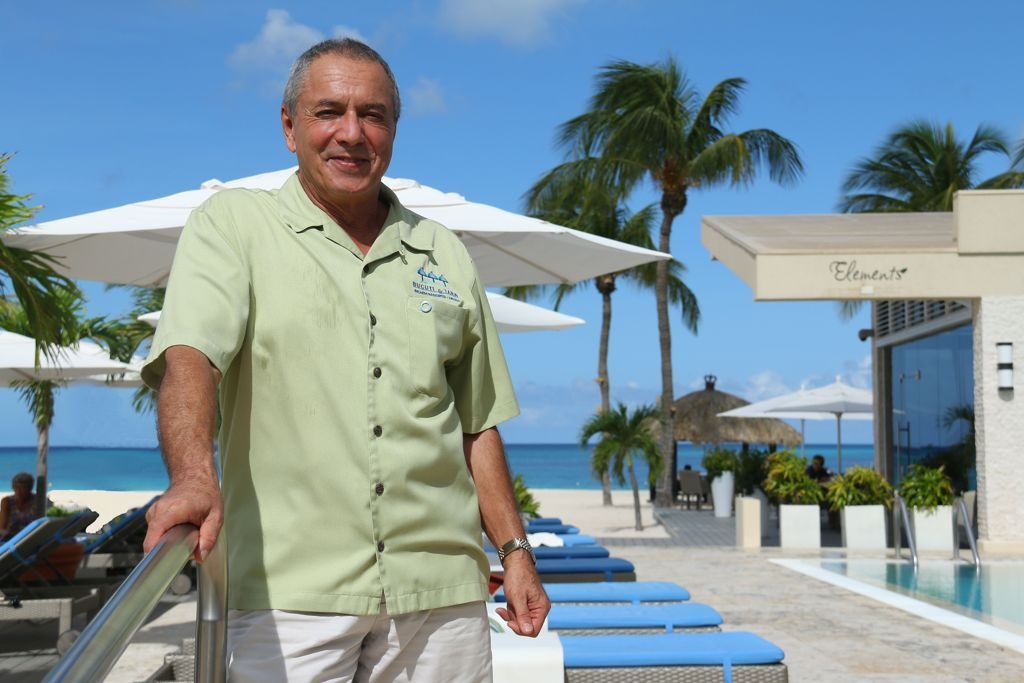 Carbon neutrality is not easy to achieve. In fact, most eco-minded businesses these days rely solely on carbon credits to compensate for their CO2 emissions. However, that wasn't good enough for Ewald and his team. The steps Bucuti took to gain carbon neutrality are beautifully outlined in this article.
Many hotels are taking baby steps to become more environmentally conscience, but Bucuti & Tara has long recognized the need is to be full-on running.
These are only a couple of actions Bucuti has taken to operate in an environmentally sustainable manner:
• Ensure that they have the lowest per-occupied-room electricity usage of all hotels in Aruba. (Source: Central Bank of Aruba study by Deloitte)
• Switched to greener, eco-friendly types of paper for resort marketing materials, which has saved more than; 82 trees (as well as reducing waste water by 37,617 gallons solid waste by 2,315 lb and greenhouse gases by 7,936 lb
• Drastically reducing paper use and when needed, by only using recycled paper. Bucuti & Tara is working towards being 100% paperless.
• Guest information is online or electronic such as well as menus on easy-to-change tablets instead of printed.
• Reduced their carbon footprint by doing business locally whenever possible.
• Support Aruba's economy by shopping locally whenever possible and sourcing local labor, artisans and musicians.
• Use photovoltaic solar panels to replace traditional fossil fuels
• Use solar panels to heat water.
• Use water reducers (that cut down water flow by 60% in all showers and faucets) and low-flow toilets.
• Use in-room dispensers for Aruba Aloe's locally made shampoos, conditioners and lotions instead of individual packages in plastic containers.
• Use biodegradable and environmentally friendly detergents.
• Recycle the facilities sink/shower water for reuse in the gardens.
• Divert 62% of their waste away from landfill
• Reduced plated food waste by 30% in 2016 with the introduction of Healthy Portions
• Reduced total food waste by 30% Through WWF's Food Waste Program and donate all food waste to a pig farmer as pig feed.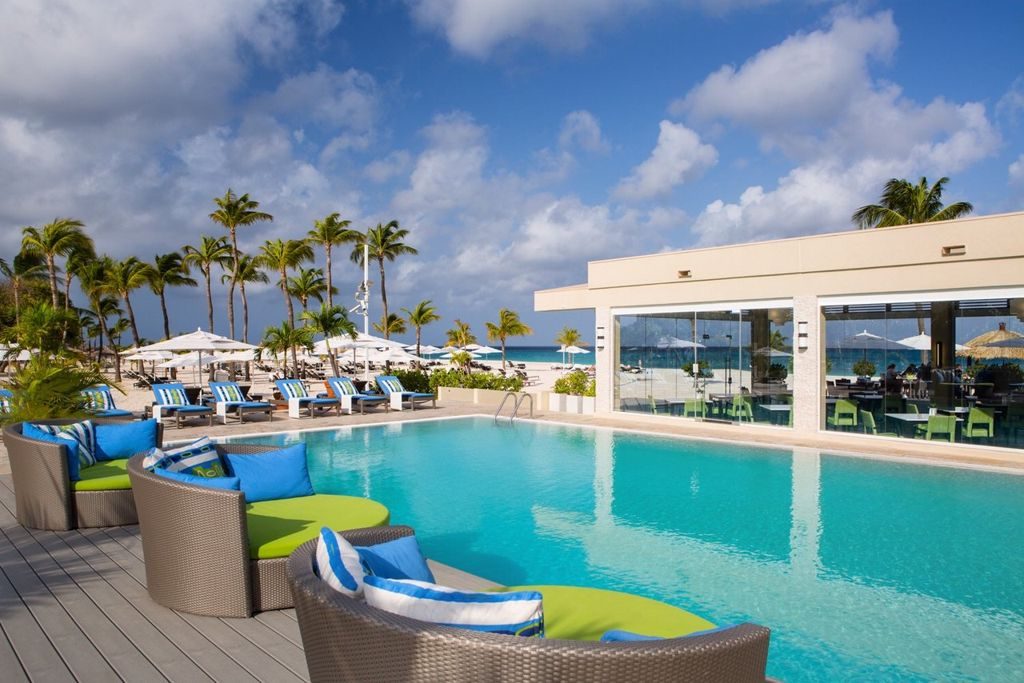 Bucuti didn't stop there.
Outside the perfectly manicured grounds of the hotel, they support local organizations that cater to the most vulnerable members of Aruba's community – our wildlife. They support Animal Rights Aruba, The Donkey Sanctuary and Turtugaruba as well as spearheading the spay/neuter STIMAMI STERILISAMI campaign that helps locals pay to have their pets spayed and neutered as well as microchipped. This effort has been widely welcomed on island and has drastically reduced Aruba's overpopulation of stray dogs and cats on since 2016.
What does all this mean for your vacation you ask?

It means that you can have a fabulously decadent Caribbean vacation with none of the environmental guilt! The changes come at absolutely no expense to guests' luxury or vacation experience. Most of the changes are behind the scenes. Energy-efficient appliances, solar panels and the most energy efficient lighting available on the market ensure that Bucuti & Tara has all the comfort with none of the carbon footprint. As a matter of fact, many guests opt to further contribute by keeping their air conditioners at a moderate temperature and having their towels and bedding laundered less frequently.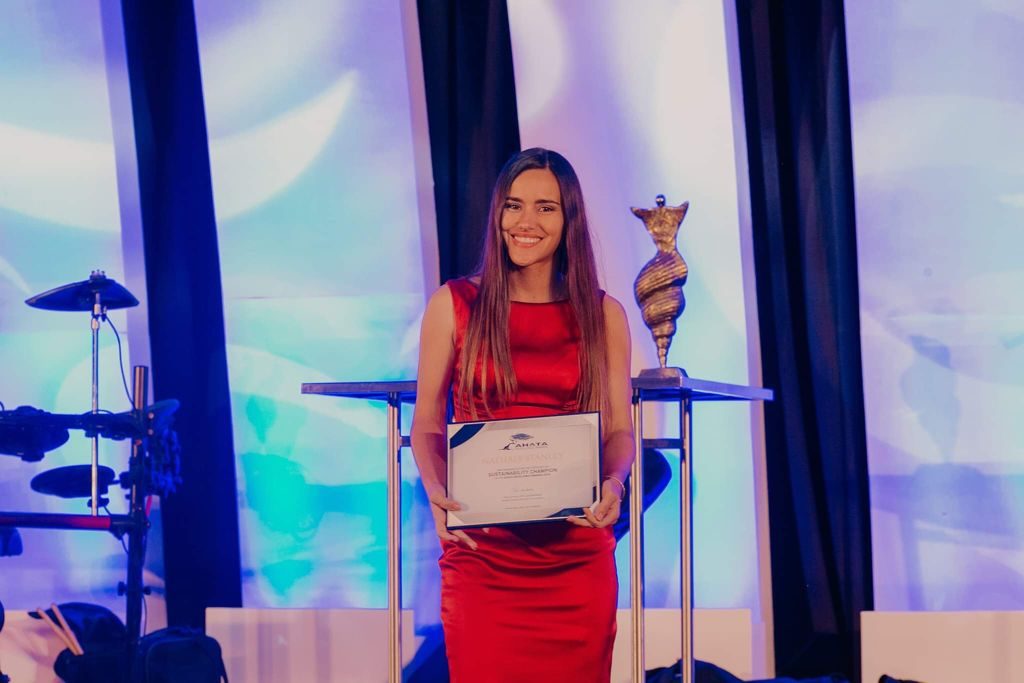 The Visit Aruba team recently had a chance to meet with Nathaly Stanley, the sustainability manager at Bucuti & Tara, who treated us to a behind-the-scenes tour of the facility and answered some questions about Bucuti's journey to carbon neutrality.
1. For people who may not know what this entails, what does being carbon neutral involve in practical terms of how the resort had to change in terms of operational policies and activities, staff education/training etc.?
In its simplest form, carbon neutrality means reducing the consumption of fossil fuels until you reach net zero. Since fossil fuels are used in practically every process, this necessitates general reduction consumption. However, reduction alone is not enough – there is also a need to reuse and recycle as much as possible to prevent emissions from waste and from the production of new consumables.
For Bucuti and Tara this means that we constantly search for technologies and strategies to reduce anything from electricity consumption to waste; something that the resort has been doing for a long time in efforts to protect the environment. When it comes to waste management, this involves training staff on what needs to be disposed of where and why, but also involves purchasing behavior of the department heads. We are proactive in our waste management practices in order to prevent the creation of waste in the first place.
For example; we don't purchase portion-controlled toiletry, disposable plastic utensils etc. We recently completed a food waste pilot program in in partnership with the World Wildlife Fund for our F&B department, which also involved training staff on the implications of food waste and the importance of the matter. Already having a food waste management program in place, we were able to further reduce food waste by another 30%. This just goes to show that knowledge is indeed power.
Our goal at Bucuti is to operate in an environmentally friendly manner while not inconveniencing our guests, the company policy is actually an environmental policy to begin with. Therefore, we have integrated our environmental practices as seamlessly as possible but also giving the opportunity to our guests to be as involved in the process as they wish.
2. Could you describe your role and main responsibilities related to attaining this certification?
As the sustainability and certifications manager my main responsibilities are to make sure all procedures in place to reduce our emissions are being adhered to, while also finding new ways to continue reducing our emissions. I'm responsible for calculating our emissions, contracting a certified body to verify that the calculation was conducted correctly and searching for a certified offset provider for our minimal remaining emissions.
3. To what extent does having and maintaining carbon neutral status depend on guests at the resort adapting or changing their habits and do you see a good level of cooperation from guests in this regard?
Since our practices were seamlessly incorporated into the operations of the resort, our guests don't need to change their habits, and thus don't have a high impact on maintaining the carbon neutral status. The factors that a guest can influence are the temperature at which they set their AC, the reuse of their towels and linens, and their use of disposable products. However, before they even step foot on property we have a strategy to minimize the impact of many of these habits. For example; we gift all guests a reusable water canteen and provide water refill stations all over property to minimize waste from plastics water bottles, we pre-set the temperature (guests can change this upon their check in) in the rooms to 74 degrees Fahrenheit – which keeps the room at a comfortable temperature instead of freezing. Guests are encouraged to reuse their towels and linen by opting into a green stay option or simply hanging the towels back on the rack. We have seen that our guests want to participate and do their part to preserve the environment. In fact, I have spoken to countless guests who chose Bucuti because of our environmental efforts.
4. Carbon neutral status can be a combination of internal reductions combined with supporting carbon offset initiatives using carbon credits. What proportion of Bucuti's carbon neutral achievement was done using internal reductions versus carbon credits? Is it possible for these proportions to change over time? How is carbon neutral status monitored and maintained?
This is a rather difficult question to answer? because of Bucuti's situation. Bucuti has been working towards reductions strategies since it opened so it's difficult to compare how much we emit now to how much we would have been emitting if we were operating as a conventional hotel without an environmental program. However, the proportion of any company's internal reductions versus carbon credits can always change as they strive to lower emissions and new technologies and strategies are identified.
We continue to strive to zero emissions – which is not obtainable in our situation, by being 'on the grid' so to speak. However, we get as close as we can and only 'top off' with credits purchased, unlike other businesses that rely solely on carbon credit to achieve carbon neutrality. To maintain the carbon neutral status the company will need to submit the calculation of emissions of a 12-month period every year. The calculation will need to be verified for accuracy by a certifying body, then a certified carbon offset provider is involved to offset the remaining emissions.
5. What was the biggest challenge in terms of internal reduction of carbon emissions?
The biggest challenge we faced was reducing our electrical consumption from the grid. We installed LED lights, purchase EnergyStar equipment, improved insulation, switched over to Variable Refrigerant Flow cooling system and other techniques to lower emissions caused by electrical consumption very successfully. However, electricity remains the largest source of our emissions. In many countries it is possible to purchase different types of energy; generated by renewable or non-renewable sources. As this was not an option, we decided to install a solar system. This did successfully reduce our emissions from electricity by a good deal, however we're limited due to capacity restrictions for private solar systems on Aruba at the moment.
6. If carbon offset initiatives are also being done, which ones are these and why were they chosen by Bucuti?
We chose to go with Vaderpiet, which is the Windfarm in Aruba. It is a local offset provider that benefits the entire Aruban community.
7. Being the first in the Caribbean is a great achievement. Do you see that other resorts in Aruba are following suit or will follow suit and are there any plans for Bucuti to lead the way and share the knowledge of the process with others in Aruba and in the Caribbean so that more resorts will follow Bucuti's example?
Bucuti has always been willing to share our knowledge with any resort that's interested. Our goal is to do our part in mitigating climate change/global warming. Instead of keeping trade secrets, we actively encourage other resorts, or any business, to adopt environmental practices. The more people/companies who adopt environmental practices the bigger the impact we will have on protecting our environment, our planet. We believe we have influenced a number of resorts and companies to start embracing sustainability. As a matter of fact, we recently received many questions on how we manage our waste, as other companies also attempt to divert their waste from landfills.
8. Young people around the world such as 16-year-old Swedish climate activist Greta Thunberg are taking a leading role in raising awareness and encouraging concrete action against climate change. Do you have any sustainability role models and/or related life events that inspired you to be passionate about sustainable practices and would you have any words for young people in Aruba who may want to take on similar challenges themselves?
I would not say that I have a role model, or that any particular event sparked my interest in sustainability. It developed over the years. As I child I was always amazed by mother nature; I could stare at a caterpillar spinning itself a cocoon, watch ants carry food to their nests and watch birds make their nest for a long time.
As I grew and became more aware of the harm we inflict on terrestrial and marine ecosystems and species by our habits, I felt a sense of responsibility grow in me to protect what we have. I remember watching the documentary, 'An Inconvenient Truth' with my dad and being surprised how comprehensive it was with data and cold, hard facts, which reinforced my sense of responsibility.
Before joining Bucuti as a full-time employee, I had an internship here while I was a student at the University of Aruba. I saw firsthand how sustainability was put into practice and was impressed. Towards the end of my study, I wrote my thesis on the effects of lodging facilities on Leatherback Sea turtles nesting in the area and got to work with Turtugaruba. They made a strong impression on me and so I went on to study Environmental Science at the University of Central Florida. I would encourage anyone of any age to embrace their passion for sustainability and speak out about it, do not be afraid to speak what you believe in, you might just convince others to adopt a more sustainable lifestyle!
9. How important was winning AHATA's "Sustainability Champion of the Year" award for 2018 to you? Do you feel that sustainable efforts in Aruba get the recognition they deserve? What more do you think can be done to encourage more sustainable practices in the industry?
I was happy to be nominated for AHATA's Sustainability Champion of the Year, winning it felt surreal. It was an honor to be recognized by my peers in the industry and at work. Bucuti is one of the leading resorts in the Caribbean in sustainability so it is also a reflection of all the hard work and dedication the resort has put in all these years. The fact that AHATA included sustainability as a category in their awards is further evidence that sustainability is getting the recognition it deserves. I've noticed more companies gaining interest in certifications, and pursuing them. As more companies start the process of certification, they will see the benefits; ecologically, PR wise, and financially. It will also make staff more aware, feel more responsible, capable and proud when they can make a positive impact. This will make sustainability grow in the industry, but also in the community.
10. What do you feel about the current state of Aruba's tourism industry and also our future as a tourist destination? Could you share your thoughts on what you think the biggest challenges are that our island faces?
Aruba's tourism is doing well and has experienced very good growth over the past 3 years. But we must be careful because with growth comes other challenges: like the impact to our environment due stress on our resources, our quality of life because of population growth and the future of tourism itself. We should never forget what made Aruba successful in the first place; beautiful beaches, friendly people, relatively crime-free, and a good balance between development and nature. We need to keep that in mind as we plan for the future. I'm encouraged to see that my generation has embraced how important it is to protect Aruba's environment. I am hopeful that the protection of the environment will play a key role when development plans are considered.
While writing this story we received breaking news that Bucuti & Tara were awarded the prestigious Tourism for Tomorrow Climate Action Award by the World Travel & Tourism Council during their annual Global Summit in Seville, Spain. Former US President Barack Obama delivered the keynote address and Bucuti & Tara owner/CEO Ewald Biemans was a presenter.
Bucuti & Tara is a shining example of what the future can be once businesses commit themselves to fighting for the environment. They stand as a beacon of hope in a world where climate change is becoming an increasingly harsh reality. Thank you so much for showing the world the way!