As fellow beach lovers, sea, sun, and sand are pretty much a part of our DNA. If you happen to fall into this same category and are planning a trip to Aruba, we've rounded up some of our favorite beaches in Aruba that you simply cannot miss out on. From soft white sand beaches with palm trees swaying in the wind to wild and unruly inlet beaches on the East Coast, we've got a unique mix of beaches for you to experience.
Check out our beach map to find specific beach locations across the island.
Browse an extensive list of some of Aruba's best beaches below:
Eagle Beach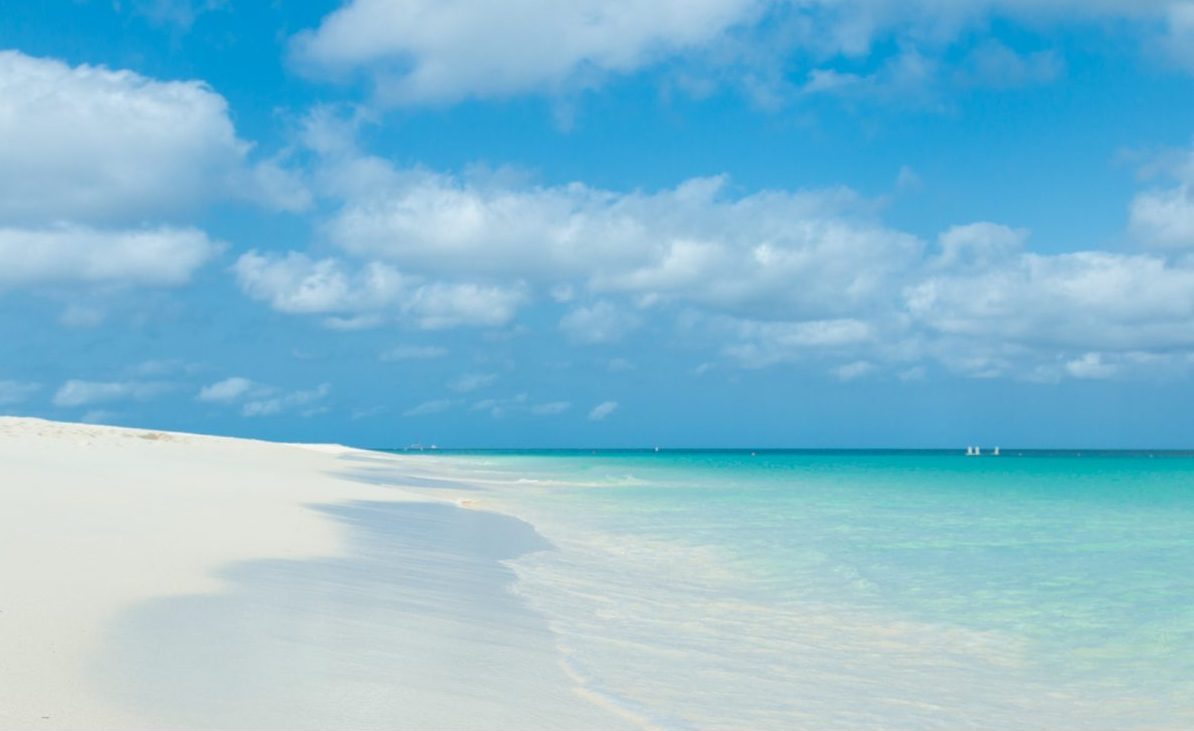 What more needs to be said? Eagle Beach is… simply perfection. You very well may have already heard of this beach, as it is one of the top-rated beaches in the world, time and time again! A wide, spacious beach with plenty of palapas and some shaded tree areas to plop down under to spend the day relaxing. With the soft white sugary sand and nice open water conditions, it is a great place for a swim. Let's just say it is the epitome of a perfect beach in paradise. Eagle Beach is located in the low-rise hotel area.
Splashworthy highlight: It's been rated one of the best beaches in the world (time and time again) and the best beach in the Caribbean.
Beach bum tip: Pack a cooler, grab a spot under one of the shady trees or a palapa, and spend the entire day here, Eagle Beach is perfect for a full day at the beach.
Mangel Halto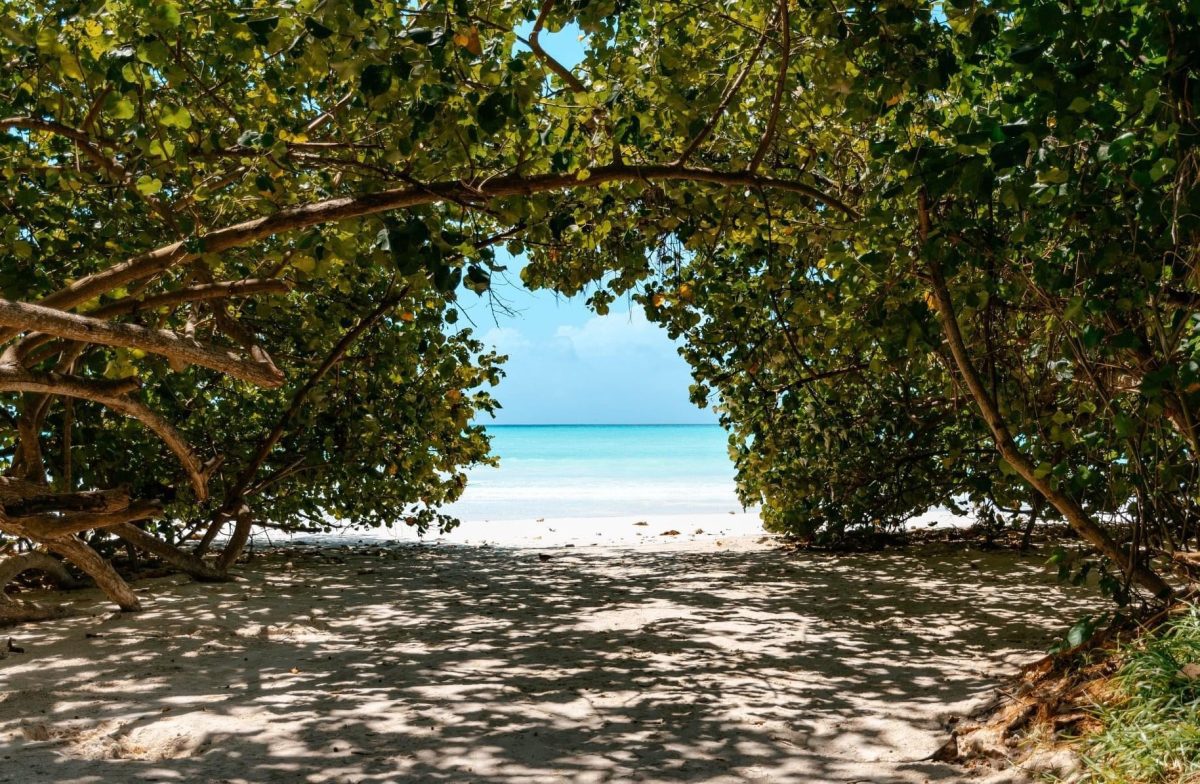 Located nearby the Spanish lagoon, in Pos Chiquito (South of the airport in the direction of Savaneta), Mangel Halto is secluded, peaceful and intimate. There are plenty of little nooks and crannies to discover at this unique beach. Choose from the sandy and lush mangrove spots (this area is currently being renovated so that it can remain as environmentally friendly as possible, as well as provide space for visitors), or one of the mysterious old rock stairways leading down to the calm and mesmerizing shades of blue.
Splashworthy highlight: There are plenty of hidden spots to get some peace and quiet, you just need to do a bit of searching as they are not all easily visible from up above.
Beach bum tip: Head to Zeerover's for a local sea-to-table lunch before or after your beach visit since it's only a short drive away from Mangel Halto.
Boca Grandi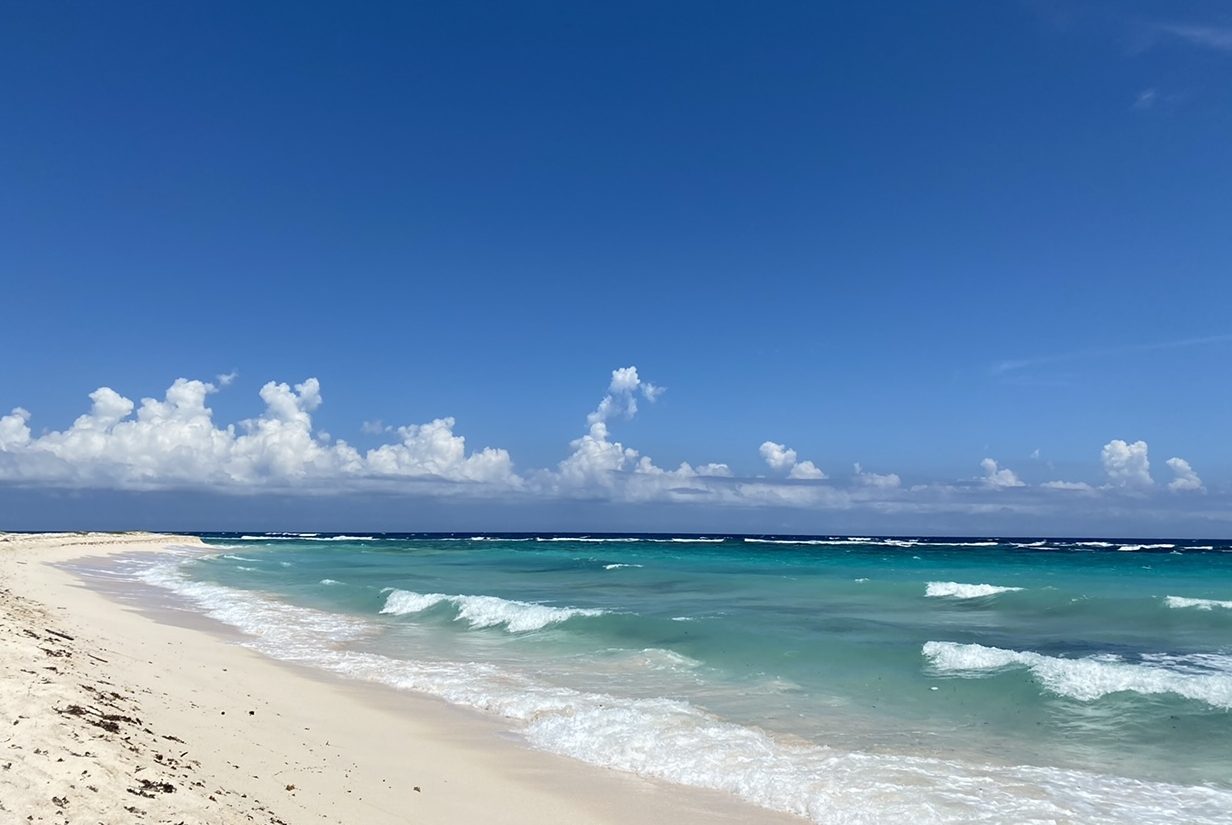 Located just past (and to the right of) the big red anchor in Sero Colorado, Boca Grandi is a wild and blue heaven for experienced and daring kite surfers. Making for the perfect place to sit and watch the surfers glide by! Find yourself some shade from the strong sun under one of the several handmade driftwood shacks spotted along the coastline.
Splashworthy highlight: Bring everything you may need for a comfortable afternoon at the beach since there is nothing within close distance, it is secluded and wild, as it should be. There are a few local restaurants near and in San Nicolas worth stopping by for a bite (Kamini's Kitchen, O'Niel, Neighbas, etc.).
Beach bum tip: If you are not an experienced surfer or swimmer, we urge you to just "get your feet wet" and admire the breathtaking views from the shore. This is a wild beach with rough water conditions and strong currents, swimming is strongly advised against.
Palm Beach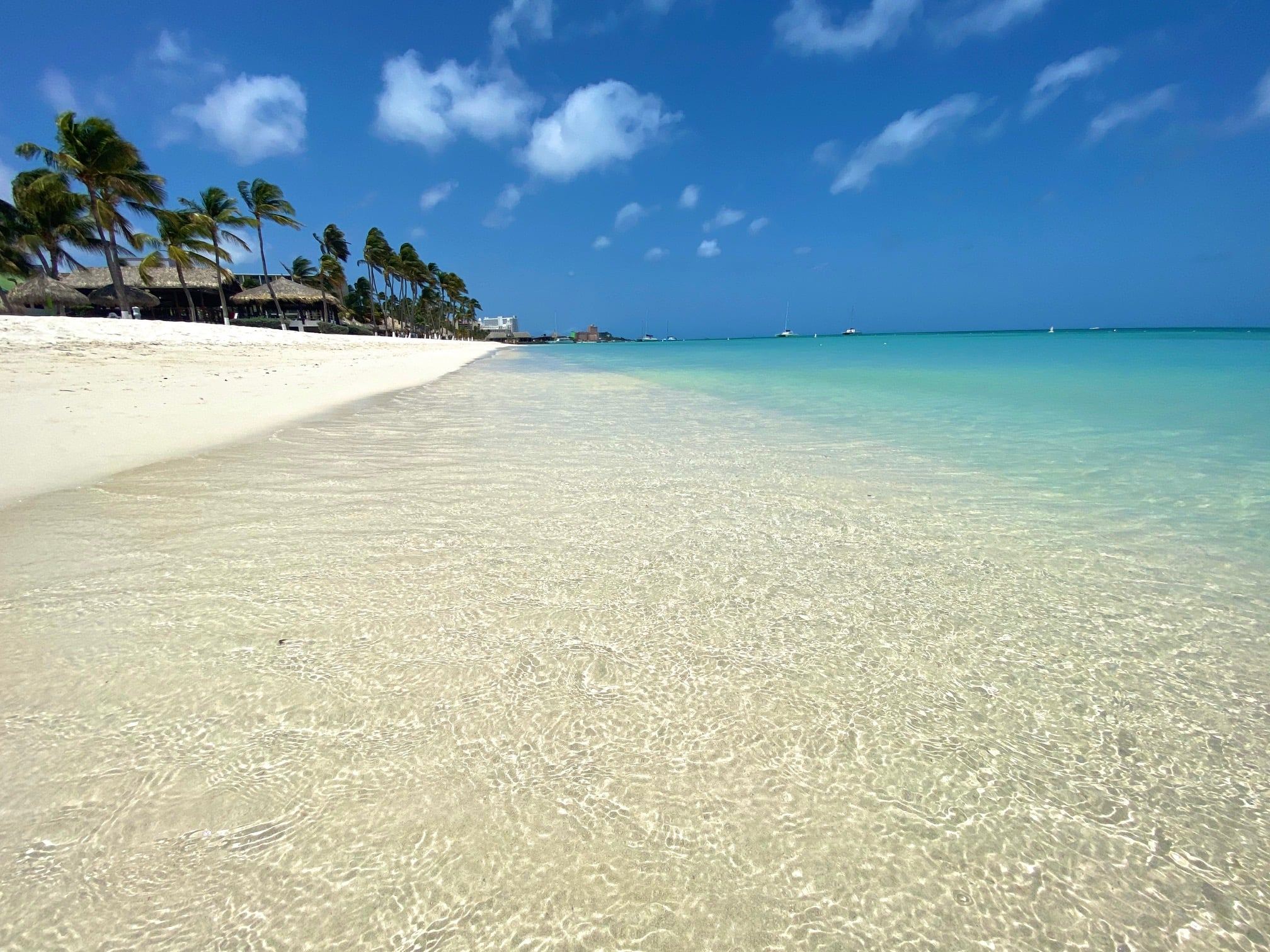 Palm Beach is a two-mile strip known for its white sand and turquoise water. Looking for a little action and fun? This place is filled with it but don't worry there is still room for plenty of relaxation! This beach is a popular hangout for tourists as it is concentrated in front of the high-rise resorts. There is a long sidewalk that runs along the strip making it a great place for a walk with a view. This lively beach with calm and clear waters is great for swimming, sun-tanning, relaxing, and socializing. Both young and old will find everything they need as the beach features several beach bars, restaurants, hotels, and watersports companies.
Splashworthy highlight: It is a great beach for entertainment, both day and night. Enjoy watersports and plenty of restaurants and bars within walking distance.
Beach bum tip: Since there are beach bars and places to grab a bite up and down Palm Beach, we suggest hitting a beach bar for happy hour and catching the breathtaking sunset glow.
Dos Playa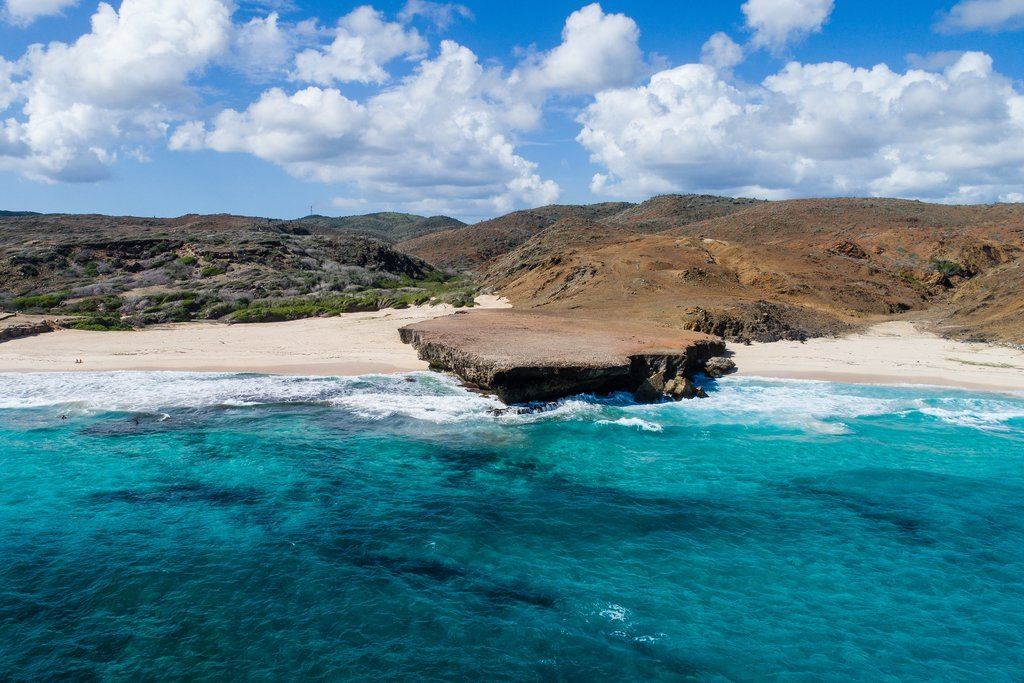 The name speaks for itself, Dos Playa means two beaches (in one)! Located in Aruba's National Park, it can be reached by car (a 4×4 jeep is definitely recommended) or hiking. It's known as a popular beach for experienced surfers. You may come across a sea turtle nest, so please always be cautious where you walk.
Splashworthy highlight: Great for experienced surfers and perfect for capturing beautiful and wild water photography.
Beach bum tip: This is a wild beach with rough water conditions and strong currents, swimming is strongly advised against.
Baby Beach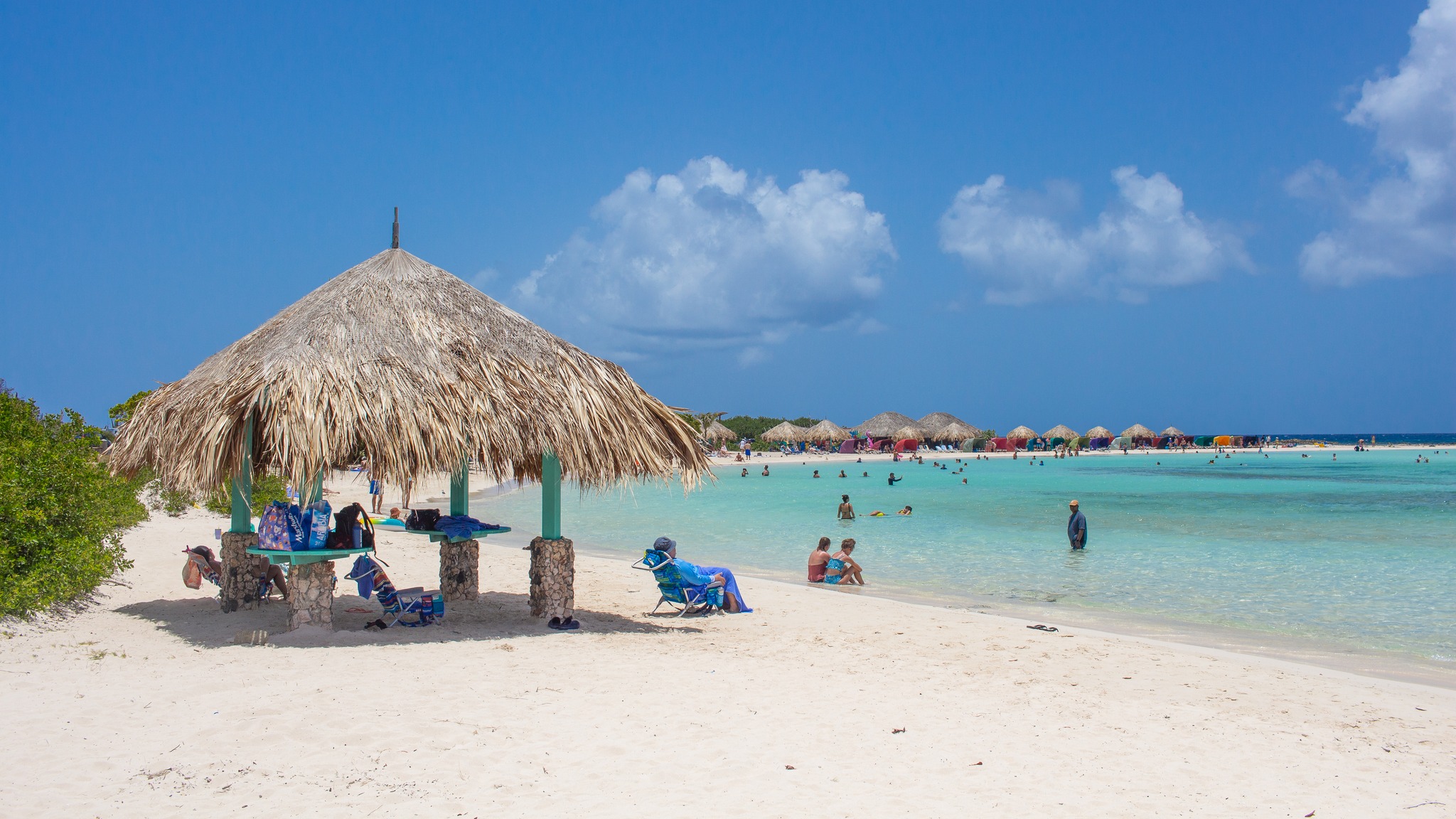 Baby Beach is located at the Southern tip of the island, just past San Nicolas, on the other side of the island from the popular hotel area. The clear turquoise water in this picturesque bay is warm, shallow, and is sheltered from the rough seas by a man-made breakwater. Picture a pool of pretty shades of blue, calm and shallow – perfect for wading the day away! This beach is popular for sunbathing, snorkeling, and the perfect hang-out for families, as the water level is generally between knee and waist-deep, making it a perfect place for kids to swim. With this being said, don't let its name fool you, just like any beach on the island, if you approach the end of the bay the current gets stronger, always remain cautious.
Splashworthy highlight: Great beach for families and spending the entire day there. If you don't have enough food and drinks on hand, no worries there are two restaurants and bars on site.
Beach bum tip: Stay within the bay of Baby Beach, do not swim out to the break, the current gets surprisingly strong.
Blackstone Beach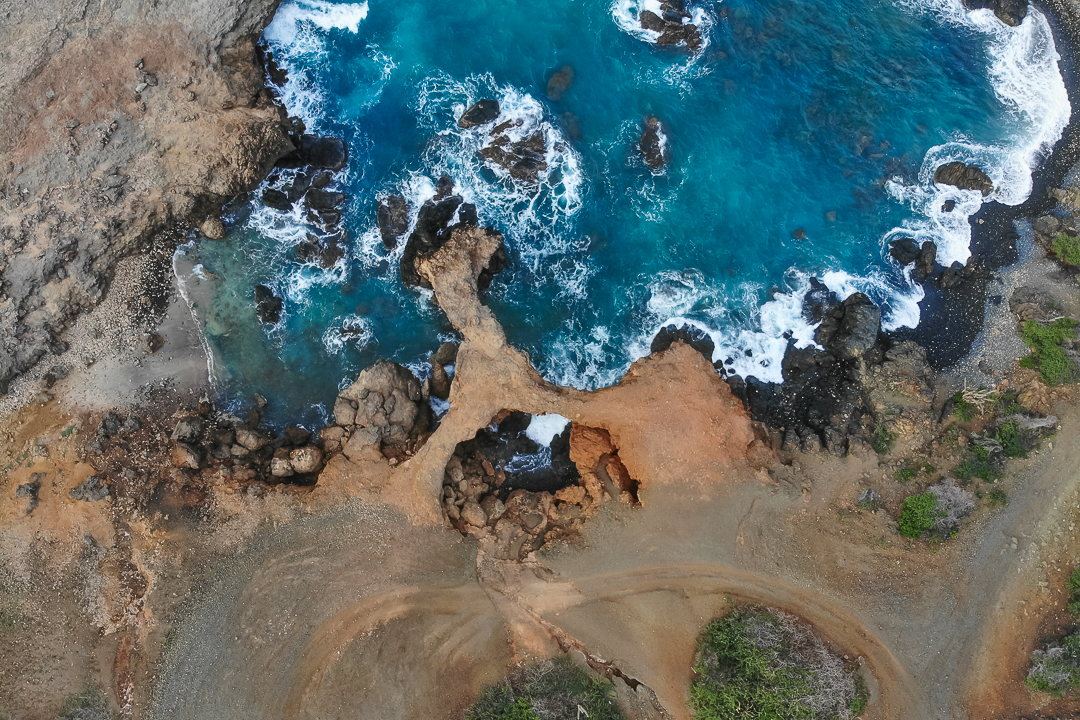 There is no other beach like it on the island! This is truly a one-of-a-kind beach. As the name suggests, it is made up of black stones, there is no sand to be found here! Not exactly the beach to sit and relax at but absolutely worth the visit to take in the breathtaking, dramatic views. You'll find Blackstone Beach within walking distance of Andicuri Beach on the East coast of the island.
Splashworthy highlight: This is a very unique environment, making it a perfect place for catching some rare and wild photography shots.
Beach bum tip: This is a wild beach with rough water conditions and strong currents, swimming is strongly advised against.
Arashi Beach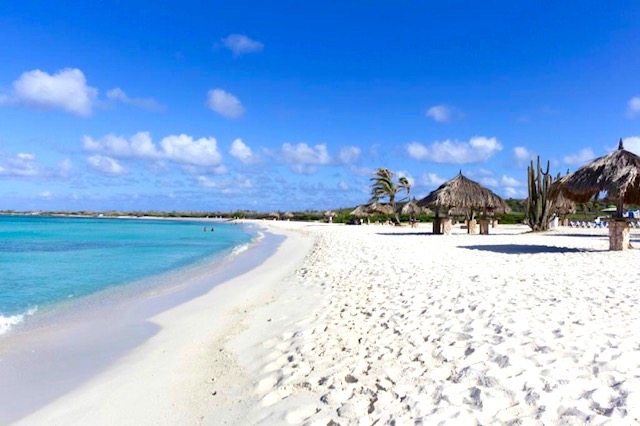 A nice quiet and relaxing beach with calm water, white sand, palapas & huts, a snack shack, and a large parking lot. The calm currents and plentiful underwater marine life make this beach a perfect spot for snorkeling and a favorite with locals. Arashi Beach is the last stretch of beach on the Northwestern side of Aruba and is located past Boca Catalina just before the California Lighthouse.
Splashworthy highlight: A nice beach for families since the water is relatively calm and there is a snack hut on-site.
Beach bum tip: If it's a busy day and you want to get away from the crowds, keep walking further down (in the North direction) and you will find yourself a nice quiet spot.
Boca Catalina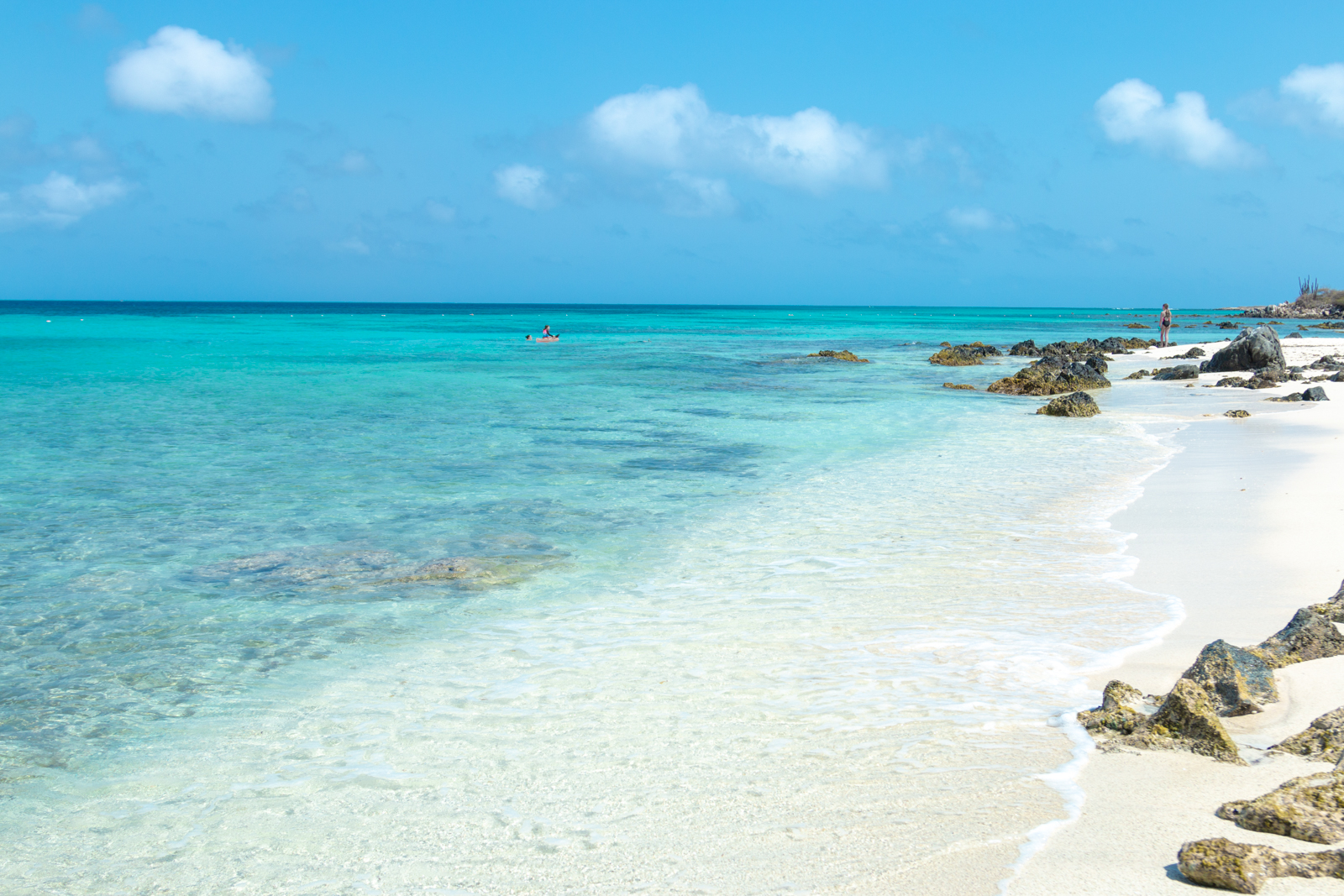 This beach may be smaller in size compared to others, but it is just what you need to have yourself a perfect and relaxing day in paradise! Boca Catalina is beautiful and peaceful, and offers great scenery (you'll have a great view of the passing catamarans, boats and adorable pelicans). This area also has perfect conditions for snorkeling, you will find a diversity of marine life very close to shore.
Splashworthy highlight: The perfect place for some snorkeling as the water is on the shallow side and there is an abundance of marine life to be found here.
Beach bum tip: Try to get there on the earlier side to claim a palapa or shady tree area, as there are not too many available. Don't forget to pack your cooler, the closest place to grab a snack or drink nearby is Arashi Beach.
Tres Trapi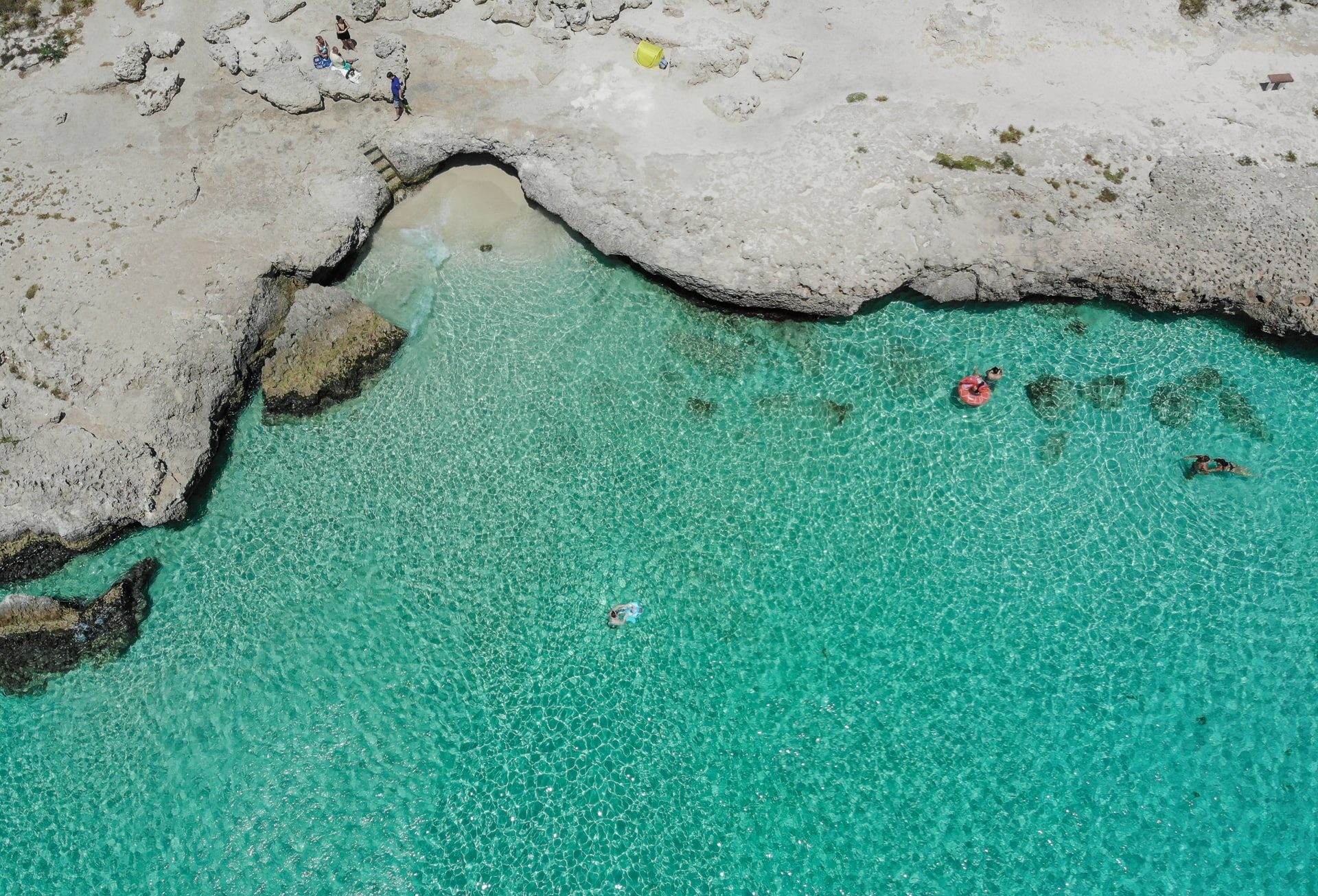 While Tres Trapi is not exactly a beach, and more of a nook found among the carved-out rock and coral walls, once you take the stairs down to the sand, you'll witness one-of-a-kind crystal clear water conditions and have yourself a dip of a lifetime! If you're lucky you'll even spot a sea turtle or two. Please remember to keep a safe distance between you and all of the marine life you discover under the sea. Its location is a bit hidden, you'll find it situated between Malmok and Boca Catalina on the Northwestern side of the island.
Splashworthy highlight: A great place for a swim as the water conditions here are perfect, clear and calm, making for a heavenly dip in the sea!
Beach bum tip: Head there in the morning hours while it's still more on the quiet side and you'll be able to swim alongside the sea turtles that often come floating by! Just please always remember to keep a safe distance from all marine life to ensure they are safe and remain protected.
Boca Keto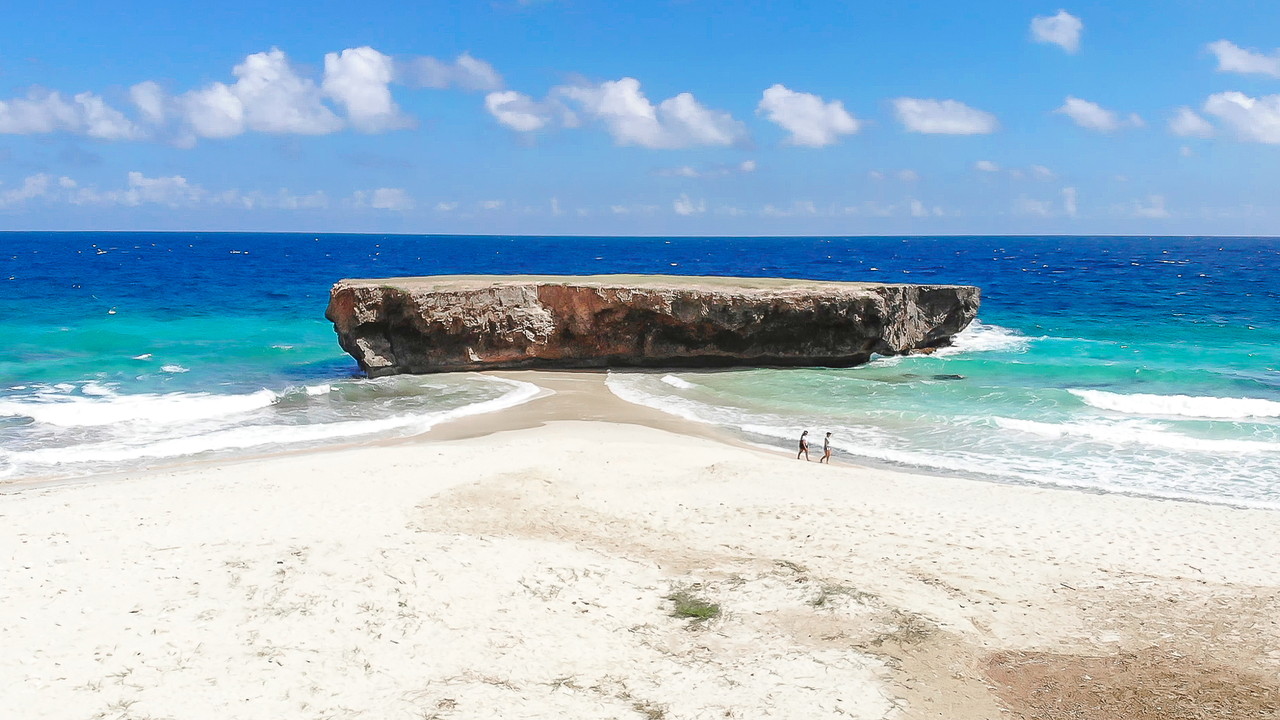 This unique spot is a bit hidden and off the map (let's just say it takes an adventure to get here), but it is most definitely worth making the effort to get to! It's located on the wild Northeast coast, in between Rancho Daimari and Conchi (The Natural Pool). You can either drive a jeep into the National Park and park nearby and walk the rest of the way or, you can hike from the Rancho Daimari area. Once you arrive you will find it to be wildly refreshing… just you, the ocean and nature. What more could you ask for?
Splashworthy highlight: This is a great destination to cool off after a beautiful hike. Also, the sand break that splits between the water makes for a great photoshoot location.
Beach bum tip: This is a wild beach with rough water conditions and strong currents, swimming is strongly advised against.
Druif Beach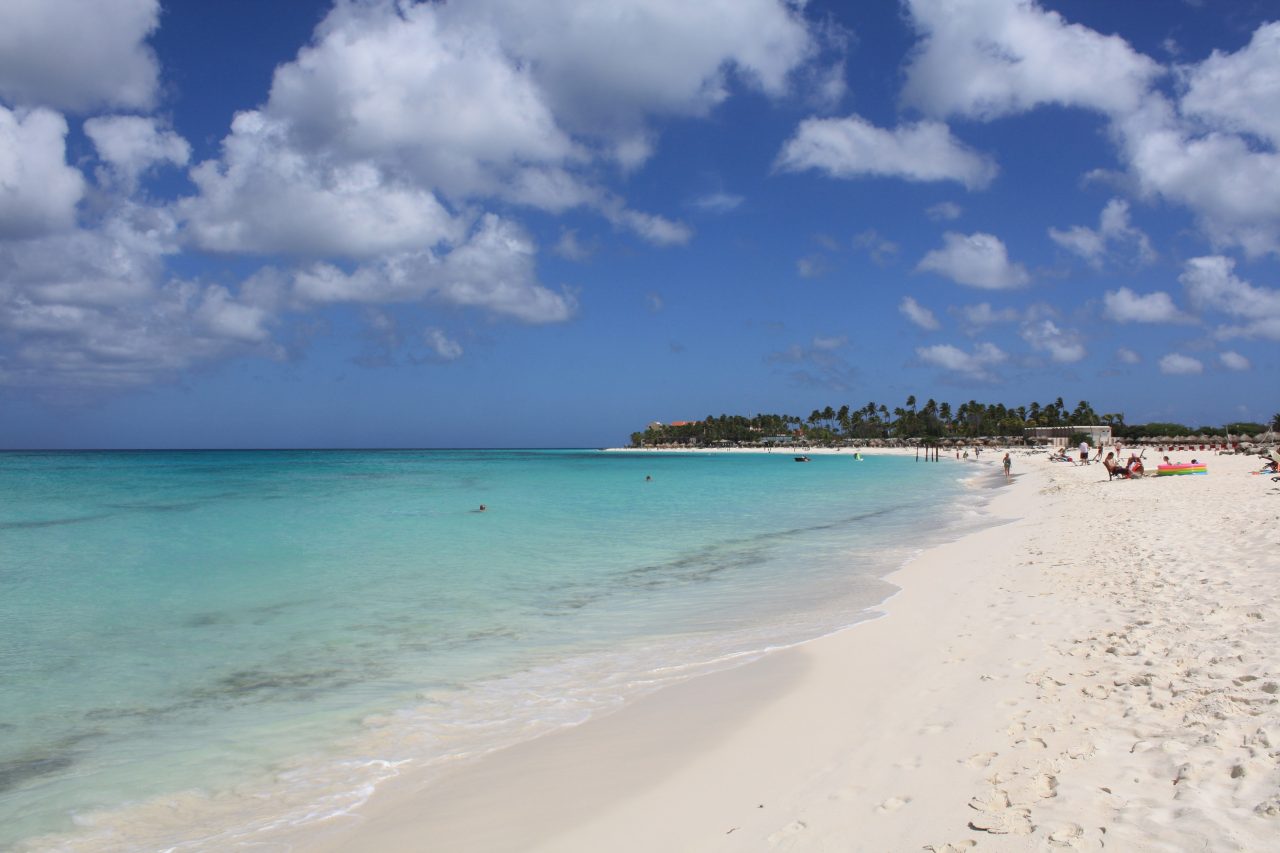 Druif Beach, also referred to as Divi Beach to some, is a mile-long, stretch of beach between Oranjestad and Eagle Beach. This beach is home to several Divi Resorts and a picturesque beach bar just steps away from the soft white sand beach – a perfect place to watch the sun go down!
Splashworthy highlight: Do not skip out on visiting the Beach Bar Aruba, located directly on the beach across from Divi Golf & Beach Resort. It's the perfect place to enjoy happy hour and watch the sun go down.
Beach bum tip: This beach is a bit closer to the downtown area than other beaches, so if you need to stay closer to Oranjestad or the Cruise Ship Terminal, this is the beach for you. If you walk a bit further down you can also reach Eagle Beach, that's right, two beaches in one day!
Renaissance Island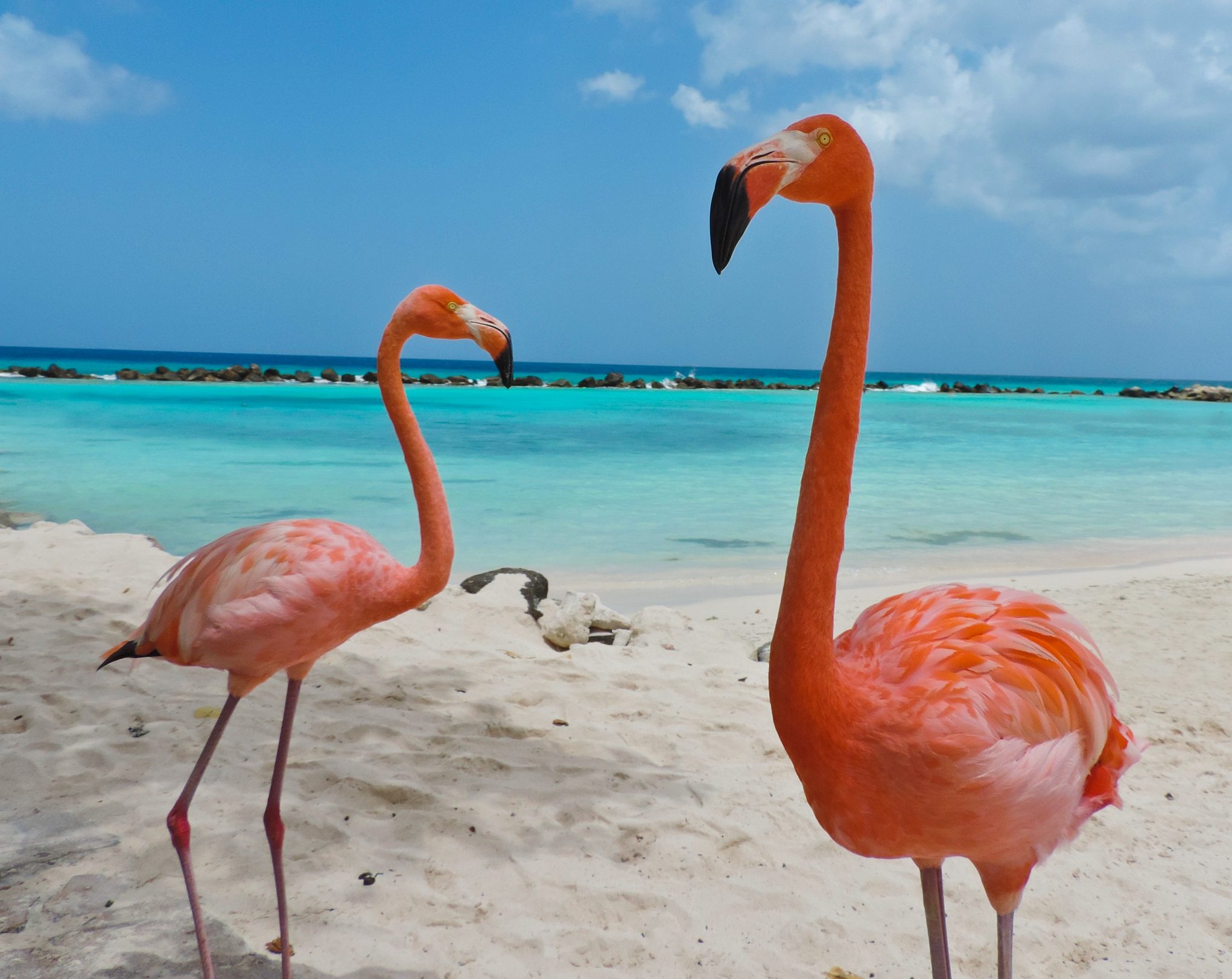 If Aruba has been on your list to visit, it's likely you have "go see the flamingos" listed towards the top of your vacation to-do's. Well, let it be known, while every now and then (if you're very lucky) you can catch a wild flock passing by the island, the place to find them is on Renaissance Island (they can now also be found on De Palm Island). This tropical oasis is a short ride away from Renaissance Marina downtown. The island belongs to the Renaissance Wind Creek Aruba Resort and is exclusively available to their guests. Day passes are available for purchase (for non-resort guests) when the resort occupancy rate is not too high. The island includes a spa, restaurant & bar, plenty of lounge chairs, as well as private luxury beach cabanas over the water and on the beach available to rent.
Splashworthy highlight: This is a great place to seek some quiet and intimate vibes with your significant other and get away from the hustle and bustle. Oh, and don't forget to snap pictures with our famous pink flamingo friends!
Beach bum tip: If day passes are available or if you are visiting the on-island spa, we recommend coming here to celebrate a special occasion and splurging on an overwater cabana.
Now that you've gotten familiar with some of our island's happy and sunny beaches, we thought it might be helpful to touch on the subject of palapas and beach access:
You can find easily accessible palapas (built-in-the-ground, umbrella-like structures made out of dried palm leaves) on beaches such as Eagle Beach, Arashi Beach, Boca Catalina, Malmok (limited amount), and Mangel Halto (limited amount).
Visitors sometimes wonder whether or not one can make use of any palapa or certain beach areas. Know this, every beach in Aruba is public (Renaissance Island and De Palm Island being exceptions, as they are privately owned islands that you must purchase a day pass for in order to access). Since all beaches are public, so are the built-in palapas located on these beaches. You have the right to sit under any unoccupied palapa of choice (with your own beach chair, not the resort's or venue's lounge chair), even if it is in front of a resort. However, it is important to note that you cannot sit under an umbrella or palapa that belongs to the resort itself (resort property) or if it is located on the actual property of the resort, such as near their pool or in some cases at the start of the beach (some resort property lines extend a few feet onto the beach area).
Currently, each resort has its own set of rules and regulations for palapa usage when it comes to their guests. It is necessary to contact them directly for the most up-to-date information. As many repeat visitors are already aware, it is best to reserve your resort palapa in advance (whether that is a day or a week in advance). In many cases, this needs to be done in person at the resort's beach/towel hut. At select resorts such as, Hilton Aruba Resort, online reservations are also offered!
Aside from palapas, there are also plenty of shady tree areas as well as umbrella and lounge chair rentals available (located at watersport huts). These huts can be found at almost every beach, particularly at Eagle Beach, Palm Beach, Arashi Beach, Druif Beach, Surfside Beach, and Baby Beach.
View more beaches and attractions & sights in Aruba to visit.