One of the best ways to kick off the new year is to plan an upcoming trip to get away and enjoy new experiences and surroundings. Are you considering Aruba as your next destination? Check out some of the best ways to enjoy yourself and make the most out of your Aruba vacation!
Carnival fun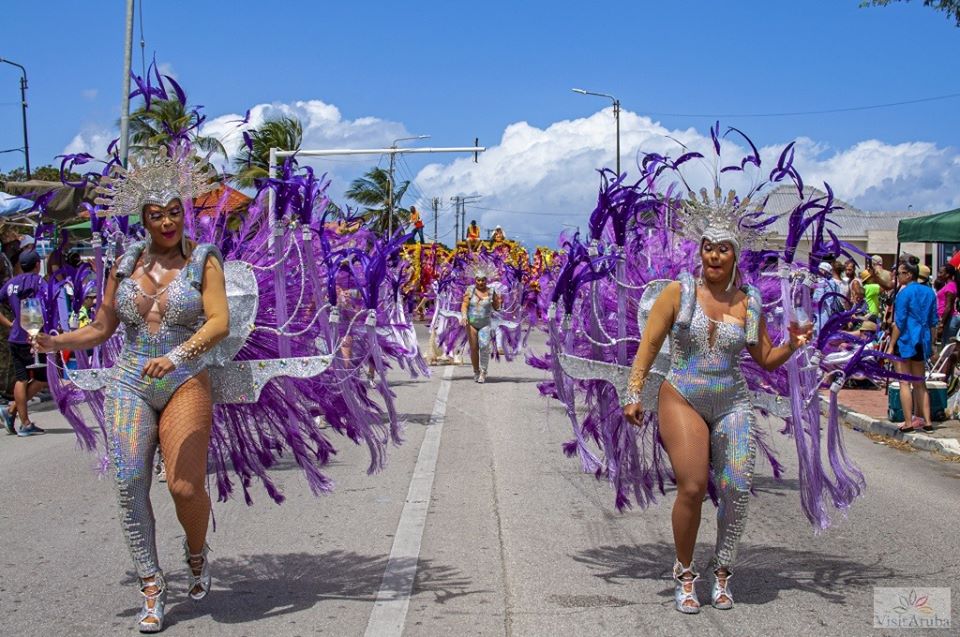 Aruba's 'Carnaval' season has officially made its comeback and we are very excited, to say the least! After a long two-year hiatus due to the COVID pandemic, Aruba is more than ready to welcome back our beloved Carnival season, and, this year our island is celebrating 69 years of Carnival! If you are lucky enough to be on the island don't miss out on one of Aruba's most treasured traditions. Get ready, it's 'Carnaval' time, time to celebrate in the streets! View the 2023 Carnival schedule here so you don't miss out on any of the big parades and fun.
Soak up some warm sunshine on the beach

Spend the day (or every day for that matter) lounging on the beach with no agenda, just pure relaxation. Grab your towel, pack a cooler, and head to the nearest beach, there's truly nothing better! Check out our list of some of our favorite beaches to visit, or, if you're feeling a bit daring, check out these wild and beautiful beaches found on the East Coast for a day of island adventure.
For those who love to stay active and have fun out on the water, discover fun watersports and activities to add to your list.
Attend an event or festival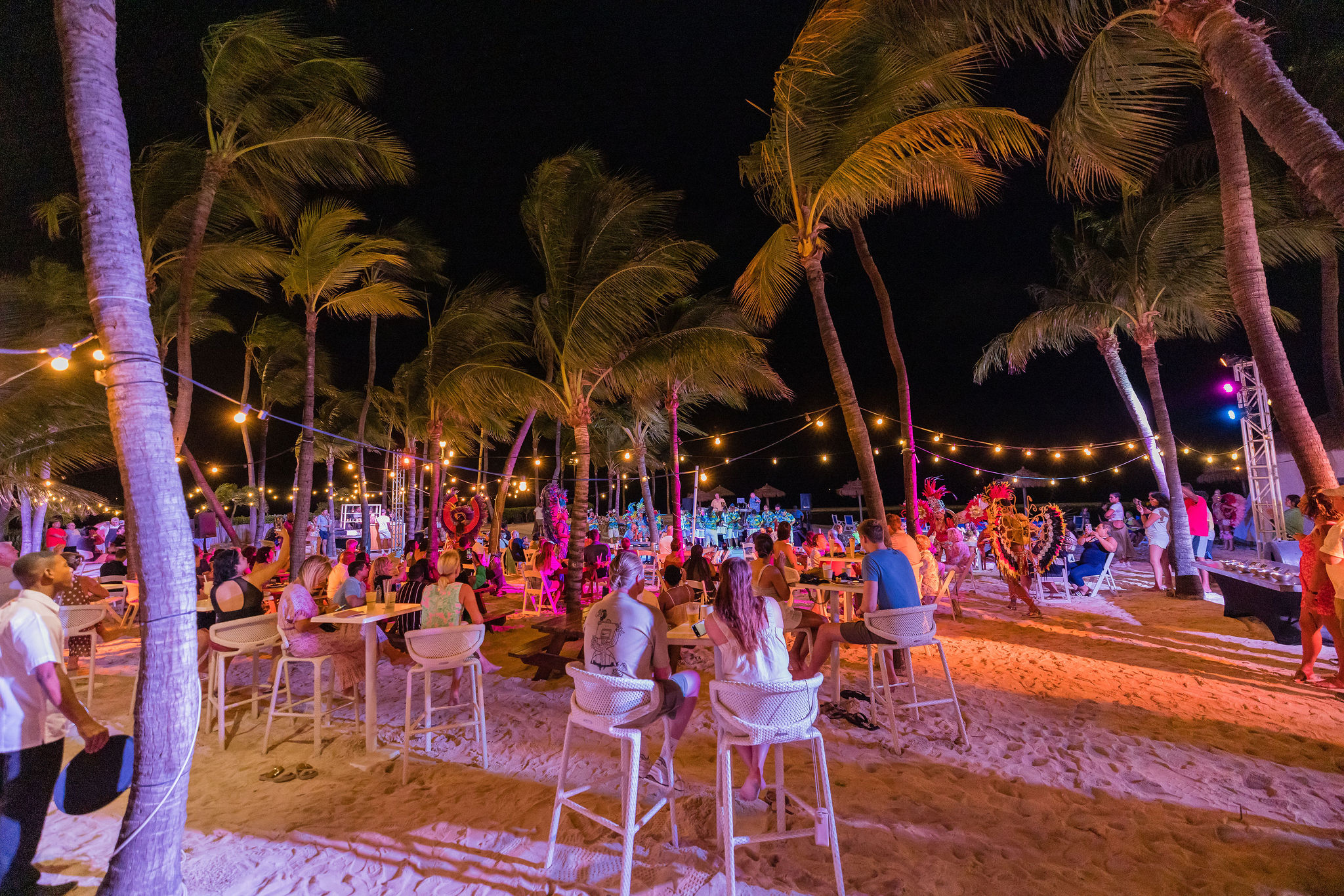 Many of Aruba's annual events are making their comeback this year and we are so happy to see it! Check out our events section closer to your arrival date to see what is being offered during that time. Have a little sneak peek at some upcoming events and fun to be had:
Aruba's National Anthem & Flag Day (March 18th, 2023)
Soul Beach Music Festival (May 24-29, 2023)
Aruba Hi-Winds (May 17-22, 2023)
Dushi Aruba This Way – Party Like a Local! (Weekly – Thursday)
Aruba's Ray Comedy Show (Nov. 29, 2022 – April 4, 2023)
Bon Bini Festival (Weekly – Tuesday)
Indulge in endless dining options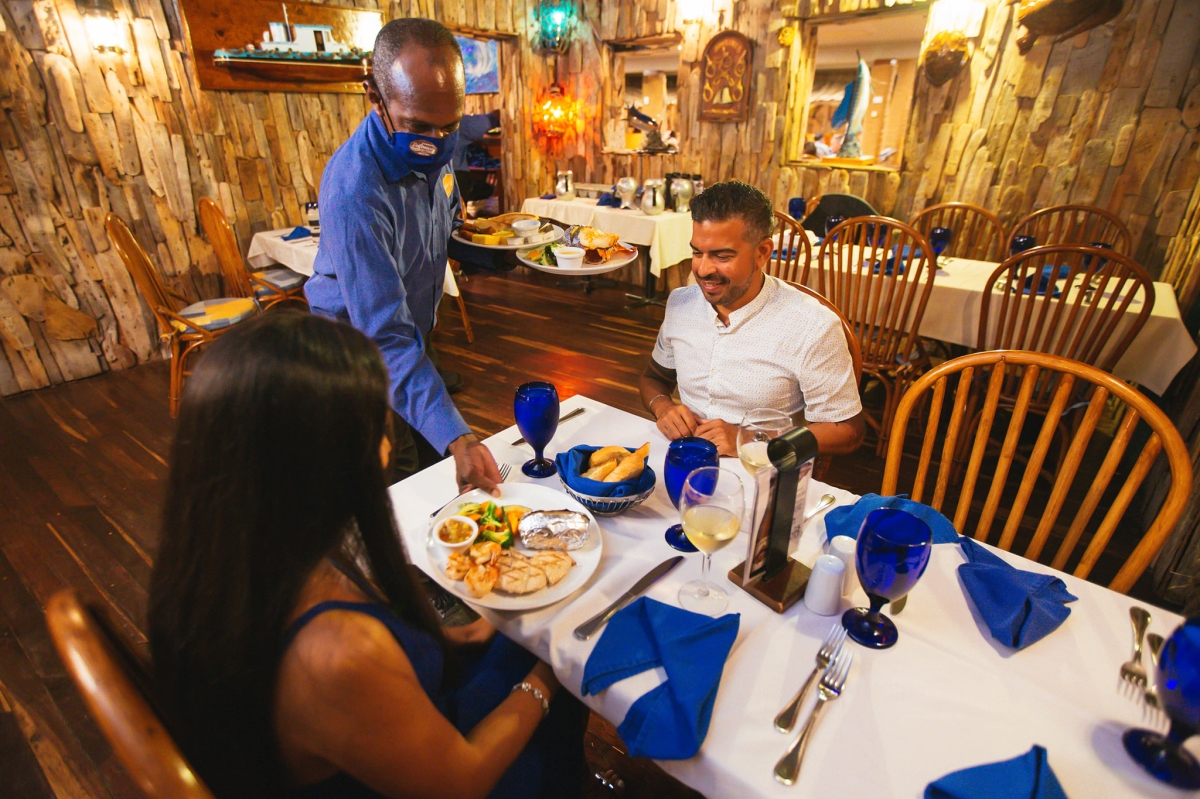 Good food, flowing drinks, and great company makes for the perfect start to the new year! Here's a little taste of the dining options to be found in Aruba:
Fine Dining: Aqua Grill, Sunset Grille, L.G. Smith's Steak & Chop House, Faro Blanco, and Senses Fine Dining at Radisson Blu
Beach Dining: Barefoot, Hilton Aruba's Sunset Concierge Dining Experience, Element's Restaurant, Matthew's Beachside Restaurant, Ricardo's, Water's Edge Restaurant, Pelican's Nest Seafood & Grill, and Gilligan's Seafood Shack
Downtown and/or Garden Dining: Quinta del Carmen, El Gaucho, Driftwood, Renaissance Marketplace, and Lucy's Aruba
There are plenty more mouth-watering restaurants we recommend trying while on the island, browse them here!
Stay at a vacation rental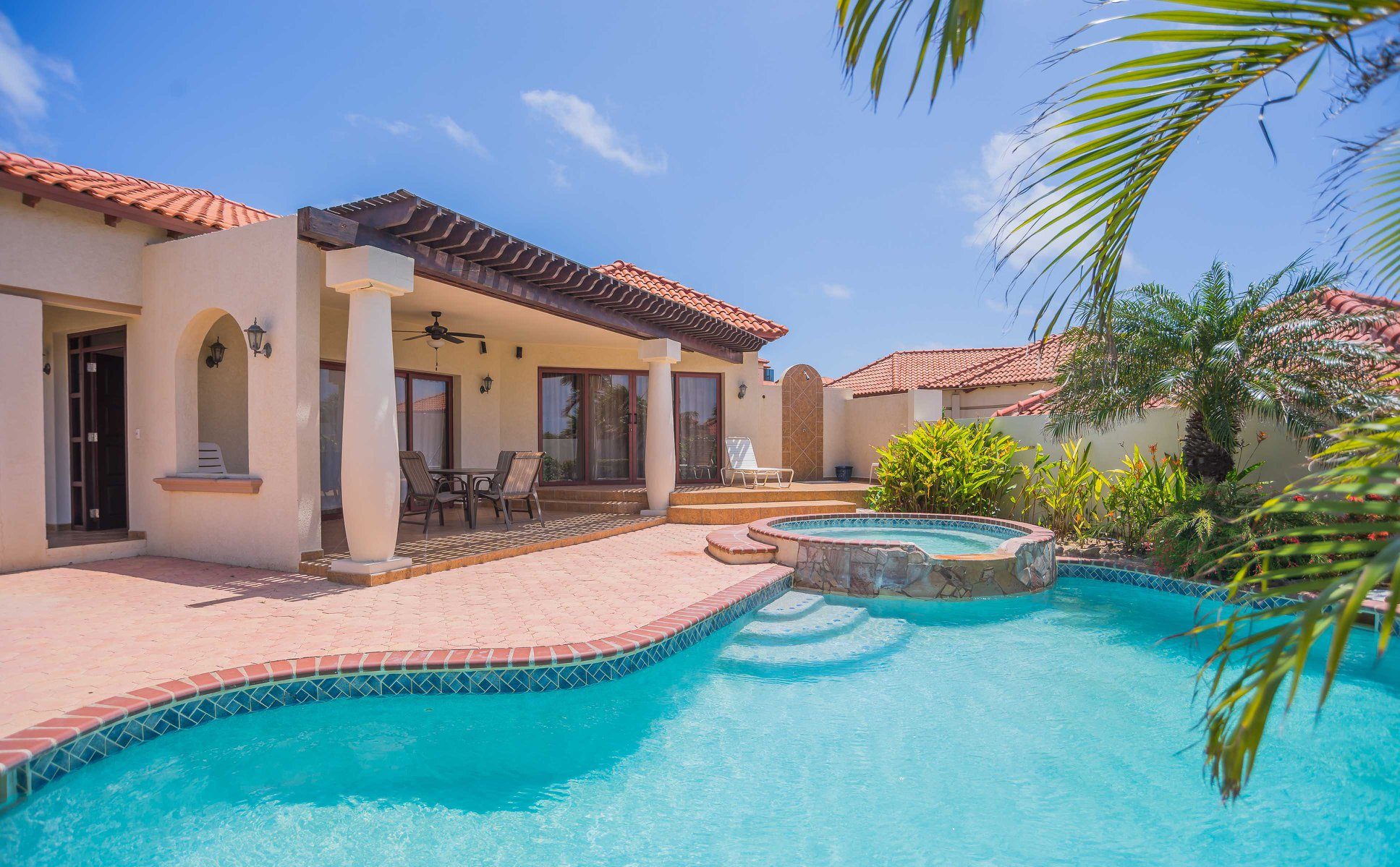 While there is absolutely nothing wrong with choosing to stay at a beachfront resort with paradise and endless Piña Coladas at your fingertips, it is quite a unique experience to opt for a more local and authentic accommodation during your vacation. Vacation rentals are a great option if you're looking for that "home away from home" feeling and want to have a more quiet and intimate stay.
Browse vacation rentals, apartment resorts and boutique hotels for an authentic island stay.
Get some R&R at the spa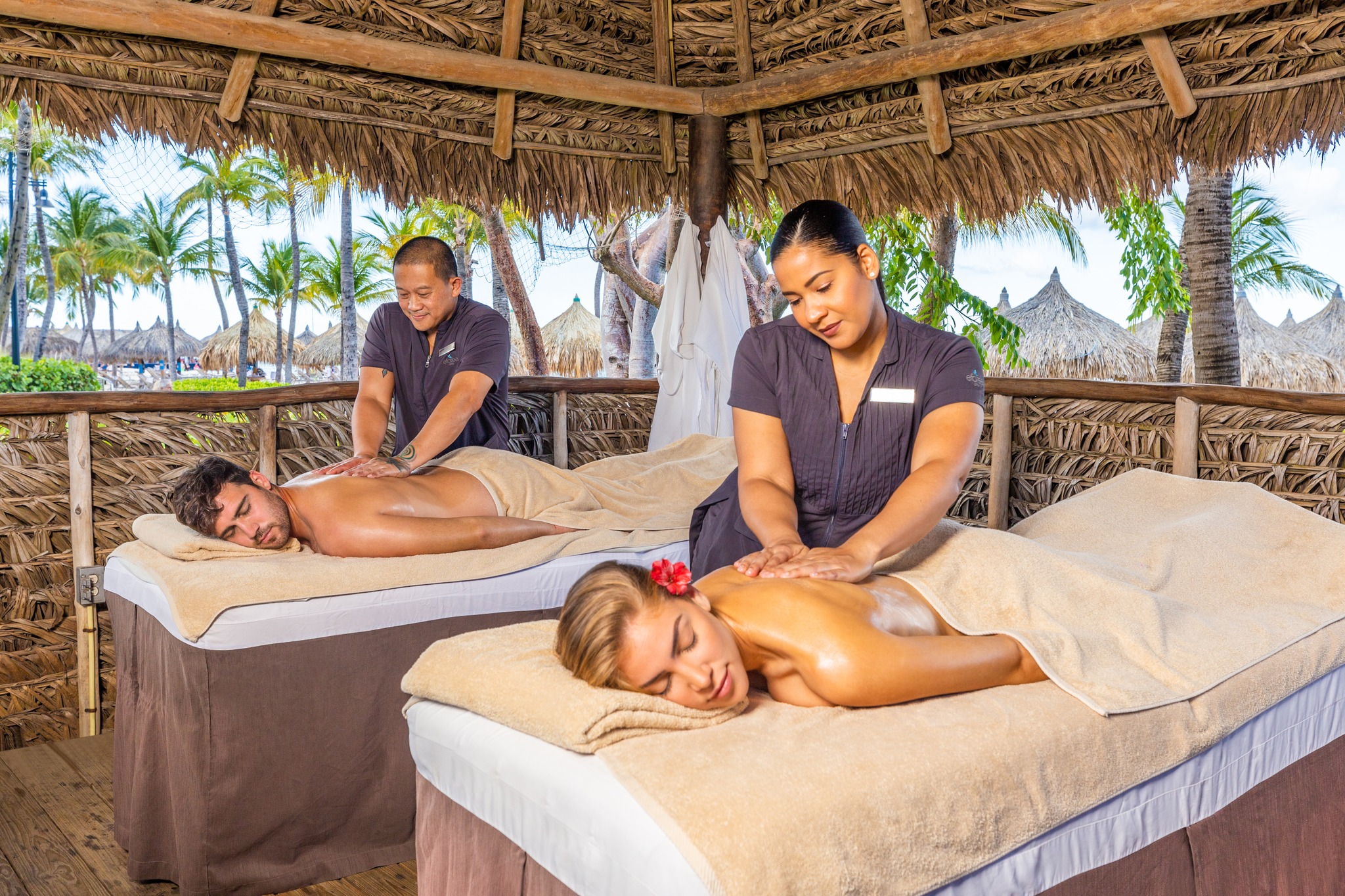 Turn off all of the noise and chaos in your life and go get yourself a massage. Not only is a massage a great way to unwind, but so are facial treatments as well as a manicure and pedicure. Prioritizing self-care in the new year is the way to go!
Check out the extensive spa treatment menu for Hilton Aruba's eforea Spa. Their menu includes specialty wellness treatments with a local touch. Try their Sacred Sounds Massage or Eforea Astronomy Experience, which incorporates a massage under the stars, stargazing, and guided meditation with healing crystals and sage. It doesn't get much more zen than that.
Another spa absolutely worth trying on the island is Renaissance Aruba's Okeanos Spa.
Skincare tip – Don't leave the island without our local Aloe skincare products, your skin will thank you later! Visit the Aruba Aloe Factory or one of the Aruba Aloe stores.
View more things to do and see in Aruba.