Are you going to visit Aruba soon? Did you make plans already?
In this 3 part series we're going over things to do during your stay, in order from A to Z. In this part we'll go over things to do from I to Q.
Click below to go to part 1 or 3.
I Love Aruba Signs
Your trip to Aruba is only complete when you've taken pictures at one (or all) of the 'I Love Aruba' signs. People are often trying to find the signs but can't figure out all the locations. Let's help you with that.
Sign 1 – The biggest sign is located next to the Renaissance Hotel in Oranjestad. See the map below for the location of the main sign.
Sign 2 – A smaller I love Aruba sign is located in the hi-rise hotels area. You can find it in front of the Riu and Hilton Resort. See the map below for the location of the smaller sign.
Portable signs on wheels are a little bit smaller in size and are sometimes moved to different locations. One is often located near Malmok Beach. If you follow the L.G. Smith Boulevard from the big hotels to Boca Catalina Beach, you will definitely see the sign on your left hand side.
Sign 3 – Another sign can be found inside the Village Mall. This mall is located in Palm Beach.

Jamanota
You may think that Hooiberg is the highest mountain in Aruba, but in fact, Jamanota is the highest with 620 ft (188 m). Compared to Hooiberg, this is only a 79 ft (23 m) difference.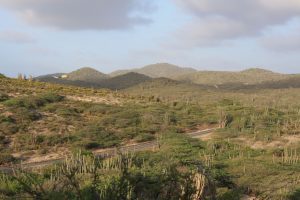 Mount Jamanota is located in Arikok National Park. Jamanota is perfect for enjoying nature. You can find wild goats and donkeys roaming the area, as well as wild parakeets. If you want to enjoy a spectacular view of Aruba, you should definitely add going up to the Jamanota area on your to do list.
Kite Surfing
If you're into surfing, you're lucky. Aruba's constant trade winds make it the island a perfect spot to go surfing.
Do you want to take some kite surfing lessons while in Aruba? Good news, because this Kiteboarding school with years of experience and successful students can help you out!
Are you more into wind surfing? Then you should take a look at this page. The perfect combination of temperature, wind strength and water conditions are beneficial for both beginners and experienced surfers. You can take beginner and advanced lessons and rent the equipment you need to have a great surfing time.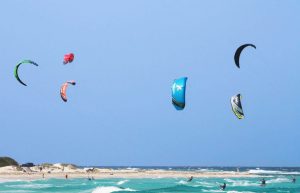 Are you experienced? Why not enter a competition? Every year, Aruba is a host to the Hi-Winds windsurfing Pro-Am Grand Prix World Cup event which takes place in June. Click here if you want to learn more about Hi-Winds.
Lighthouse
The California Lighthouse is already over 100 years old. It was built between 1914 and 1916 according to a French design. In 1891, a steamship was wrecked nearby and its name was California, hence the name. The lighthouse is more than 90 ft (27 m) high and is located in the north of the island. The landscape surrounding the lighthouse is rough and sandy. The view on the north coast and sand dunes is beautiful and something definitely worth seeing during your trip!
The accessible roads allow you to drive up to the lighthouse yourself. If you're planning on attending a tour, you might want to check out this page. Many different tours stop at the Lighthouse. With these tours you can combine different attractions and sights, including the California Lighthouse.
Tip: While you're there, visit El Faro Blanco for lunch or dinner!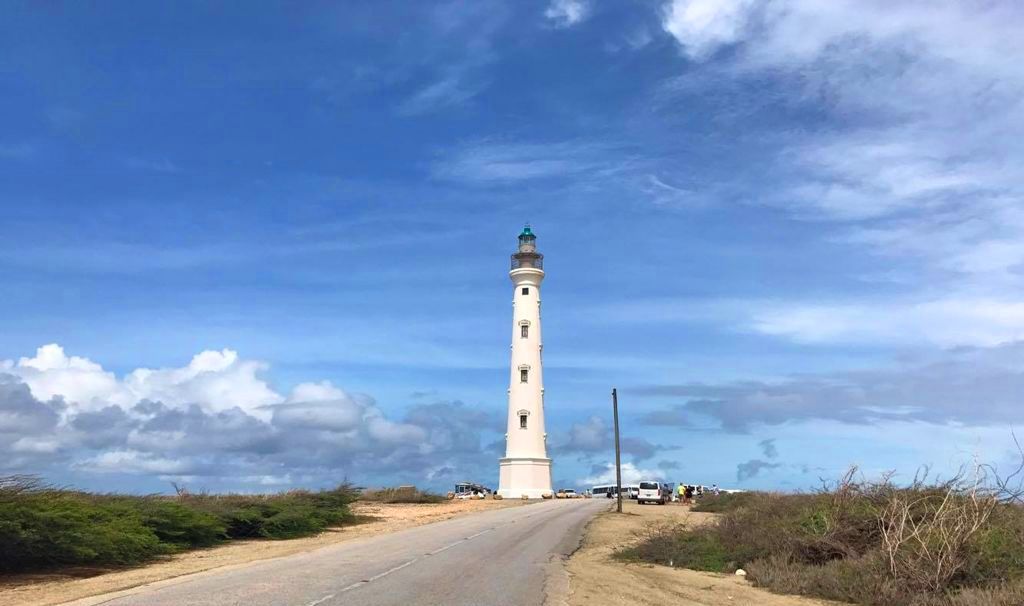 Music Festivals
Throughout the year there are many different music festivals that you can go to. The Flip Flop Festival, which usually takes place at the end of March through beginning of April, is a festival that you can enjoy wearing flip flops on the beach. The music ranges from reggae to dance music, which creates a real summer vibe.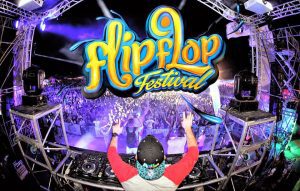 If you're more into electronic music, then maybe Electric festival is what you're looking for. This festival is the most global dance music festival in the Caribbean. This 4-day event welcomes more than 10,000 visitors every year and takes place every first weekend of September.
If you want to find out about more festivals and see if you can attend a festival during your stay, read our blog article about events in Aruba.
Natural Pool
The Natural Pool is located in the North of the Arikok National Park. This pool is created by the strong waves that have worn out the coastal ridge. Now, the rocks surrounding the pool block the waves from coming in, which makes this place a perfect spot to peacefully take a swim.
In the pool you can find some small colorful fish if you bring your snorkel gear. The rocks are slippery and somewhat sharp so bringing water shoes isn't a bad option. When you're in the pool you can enjoy the warm water, the sounds of the ocean and small crabs that stroll around the surrounding rocks.
Most of the time, the natural pool is safe to swim in, but keep in mind that some days the tide is very rough. On those days it is not recommended to swim in it. If you're visiting natural pool without a tour guide, consider asking one of the park rangers if it's safe to swim that day if in doubt. If you can't find any park rangers, you can always ask tour guides of tours passing by. Aruban people are friendly and always happy to help you out!
Also, climbing the rocks at the pool is at your own risk. The rocks might get really slippery. Besides the tide and sometimes slippery rocks, the Natural Pool is a must see. The scenery is absolutely breathtaking!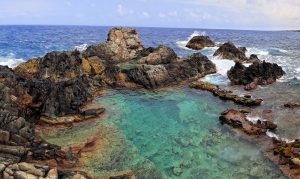 How to get to the Natural Pool? The roads leading to the pool are very rough, and the sharp stones and rocks can easily pop your tires. Unless you're renting a strong 4×4 car, it's not easy to access the pool. Therefore your best bet would be an Arikok Park Tour. El Tours offers different tours that stop at the Natural Pool.
Oranjestad
Oranjestad is the capital and largest city of Aruba and is located in the southwest of the island, 1.2 miles from the airport (2 km).
In Oranjestad you'll find many different restaurants and shops. If you're looking for a restaurant for dinner, you may want to check out our restaurant guide. On this page you can learn about restaurants and read reviews.
The Main Street in Oranjestad has been renovated and a lot of local shops are located there.
Fun fact: Locals call the Main Street "Caya Grandi", which translates to "Big Street" – This street is a long street of stores, restaurants (lots of delicious food!) and banks.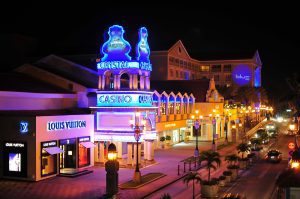 Besides enjoying a great meal, you can also go to Oranjestad if you want to go shopping. There are many different stores where you can go to. The Renaissance Mall, located next to the Renaissance Hotel, has over 60 fine retail shops, restaurants and entertainment offerings.
Party Bus
If you're looking for an open-air bus ride, hop aboard the Kukoo Kunuku party bus. This bus ride starts at your hotel when you're picked up by a wacky, fun and colorful, hand painted bus. With this tour you'll experience what Aruba's nightlife is really about. This tour is especially for the young and restless and the old and reckless!
There is also the option to choose Kukoo Kunuku's daytime tour, which stops at places such as the Donkey Sanctuary, Philip's Animal Garden and the Butterfly Farm.
Quad Rental
If you want to experience diverse landscapes and exotic wildlife, renting a quad will make for an unforgettable day.  Go on an adventure and visit natural pools and bridges, caves, the Gold Mill Ruins, Alto Vista Chapel and see donkeys and goats along the way! Rent your ATV/UTV!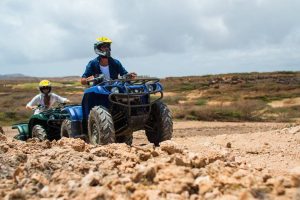 More things to do
That was all for this week. Did you miss the other articles about things to do in Aruba? Click below to go to the other parts.
Keep checking our Facebook page if you want to stay up to date on Aruba news. Go to our Facebook page, click 'like' and turn on notifications. This way you'll never miss anything!
Click 'Like'
Click 'Following'
Click the edit button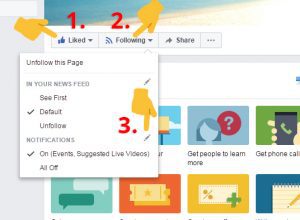 Then, click the checkbox 'All Posts'.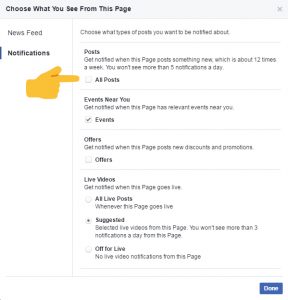 That's all you need to do to stay up to date. Every time we post about Aruba, you will know!