Are you going to visit Aruba soon? Did you make plans already?
In this 3 part series we're going to suggest some things to do during your stay, in a convenient A to Z list!
Click below to go to part 2 or 3.
Arikok National Park
Arikok National Park covers about 18% of the island and is located in the North-East. In this protected area you'll find beaches, dunes and a variety of different stunning landscapes consisting of volcanic lava formations.
You can explore the park by car, but you can also go hiking or mountain biking. During your adventure you can enjoy the beautiful flora and fauna and see the different animals that are indigenous to Aruba. Visiting the Arikok National Park allows you to experience the natural wonders of Aruba, including the natural bridge, caves and shoreline.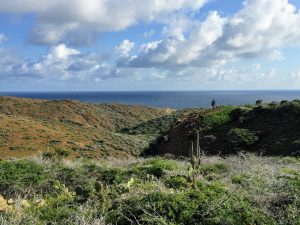 Most places are accessible by rental cars. Some places, such as the natural pool, are only accessible if you're driving a suitable vehicle, such as a 4×4, and if you're an experienced driver. If you want to take it easy and not miss any of the sights, you can join one of the off-road safari tours that El Tours offers. With El Tours you can visit many different places, such as the donkey sanctuary, Alto Vista Chapel, the Ostrich farm and Seroe Colorado.
Baby Beach
If you're done with bouncing through Arikok National Park on rugged roads, Baby Beach is a place you might choose to catch your breath. However, Baby Beach is pretty breath taking as well!
Baby Beach is a clean and quiet beach that is perfect for relaxing, far away from the hotels and Oranjestad. In this case, far away means only 30 minute drive to the far east of the island.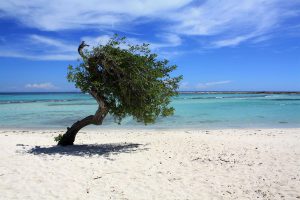 The warm and shallow turquoise waters are also great for families with kids. The huts (palapas) in the sand are good spots to get out of the strong sunlight every now and then. Do stay within the shallow water though. Outside the protected lagoon on the reef there are often strong currents that can be treacherous, especially for inexperienced swimmers.
If you love the beach, you should definitely visit Baby Beach.
Catamaran Cruise
To experience Aruba in a different way you should join a catamaran cruise! It's going to be fun if you're into snorkeling, sunbathing and enjoying a nice drink.
There are different options. You can book a cruise at Pelican Adventures, which will definitely satisfy your needs. Pelican Adventures offer cruises in their custom-built catamarans equipped with trampolines and shaded areas. Relaxing, snorkeling and just enjoying the beauty of Aruba's waters is something you can start looking forward to.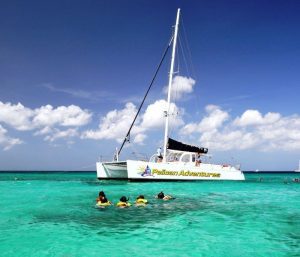 Eagle Beach
Did you know that Eagle Beach is rated as one of the best beaches in the world?
If you're in Aruba to enjoy the beach, Eagle Beach is the place to go to. The soft, white sand between your toes and the crystal clear waters makes this beach one of the all time favorites.
Eagle beach is a calm and quiet beach in front of the low-rise hotels. If you're looking for a beach where you can drink out of coconuts and enjoy the sunset, Eagle Beach is the right spot for you.
Aruba's famous divi tree is also located on this beach, so if you want to take pictures like this, visit Eagle Beach and enjoy!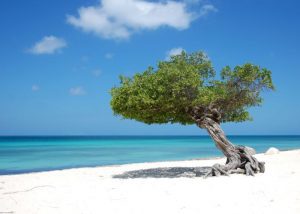 Fishing
If you're looking to go fishing, Aruba is the perfect island to rent fishing charters. Most charters are available at the Renaissance Marina. There are many types of fish you can catch, such as sailfish, blue marlins, amberjack, kingfish, and tuna.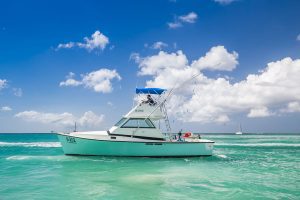 Most charters have the capacity to take 6 to 12 people on board, depending on the charter. Trip durations can be 4, 6 and 8 hours, so choose the option that suits you best.
Some fishing charters offer fishing trips which allow you to go deep sea fishing. Here comes the best part: If you catch something you really like (as long as it is not one of the strict catch and release species), in some cases you can take it to a restaurant or your hotel to enjoy!
Golf
In Aruba there are 3 golf courses. The oldest golf course in Aruba is the Aruba Golf Club. This 9-hole golf course is located near San Nicolas in the middle of nature where you can enjoy a rough ground, rocks, cacti and an occasional goat here and there.
If you want to go for something more polished, you can try out The Links or the Tierra Del Sol golf course. At both locations you can take lessons, enter tournaments or just enjoy a good game of golf with your friends.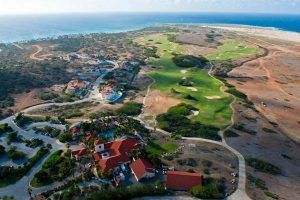 Honeymoon
Choosing Aruba as your honeymoon destination is something you'll not regret. You can fill your days with a beautiful trip through Arikok National Park, but this time with horseback riding. Depending on the tour you take, you can go up to the Bushiribana Gold Mines, Wariruri Beach, Alto Vista Chapel and the Ostrich Farm. Enjoy nature together and riding off into the sunset is a guarantee.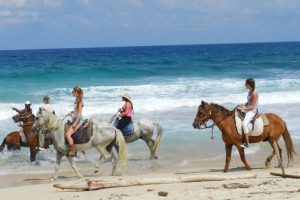 If you want to watch the sunset somewhere else, you can go to Atardi and enjoy a beachfront dinner. This is the perfect setting for a romantic dinner, delighted by the gorgeous sunsets, palm trees, sand between your toes and exquisite meals. You can enjoy a 3 or 5 course menu for you and a loved one.
Click here if you want to take a look at the menu.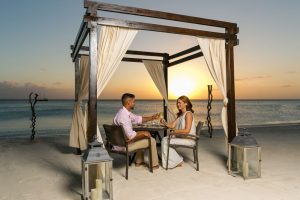 If you're not married yet but want to do so in Aruba, you can have a look at this page.
More things to do
Although we already went over one of the best things to do in Aruba, This list showed you just a couple of activities. Click below to go to part 2 or 3.
Keep checking our Facebook page if you want to stay up to date on Aruba news. Go to our Facebook page, click 'like' and turn on notifications. This way you'll never miss anything!
Click 'Like'
Click 'Following'
Click the edit button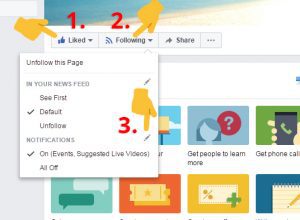 Then, click the checkbox 'All Posts'.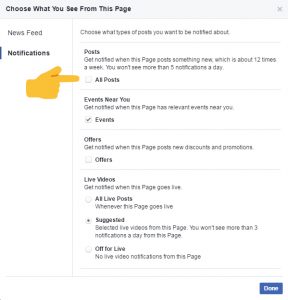 That's all you need to do to stay up to date. Every time we post about Aruba, you will know!