Many young girls, women and brides-to-be dream of a destination beach wedding on the perfect island but unfortunately not all are able to make it a reality. Fortunately, for Tam Ashley, she was able to make her dream come true!
Tam participated in our "Aruba Love Story Contest", winning a romantic dinner for two at Texas de Brazil Aruba. After seeing Tam's gorgeous wedding picture and hearing a bit of her story we just had to get more details. We asked to conduct a short interview so that we could share a real-life, "Aruba Love Story" with our followers, with hopes to inspire all of you hopeless romantics, that you too can make your dream wedding come true!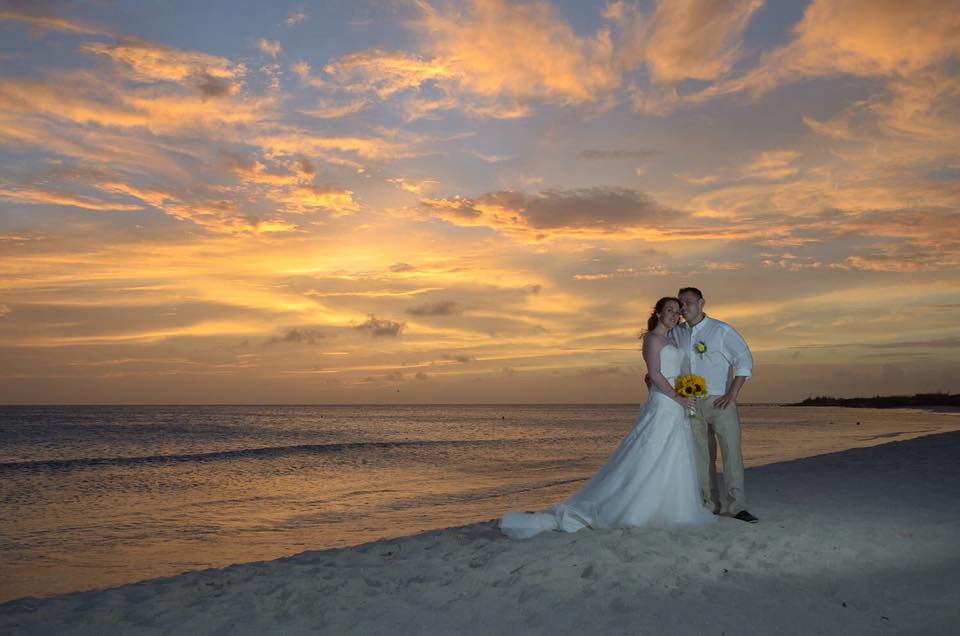 In her contest entry she shared with us, "My husband and I got married last year in Aruba. Since I was a little girl I'd always wanted to get married in the Caribbean. When we started planning, we fell in love with Aruba and it couldn't have been more perfect. It really was a dream come true. We both can't wait to return, maybe in July to celebrate our first year married. It's always going to have a special place in both of our hearts".
Luckily, Tam and her husband Mark did just that, they were able to return to Aruba just one year later to celebrate their first wedding anniversary in the very place they said "I do"!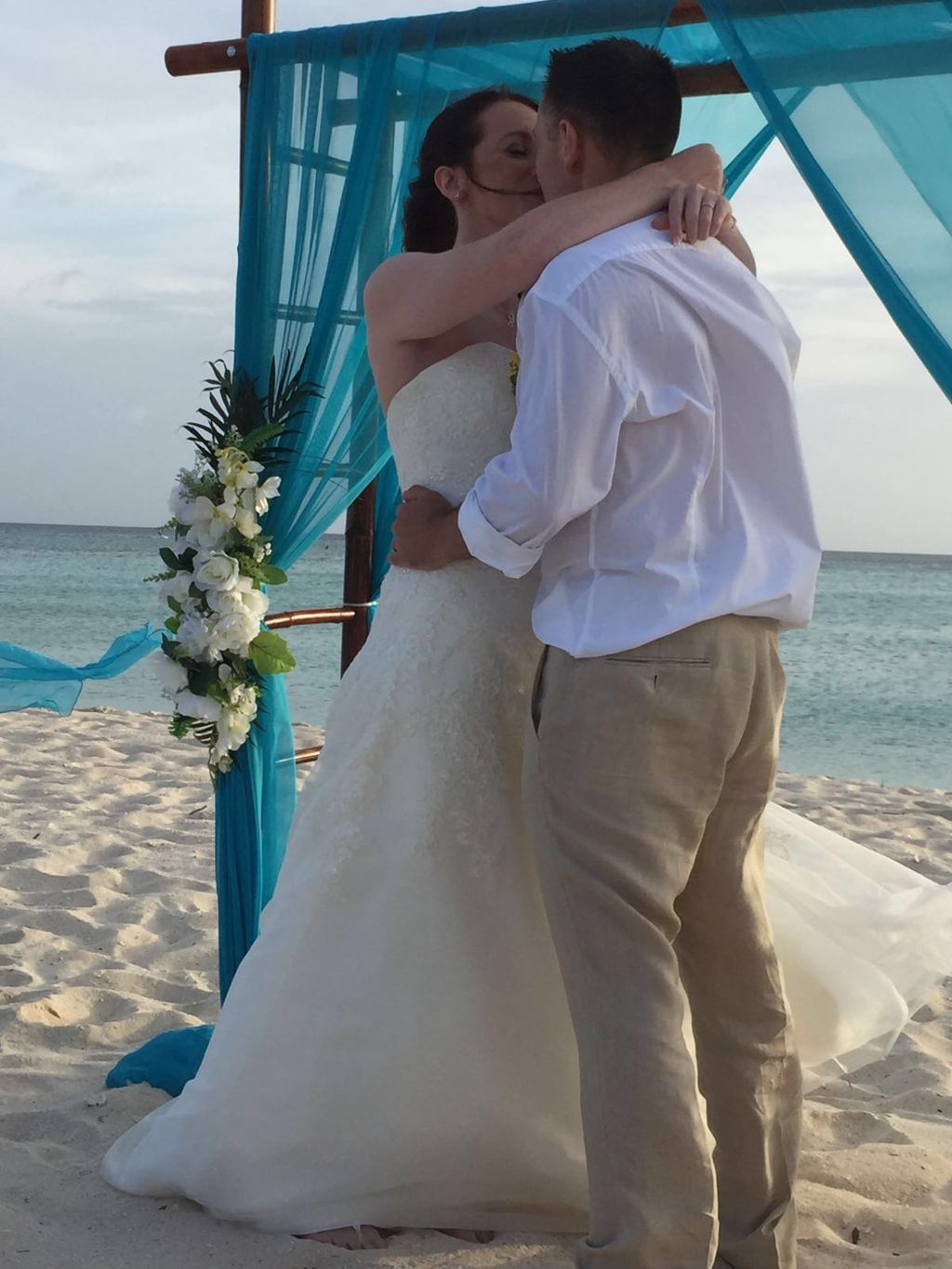 Their love story first began at a local pub in 2012 where they met during a night out with friends. They instantly connected, formed an unbreakable bond and friendship, which then transpired into the perfect love. Now that is a true, real-life love story!
We asked Tam, "Have you always dreamed of having a destination beach wedding"? She replied, "I have ALWAYS dreamed of a beach wedding but Mark hasn't. I can remember telling my mum when I was about 5 or 6 years old that I didn't want to get married how everyone else gets married. I said I wanted to fly away and get married on a beach". And that is exactly what she did!
Coming from a far away place such as, Cambridgeshire, England does not always make planning and carrying out a destination wedding the easiest. Luckily, for Tam and Mark their family was super supportive and excited for the idea and booked their tickets right away! I mean who would be crazy enough to pass up an excuse to travel to the sunniest and happiest island in the Caribbean? They clearly made the right choice!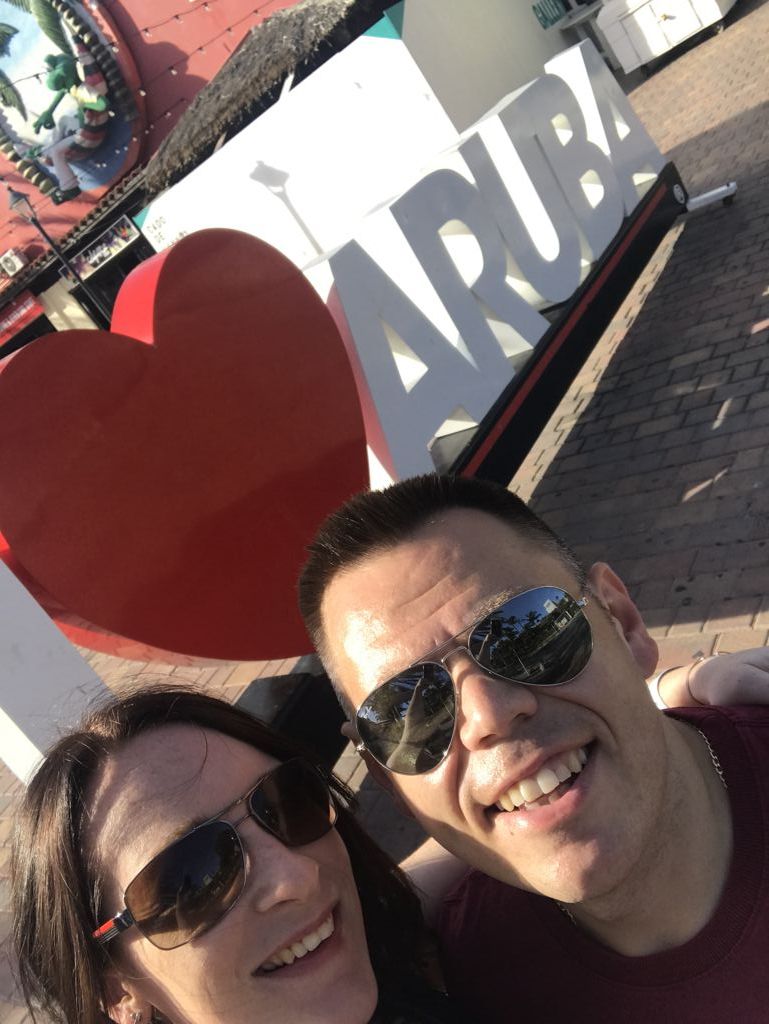 Tam shared, "We had 9 members of the family attend. My mum, dad and grandma. Grandma had never flown before; nothing like starting with a 9 hour flight! Mark's mum, dad, sister, brother-in-law, niece and nephew all came too. I'd never wanted a big wedding so 11 of us was perfect. All our family were so supportive of our decision to get married abroad, and for some it was an experience of a lifetime".
During their trip they stayed in the Riu Palace, her now favorite place to stay.  "First we stayed in the Riu Palace and the second time we stayed in the Riu Palace Antillas. I absolutely love the Palace. The building looks amazing, especially when lit up at night. It was an evening flight when we flew home and the Palace just stands out beautifully. I felt like a princess on my wedding day, and where better for a princess to stay than at a palace" said Tam.
She explained, "We looked at other Caribbean islands, different hotels, but couldn't find any nicer than Aruba. Plus we knew we had to get married in the summer (as I'm a teacher), so being outside the hurricane belt was a huge plus! We knew we'd be guaranteed sunshine on our special day!"
They first went to the Town Hall in downtown for their civil ceremony followed by their beach wedding ceremony on Arashi Beach just before the sun went down! She told us, "Our favorite beach would have to be Arashi Beach since that is where we got married. Although Eagle Beach is stunning. The sand is so soft and the water is so clear – it's no surprise it's one of the best beaches in the world!"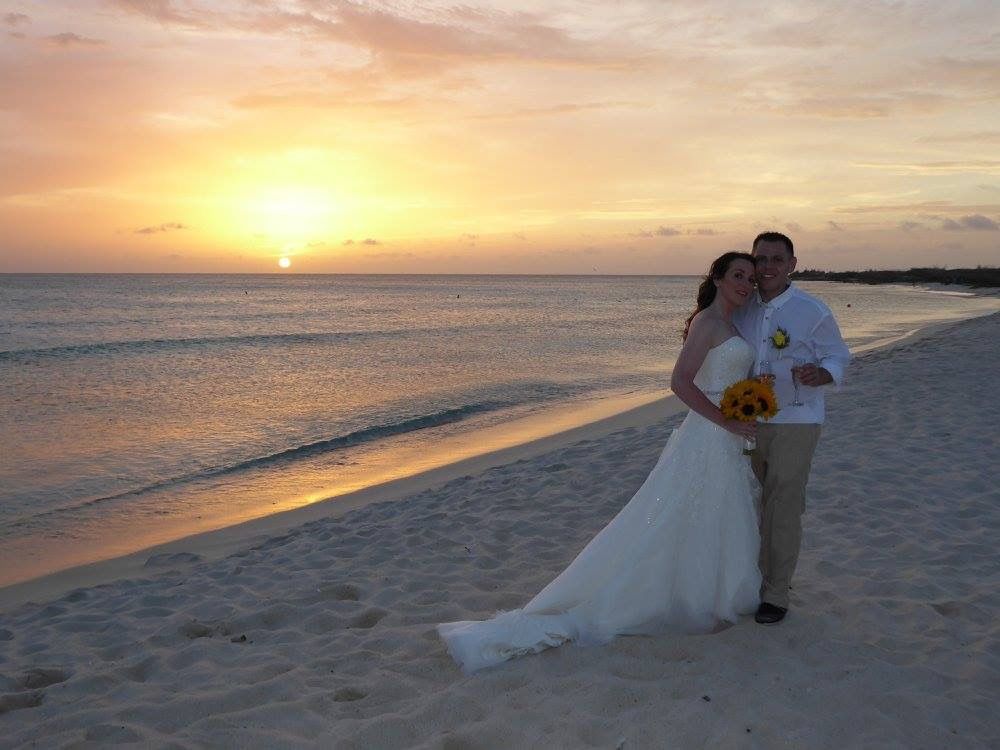 After they said their "I do's" in front of their closest family members with the perfect sunset as their backdrop everyone went to Hard Rock Café to enjoy a lovely dinner and continue their celebration. Just a few days later their family flew back home leaving the newlywed couple to themselves to enjoy their honeymoon.
Tam and Mark then had time to discover all of Aruba's beauty, relax and have some serious fun! She shared, "We loved exploring the island but we love the water most. Our favorite trip, and one we have done twice now, is Jolly Pirates afternoon swim and snorkel. Such a brilliant, relaxing afternoon. Laying on top of the pirate ship drinking 'Pirates Poison' and then snorkeling is great. It was a great way to see the shipwreck and we couldn't believe how many fish there were. The best part is definitely the pirate rope swing afterwards – it's great fun!"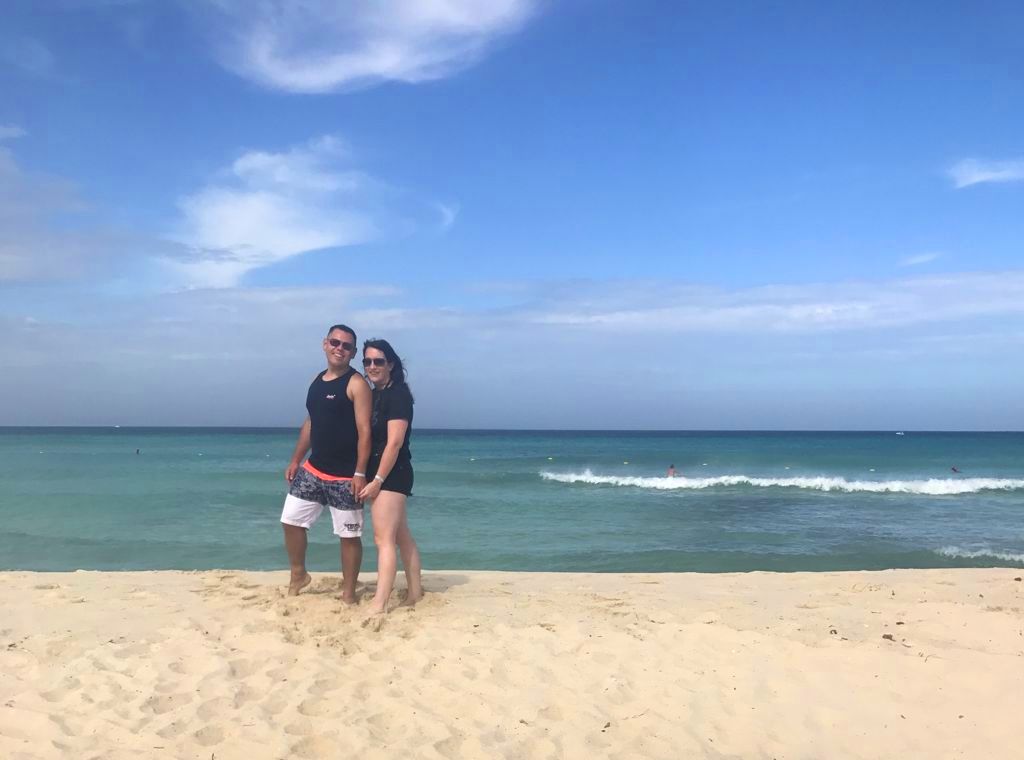 Just as many visitors of our "One Happy Island" say, Tam stated, "we plan on coming back a lot more in the future!" We thank you for choosing Aruba as your wedding destination and now safe to say, your favorite vacation destination. We wish you both a lifetime of love and happiness! Do come back soon, our white sandy beaches, clear turquoise waters, warm sunshine and happy vibes await you!
Have YOU always envisioned saying "I do" on one of Aruba's picturesque, white sandy beaches with beautiful Caribbean blue waters and a breathtaking sunset as your backdrop? Well, this is your chance to make your dream a reality!
Contact us today to get in touch with a recommended wedding coordinator and get started with planning your special day!