The new year has made its start…time to sit back and ask yourself, (and be honest…) have I been true to my new year's resolution thus far? It's okay, I haven't entirely done my best either. Often we find with the start of a fresh, new year many people commit themselves to increasing their exercise and being all around more healthy.
We all know how easy it is to come up with such a promising resolution but following through is always the real challenge. There is always an excuse to find…"I had to work late", "the kids won't feed themselves", "the gym is too expensive these days", "I simply don't have the time", or if you happen to be on vacation…"who exercises on vacation?".
I'm sorry, what was that? No exercising on vacation? Well…why not exactly? It's not as outlandish as one may think. Suprisingly, it can end up being the highlight of your vacation, especially if you are in Aruba! Our VisitAruba team is here to reveal all the fun and exciting ways you can stay fit and active while on vacation in Aruba. If you happen to be a local, add these to your list and get to steppin'!
With such a beautiful, diverse landscape, Aruba offers countless places for you to venture to and get in some good exercise while you're at it! Early mornings and evenings are a perfect times to visit the Hooiberg, Aruba's mountain-like formation towards the middle of the island. It is the second highest point on the island! The Hooiberg consists of 900 steps making for an excellent place to exercise with rest stops along the way to take in the view. Try going 30 minutes before sunset to catch an amazing view of the island and sea at the top!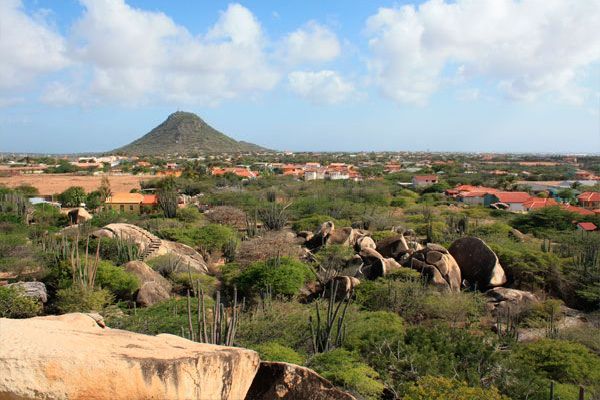 With so many impressive views try taking a walk, riding a bike or going for a run.  Linear Park provides a safe trail that runs along the main boulevard from downtown to the airport with several work out stops on the way.  If you are more of an "off the beaten path" type visit the North Coast, beginning just past Arashi Beach where you will find the California Lighthouse.  With less of a crowd, you can have a peaceful, uninterrupted exercise while taking in nature's beauty.  Listening to the wild waves crash into the coast is amazing!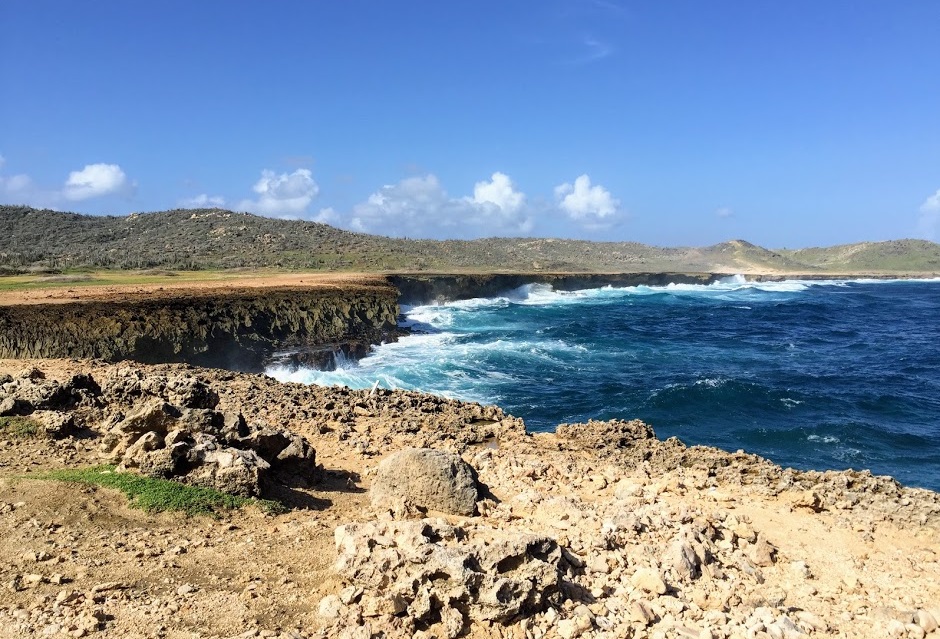 If you can, visiting Arikok's National Park is a must. Aruba's National Park, Arikok covers 20% of the island and is quite a site to see with endless hills covered in cacti, vegetation, rock formations and wildlife. Dramatic blue waters await as you approach the beautiful, rugged coastline. There is much to discover such as hidden caves, natural pools, sand dunes, hiking trails, beaches and other beautiful hideaways that take an adventure to find. A perfect place to go for a run, take a hike or go for an adventurous bike ride!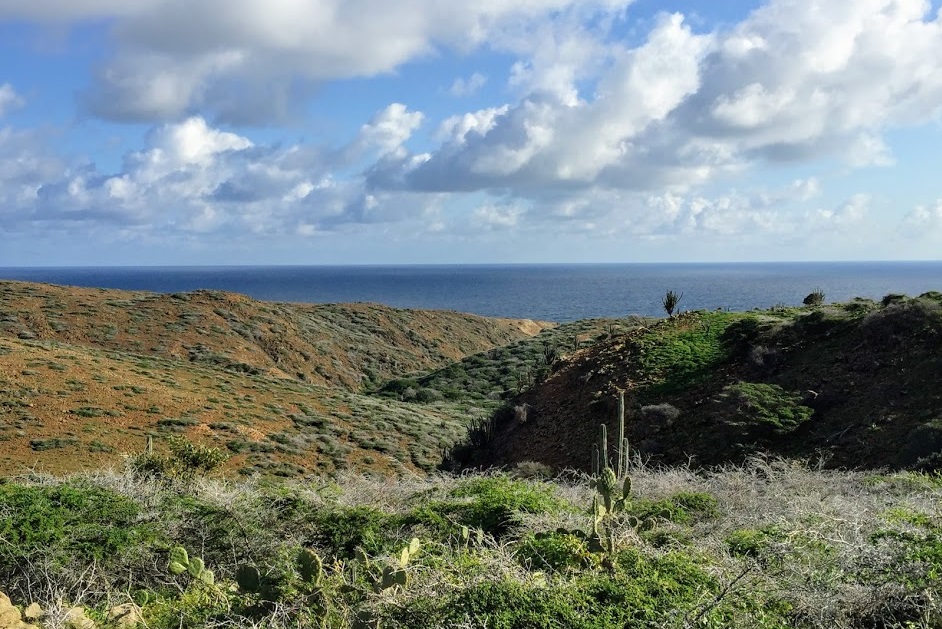 Need a mountain bike? No problem! Rent one with Aruba Active Vacations and you're set to go! If you are a bit unsure of exploring unknown territory no worries there are group tours available. You are sure to enjoy a ride with one of their professional tour guides. The tour starts at Fisherman's Hut and heads to the California Lighthouse, where you can take pictures of the beautiful panorama. Then it continues and you will make your way to dirt roads of Aruba's north shore.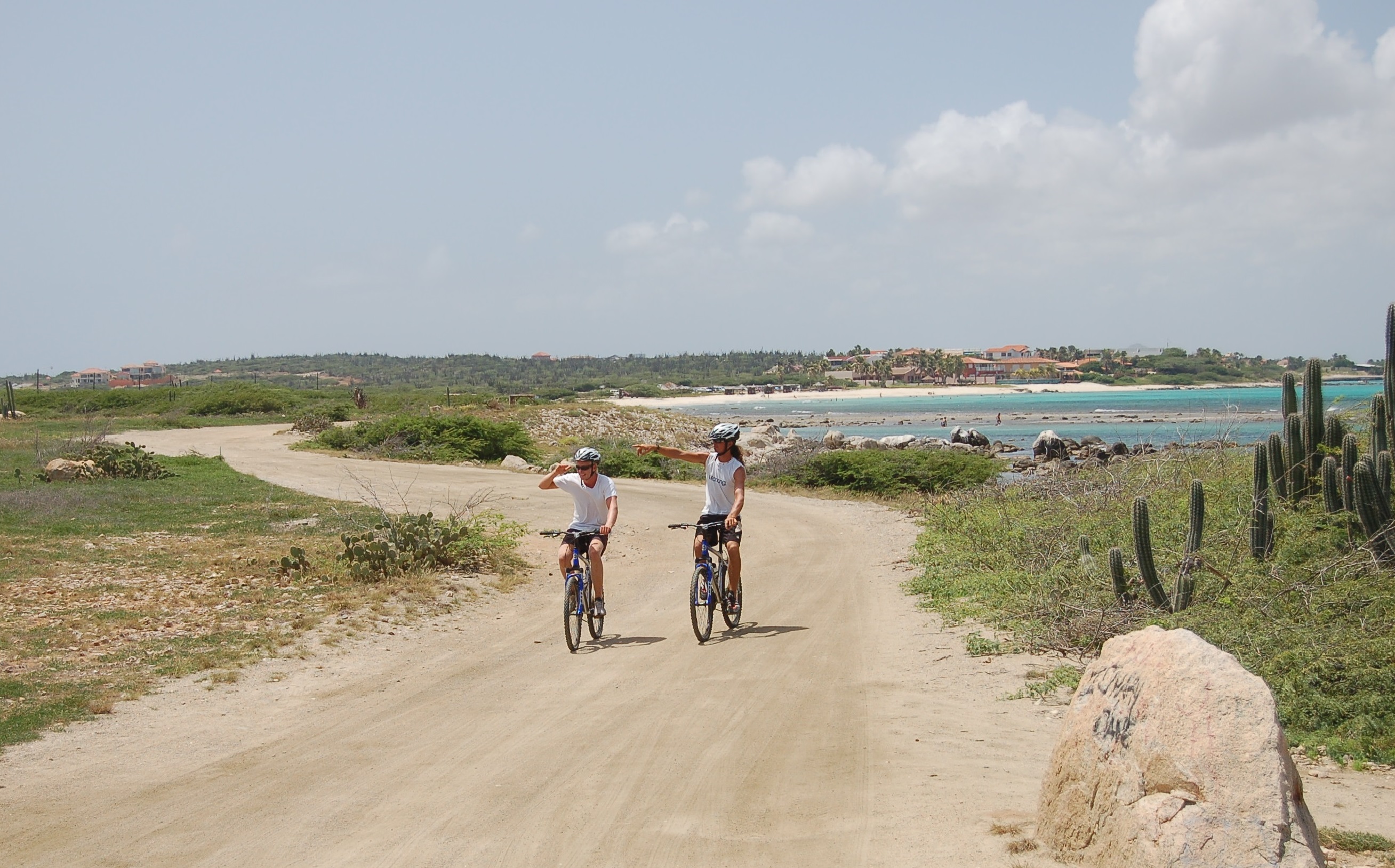 Photo courtesy of Aruba Active Vacations
With the sparkling, tempting…clear turquoise waters how can you resist taking a dip?  Eagle Beach, just recently ranked by TripAdvisor, number two in the Caribbean and number three in the world is the perfect place to take a swim!  With perfect water conditions, less crowds and water sports than some of the other beaches, it is THE spot for swimming!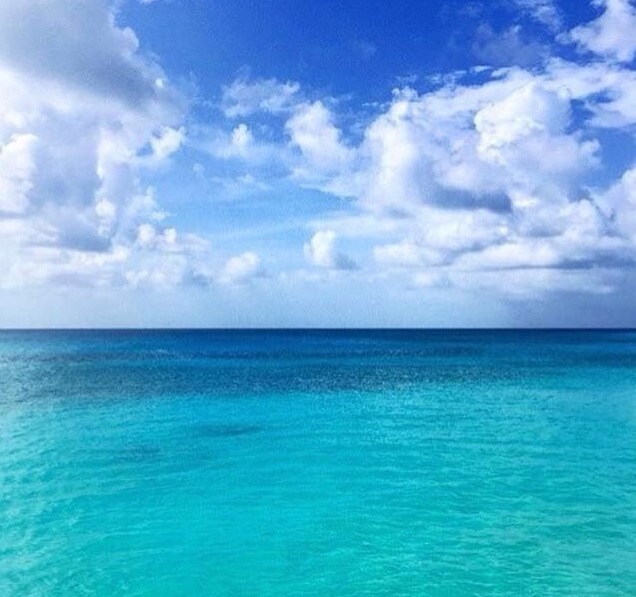 Photo courtesy of Aruba Paradise Photos
Take advantage of Aruba's perfect water and wind conditions.  Wind surfing or kite surfing with Aruba Active Vacations is an experience you do not want to miss out on!  It's wild, extremely fun and after getting up from the water for the first time you are hooked and sure to come back for more!  There is no other place than to try it with than Aruba Active Vacations, they are the longest running kiteboarding school in Aruba.  With their great experience and guidance you will be in the best hands.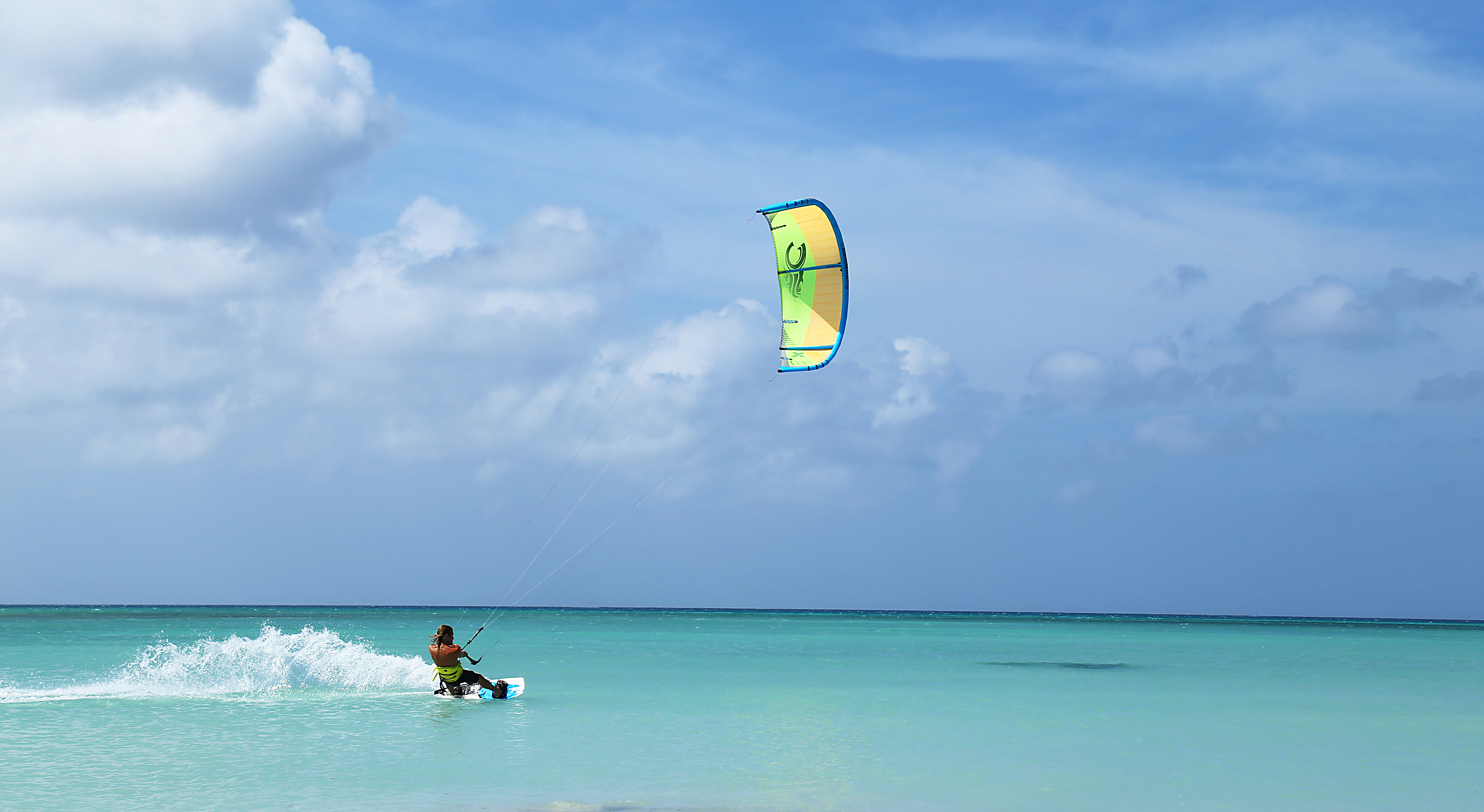 Photo courtesy of Aruba Active Vacations
Or try one of the newest water sport sensations, paddle boarding. Requiring some real balance and coordination it is worth mastering! Look down on Aruba's underwater life from above the water, experience true relaxation and achieve a serious workout while you're at it! Another popular exercise activity on the water is SUP Yoga, yoga on the water with internationally known, Yoga Girl, Rachel Brathen and her team. It takes place on an extra wide surfboard (stand up paddle board). A real unique activity that you will want to tell your friends all about after you've done it!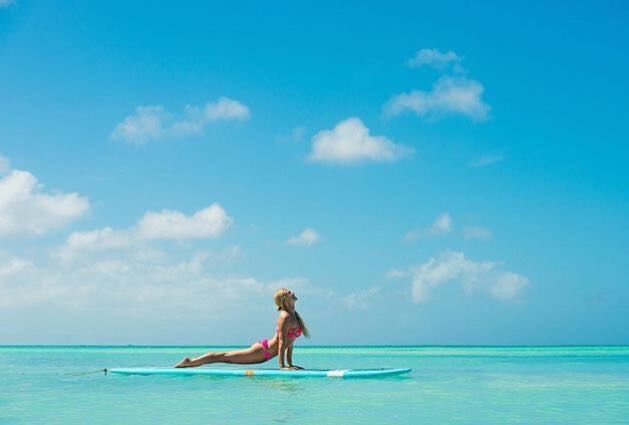 Photo courtesy of SUP Yoga (Island Yoga)
Perhaps balancing on a board on the water isn't your thing, no worries! There are plenty of yoga sessions to be found on land, particularly beach side so you can take in the spectacular view. Experience true peace and zen while strengthening and toning your muscles. A number of resorts offer yoga classes, such as Holiday Inn Resort Aruba, Renaissance Aruba Resort & Casino, Aruba Marriott Resort & Casino, Tamarijn Aruba All Inclusive and more!
If you need a break from the sun don't forget to check out your hotel or resort's fitness center. We understand that on vacation you may not want to stick to your typical gym routine; many resorts provide fitness classes (including dance classes, such as Zumba) or refreshing aqua aerobics classes in the pool!
Perhaps some of you may not be the adventurous, outdoorsy type, that's okay! We did not forget about you. Seek one of the many restaurants or bars on the island that offer dance nights, such as Salsa, Bachata and more! It makes for an amazing, fun filled evening. All the twirling and swirling is sure to get your blood flowing and make you break a sweat. You won't even realize you are working out in the process! Try out Cuba's Cookin', located in downtown Oranjestad in the Renaissance Marketplace. You will find live entertainment there on a daily basis!  Every Friday and Saturday starting at 6:30 pm they have dance nights with live music. A little nervous to get out on the dance floor? Don't worry, they have happy hour for that!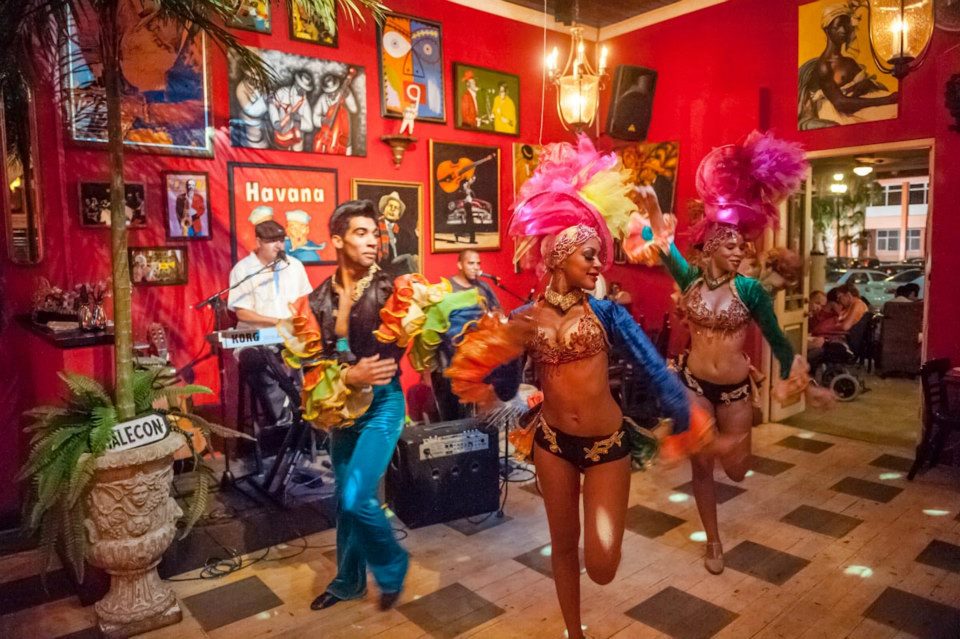 Photo courtesy of Cuba's Cookin'
We hope to have inspired you to stay active, healthy and most of all have fun during your vacation in Aruba!  With so much to do and to discover on our "One Happy Island" we hope you manage to get up from your lounge chair on the beach every now and then, trust us, we understand that's not so easy but we can promise you it'll be worth it!
View VisitAruba.com for more activities and things to do in Aruba.