Do you have some extra time on your hands these days? Or, if you find yourself like me, you're busy working from home, and trying to keep yourself occupied with different activities to do during your free time… so that you don't go totally stir crazy!
In light of this, our team thought it may be the perfect time to introduce our newest blog series, "Bring Aruba to Your Table". In this series  we will cover different local recipes, popular dishes and staple ingredients of Aruban and Caribbean cuisine. We hope this will inspire some at-home cooking, so that you can bring the taste of Aruba to your very own table! You may not be able to physically be on your favorite happy island right now, but that doesn't mean you cannot enjoy the mouth-watering, delicious food you love so much!
For our first edition, we are going to highlight some popular snacks, side dishes and condiments that are widely used in Aruba. Check them out below!
See what ingredients you already have on hand, or make a quick and safe trip to the supermarket, put that apron on… and get to cooking!
PS : There are many different variations to all of the recipes and dishes below, so be sure to do some research and pick which recipe style suits your taste buds best!
Lip Smacking Condiments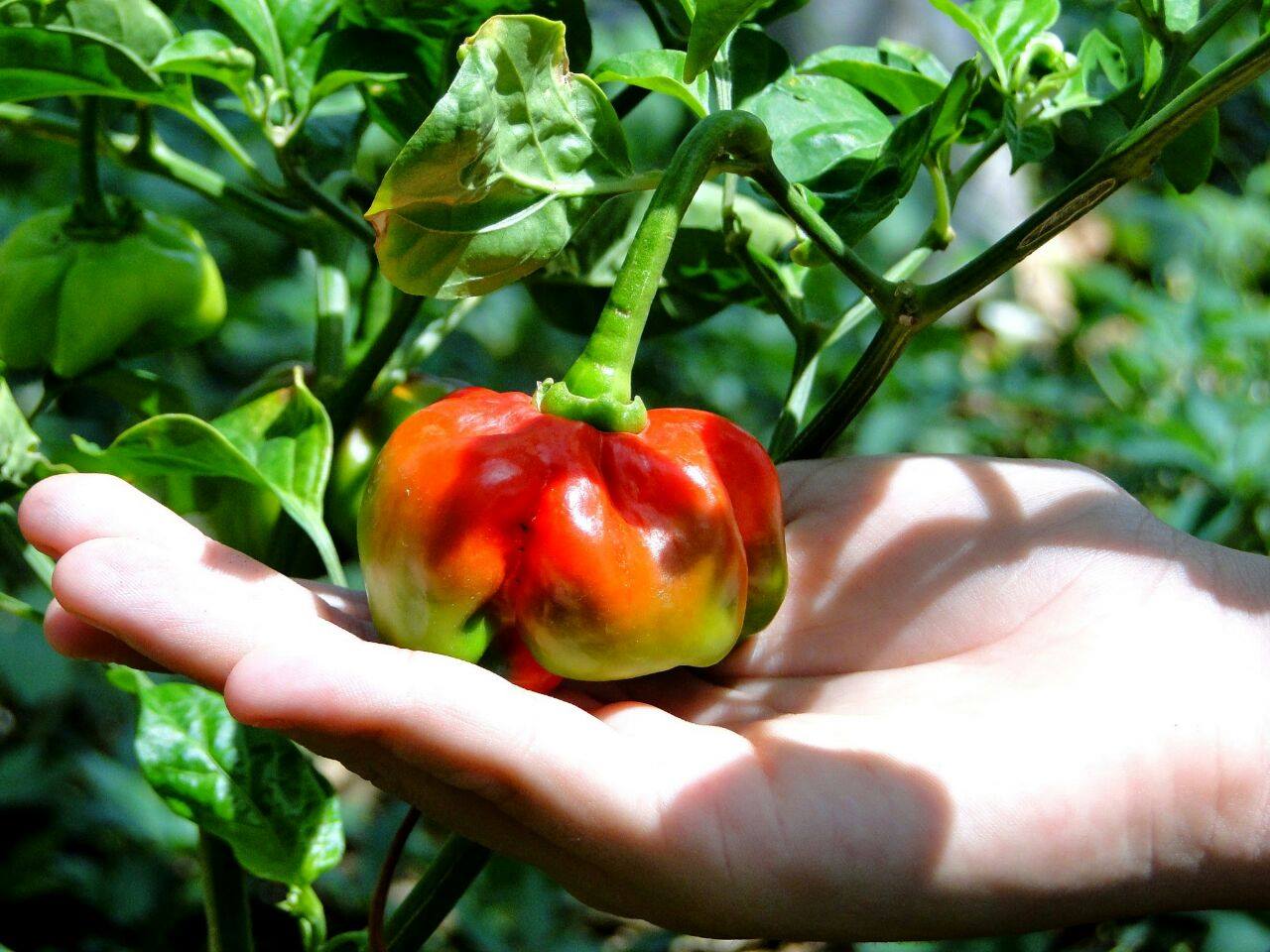 Pica di Papaya aka Pica (local hot sauce)
This local specialty is made from the island's famous hot Madame Jeanette peppers, green papayas and spices. We put it on just about everything! It has that hot kick you're longing for but with a sweet touch to make it bearable. You can buy this at any supermarket (small or large) in Aruba! Next time you're in Aruba pick one up at Ling & Sons. If you'd like to make your own sauce at home, try the below recipe which uses Habanero peppers since you probably don't have access to Madame Jeanette peppers right now!
Buy this sauce or try this recipe 
Siboyo Tempera (pickled red onions)
This tangy delight has just the right amount of kick (it's made with our local Madam Jeanette peppers), elevating any dish to the next level! No Madam Jeanette peppers on hand? No worries, try another hot pepper you have access to, such as the Habanero! Many serve it with fish, seafood or steak dishes. It's simple to make and can be stored for quite some time!
Insider's tip: Some of the best Siboyo Tempera on the island can be found at El Gaucho Restaurant, oh man is it simply delicious with a sizzling, juicy steak!
Garlic Sauce
There are so many variations to this delectable, lip-smacking sauce and you can put it on everything! Whether it be fish, seafood or french fries. My personal favorite is drizzling it all over a late-night platter of steak and fries, yum! Be warned, you will have some major garlic breath but it's worth it… trust me!
Find the perfect garlic sauce for you
Essential Side Dishes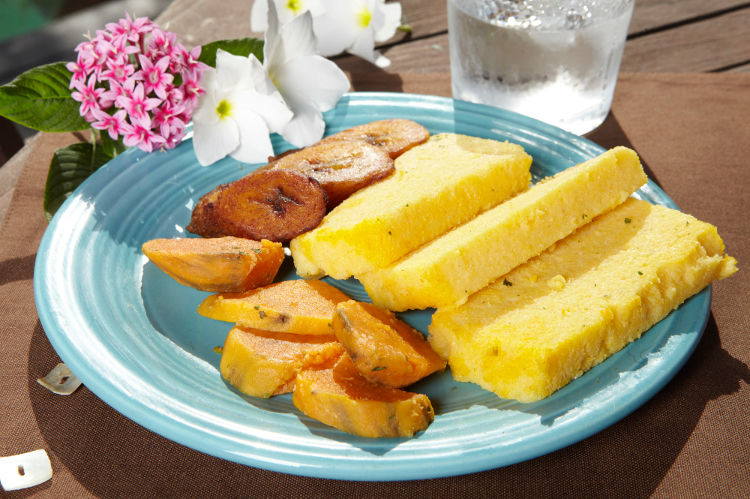 Funchi (similar to cornmeal polenta)
This is quite possibly one of the most popular side dishes in Aruba! You will see it served at every restaurant and local family home. There is a traditional version and a fried version. If you prefer crispiness, try making fried funchi and do yourself a favor, please make sure you melt lots of Gouda cheese goodness on top!
Banana Hasa (fried plantain)
Just like Funchi, this is a very common side on just about any local plate of food! It gives your meal a touch of delicious sweetness!
Pan Bati (sweet pancake-like bread)
This flat, pancake-like bread has the perfect touch of sweetness and is most commonly served with soups, stews, fried fish or conch. It's like no bread you've had before, you must try it for yourself!
Next time you're on the island try these side dishes at The Old Cunucu House for a true taste of Aruba!
Snack Favorites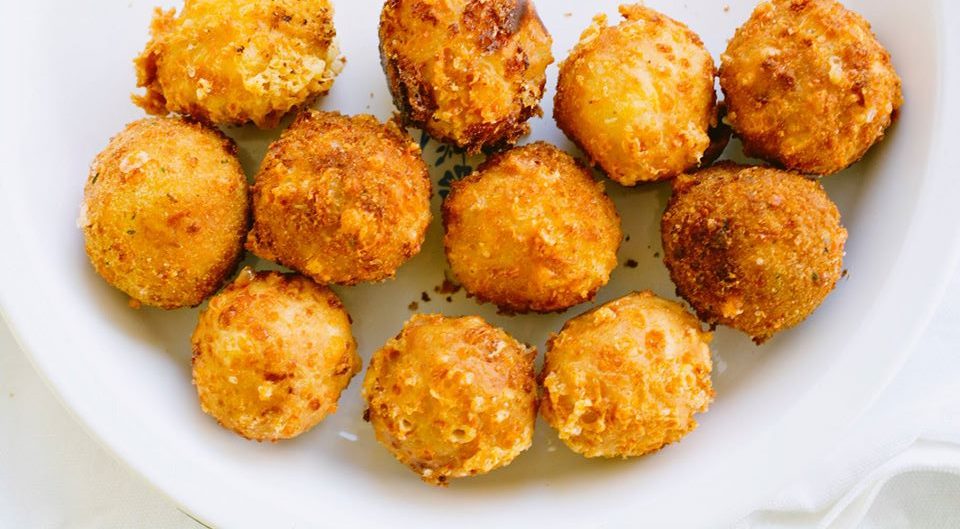 Bolita di Keshi (cheese balls)
Filled with nothing but the best… Gouda cheese!
Insider's tip: The best cheese ball I've ever eaten (to date) was at The West Deck. They don't always have them listed on their menu, so be sure to ask the waiter!
Webo Yena (deviled eggs)
Delicious deviled eggs with a local touch! These little guys are pretty famous at local parties.
Balchi di Pisca (fried fish balls)
Note: These can also be filled with conch, ham, ground beef etc.
Croquette di Pisca
The island serves a variety of seafood croquettes, with fish or shrimp filling for instance. Or, if you prefer, you can also enjoy the traditional Dutch croquette, filled with a meat ragout.
When you're in Aruba you must try Driftwood's fish croquette appetizer, so yummy!
Bitterballen
While this is quite a traditional Dutch snack, with the diversity and Dutch influence on our island ,you will find these everywhere! They are fried balls filled with a meat ragout, best when dipped in a tangy mustard!
Stay tuned for more Aruba foodie content to come soon!
Featured image by Red Fish Aruba