Bolitas De Jamon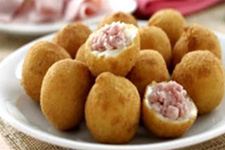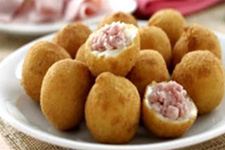 These snack pellets are very easy and fun and still nutritious. An ideal finger snack for parties or as an appetizer before lunch or dinner.
read more
Ingredients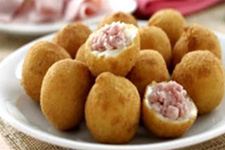 1 egg, beaten lightly
1 cup soft white bread, grated
2 tablespoons chopped onion
1 teaspoon chopped fresh parsley
1/8 teaspoon seasoned salt
1/2 teaspoon French's prepared mustard
1 pound cooked ham, ground
1-10 ounce jar pineapple preserves
1-10 ounce jar apricot preserves
Directions
Pre-heat oven 350. Put egg, grated bread, onion, parsley, salt and mustard in medium bowl. Mix well. Add ground ham and knead together. Form into 1" balls and place in greased baking dish. Bake for 15 minutes or until lightly golden. To large deep frying pan or casserole over medium-low heat, add pineapple and apricot preserves and stir with a wooden spoon until almost melted and well blended. Add ham balls and cook, stirring, until liquid comes to a boil. Serve hot.