Balchi di Pisca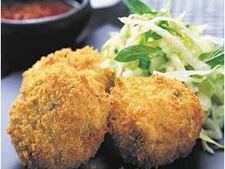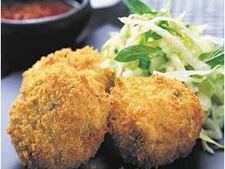 Balls of fish made of salmon or cod. These delectable fish balls goes well as an appetizer with lunch.read more
Ingredients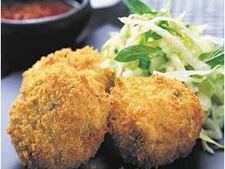 1 salted cod, or bakijow Discard the water.
3 medium potatoes, peeled and diced
1 tomato, peeled and chopped
1/2 green pepper, chopped
1 medium onion, peeled and chopped
1 clove garlic, slivered
1/2 tsp. Tabasco sauce, or minced hot pepper
Dash of nutmeg
Salt and pepper to taste
1 egg
Directions
These delectable fish balls can also be made with salmon or fish fillets. Substitute one large can of salmon or one pound of any white fish for the cod.
Soak for twenty-four hours:
1 salted cod, or bakijow Discard the water.
Place cod in saucepan with fresh water to cover. Simmer gently until the fish flakes easily when tested with the tines of a fork. Strain, reserving a bit of the broth. De bone the cod and set it aside for later use. In a saucepan, bring to boil in water to cover: 3 medium potatoes, peeled and diced When the potatoes are tender, drain them well. Add the cod and mash the two ingredients thoroughly together.
Place in the container of an electric blender:
1 tomato, peeled and chopped
1/2 green pepper, chopped
1 medium onion, peeled and chopped
1 clove garlic, slivered
1/2 tsp. Tabasco sauce, or minced hot pepper
Dash of nutmeg
Salt and pepper to taste
Blend for a few seconds and pour the sauce over the mashed fish mixture. Combine these ingredients well and add 1 egg, beaten Mixture should be stiff enough to mold into balls about one and a half inches in diameter, If it's too dry, add the fish stock a tablespoon at a time. Fry the balls in hot, deep fat until golden brown.