Let's travel back in time to the 1940s… to an Aruba with pure white sandy beaches and no hotel in sight. It's hard to imagine, isn't it?  Today we want to show you our first 3 beachfront hotels.
Coral Strand Hotel
Aruba's first beachfront hotel, isn't on the beach but rather close to it (you'll have to cross the street to get there) and was called 'Coral Strand Hotel'.  It opened its doors in 1943 and it's still there today, now known as Talk of the Town Hotel & Beach Club.   It's in Oranjestad and you'll most likely drive by it at some point during your trip in Aruba.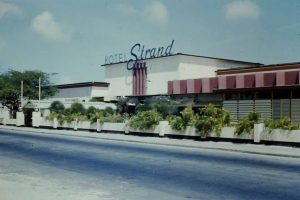 There were other guesthouses and hotels but Coral Strand Hotel was considered one of the first.
Basi Ruti
Over time, Aruba's tourism started growing and was having a hard time keeping up with the demand.  Plus, some cruise lines demanded beach development before considering coming to Aruba.
In 1957, Basi Ruti opened its doors as the first Palm Beach bungalow-style hotel on our white sandy beaches. The main building had 6 rooms and its 3 adjacent bungalows had 3 rooms each.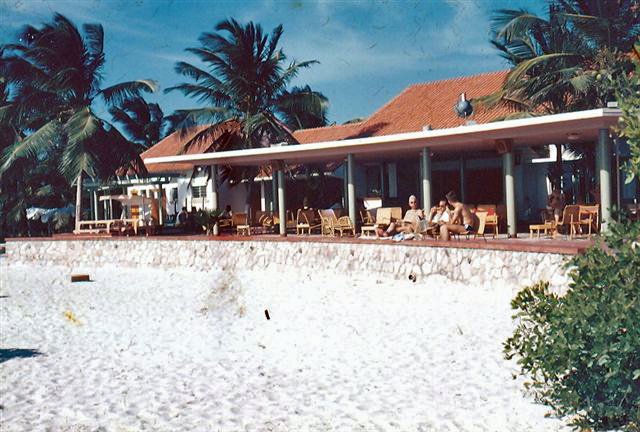 It was a well-known spot for tourists and locals and was visited by Queen Juliana and Prince Bernard of the Netherlands.
Unfortunately, the Basi Ruti no longer exist but you'll find the Playa Linda Beach Resort in its place today.
Aruba Caribbean Hotel
In the summer of 1959, the Aruba Caribbean Hotel opened its doors, making it the first luxury resort in Aruba.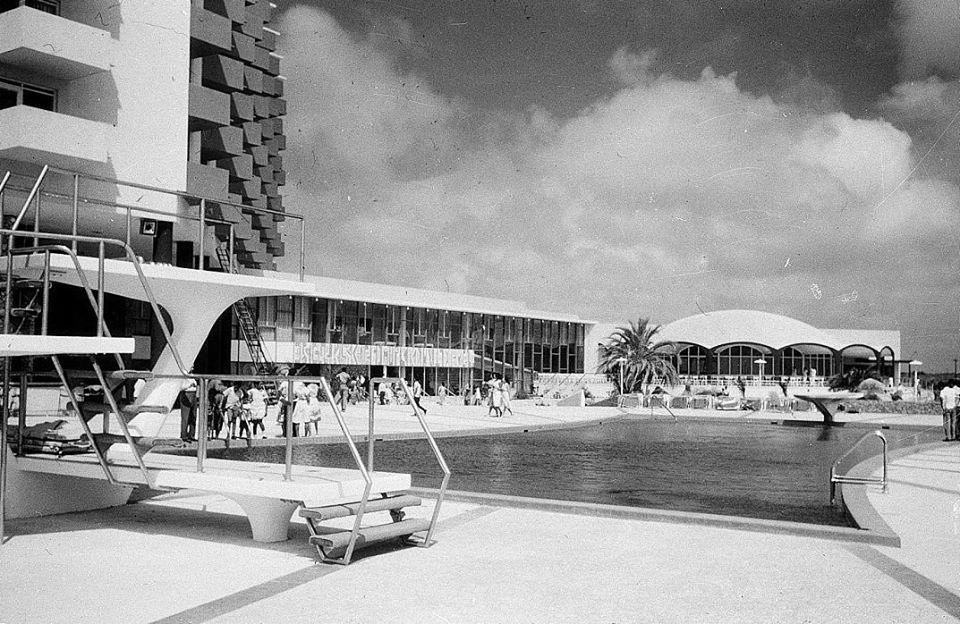 It was also a favorite getaway for the Dutch Royal family as well as many jet setters such as Elizabeth Taylor, Roger Moore, Harry Belafonte, George Benson, Tony Martin, and so many more.
Just last year (in 2019), the Aruba Caribbean Hotel, now known as Hilton Aruba Caribbean Resort & Casino, celebrated their 60-year anniversary!
And as they say, the rest is history.
Do you want to learn more?  Let's take a look back in time:
Do you have any pictures of the 'old' Aruba?  We'd love to see them and learn the story behind them – please share along with us on Facebook or Instagram.  You can tag us @visitaruba or #visitaruba .