Planning for your trip to Aruba? Check out our suggestions below for unique and worthwhile activities to experience while on the island!
Swim with the sea turtles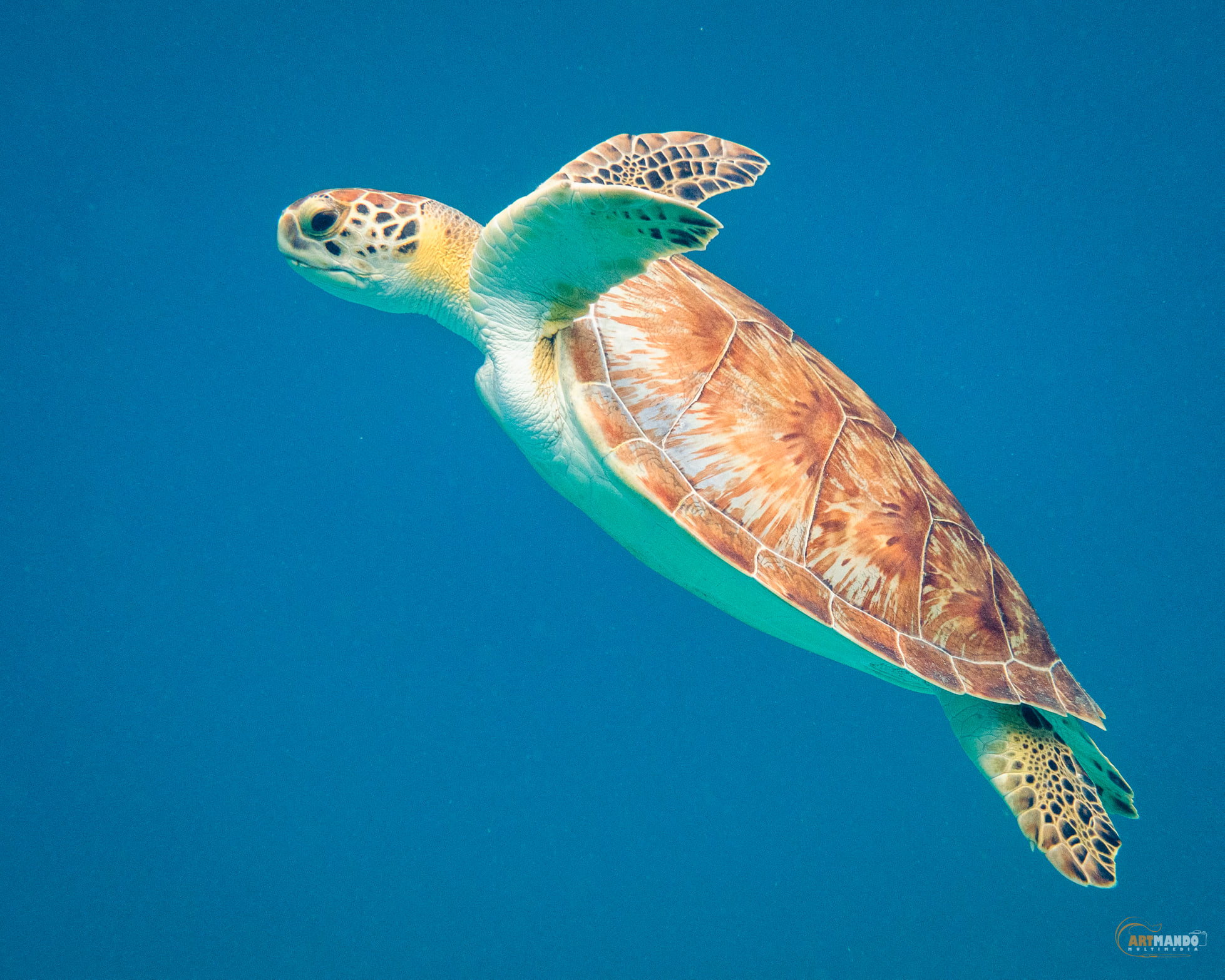 View the island from a different perspective and discover the extraordinary underwater life of Aruba. Grab your snorkel gear, pack a cooler and visit one of the beaches perfect for spotting sea turtles, such as Malmok, Tres Trapi or Boca Catalina. Remember to always admire their beauty from a distance and to never touch any marine life. If you prefer a guide, you can join one of the many snorkeling tours or catamaran cruises offered on the island.
Visit a winery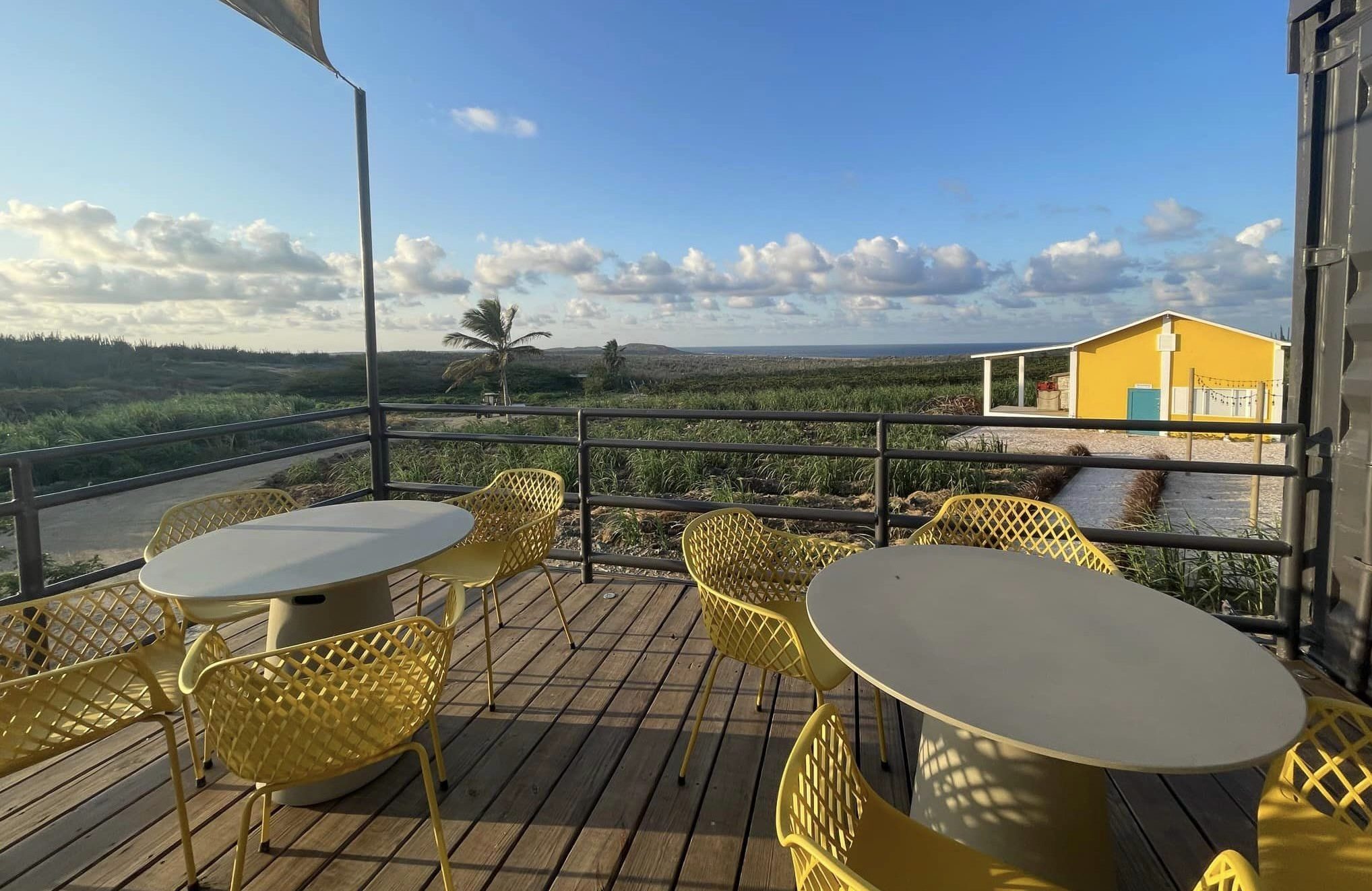 Winery…in Aruba? Yes, this is something you may not have expected to find on a Caribbean island! Alto Vista Winery Aruba is the one and only winery in Aruba and has just recently opened its doors. They not only offer wine, but they also distill their own rum (and yes, you get to taste this too). The vineyard and grounds are absolutely beautiful and most definitely worth paying a visit. When making your way up to the tasting room, you will find a flight of locally grown and produced wine, as well as a delicious charcuterie board awaiting you…enjoy!
Horseback riding on the wild coast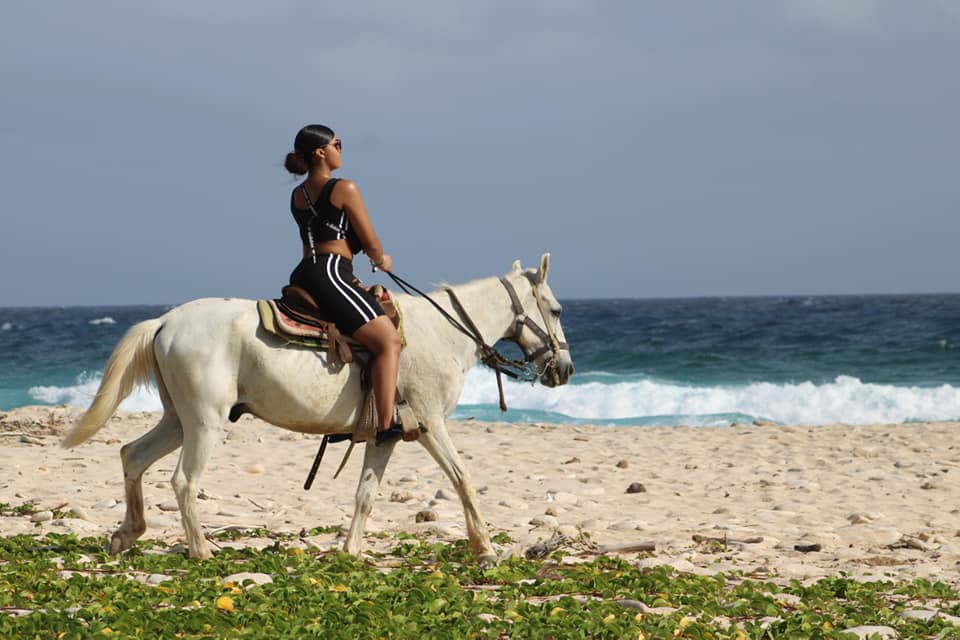 What's better than taking in the beautiful views of the wild Northeast Coast of Aruba? Viewing them while trotting along the coastline on horseback! Witnessing Aruba's wild coast on horseback is a thrilling and freeing experience like non-other. Depending on which tour you book, Gold Mine Ranch Aruba will take you to the wild beaches on the Northeast coast, to Hidden Valley & Lagoon, Natural Pool, Arikok National Park, and more. Go with your S.O. for a romantic day in paradise or take the entire family on a horseback adventure. allowing you to take in all of Aruba's natural beauty.
Different dining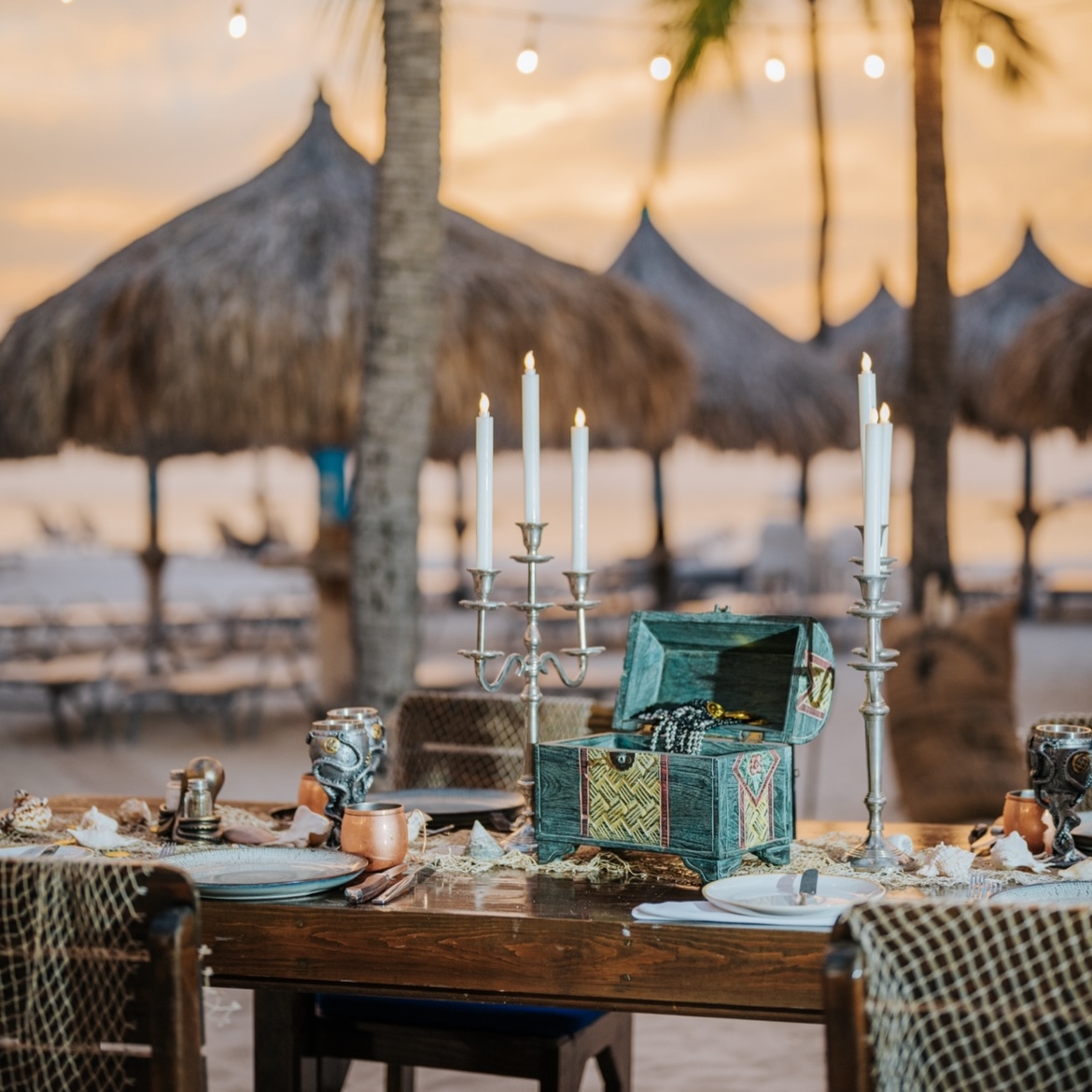 While there are plenty of exceptional restaurants in Aruba to choose from, we also suggest booking something a bit out of the ordinary to make your dining experience a special vacation memory to last a lifetime. If you're seeking to try something new and different, we suggest considering the following unique dining experiences:
An arrrghhh perfect dining experience for the entire family! Your group will feel like rulers of the seven seas as you indulge in a Caribbean family-style pirate dining experience with flavors from the grill and toes in the sand. This takes place on the shores of Palm Beach at Hilton Aruba.
Hilton Aruba's Sunset Concierge Private Dining Experience
This exclusive experience allows you to choose your very own unique and private dining location. Locations on the resort include but are not limited to a spot tucked away in the lush tropical gardens with the sounds of a nearby waterfall, on the beach with your toes in the sand, or on a bridge situated over the alluring pool!
Dinner Under the Stars at Renaissance Private Island
Take a boat trip to a private secluded island (yes an island away from an island) with your lover or bestie, and get lost in the unforgettable, magical island embrace. Enjoy live music, a welcome cocktail, and a culinary 4-course adventure for two.
Tranquilo's Romantic Dinner Sail for Two
How about having your very own private sailing yacht as your restaurant? Just you, your lucky plus one, and an up-close view of pure sunset magic glistening over Aruba's mesmerizing blues. PS – there is a small crew on board, but they will stay out of your way and you won't even know they are there! Except for when they serve you your mouth-watering dish of course, such as a juicy surf and turf or their tastebud tantalizing ceviche. Their menu changes based on the Captain's mood of the day, so be sure to contact them for specific details!
Senses Fine Dining is located at the gorgeous Radisson Blu Aruba and offers an 8-course fine dining experience unlike any other. They've even been rated one of the best fine dining restaurants in the Caribbean! In addition to the fine dining experience, the restaurant also offers an a la carte option.
If you are interested in trying more Chef's Table Style restaurants during your stay, there are a handful on the island, a few more to consider include KOAL, Ever, Infini, and Carte Blanche.
Swim in the Small Cave Pool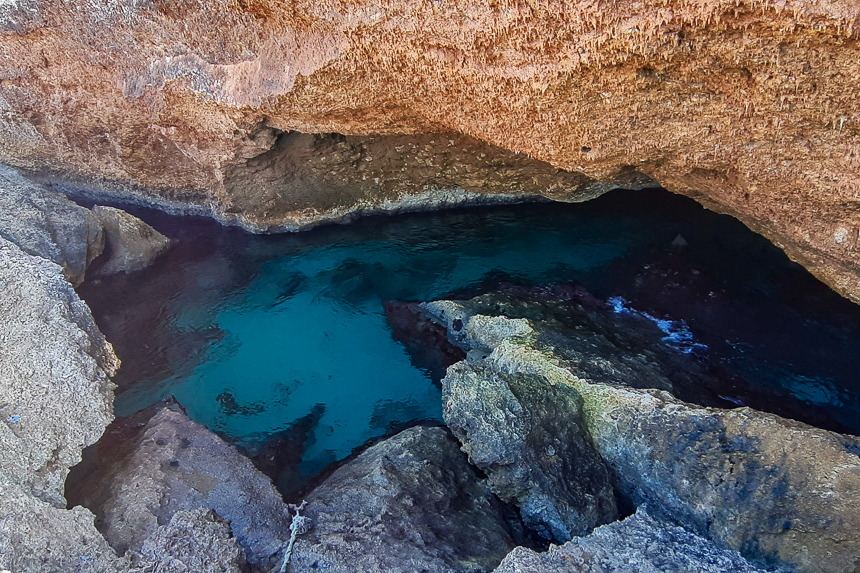 While you may have heard of Aruba's famed Conchi (The Natural Pool), we have a different natural pool on our list! We like to consider this natural pool as the "baby natural pool", officially known as the Small Cave Pool. It may be smaller in size, but finding and exploring this natural sight is filled with plenty of thrill and adventure. Best of all, you can reach this destination by car, just make your way to the Bushiribana Gold Mine Ruins and head straight to the coast's edge. PS – Take caution, as you will need to climb down a steep ladder in order to reach the pool, this activity is not recommended for everyone, proper shoes and a guide are recommended.
Go hiking in Arikok National Park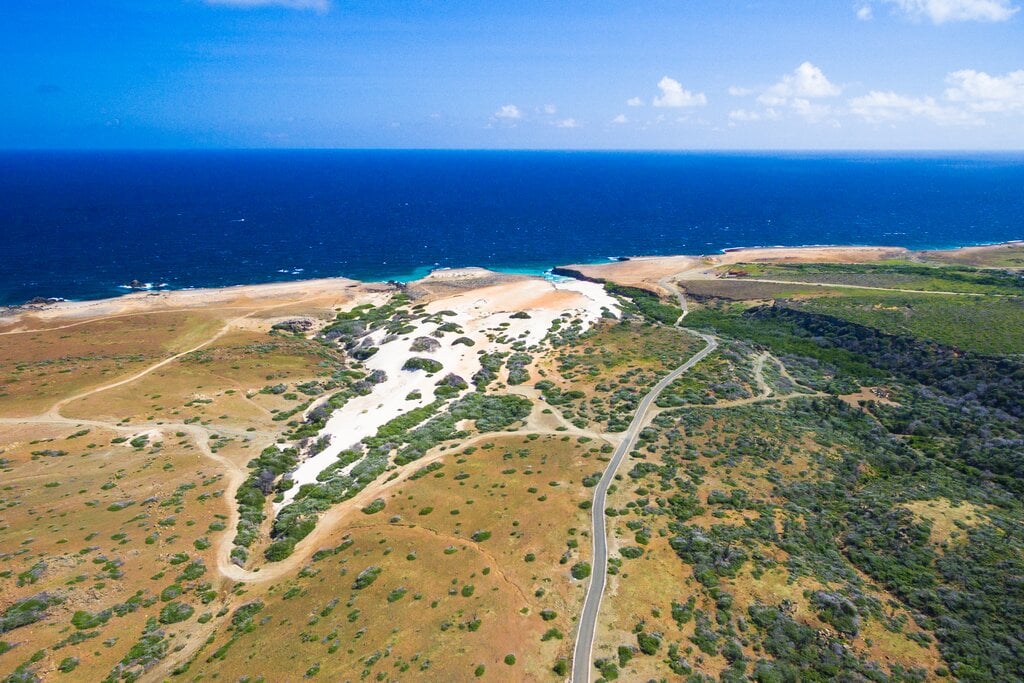 Our island's Arikok National Park covers about 20% of the island and is the perfect place to explore the diverse natural beauty that Aruba has to offer. Simply purchase a day pass at the park's visitors center and choose from one of the many scenic nature trails. Request to go with one of their Rangers or opt to hit the park on your own. There are plenty of natural sites and attractions (caves, gold ruins, wild beaches, hiking trails, natural pools, and more) on the wild east coast of the island. It is sure to leave you fascinated by just how different it is from the other side of the island, which is home to the majority of our island's resorts and calmer beaches.
Some places in the park that can't be missed include Natural Pool (Conchi), Fontein Cave and Freshwater Pond, Guadirikiri Cave, Boca Keto, Dos Playa, and Boca Prins. There's plenty more to discover, view more sights and attractions in Aruba here.
View more things to do and see in Aruba.
Main featured photo by Gold Mine Ranch Aruba