You may have heard the whispers in the wind of a brand-new and one-of-a-kind resort opening up on our One Happy Island. Well, we are here to confirm these whispers to be true! Radisson Blu Aruba has recently opened its doors, and is located in one of Aruba's most sought-after areas, Palm Beach!
This 132 room resort consists of spacious and modern 2-3 bedroom suites, all with full kitchens, living areas, and 2-3 bathrooms (see our video for an inside look). Yes, that is correct their 'smallest' unit is a two-bedroom suite! Each suite features a breathtaking view of Aruba, whether it be of the beautiful island landscape or the hustle and bustle of Palm Beach, with the ever-so-inviting Caribbean Sea waving in the background. Psst… I cannot leave out the fact that they also have a stunning rooftop infinity pool!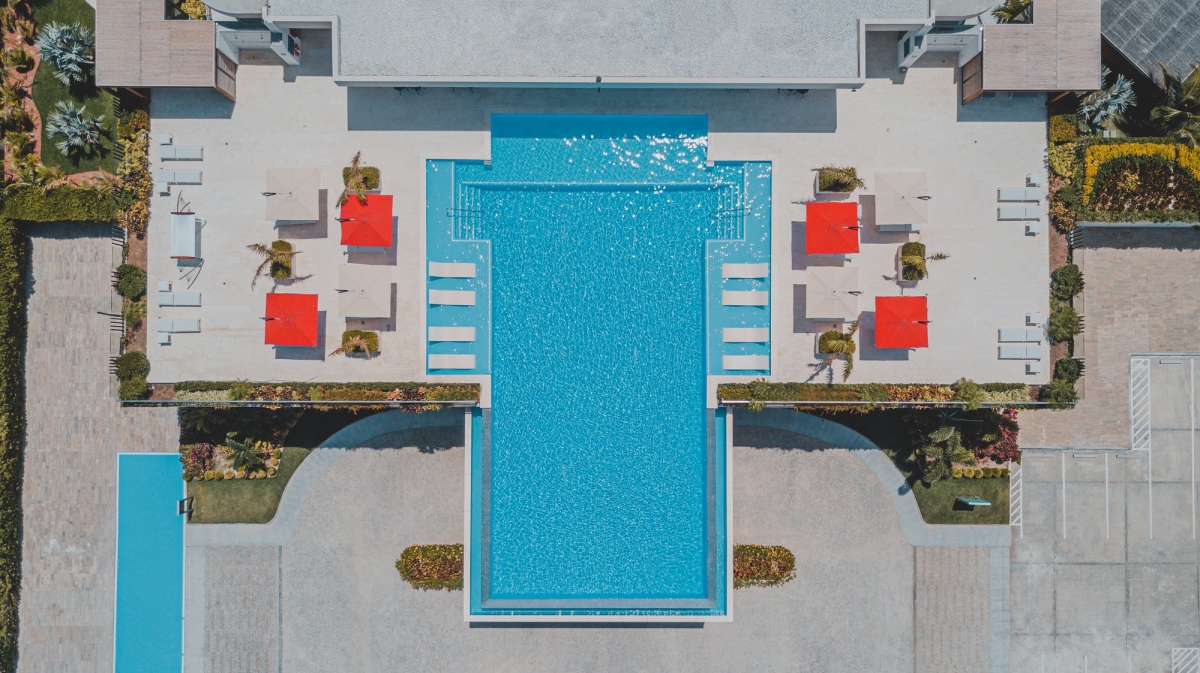 With such impressive resort grounds and being the newest hot resort in town, I could not pass up the opportunity to try this place out for myself! Well not all to myself, I brought my boyfriend along and we treated ourselves to a much-needed staycation at Radisson Blu! And, of course… I am here to share my experience with you!
For all of my fellow beach lovers, fear not, the white sandy beach that very well may be at the top of your daily agenda, is not far away from your room! Rather, it's only a 30-second shuttle ride down the road. Or, if you prefer walking, it is just under a five-minute walk away (yes, I timed myself). Not only is the beach within close reach, the resort even has a designated beach area with lounge chairs and umbrellas, reserved especially for Radisson Blu guests. It's located in between MooMba Restaurant & Bar and the Holiday Inn Resort, a prime location on Palm Beach.
The resort grounds include an adults-only whirlpool, a kids pool, a large family-friendly pool, and an alluring (and spacious) infinity pool situated by their rooftop restaurant, Sunset Bistro. The infinity pool looks out towards Palm Beach, so you can keep an eye on the breezy palm trees and turquoise water goodness. Their soon-to-be FireLake Grill House & Cocktail Bar will be opening up on the ground floor of the resort overlooking the lush grounds and pools (note to self: add to dining list). The lobby, restaurants, and gym are all situated at the front of the property, which is separated from the building towards the back, where guests stay, sleep and relax.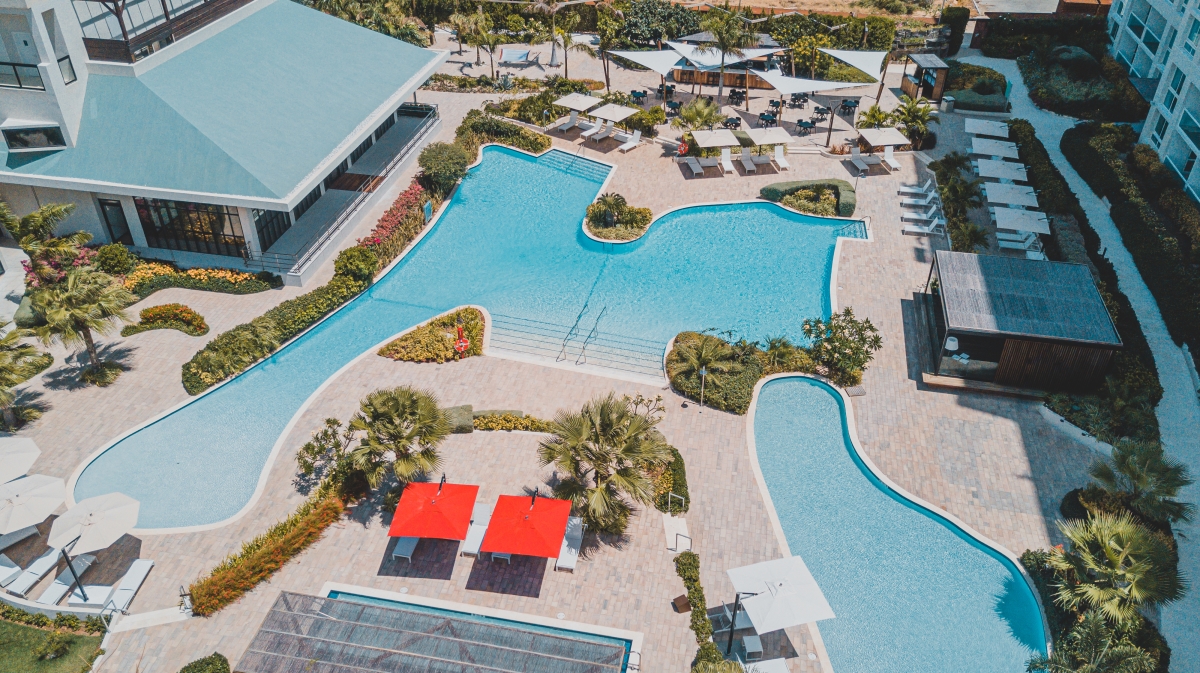 While I came across many pleasant surprises and noteworthy mentions during my stay, one aspect which really stuck out to me was that I was able to enjoy a truly luxurious vacation vibe, but at the same time, I also experienced a homey and private feel that is very hard to come by at a typical resort. Blu offers all of the expected resort services and amenities, yet provides the privacy and seclusion as if you are staying at your own private vacation home in Aruba. It is just the right balance, exactly what we needed for our weekend getaway!
In addition to what the resort offers, the location is super convenient, allowing easy access to the beach, restaurants, shopping, and nightlife – ALL within walking distance! Want to visit other beaches during your stay? No problem! Malmok, Boca Catalina, Arashi, and Eagle Beach are just a few minutes driving down the road. Some are even close enough to walk to… all it takes is about a 30-minute stroll!
From the moment we checked in, Nathan the front desk agent, and Andreas the bellman with a constant smile on his face, were extremely friendly, personable, and inviting. The staff not only made us feel welcome but they made us feel very comfortable and at ease, allowing us to feel right "at home" as soon as we stepped through the door.
Modern tropical chic vibes only
From the open-air lobby, the walk to the building where our suite was located (or should I say temporary home) consists of an outdoor spacious layout including pools, lush vegetation, secluded lounges & a large private cabana, and a pool bar. The resort vibe gives off an effortless tropical chic and zen-like feel. Just the feeling you need when you're on a vacation in paradise and in need of some serious R&R… and fun!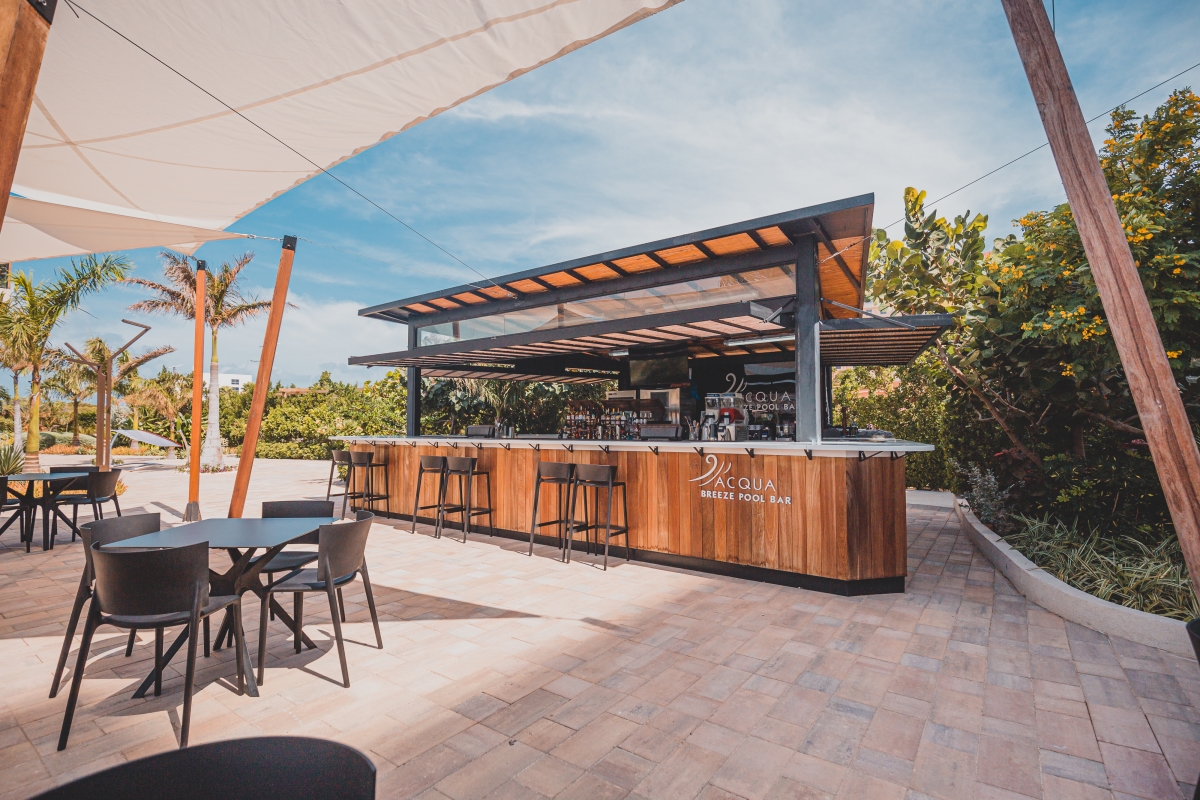 When we arrived at our two-bedroom suite, I was instantly wowed by just how much space there was. Roomy is an understatement! Two bedrooms AND two bathrooms? This is something you may expect at a Timeshare property, but at a hotel resort, this is usually unheard of. Say goodbye to your typical resort experience and say hello to your very own modern flat that just so happens to be located in paradise! The full kitchen and living space may just have been my favorite part aside from the balcony and master bedroom views. Our large balcony treated us to an uninterrupted view of the entire Palm Beach area…. and yes, the lovely palms and Caribbean blues are in sight!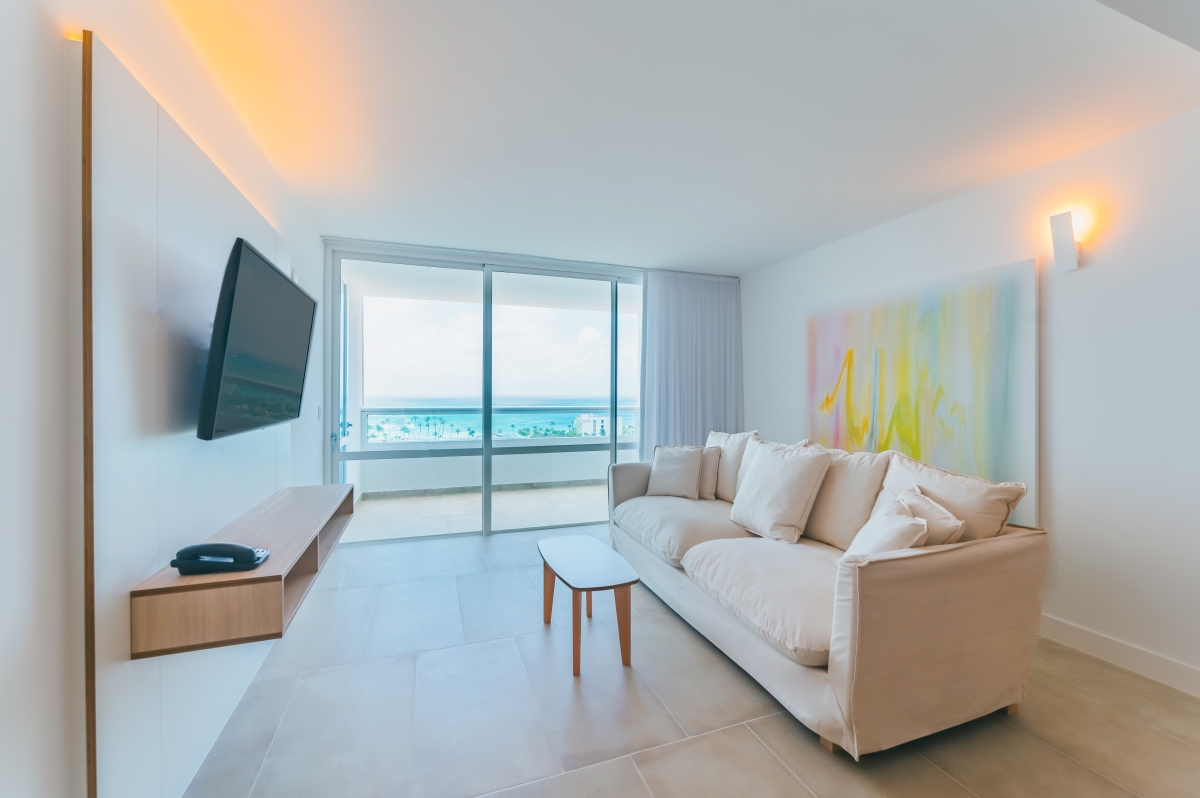 Food that satisfies the soul
We tried to experience all that the resort has to offer and let's be real, a big part of resort stays revolve around food, am I right? We treated ourselves to room service once or twice (hey, we deserved it) and made several trips (lost count) to the glorious rooftop to enjoy a delicious bite at Sunset Bistro and take in the mesmerizing infinity pool views!  We absolutely enjoyed the variety on their menu and did not shy away from trying a bit of everything. Some dishes worth sharing from one foodie to another is the "NY Strip" served with smokey red pepper romesco and classic frites with bearnaise sauce for dipping, the "Proper Caesar" salad (note: this salad lives up to its name as I ordered it 3-4 times), the "Caribbean Lobster" drizzled in jerk butter (a must-try for seafood lovers), and the "Beyond Burger" (vegan-friendly). I could go on… but I think you get the idea. Their menu has something for everyone and is as you may expect each dish is mouth-watering!
PS: Do not skip out on their "Super Breakfast" which consists of an entree of your choice (try the steak and eggs or the breakfast tacos), pastries, fresh fruit, and unlimited mimosas… and sunshine!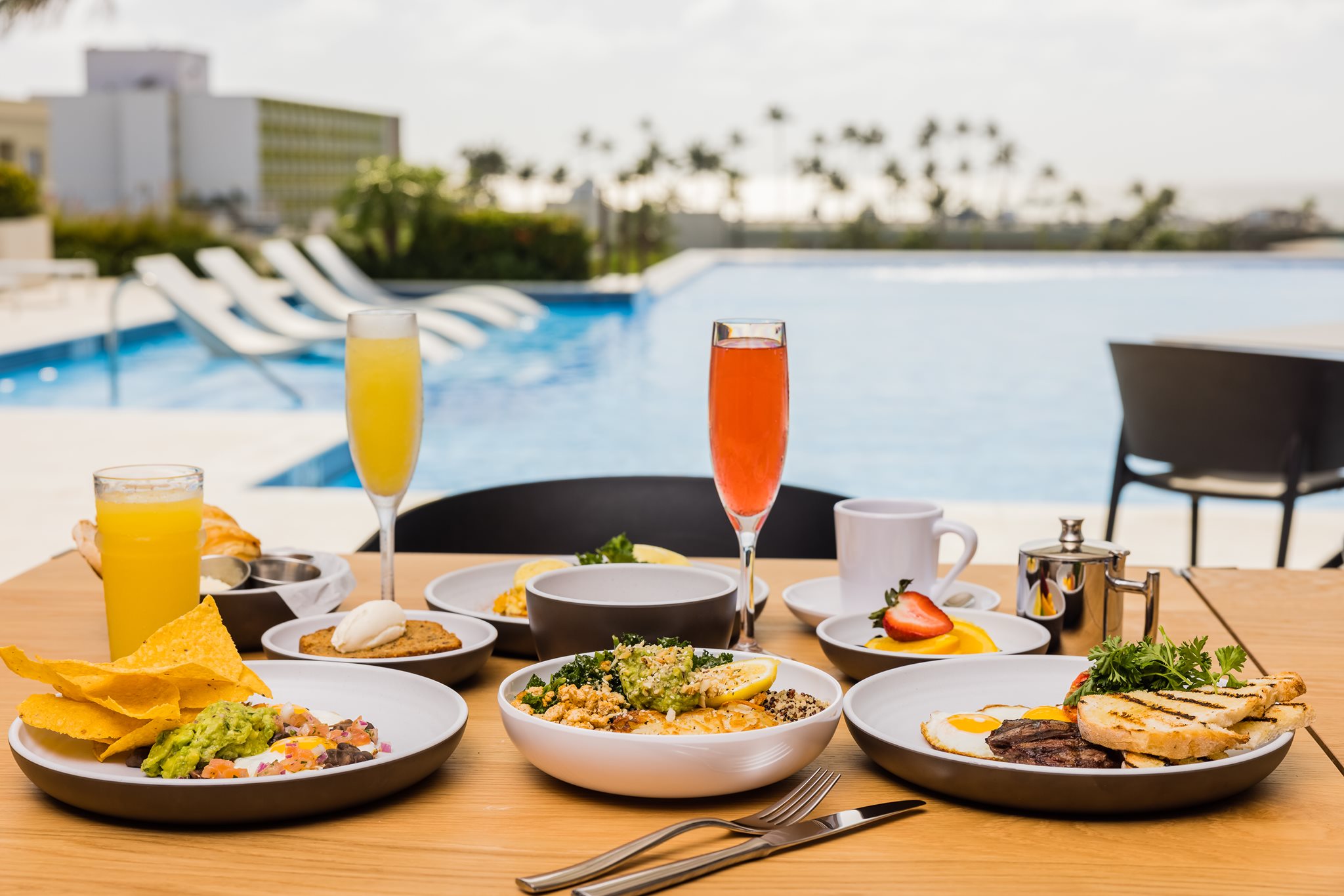 Pool days are the best days
While we did spend a lot of time lounging and swimming upstairs in the infinity pool, we also moseyed on down to the main pool area to swim and most of all, we enjoyed the very friendly bartender service at the pool bar, as well as the music. Overall the vibe was very relaxing, fun and inviting. Warning: It's easy to lose track of time (and lose count of drinks) when sitting at the pool bar!
Tip: Calling all adults… head on over to their adults-only whirlpool for some relaxation and quiet time.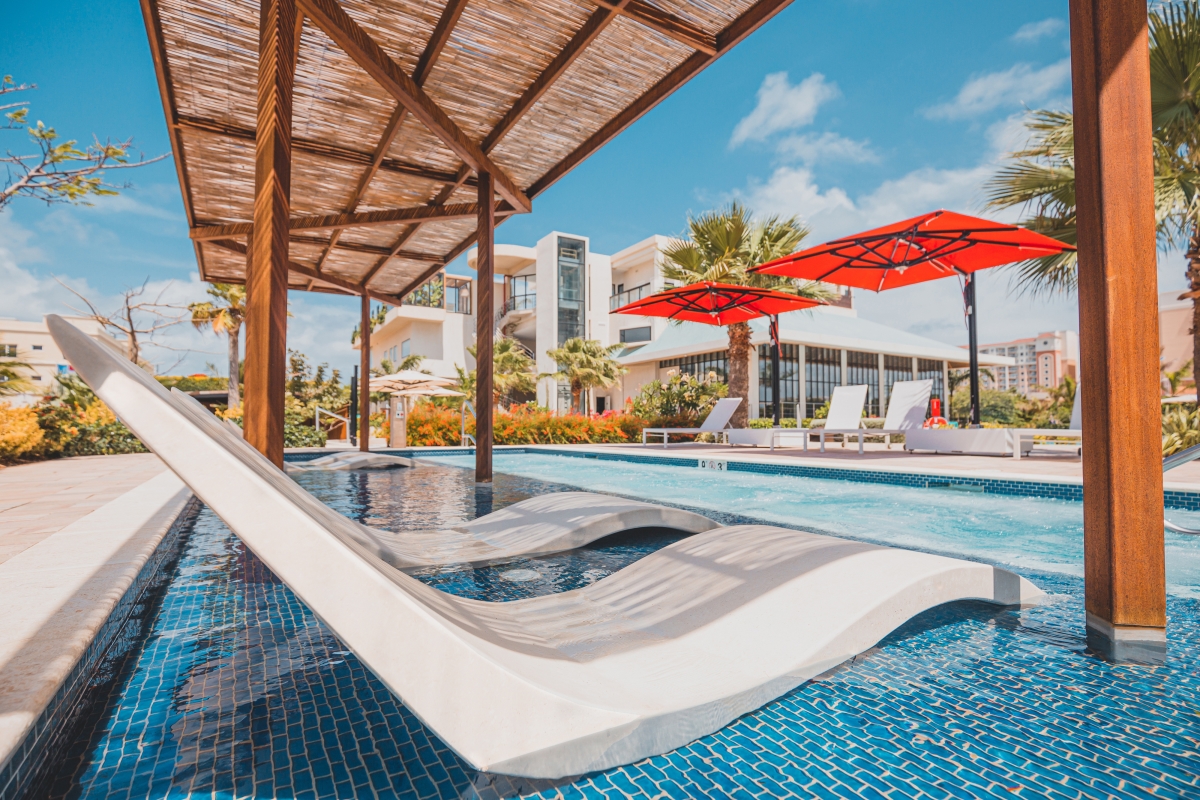 Beach, please!
A true vacation does not count unless you've had a beach day… or five. So, with that being said, you know we had to pack our bags and head to the beach! We hopped on the shuttle (which travels back and forth to the resort every 30 minutes) to soak up some sunshine, get some sand in between our toes, relax, and have a tropical adult beverage. The beach service from MooMba was attentive and we were able to order a small bite with ease (we did not even have to get up from our lounge chair – major plus). The designated beach area really made our vacation experience complete!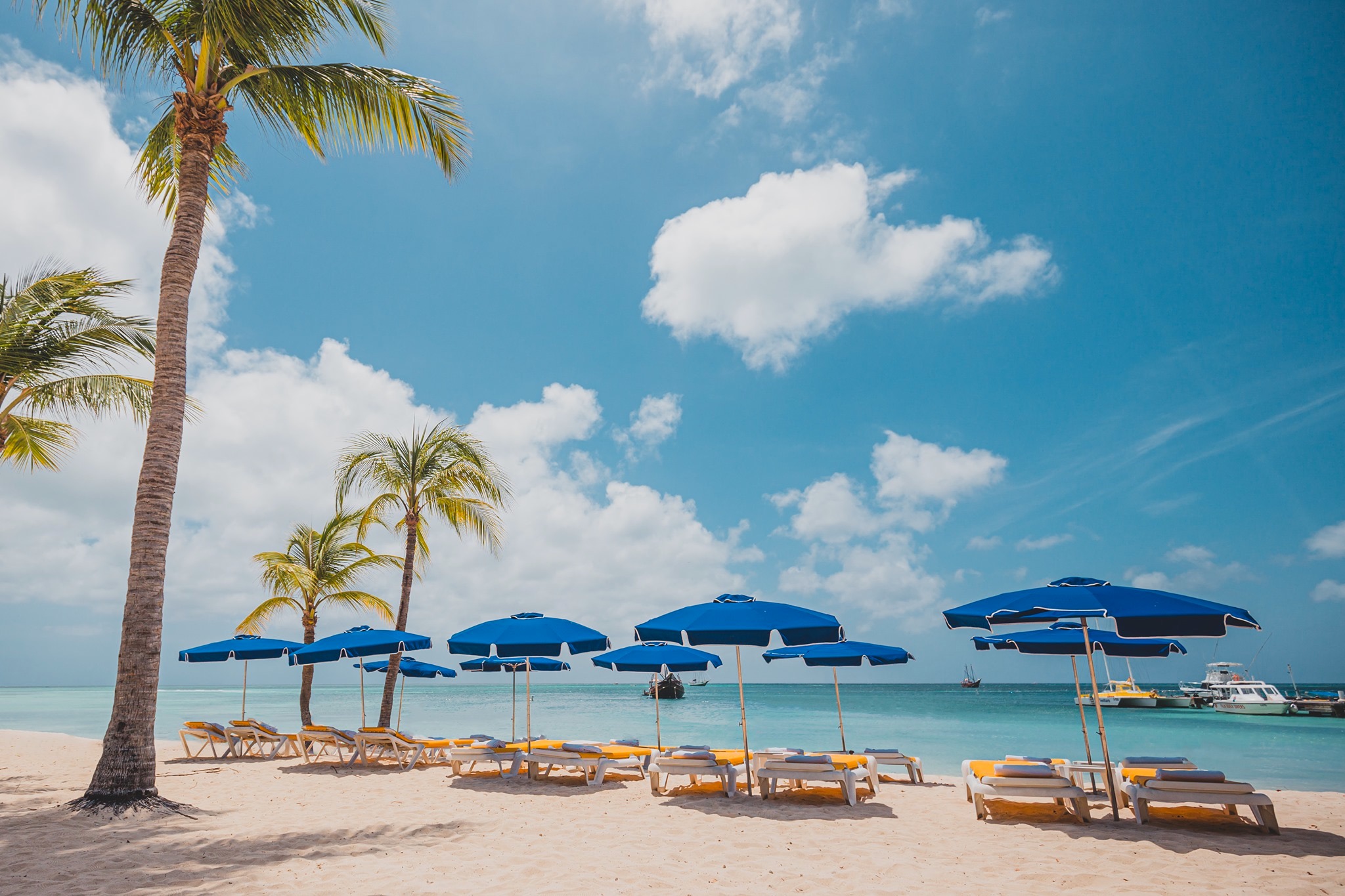 Tip: Don't worry about packing too many snacks and cold beverages, MooMba provides beach service and you can even charge everything to your room! Yes, that means unlimited refreshing Aruba Aribas all day long (well, until you check out and see your room charges that is).
We finished off our stay at our favorite pool, yes you may have guessed it – the rooftop infinity pool, soaked up some more warm sunshine from the chic ledge loungers in the pool, and sipped on mimosas. As the sun set on our beautiful day, we said our "see you later's" and then went on our way. Thank you Radisson Blu Aruba for a refreshing and enjoyable stay, we surely needed it!

Discover more about Radisson Blu Aruba and book your stay to feel the Blu experience for yourself.