If you have decided Aruba is your ultimate family vacation destination, you have made a wise decision. With year-round sunshine and safe beaches, Aruba is ideal for families. Get ready for a vacation of fun, adventure and lifetime memories! From tours, to a butterfly wonderland and even a deep sea adventure, there are so many activities aside from enjoying our beautiful beaches to experience on your vacation. To save you the hassle of figuring out what to do once you get here, we're giving you the top five family activities in Aruba so you can arrive and enjoy!
5. The Miracle of Metamorphosis at the Butterfly Farm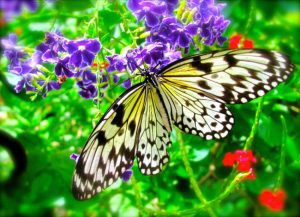 The Butterfly Farm is a truly unique encounter with nature in all its beauty and diversity. Walk through a tropical garden surrounded by hundreds of exotic butterflies from all over the world, needless to mention they offer countless photo opportunities! You will also be able to see all the stages of a butterfly's life from egg to caterpillar and to the jewel like chrysalis. The friendly guides will explain the miracle of metamorphosis and even show you how to handle the butterflies and caterpillars. If you are lucky you might actually witness the birth of a new butterfly!
Operated by De Palm Tours, Atlantis Submarines is Aruba's most unique attraction! The exciting voyage takes you 130 feet below the Caribbean Sea where you will be able to experience marine life up close. This tour takes you to Barcadera Reef where you will view two shipwrecks. You will also have a fabulous view of exotic marine life, including schools of colorful tropical fish, huge sponge gardens and coral fields. The engaging crew provides an educational narration which will make the experience even more engaging for children.
3. Discover Aruba with an Island Tour
If you want to leave your hotel behind and experience the real Aruba, this is the best way to do it! An island tour is ideal for photo opportunities and show off your adventurous side to your friends and family. For a real adventure you can tour famous Aruban sites on a 4×4 vehicle, party bus, luxury bus, motorcycle, Trike or mountain bike! Many tours also include lunch at popular local restaurants and refreshments along the way. With all these options you will surely find the best island tour for your family.
You will visit the baby natural bridge, explore the Bushiribana Gold Mine Ruins, view the island from the California Lighthouse, drive through Seroe Colorado and much more! Some tours includeBaby Beach as a stop which has shallow waters and the enclosed bay is perfect for small children. The adventurous family who wants a little more time and freedom at each stop can also visit all key sites at their own pace by renting a car, since driving in Aruba is extremely easy and safe!
In Aruba anything is possible! You can even be a sailor and explorer for a day. Parents and children alike will have a great day at sea in one of these fun snorkel cruises, swimming with colorful tropical fish at Arashi reef and exploring the famous Antilla shipwreck. If snorkeling is not for you, sailing is also a great way to relax and refresh while catching the rays of Aruba's beautiful sun. The best part is that snorkel equipment, snacks and refreshments are included!
De Palm Island is Aruba's only all-inclusive island featuring many exciting activities, unlimited food and drink, and ultimate relaxation! This island makes for a fun day away from the hotel and resort scene for the entire family where you can swim, snorkel and play. You can relax and enjoy a cocktail by the beach while your children have fun at the water park, or you can participate in many family-friendly activities. There is a banana boat ride, zip lining, beach volleyball and soccer courts, dance lessons and even air jumping!
If some of these have caught your fancy in planning your Aruba family vacation, you can go ahead and book these activities here on VisitAruba.com! You can also download the free Visit Aruba Mobile App on your smart phone, where all this information and lots more is literally in the palm of your hand. This is only a tiny taste of what you can experience as a family in Aruba, so we hope you are as excited to start your vacation as we are to show you our beautiful island. See you soon!