You've been cruising around the Caribbean sea and your NEXT STOP IS ARUBA – YAY!
You want to make the most of your precious time on the One Happy Island, but have no idea where to start – to go on one of the CRUISE SHIP recommended activities or to EXPLORE  with your gut feeling guiding you…
We've decided to make life a little easier for you by providing some WALKING-DISTANCE SPOTS TO VISIT FROM THE CRUISE TERMINAL.
First spot you will see that really stands out is a pink building that resembles a cake, a.k.a ROYAL PLAZA.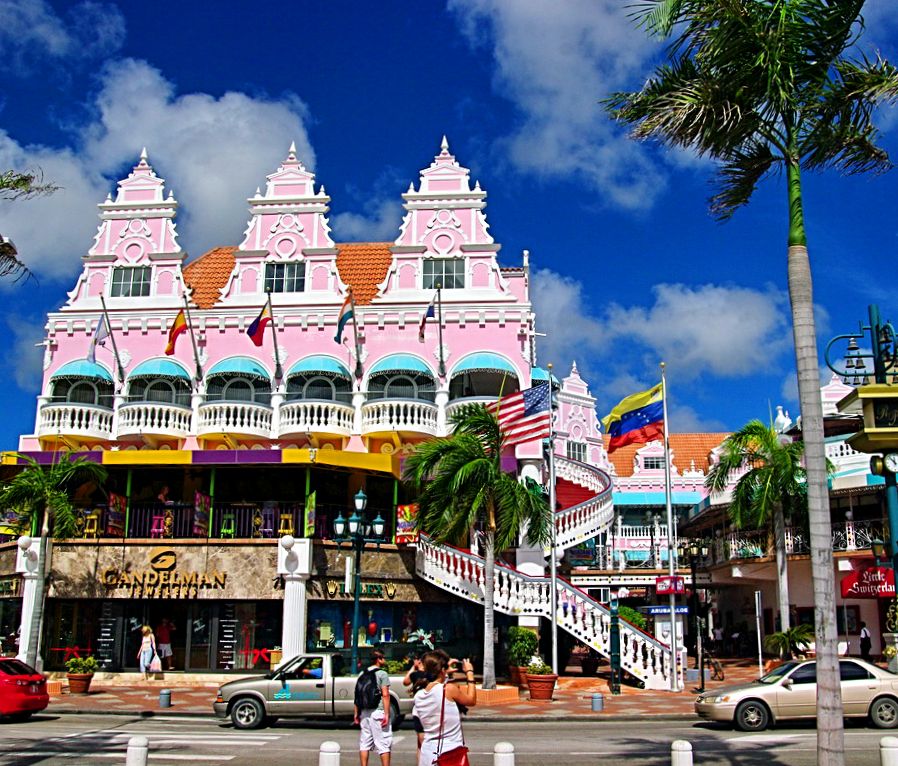 Shop Souvenirs and Have a Drink at Royal Plaza
Royal Plaza is located next to the Oranjestad Bus Terminal (for the bus schedule you can click here) and offers a variety of shopping options. From souvenir shops to beach clothing stores, to niche boutiques focused on specialty products such as cigars and jewelry, there are quite a few different stores to peek into to get some unique finds. Also notable is that there are two ATMs (provided by Aruba Bank and Caribbean Mercantile Bank) located on the premises. Nearby dining and drink venues include: Eetcafe The Paddock, Iguana Joes, & Mojitos Restaurant.
For Royal Plaza's location information please click here.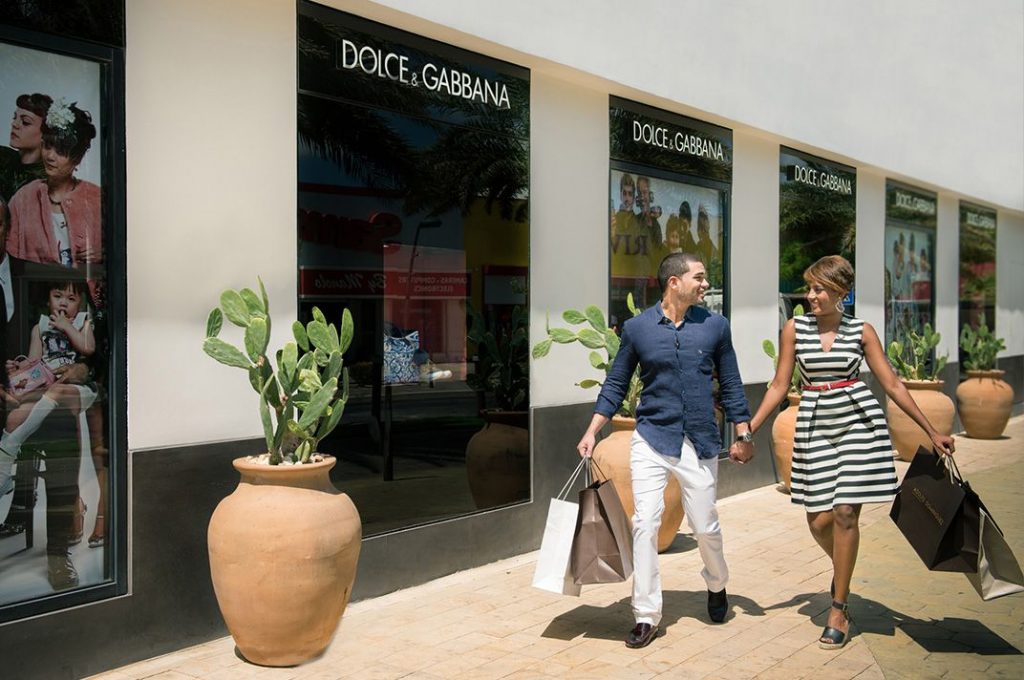 Luxury Shopping and Gambling at Renaissance Mall & Crystal Casino
If you are more into high-end shopping and love BRAND NAME products, the Renaissance Mall is where you need to go! Here you will find the likes of big name designer FASHION HOUSES such as Dolce & Gabbana, Kate Spade, Louis Vuitton, Prada, Gucci, and Carolina Herrera, to name a few. For those who love to gamble, the Crystal Casino is a game-changer. Open 24 hours, get drinks as you play, and it includes 420 slot machines. Also notable is that there is a TAXI STAND at the Renaissance if you need to catch a cab! Nearby dining and drink venues include: Blue Martini Bar, L.G. Smith's Steak & Chop House, Aquarius, and Starbucks.
For Renaissance Mall's location information please click here.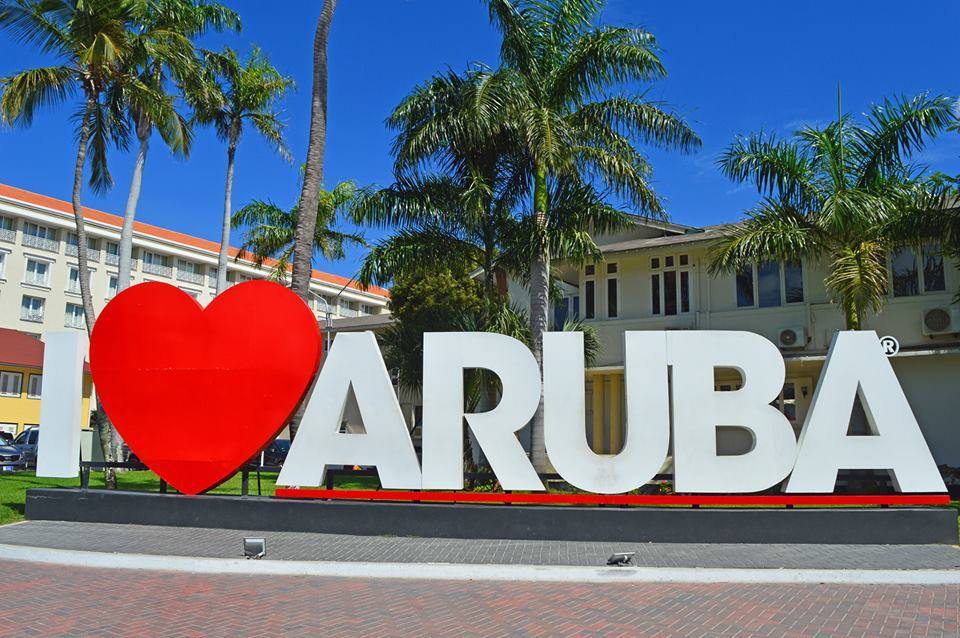 Pose with the I LOVE ARUBA Sign
You can't  visit the One Happy Island without snapping a pic with the 'I LOVE ARUBA' sign! Climb on top or peek from one of the letters, whichever way you choose to pose, we're sure you'll love your I HEART ARUBA picture. The Sign is located next to the Renaissance Mall, and in front of the Aruba Parliament building, overlooking the Seaport Village Marina. This marina is also the 'sea-parking spot' for Hatts Off Fishing Charters  if you would like to plan a day trip of SAILING AROUND ARUBA. You can also arrange to get a 2.5 hour walking tour by Aruba Walking Tours to explore the island's downtown scene, or you can adventure on to Mainstreet for yourself!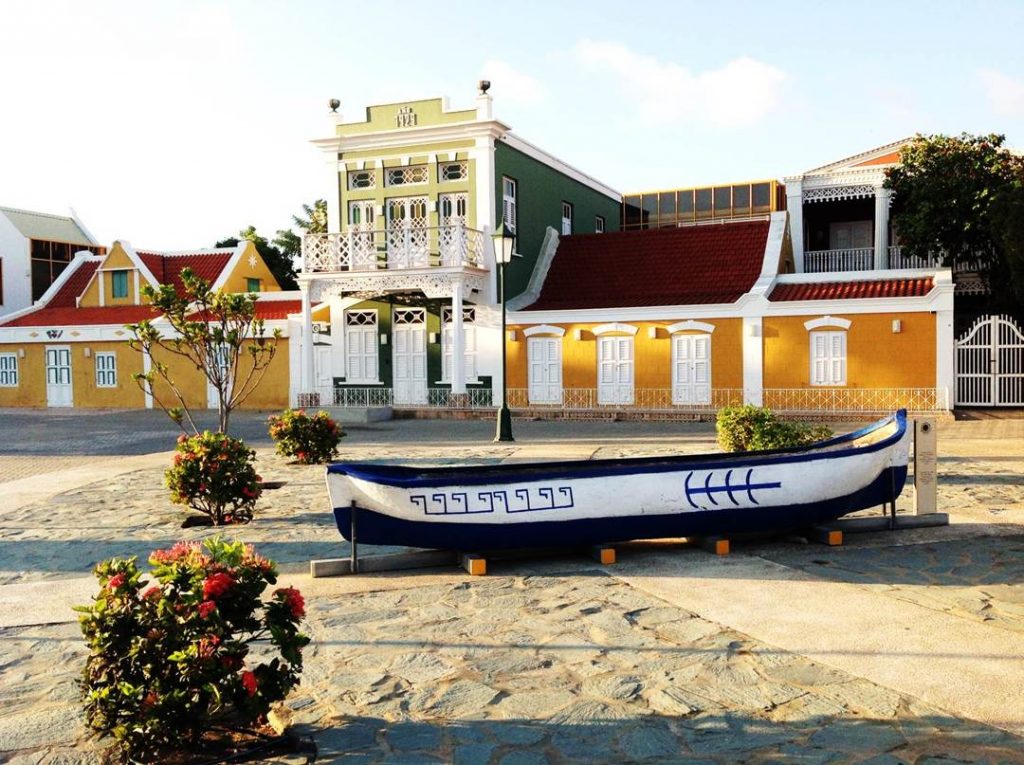 Oranjestad, Aruba: Museums, Munchies & Mainstreet Shopping
Many names can define the essence of Oranjestad (which is the capitol of Aruba, but also what many locals refer to as Aruba's downtown scene), the favorite go-to taglines though are CAYA GRANDI and PLAYA. Not to be mistaken for the Spanish version of 'Playa' which means BEACH. In Papiamento when someone says they're going to Playa that means their going downtown. This is where you can catch a ride on the trolley, find hole-in-the-wall restaurants and cafes, learn about Aruban culture and history by visiting some museums, and do some shopping. Museums to see include: Aruba's Historical Museum & the National Archaeological Museum of Aruba. Nearby dining and drink venues include: El Gaucho, Driftwood, Coco Plum and Maroc.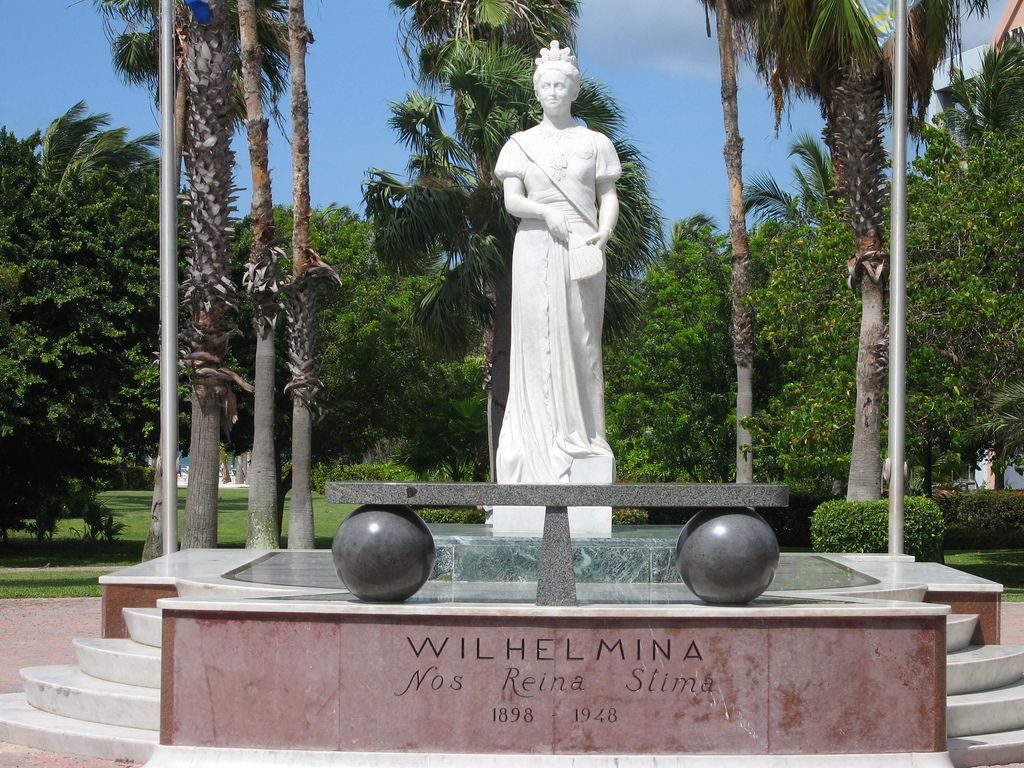 Stroll Through Wilhelmina Park, the Marina, & the Marketplace
You can bring a light blanket with you on your day tour of the One Happy Island to relax in Wilhelmina Park. It is in this greenery zone that you will find statues of prominent female figures that are well-respected by the Aruban community. A statue of Wilhelmina of the Netherlands, Queen of the Netherlands from 1890 'til 1948, and a statue of Anne Frank can be found while on your stroll through this beautifully landscaped park. Nearby dining and drinks venues include: Casa Tua, Cuba's Cookin', SeaSalt, & The Dutch Pancake House.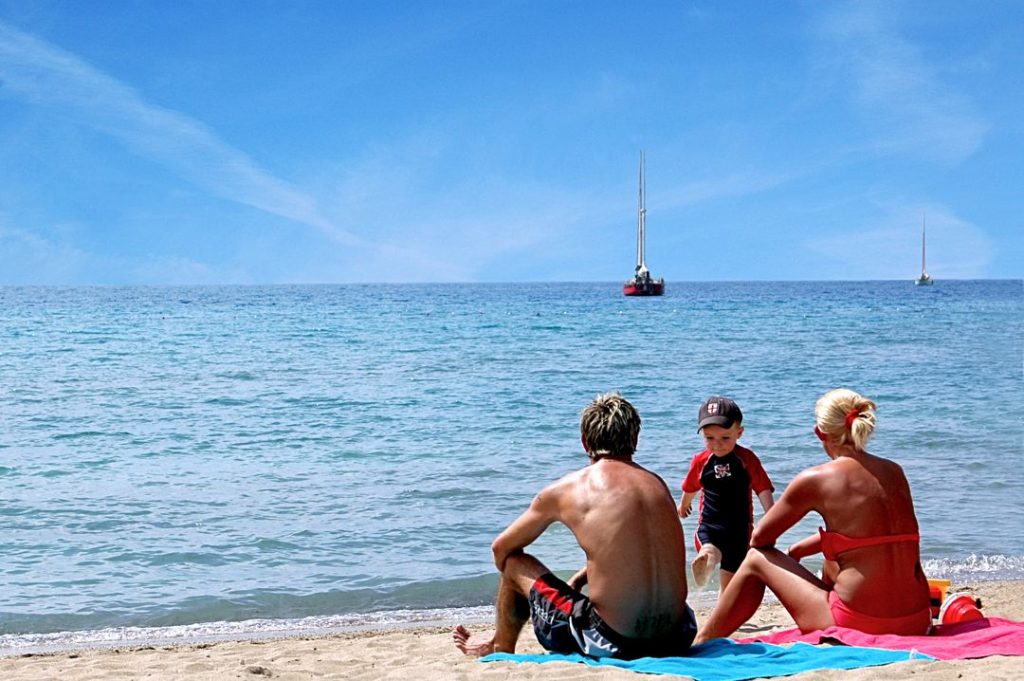 Surfside Beach & Plaza Turismo for Cocktails, Sandy Toes, & Sea Splashing
If you aren't one to shy away from adventure time, and enjoy a nice walk, you can continue your stroll on Linear Park Trail and go to SURFSIDE BEACH! Not only can you enjoy some Vitamin D while laying out, there is also a floating water park which is perfect for both kids and adults called, Splash Park Aruba. For those who want to enhance the adrenaline experience, there is also S.E. Aruba Fly 'n Dive located by the beach, that offers various DIVE and SNORKELING EXCURSIONS. Besides fun water activities, you can also enjoy the liveliness surrounding Plaza Turismo with its varying open-air bars and cafes, as well as a playground for the kiddos, and bicycle rentals!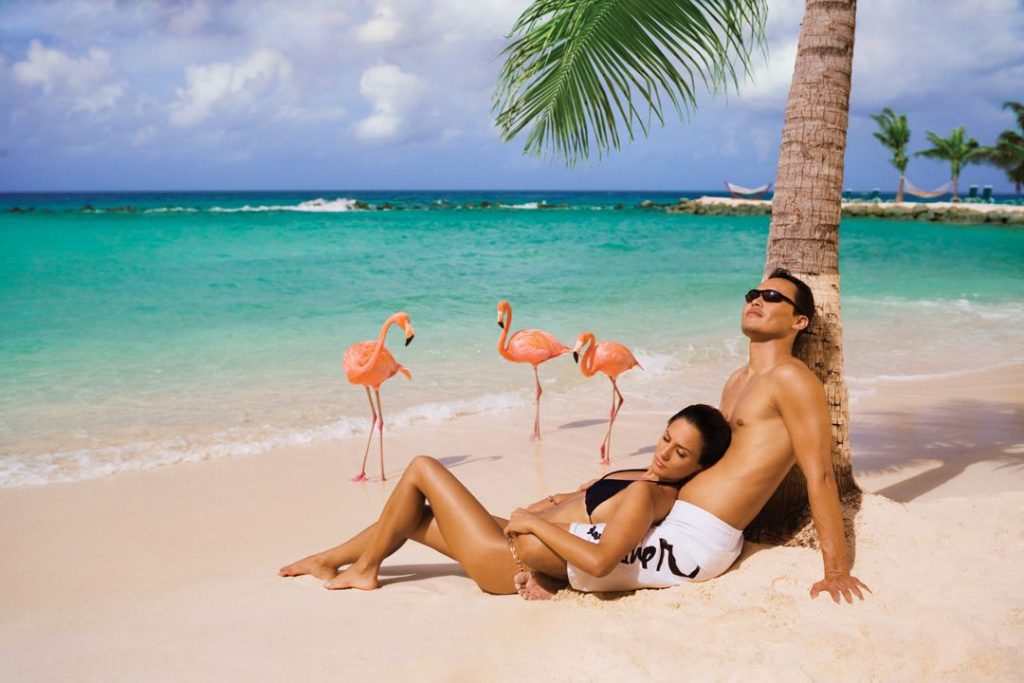 Island Hop to Renaissance Island with a Day Pass
You've heard of Aruba, the ONE THING you've always wanted to do is have a mini photo shoot with THE FLAMINGOS, but you'll be dropping in on the happy-vibed isla for less than 24 hours…What to do, what to do? – Get a DAY PASS of course! Make your dreams come true, and arrange for you to get a day pass to Renaissance Island for your visit. Tune out the stresses of everyday life, and take a vacation from your VACAY CRUISE by island-hopping. Be sure to contact Renaissance directly (and ahead of time) though as the passes are limited. Who says you can't have your cake AND eat it too?
For Renaissance's contact information please click here.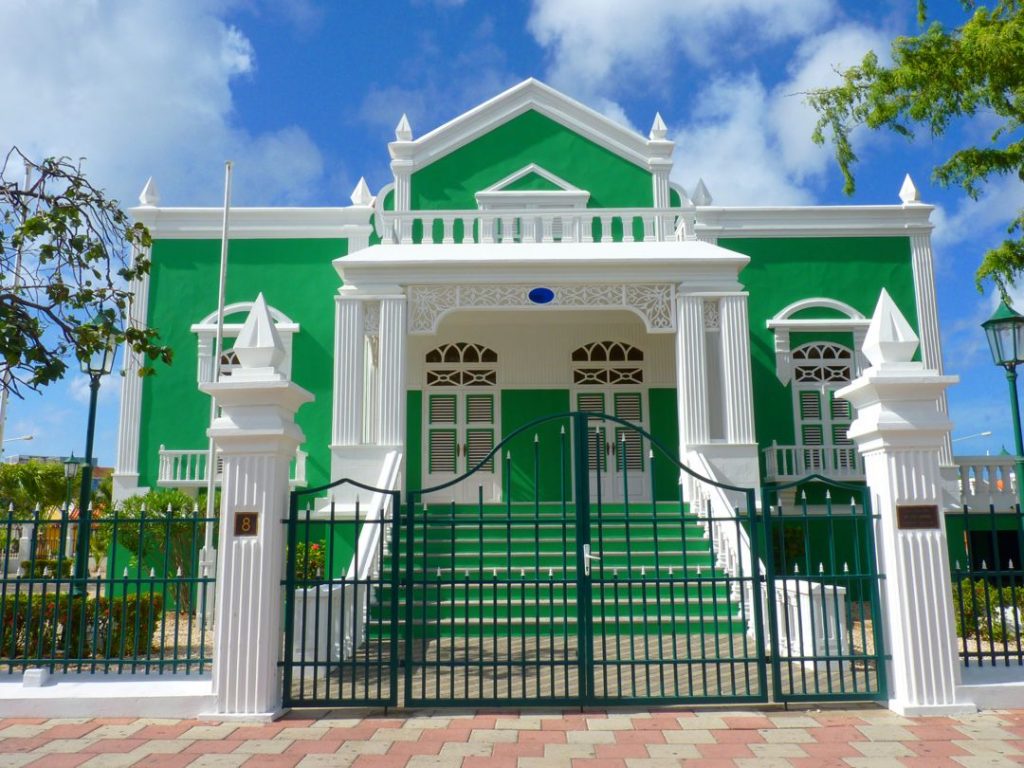 Handy Spots Downtown: City Hall, Banks, Pharmacies, & More!
The photo above is of Aruba's iconic CITY HALL. More commonly known as 'Stadhuis' on the island. If you've been dreaming of tying the knot on the One Happy Island, then click here to get started. It is definitely doable while on a cruise trip, but you should plan well in advance to make sure things go as they should!
Some other useful WALKING-DISTANCE SPOTS include, but are not limited to:
Mediq Botica Oduber
Address: Caya G.F. Betico Croes 103 – Located at the end of Mainstreet
Phone:+297 582 1780
Opening hours: Monday – Saturday, 7.30AM – 7.30PM
Botica del Pueblo
Address: Caya G.F. Betico Croes 48
Phone:+297 582 1253
Opening hours: Monday – Saturday, 7.45AM – 7.20PM
Downtown Drugstore
Address: Havenstraat 30 – Located behind Royal Plaza
Phone:+297 583 0260
Opening hours: Monday – Saturday, 8.00AM – 7.30PM
RBC Bank (Royal Bank of Canada)
Address: Caya G.F. Betico Croes 89
Phone:+297 523 3100
Opening hours: Monday – Friday, 8.00AM – 4.00PM
Caribbean Mercantile Bank NV
Address: Caya G.F. Betico Croes 53
Phone:+297 522 3000
Opening hours: Monday – Friday, 8.00AM – 4.00PM
Aruba Bank
Address: Caya G.F. Betico Croes 41
Phone:+297 561 2885
Opening hours: Monday – Friday, 9.00AM – 5.00PM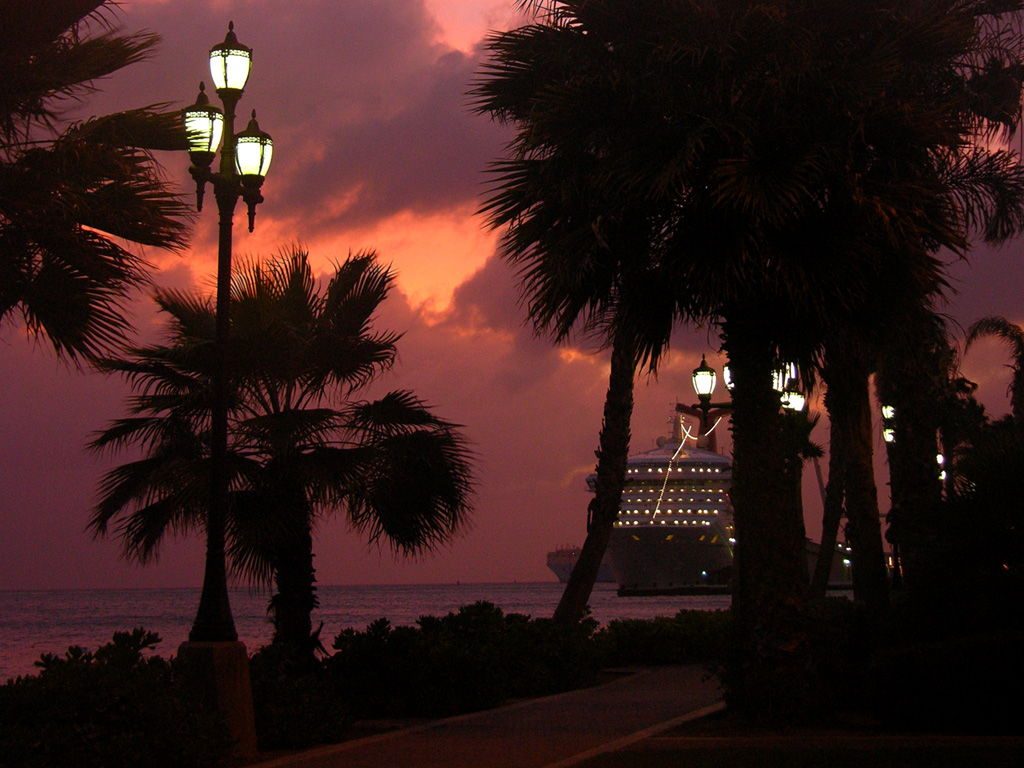 We hope you enjoyed the insights on walking-distance fun things to do and places to see on the One Happy Island while you stop in ARUBA.
P.S. The view above is a typical snapshot of what we locals would be seeing as we wish you a FAREWELL back to sea.
Want to know more about Aruba adventures by cruise ship? – Check out this link to explore Aruba by Cruise.
Tune in for more ARUBA KNOWLEDGE, FUN FACTS, & TIPS by following the VisitAruba Blog here.