Aruba Walking Tours
heading
Organization
Aruba Walking Tours
Picture1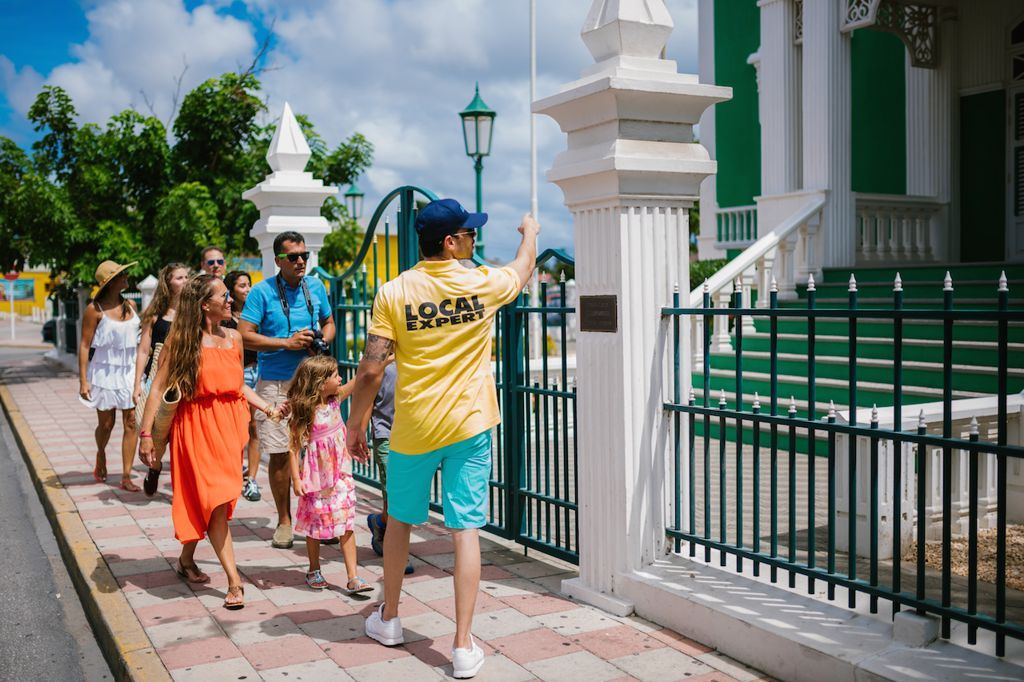 details
Description
Aruba Walking Tours - Discover the streets & stories of Oranjestad with a Local Expert!
Aruba Walking Tours offers the islands' local scoop during a 2.5-hour journey by foot in an interactive and engaging way. This authentic experience takes you to over 30 amazing sites in downtown Oranjestad, while a Local Expert shares fascinating stories on the islands' rich history & culture. Stops are made to visit monuments & museums, sample Aruba's local cuisine and even for a little shopping on-the-go. During the Aruba walking tour plenty of "photo ops" and even encounters with Aruba's charismatic locals are provided. Making your way through the city was never this entertaining!
The daily group tour is available daily at 9 AM. For customized experiences and other departure times you can book a private tour for couples, families and corporate groups.
quickFacts
Quick Facts
Tours
Aruba Historic Cultural Downtown Walking Tour
Join our Local Experts on an interactive journey through the streets of Aruba's Capital, Oranjestad. The first experience shall be the "Aruba Downtown Walking Tour". Choose from our Daily Group or Book a personal/private/custom experience for couples, families or corporate groups. We are excited to share many famous, hidden spots experiences with our visitors. Also you will get a chance to get up and close with the locals.
When: Monday - Saturday, 9:15 AM sharp
Where: Meeting point for tour is Zoutmanstraat 1 (Cosecha building)
Price: $39 Adults (Age 12+), $29 Kids (Age 5+), Kids under 5 yrs are free
Complimentary Pick up (High and Low Rise Hotels/Condo Buildings)
Local Expert (Guide to share the local scoop and historic facts at each stop)
More than 30 site visits
Entrance to 2 Museums
1 Bottle of Water
2 Different Local Bites
$7 Aruba Aloe Gift Card
Free Wifi throughout the entire tour
Fusion of the World Food Tour
Fusion of the World Food Tour is an engaging, 2,5 hour guided tour by foot in the downtown area or Aruba's capital, Oranjestad. This easy-going walking tour in the soothing evening hours takes you through colorful streets to casual restaurants and monuments and provides fun facts at each stop. Along the way you will sample small bites and specialty drinks at five local eateries as a tasty introduction to Aruba, its cuisine and cultural melting pot.
When: Monday and Thursday, from 7:00 - 9:30 PM
Where: Meeting point for tour is Zoutmanstraat 1 (Cosecha building)
Price: $79.00 per person (18+), $65.00 (17 & under)
Local Expert ( Guide to share fun historic facts and tales )
More than 20 beautiful sites
5 Stops at 5 Restaurants for tapas sized foods
4 Alcoholic Drinks incl Local Beer and 1 Non Alcoholic ( Water also available )
$7 Aruba Aloe Gift Card ( When in Stock )
Complimentary Pick Up Only (High and Low Rise Hotels/Condo Buildings) Return on own (Either Taxi for approximately $11 to High Rise or $3 per bus ticket)