Have you been craving some serious relaxation lately? Look no further, the eforea Spa experience is just what you need… I promise!
Whether you are a spa regular or a newbie, on vacation or a local, this heavenly oasis needs to be on your radar screen, like… now.
I just recently had the great pleasure of experiencing Hilton Aruba Caribbean Resort's eforea Spa for the first time, in one of the most enjoyable ways … a girls day of course!
Get an inside look at our VisitAruba Girls' Spa Day…
Heavenly Spa Facilities and Ambiance
After a very warm and inviting welcome in the beautiful spacious lobby of the spa, we were explained more about the treatment we were going to receive, their signature Aloe Vera, Rum and Stone Massage!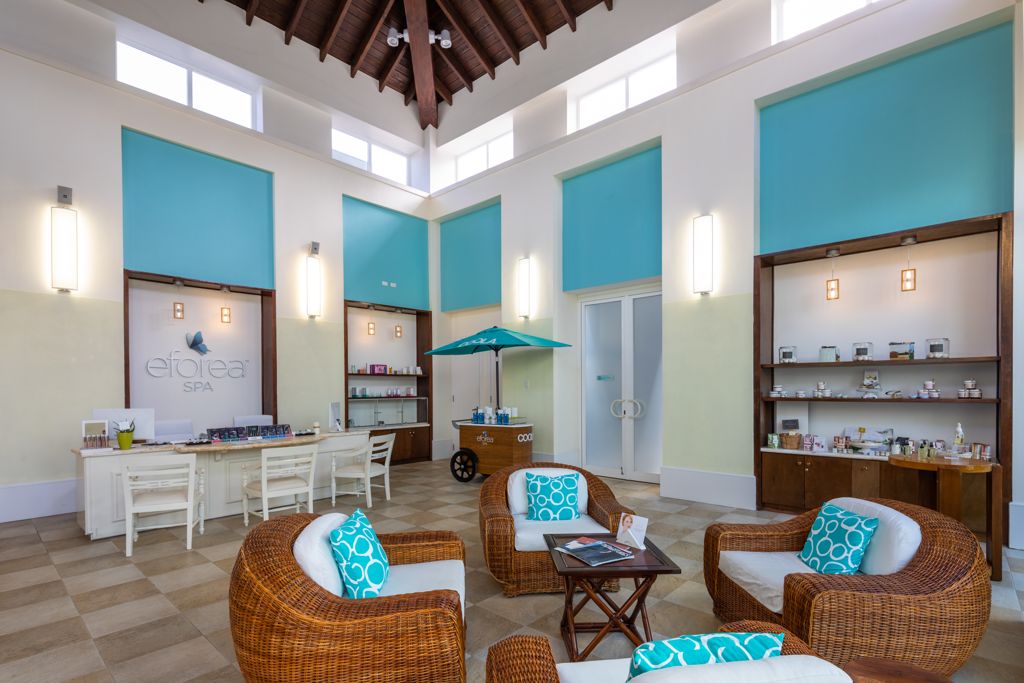 Before heading to the spa's facilities we were each able to pick an aroma for our treatment room. Each aroma is accompanied with a different element and intention so that you can get a full zen experience, both in the body and mind! I went for "Balancing" (Bergamot, Vanilla & Cedar Wood), while Megan went for "Relaxing" (Lavender, Jasmine & Iris) and Airany chose "Shaping" (Orange, Mimosa & Musk).
Once we finished our selection, Sofia, the Spa Manager brought us through the doors (little did we know these doors are equivalent to the gates of Heaven) leading us to the spa area. The long hallway led us to their Japanese-inspired bamboo relaxation area surrounded by lush palms and small fresh water pools.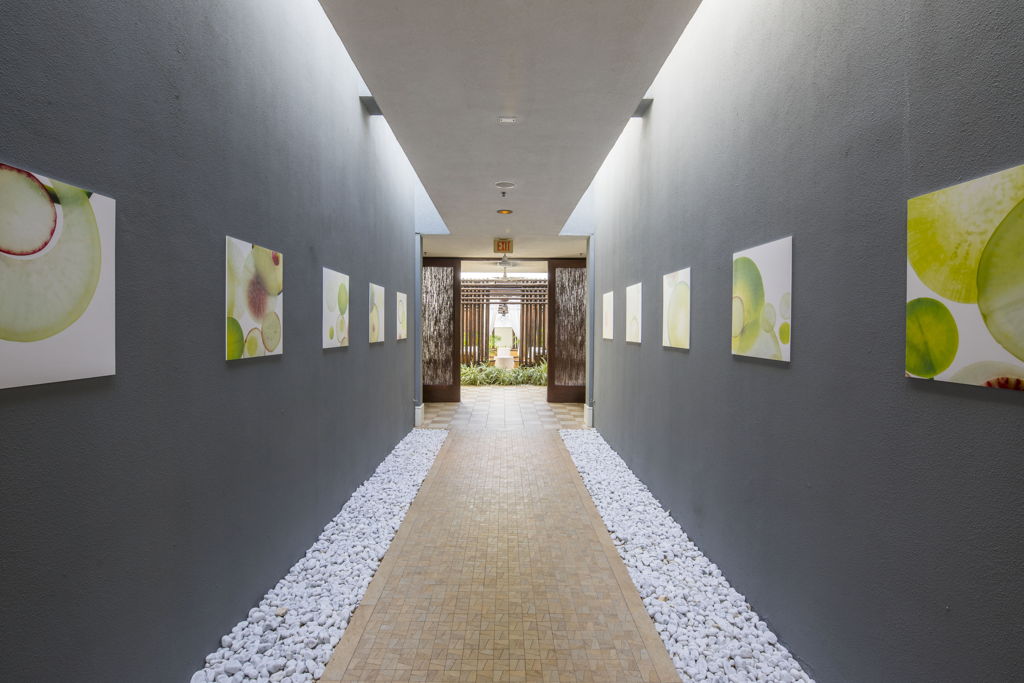 As soon as we entered we were immediately immersed in a feeling of tranquility. It was peaceful, quiet, no noise, no chaos… simply a heavenly oasis.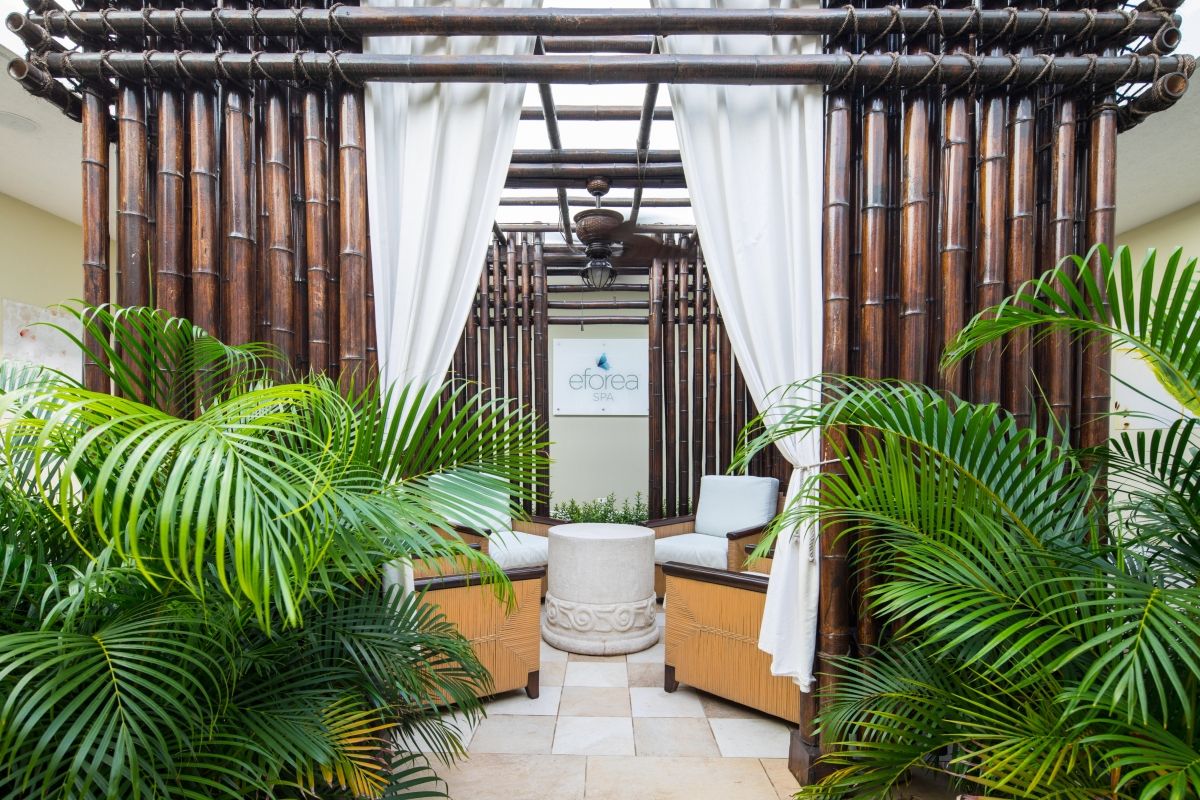 In addition to the indoor, yet open-air relaxation area, the facilities include a locker room, refreshment area, indoor relaxation lounge, showers, cold plunge pool, steam room, sauna room, eight treatment rooms, an outdoor cabana, showers, a gym with a beachfront view, and a beautiful lobby area filled with many amazing products to browse!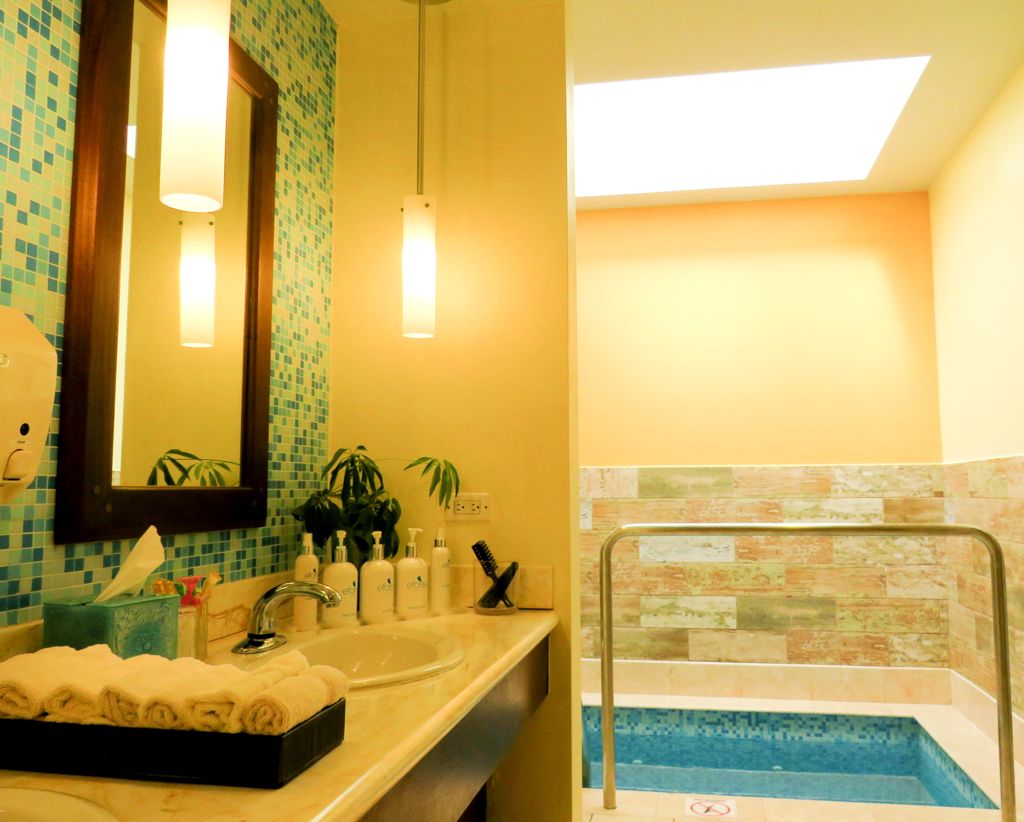 Soothing Treatments and Services
Once we got into our soft and fresh white robes, comfy slippers and grabbed ourselves a glass of refreshing citrus infused water we headed back out to the relaxation area to wait for our treatments to start.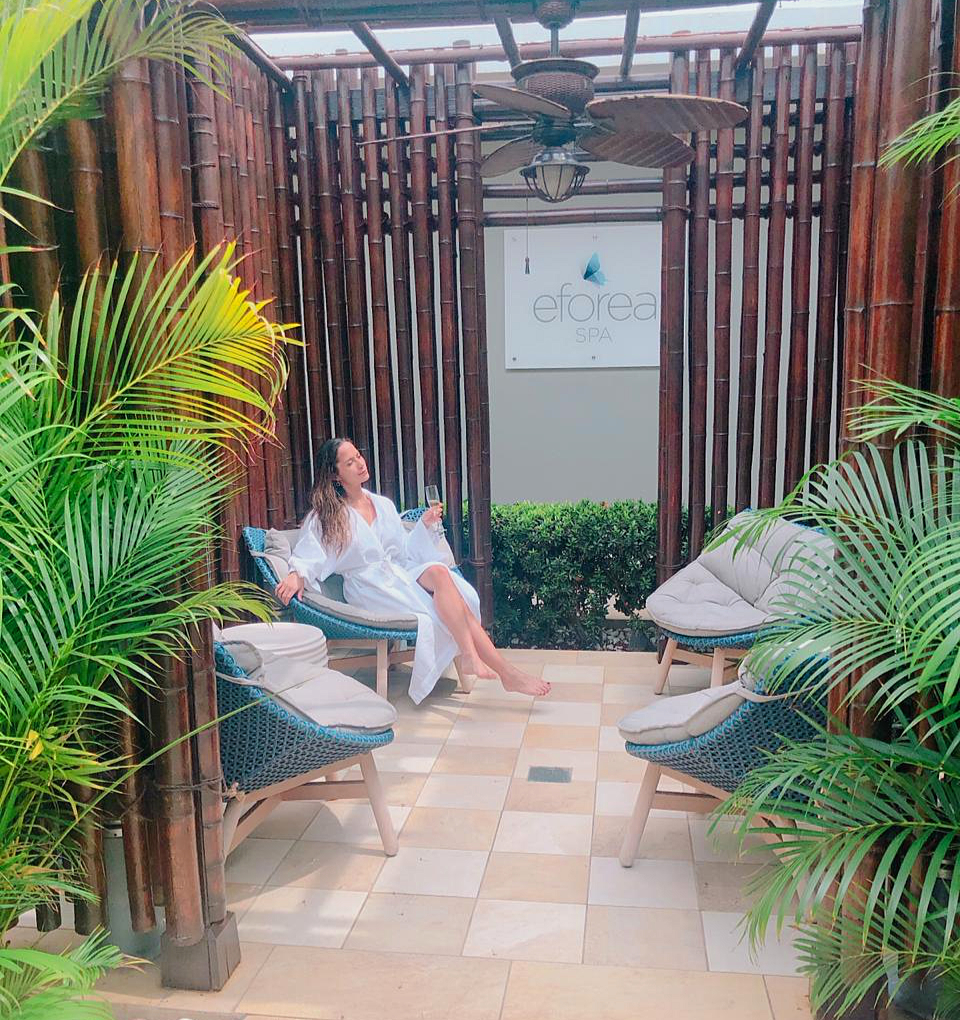 The environment is so nice and peaceful that we honestly felt as if the treatment had already started just by sitting there and relaxing! Silly us, the real treat was still to come.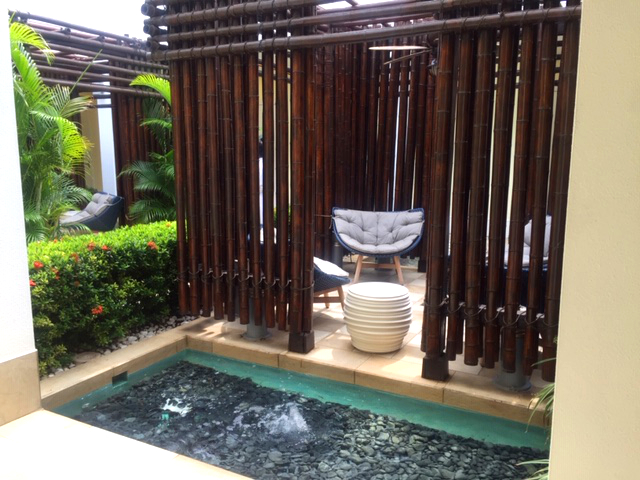 Soon thereafter, each of our massage therapists came out to meet us and took us back to our private rooms. My room was filled with amazing scents of citrus, vanilla and cedar wood with calming music playing in the background… talk about balancing your body, mind and soul!
The Aloe Vera, Rum and Stone Massage consists of hot black beach stones, agave nectar oil enriched with a blend of powerful anti-aging extracts and Aruba's very own local rum and Aloe Vera! This full body massage even included an incredibly soothing and ever so satisfying warm honey foot wrap! It was just what the doctor ordered, my tense and tired body now feels completely relaxed, healed and most of all, happy!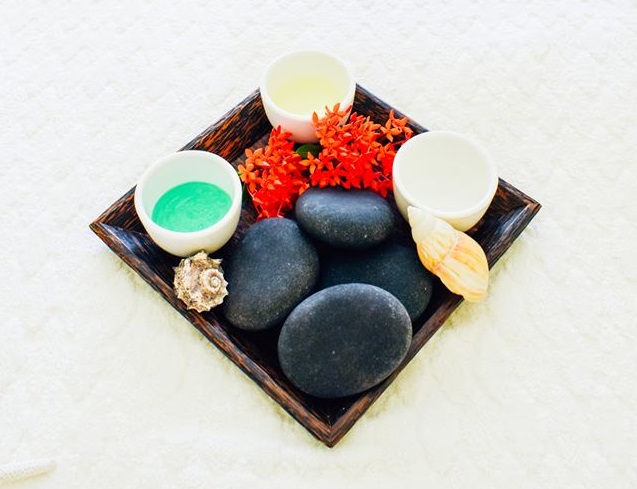 The massage literally left us in a state of pure bliss. We walked out of those rooms like slow and happy sloths with relaxed smiles on our faces. To make things even better there was a glass of Champagne awaiting us outside of our treatment rooms!
PS: Ruth (my masseuse) I am forever grateful to you and I will return, you have changed my life forever!

Spa experience: Absolutely a 10 out of 10.
If you couldn't tell by now, I highly recommend experiencing eforea Spa for yourself. They have infinite possibilities when it comes to their offered treatments and services, from an array of massages, scrubs, facials, body polishes, hair cuts, waxing, manicures, and pedicures! You can even maximize any treatment by selecting from one of their add-ons!
Take a look at their full Spa Menu and Salon Menu here to find the right treatment for you!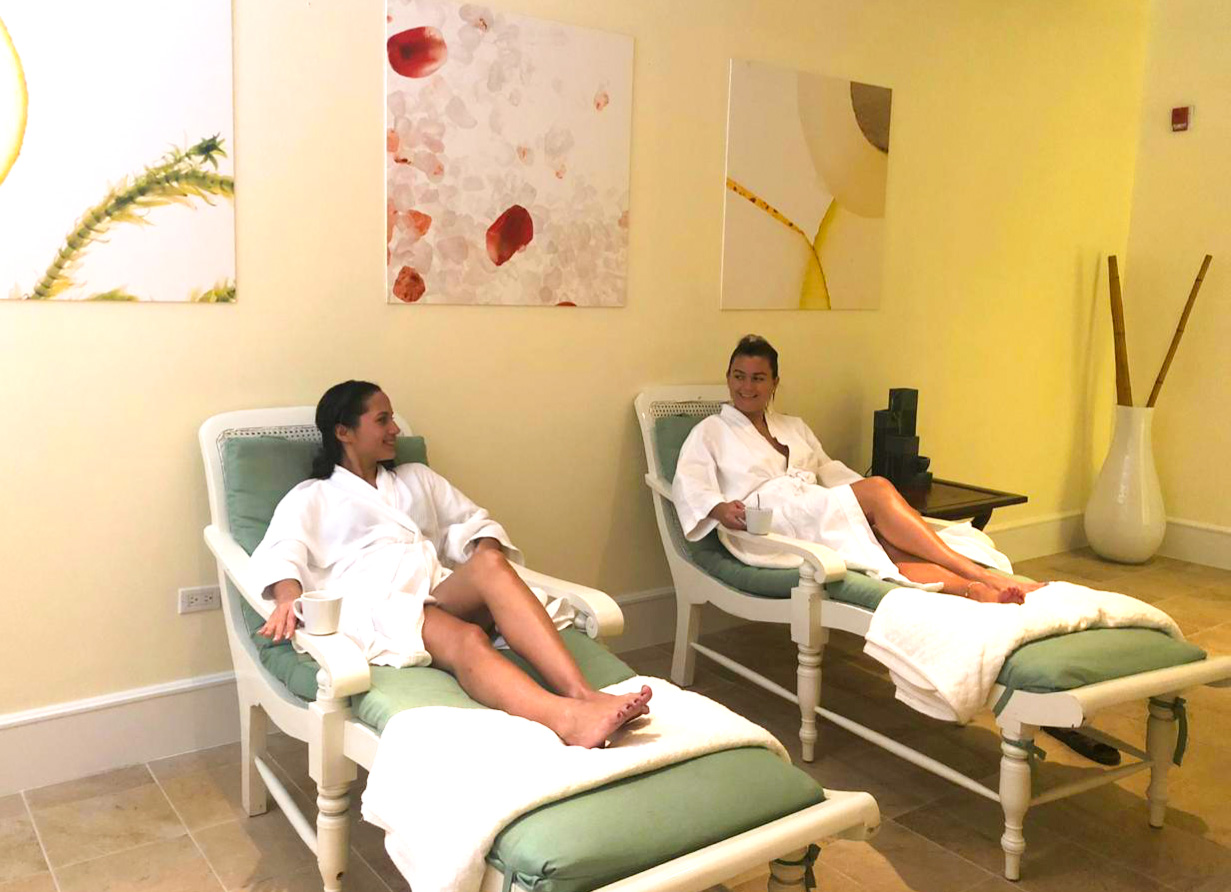 A Slice of Paradise
After our time at the Spa came to an end we decided to continue our relaxing, worry-free mood by heading to the pool! After all, who would want to ruin this state of euphoria by going back to the "real world"? Not us, that's for sure!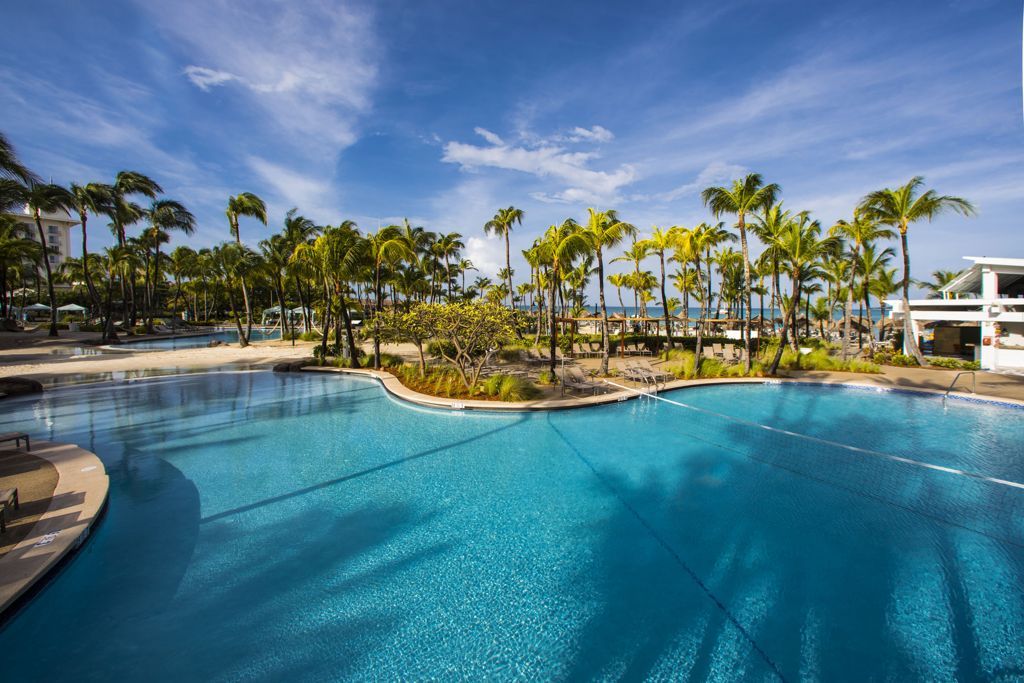 Our easy going afternoon consisted of lounging poolside at one of their "poolapas", catching some rays and enjoying a bite at Gilligan's Seafood Shack.
Foodie recommendation: Order the Lobster & Crab Skillet Nachos or the Millionaire's Lobster Roll… you're welcome!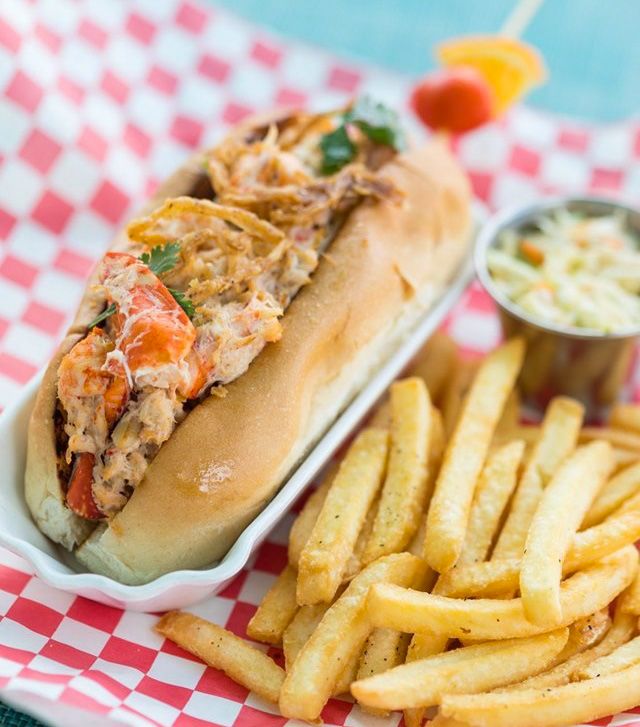 I think our relaxed mood must've really stuck with us because we ended up staying all day long. Before we knew it, sunset came and guess what time it was? Happy hour time! Yes, we took advantage of Mira Solo's Happy Hour from 6-8 PM. They also have an afternoon Happy Hour if you're more of a "the early bird gets the worm" type of person… when on vacation right?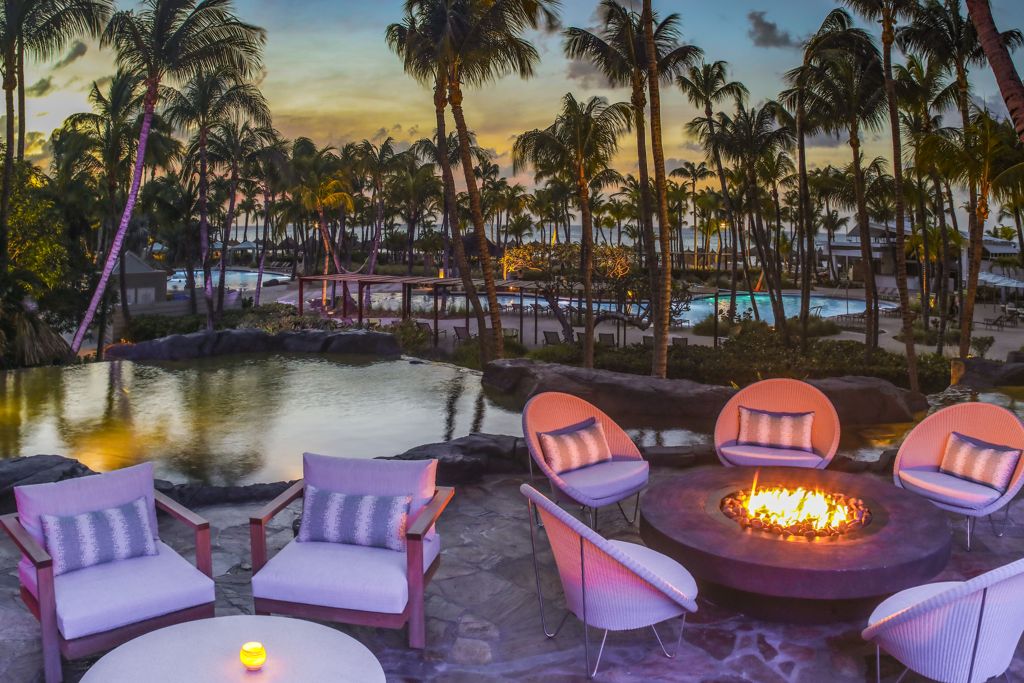 We thoroughly enjoyed the warm evening breeze and beautiful views of the property, making for the perfect end to our day!
Book your eforea Spa experience today and get pampered in paradise!