October 15th is internationally recognized as 'White Cane Day', a day that has become both an annual celebration of the achievements of people with visual impairments, and a day to recognize the white cane as a tool of independence for the blind.
There are references to blind people using a shepherd's staff to help them travel, that date back to biblical times, but it wasn't until 1921 that the white cane was born. James Biggs, was a photographer who was blinded after an accident. He lived in Bristol, England – a bustling city – and was uncomfortable crossing the streets with the amount of traffic around his home. His time developing film in a dark room taught him that bright colors stand out so he painted his black walking stick white to be more easily visible to motorists against the street's black pavement. James was pleased with the results his white stick yielded and encouraged other blind people to paint their sticks as well.
By 1931, the white stick trend reached France and a gentleman named Guilly d'Herbemont launched a national white stick movement for blind people. On February 7, 1931 he symbolically presented two blind people with white canes in the presence of several French ministers. Later, white canes were sent to blind WWI veterans and civilians all over France.
One year earlier, in the United States, George A. Bonham of the Lions Clubs International watched as a blind man struggled while attempting to cross the street. In 1931 the Lions Clubs began a program promoting the use of white canes for the blind which spread across the country like a white cane wildfire. The Lions Clubs mobility canes were made from a solid piece of wood, painted white. They were effective but rather bulky and cumbersome to carry.
In 1944, Richard E. Hoover, a rehabilitation specialist for WWII veterans at Valley Forge Army Hospital in Phoenixville, Pennsylvania conducted a revolutionary experiment. He blindfolded himself for a week and traveled the hospital using a white cane. While 'blind' he developed the idea for the long cane that is used today – lightweight, flexible and foldable. He became 'Father of the Lightweight Long Cane Technique' and developed the Hoover Method – the standard method for teaching occupational mobility to the blind which is still used today.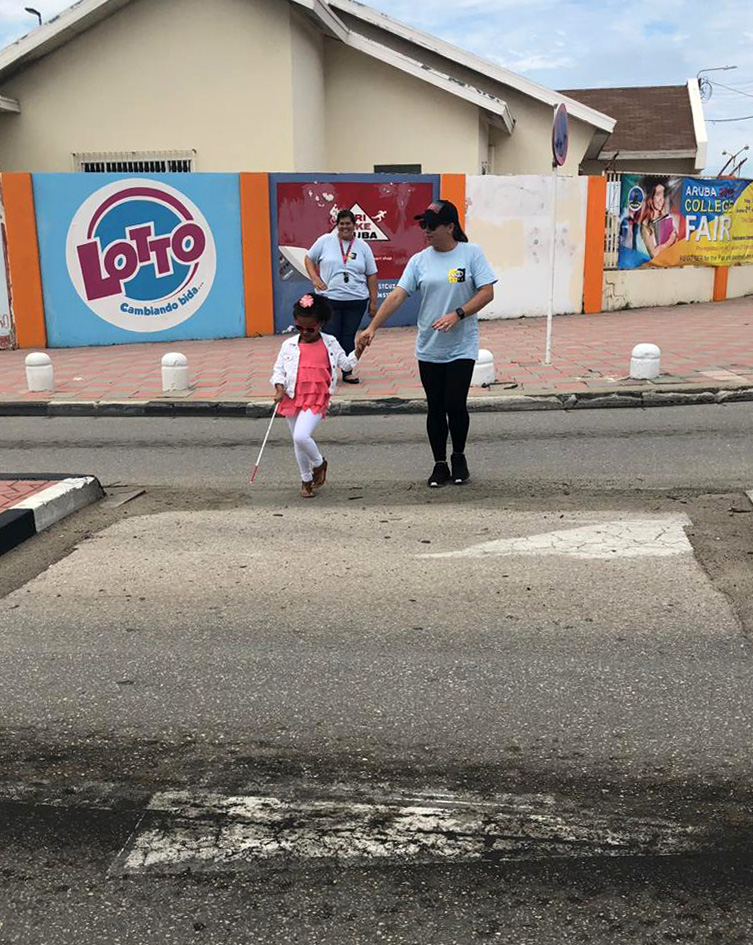 On October 6, 1964, US President Lyndon Johnson signed a law proclaiming October 15 of each year as 'White Cane Safety Day' – A day to raise awareness for traffic safety as it pertains to the blind and visually impaired. While specific laws vary by jurisdiction, it is universally recognized that a person carrying a white cane always has the right of way and traffic must stop for an individual standing with a raised white cane at a crosswalk or intersection. In 2011, President Barack Obama expanded white cane day to include a celebration of the accomplishments of members of the blind community.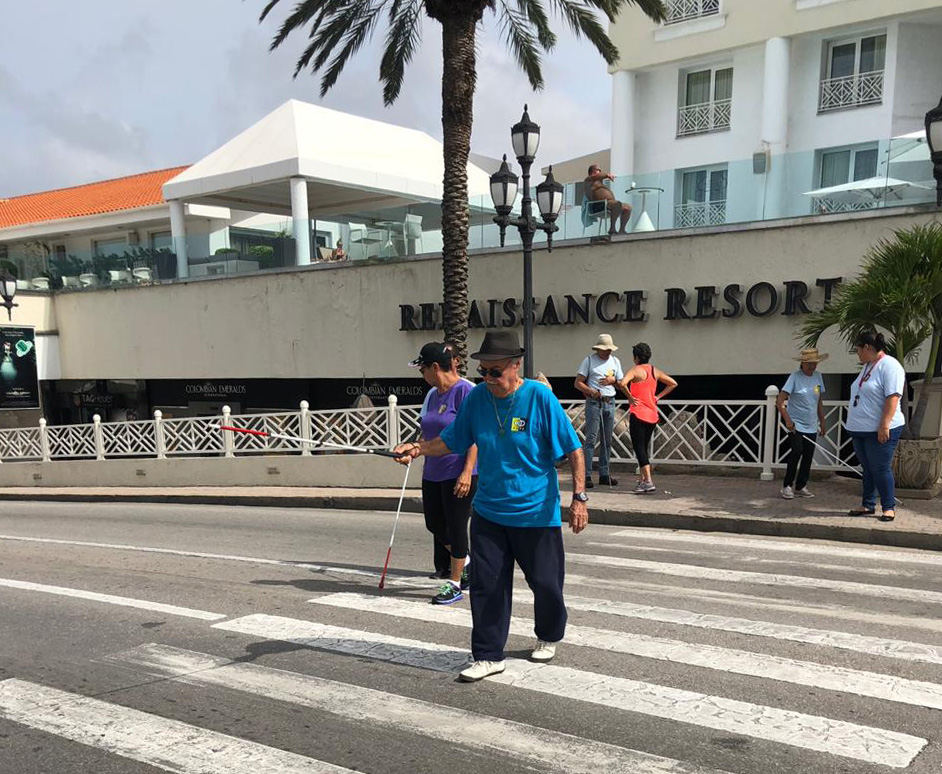 The clients of FAVI, the Aruban foundation for the visually impaired, were swinging their white canes all over the island in preparation for 'White Cane Day' or as it's locally known 'Dia Internacional di Garoti Blanco'. The celebration commenced with a white cane walk down the Green Corridor at Linear Park on October 9th followed by a day of traffic safety practice on October 12th. In the morning of the 12th adult clients of FAVI had a walk from Citgo Boulevard to Linear Park crossing several streets in the process. That afternoon, the FAVI kids came out to sashay themselves across the streets near the roundabout in St. Cruz while passing out informational sheets about 'Dia di Garoti'.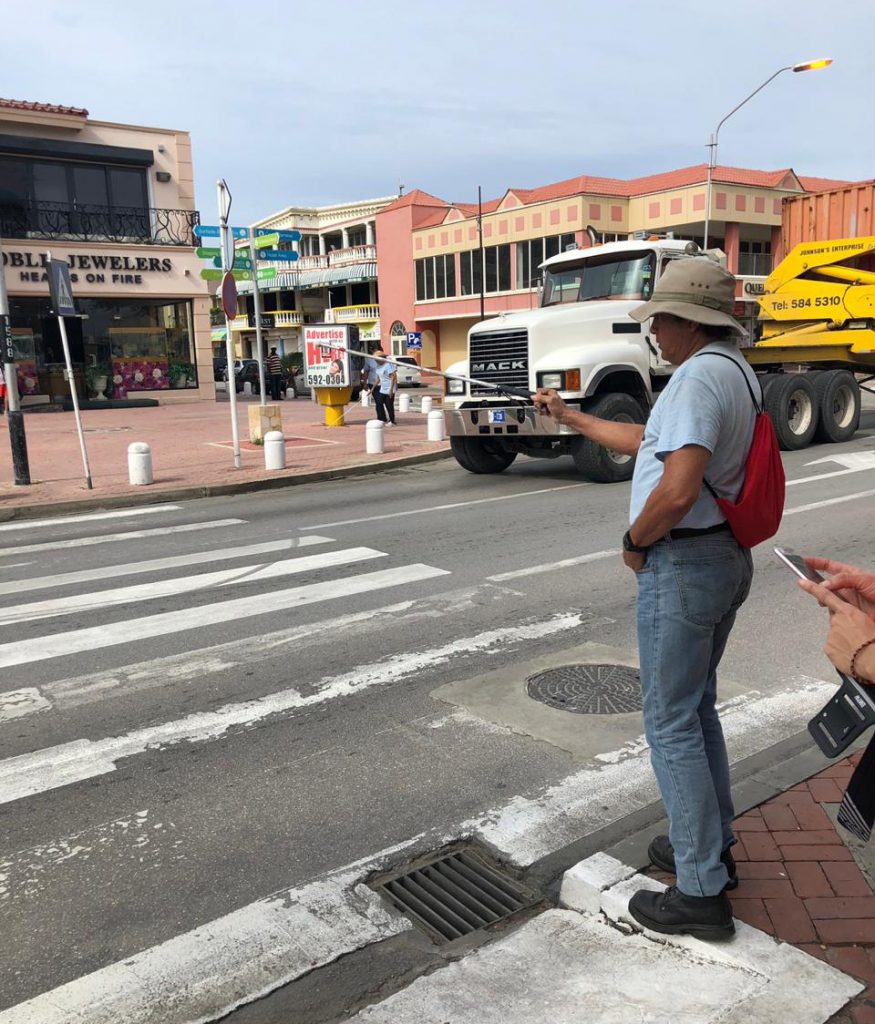 All the events were highly successful and covered by many local news outlets. While 'White Cane Day' is an internationally recognized day of celebration, a shocking amount of people have never even heard of it. The dedicated staff of FAVI pulled out all the stops this year in an attempt to raise islandwide awareness. On a personal note, as the mother of one of the two completely blind children on the island, I'm heavily invested in making sure that everyone knows to stop their cars when they see someone waving a white stick. Aruba is on it's way to becoming a more inclusive island for the 360 clients of FAVI. Next time you're here, make sure you keep your eyes open for them!