Planning an upcoming vacation to Aruba? Don't forget to keep dad in mind and plan some activities that he can enjoy, after all, he deserves to have some fun too! We are here to share some of the best things to do in Aruba to make dad happy!
Is he into adrenaline-pumping island excursions? Or is he more of a bookworm kind-of-guy, relaxing under a palapa on the beach? Or perhaps his favorite hobby is food? No worries, we've got something for every dad out there!
Gone fishing in paradise
Just a man, the sea and his fishing rod. Sometimes the simplest things in life can bring the greatest joy. If he's up for some company, book a fishing charter for two (or the whole family) for the day. Nothing beats some quality time out on the water, especially if that water is the mesmerizing Caribbean Sea! Don't forget to pack a cooler filled with snacks and cold ones for the day.
Browse Aruba's fishing charters.
Cigar tasting
Is dad a cigar lover? As any cigar aficionado will tell you, cigars are a hobby, not a habit. If your dad fancies cigars be sure to check out The Humidor Aruba to find and experience quality, premium cigars! Oh, and excellent rum too! You can also check out Ruba Reggae Authentic Cigars & Cocktail Lounge downtown.
Win his heart with none other than… food!
Mmm mm food… how could you go wrong with this tactic? With so many delicious and drool-worthy dining options in Aruba you are sure to win dad's heart! From local cuisine to fresh seafood, juicy steaks, and an array of international cuisine… Aruba is filled with diverse dining options that are sure to perfect your island vacation!
Visit the Balashi Brewery
Your dad is going to need something refreshing to wash down all that food, am I right? Rather than just hitting up a typical watering hole and taking a seat at the bar… switch things up and head to Aruba's local Balashi Brewery! Have an up-close look at the beer-making process and enjoy a cold one in their beer garden afterward! Note: It is necessary to contact the brewery ahead of time to ensure that they are running their tours, as they recently took a temporary break due to Covid, hopefully, they are up and running again very soon!
Power Snorkeling
Escape life above water and head under the sea! Grab your snorkel gear (you can rent it from Aruba Active Vacations or S.E. Fly N Dive), pack a cooler, and visit one of the many beaches perfect for snorkeling! 
Want to take snorkeling to another level? Try power snorkeling! It's not your typical snorkeling trip, rather a fun and thrilling activity that allows you to operate an advanced underwater scooter. Unlike regular snorkeling, this advanced snorkeling allows you to cover a LOT more area, giving you the freedom to move around to all of the beautiful underwater locations without spending a lot of energy and time.
Try power snorkeling with Octopus Aruba or Seabob Aruba!
Island adventure
Reserve a day to explore other areas of the island, such as the wild East Coast. Here you will find some real island adventure! We suggest renting a 4×4 vehicle, such as a jeep, UTV or ATV. Be sure to check with a local or tour guide before you head out, jot down some exciting and harder-to-reach destinations on your adventure itinerary and get to exploring! Check out our landmarks and wild beaches videos for some ideas.
Rent your UTV or ATV with Around Aruba Tours or if you prefer to join a guided tour, check out: El Tours, Pelican Adventures, and Kini Kini.
Important note: UTV's and ATV's are now banned from Arikok National Park. If you would like to enter the park you can do so by jeep or on foot ( hiking). Also, please be cautious of our island's beautiful nature. Always drive on designated paths and roads, never veer off the path and attempt to "off-road" on the outside terrain.
Dads need pampering too
Give dad the rest, relaxation and pampering he deserves and probably oh-so-desperately needs!
Whether he could use a massage for that backache, a facial to freshen and illuminate his skin, or a manipedi to get beach-ready (yes, dads need to get beach-ready too!)… Renaissance Aruba's Okeanos and Hilton Aruba's eforea Spa offer an array of special spa packages perfect for dad!
View more on spas in Aruba here.
An action-packed day out on the water
If your dad has trouble sitting still, enjoys staying active, and trying fun activities, a day out on the water might just be the perfect plan! There are endless water activities and sports to try in Aruba. Choose from hobie cat sailing, kitesurfing, windsurfing, paddleboarding, kayaking, sup yoga, wakeboarding, and more!
Try an activity with Aruba Active Vacations.
Unwind with a Beach Day
If your dad rather take it easy and spend the day relaxing, grab your towel, pack a cooler and head to the beach! There is simply nothing better than a beach day in Aruba!
Browse beaches in Aruba.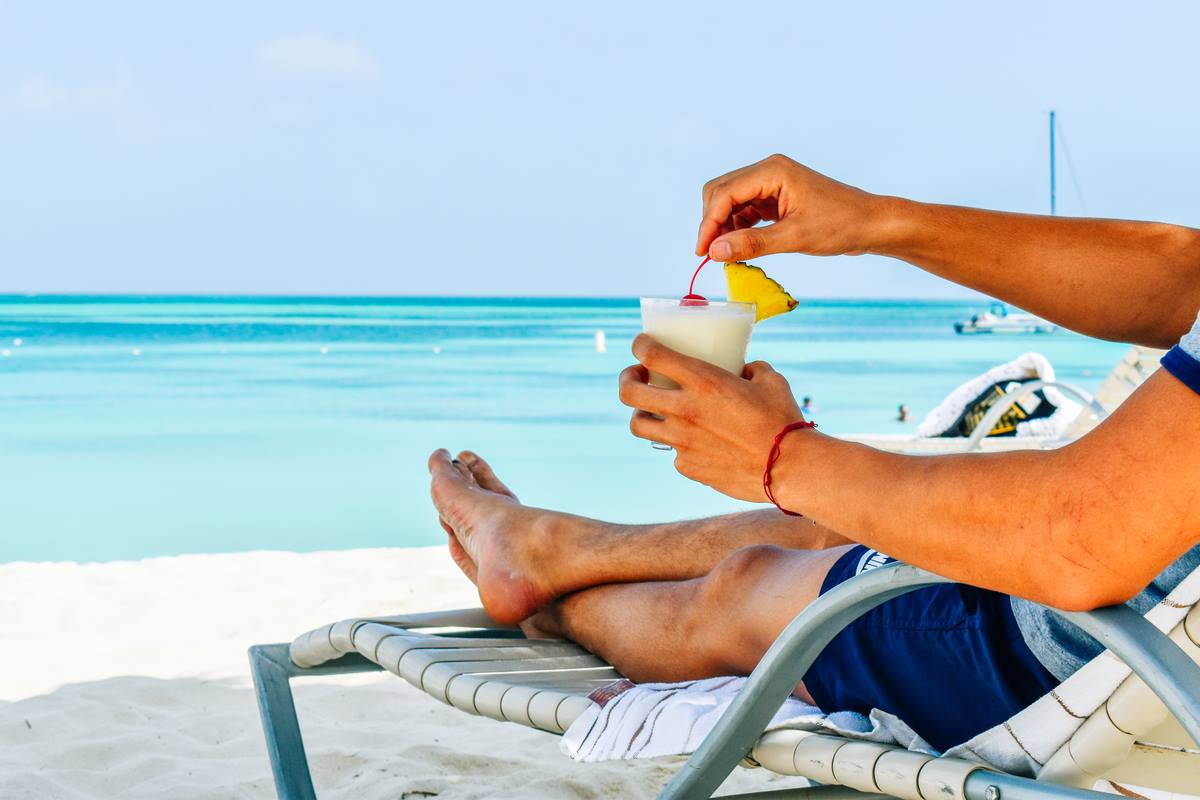 Whatever you decide to do, remember to enjoy each other's company and relax! After all, you are in warm, sunny and happy Aruba!
Discover more things to do in Aruba.
Main photo by Hilton Aruba Caribbean Resort & Casino