Did you know that Aruba's diverse terrains include the intricate mangrove ecosystem?
The most popular mangrove sites in Aruba would definitely be considered:  SPAANS LAGOEN & MANGEL HALTO.
Over the past years there have been some concerned comments shared by both locals and visitors of our One Happy Island about the not-so-happy care when it comes to these natural habitats.
From careless behavior that in consequence has ignited accidental fires, leaving destruction and ash behind…🔥🔥🔥
To the controversy surrounding a resort that has been an ongoing topic of debate within the Aruban community, with regards to the deforestation of the mangroves and drilling through the coral reefs…
ALARMS ARE GOING OFF when it comes to the conservation of Aruba's mangrove ecosystem.
In hopes of inspiring some more care for these natural wonders, I've compiled a few snapshots of mangroves, and some of the wildlife that depends on them to strive, in order to bring more awareness on LIFE AT THE 'MANGEL NAN'. (P.S. that's 'mangroves' in Papiamento! 😉)
SPAANS LAGOEN

Plenty of lush greenery and adventure await in the waters of the Spaans Lagoen.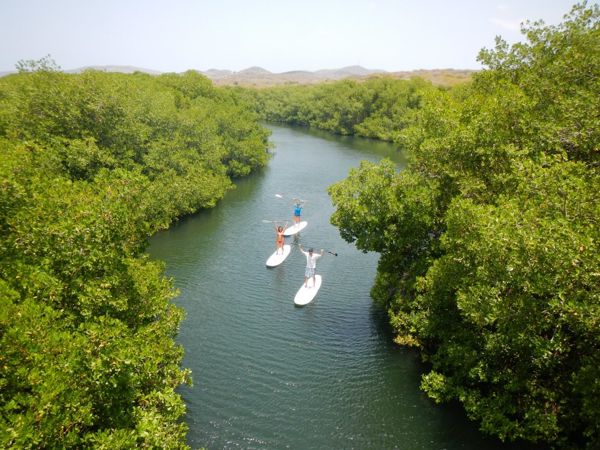 Just be sure to leave this spot as you found it: ZENFUL & pristine.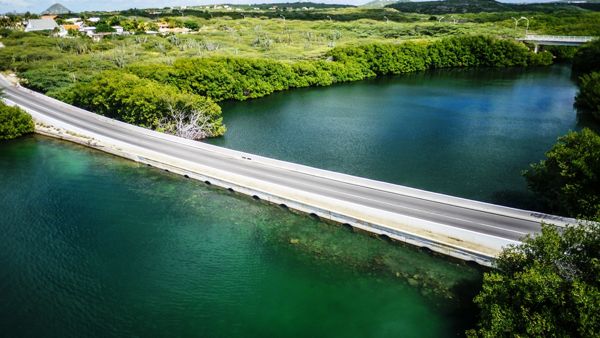 Did you know that 'Spaans Lagoen' translates to 'Spanish Lagoon' in English? – Now you do! *wink wink*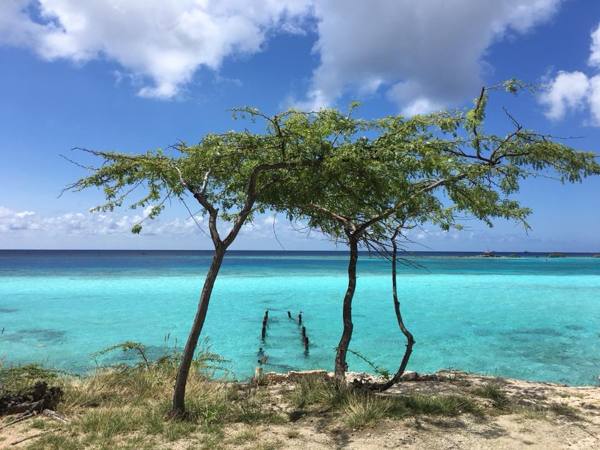 The photo above is shot from Spaans Lagoen, overlooking Mike's Reef – Here you can see the transition starting from the turquoise waters that will start to welcome you into the Mangel Halto zone.
MANGEL HALTO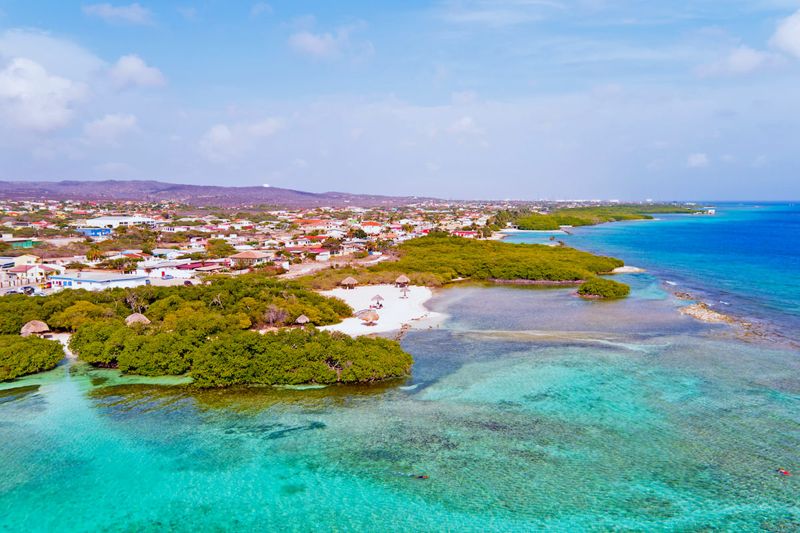 Mangel Halto is a name in Papiamento*, and yet, although the term 'mangel' is used to describe mangroves… Just as with many other words in Papiamento – the name can be perceived in different ways…
*Papiamento is the second official language of Aruba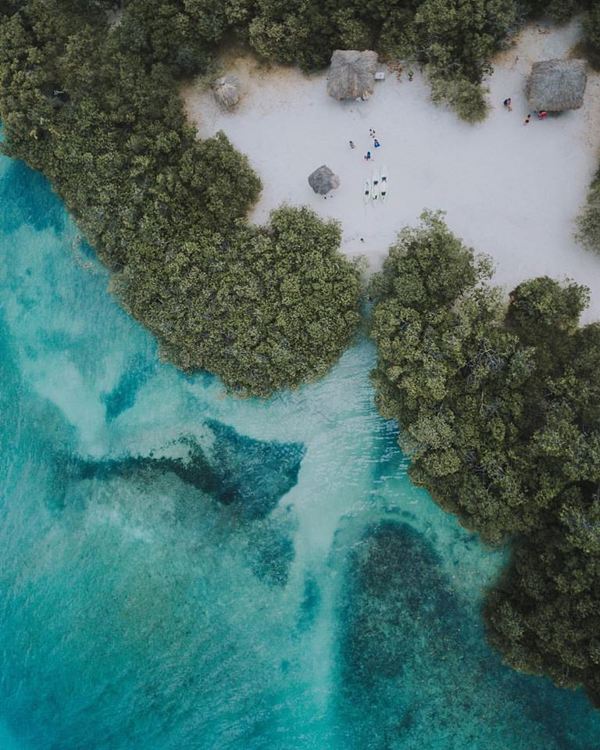 The go-to translation would be: 'Tall Mangroves', but if taken literally it could be translated as: 'Candy High'.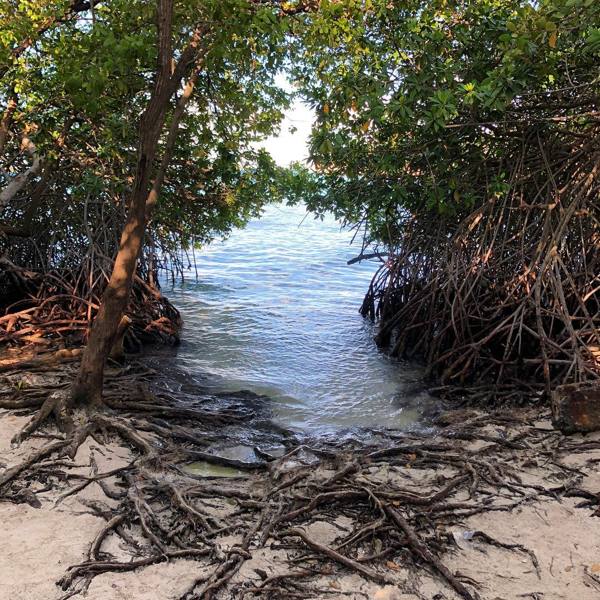 The waters at Mangel Halto are SO CLEAR, no wonder this spot is a favorite for snorkeling!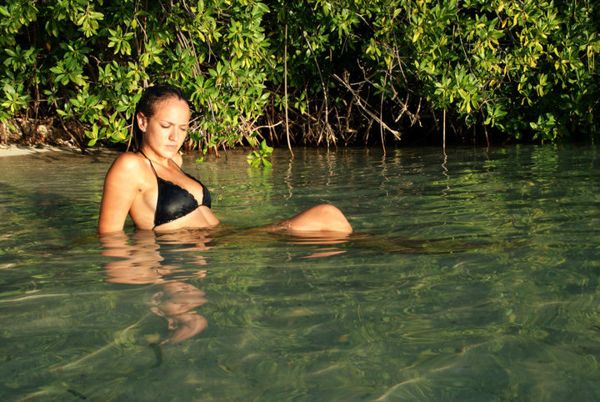 Speaking of underwater explorations…
Let's take a dip into the ocean and check out what aquatic creatures await nearby the mangrove trees.
Swimming with SEA LIFE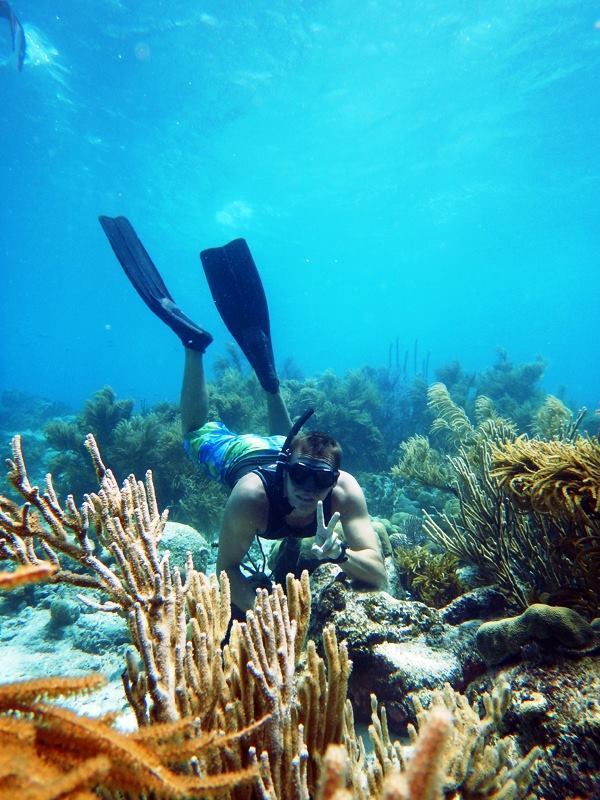 Snorkeler sending a peace sign and good vibes to the colorful corals… ✌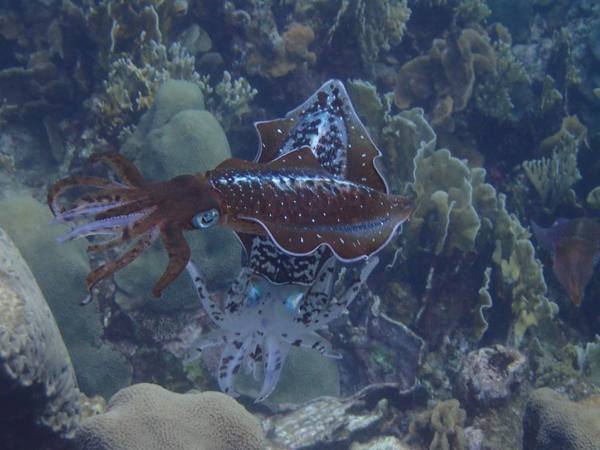 Caribbean reef squids having a little color-changing salsa… 🌈🦑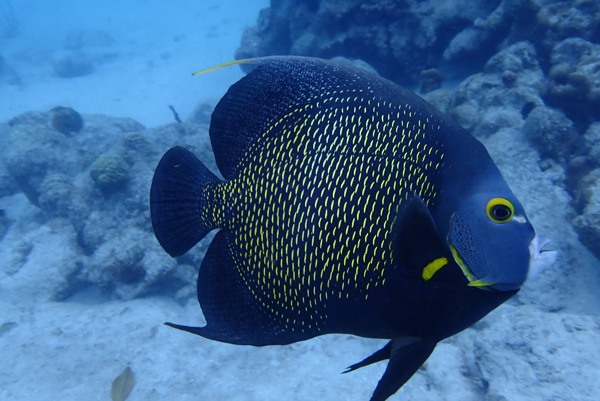 A French angelfish showing off its vibrant patterns… ✨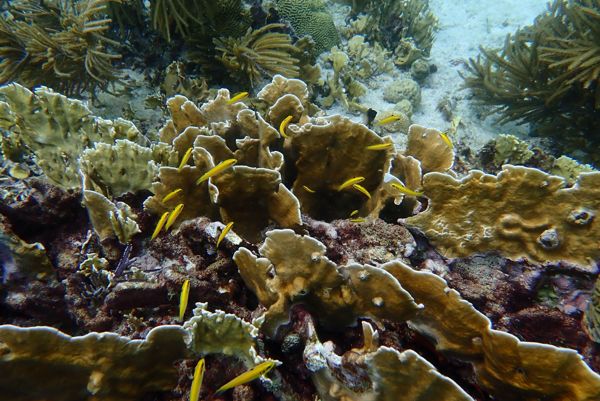 There is plenty of diversity to be found roaming around underwater, but there is also plenty of action to be seen above water too!
From birds who fish in the waters nestled between mangrove vines, to nesting in the trees, this beautiful ecosystem houses many different bird species too…
Soarin' birdlife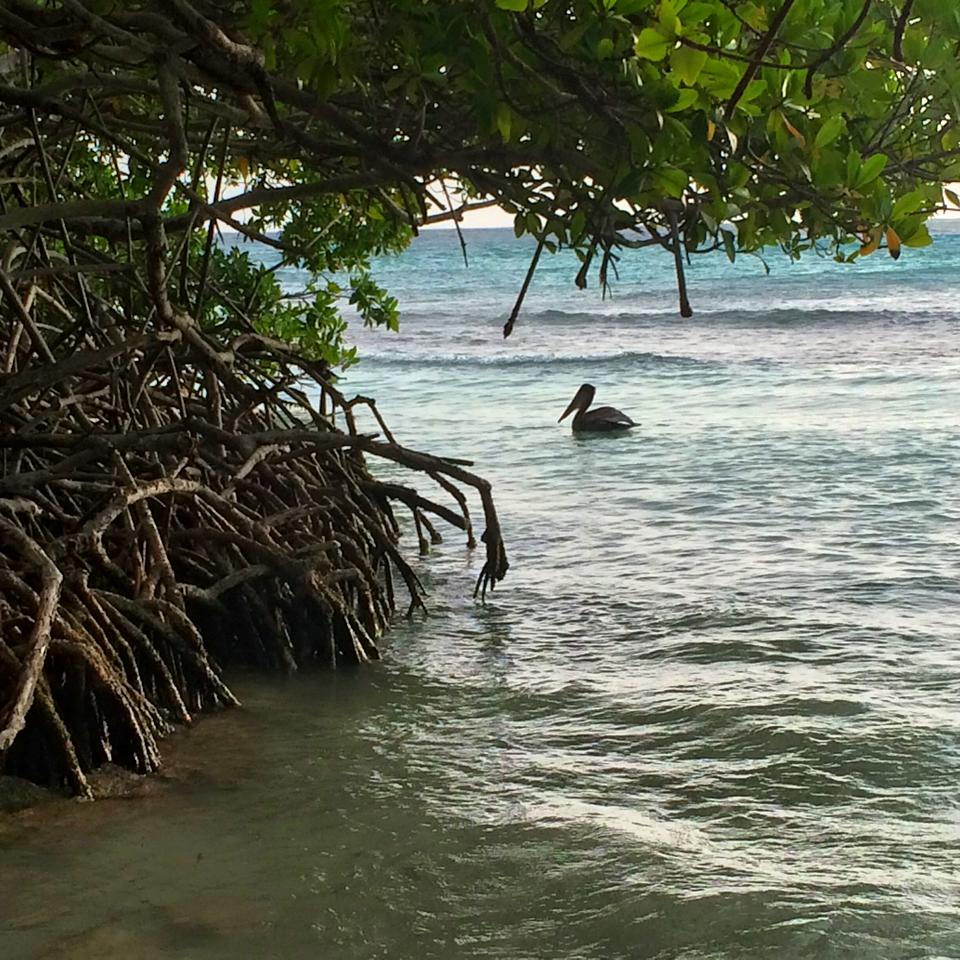 Birds of all sizes, colors, and quirks, visit the mangroves of Aruba.
Check out some more of our feathery friends that frolic about these parts of the island below!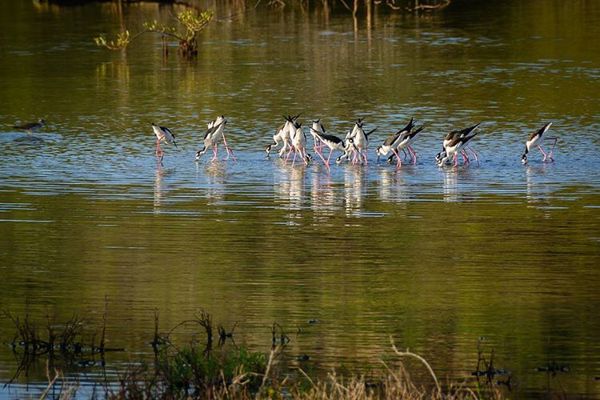 Black-necked stilts searching for dinner… 🕵‍🔎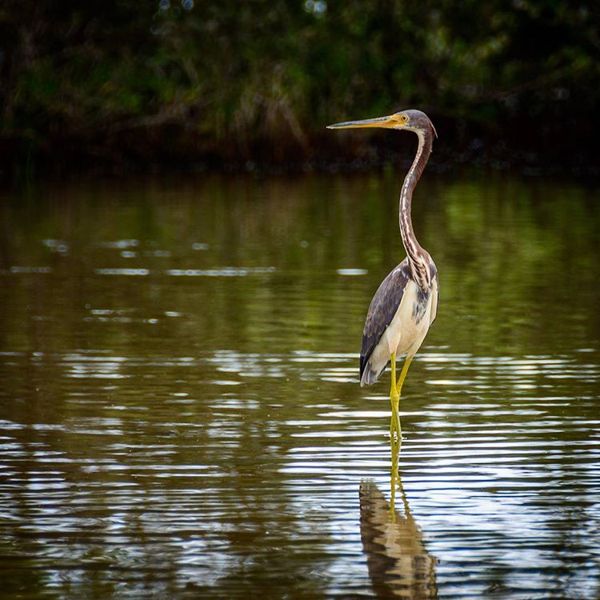 A tricolored heron strutting its stuff for the camera… 📸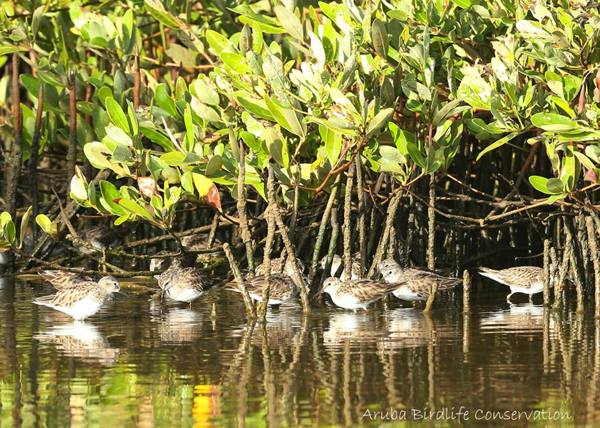 Least sandpipers picking at snacks near mangrove vines… 🦖
A barn swallow resting easily on a 'Hubada' branch at Spaans Lagoen… ☠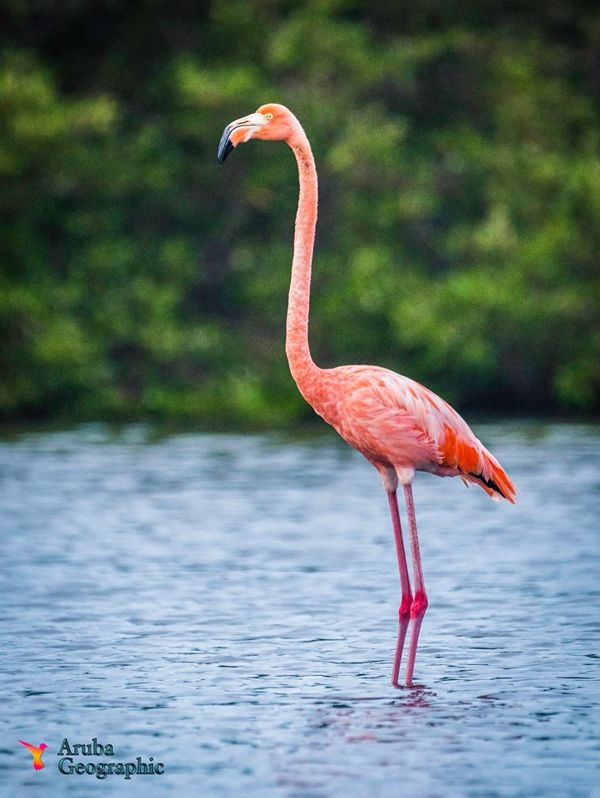 Flying fellas aren't the only ones that wander through the vines of mangrove trees… 👀
CRAWLIN' Crustaceans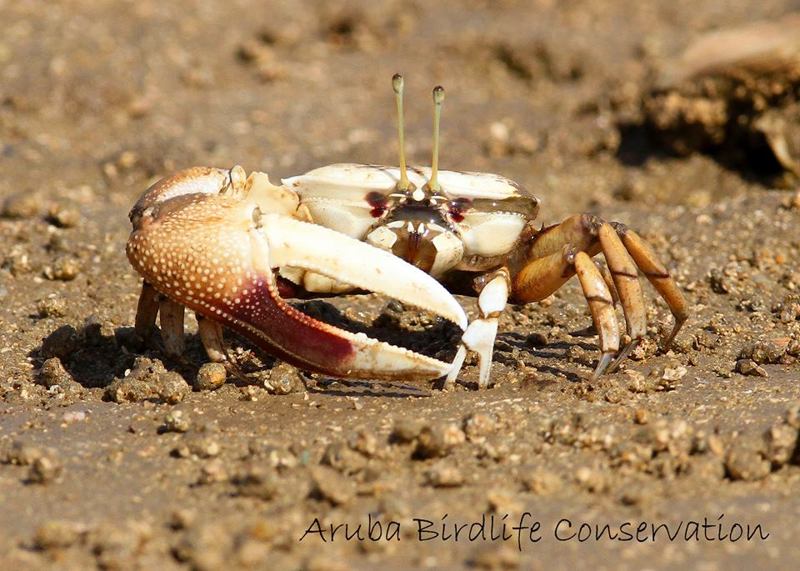 You can find the quirky fiddler crabs cleaning up around the mangroves… 🦀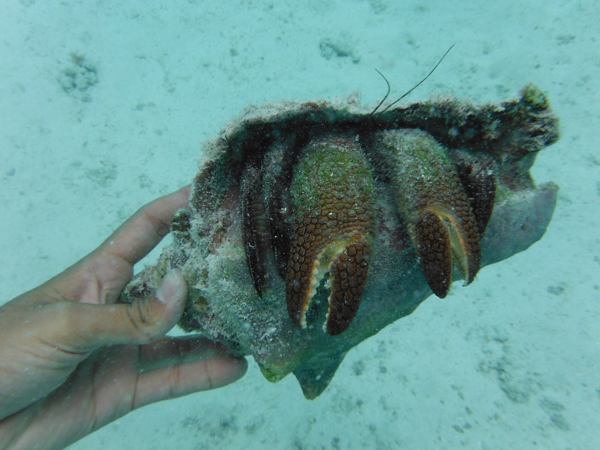 Hermit crabs can be found crawling around under the sea chilling in their shells… 🐚
A Message from Aruba reef care foundation:
*Video by Byron Boekhoudt // Aruba Reef Care Foundation
On that note…
We hope you learned something new today about Aruba, and how much life there is surrounding the existence of the mangrove ecosystem!
Keep up with our VisitAruba Blog, or follow us on Facebook, to STAY UP TO DATE WITH ARUBA!
P.S. SAVE THE DATE: August 16, 2018 – We're co-hosting a Chasing Coral screening at the university of aruba – see event details 🐠💦
*DISCLAIMER: The VisitAruba team does not promote physical interaction with wildlife.