Our team at VisitAruba.com is dedicated to consistently enhancing and upgrading our website, ensuring that it excels in content, design, and usefulness to our visitors.
As a leading travel destination website for Aruba, we prioritize providing accurate, up-to-date information, always keeping the user experience top of mind.
In addition to offering comprehensive details on tours, activities, dining, and beaches, we understand that aspiring Aruba visitors also seek guidance on the island's must-see attractions and sights to enhance their vacation itinerary. Some of the listed attractions and sights include the Natural Pool, Alto Vista Chapel, Arikok National Park, Califonia Lighthouse, Antilla Shipwreck, and more.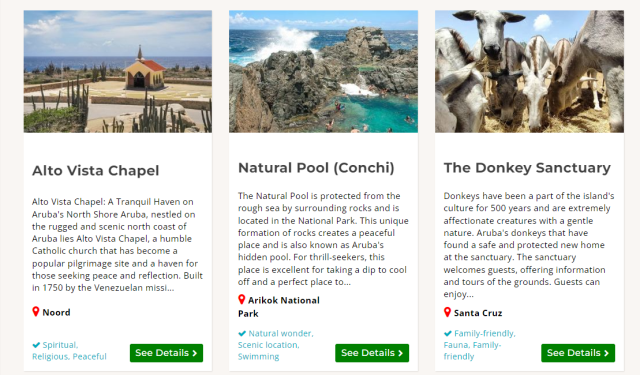 To simplify the browsing and vacation planning process, we have recently redesigned the presentation of over 35 of Aruba's most sought-after attractions and sights. Our goal is to provide you with easy access to valuable information and highlights for each attraction. Each attraction and sight includes specific helpful tips and highlights so that you can better prepare for your day of island exploration. Listings also include accurate Google Maps locations, nearby attractions, tours that stop at the attraction, as well as transportation methods for reaching the destination. Experience the newly revamped Attractions and Sights section on VisitAruba.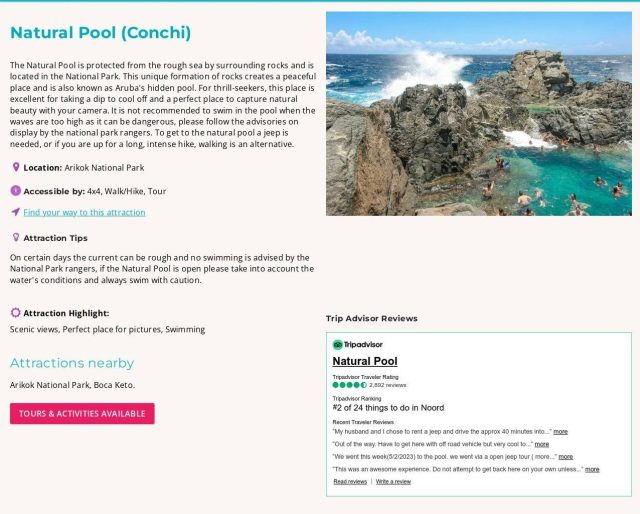 We invite you to explore our website to learn more about Aruba and to prepare for your vacation. Whether you're seeking relaxation, adventure, or cultural experiences, VisitAruba.com is your ultimate resource.