As a gesture of thanks to Bucuti & Tara's guests for their support over many years, Imeldahof management, represented by Jennyree Bovea and Nathalia Hernandez, gifted a painting.
The painting was created by one of the seven Roman Catholic Sisters of Bethani, Sister Lidwina van der Putte who in 1954 founded children's home 'Imeldahof'. Sister Lidwina was active in producing many pieces of art and the murals at the home. Together with the Children of the home, local artist Jean Vieira restored the original color to the 65-year-old painting to reveal its vibrance.
Pack for a Purpose is an international organization whose mission is to positively impact communities around the world by assisting travelers who want to take meaningful contributions to the destinations they visit.
The Pack for a Purpose organization started with a former teacher and her visit to Africa. Rebecca Rothney saw the need for support of local school children in schools and returned on her next visit with a suitcase filled with supplies. Since 2010, the organization has taken over 141,103 kilos of supplies to children in need in over 60 countries.
Bucuti & Tara Beach Resort is a proud member of Pack for a Purpose since August 2015 and in 2018 alone, delivered 423 kilos of donated items brought by guests in their suitcases.
"We will proudly hang this painting in the Resorts' hallway, where all guests can see this gesture of gratitude for their efforts. At Bucuti & Tara Beach Resort we are merely facilitators to this great initiative", says Ewald Biemans, owner/CEO of Bucuti & Tara Beach Resort. "Our guests deserve all the credit as they are buying supplies and gifting them to the Children of Imeldahof".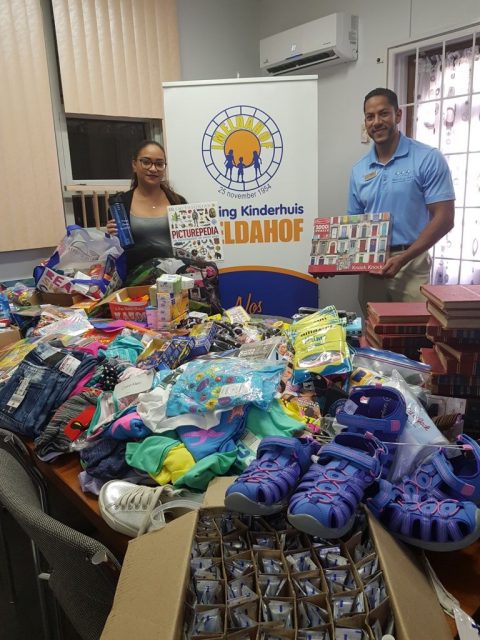 Article written by Bucuti & Tara Beach Resort