Looking to try something different this vacation? Have you found it's time for a new vacation experience after having stayed at plenty of hotel and resort chains?
Sure, Aruba's large beachfront resorts are nothing short of exceptional and make for an amazing stay (so amazing you may never want to leave)… but why not experience a different, unique kind of stay? One that allows for more of a local experience, offers adventure, an intimate and private atmosphere, relaxation, and budget-friendly rates!
Look no further, small apartment resorts are the answer.
Picture this: Personable and catered service of a boutique hotel, yet convenient amenities of a large resort. Allowing for more freedom and privacy as one would experience staying in an Airbnb (you know what all the cool kids are booking these days) however, still providing some of those handy hotel services we love. Yes, that's right you can have a little bit of both!
Check out our list of recommended small apartment resorts to consider for your stay in Aruba:
Paradera Park Apartments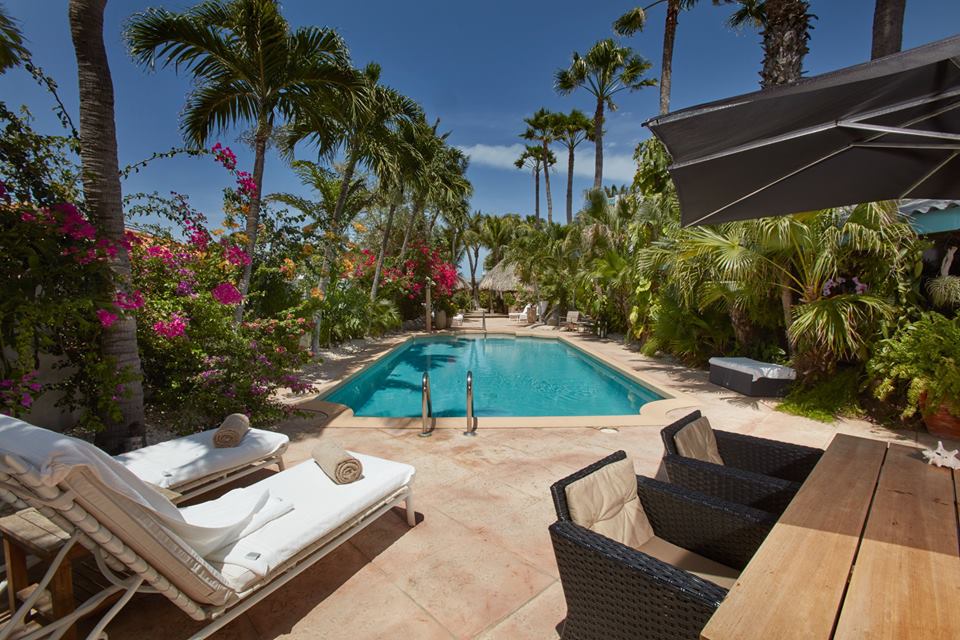 Tucked away in a beautiful residential area of Aruba, Paradera Park truly embodies an intimate oasis. The property consists of tropical gardens, a large refreshing pool, spacious rooms with a private patio, a quiet and central location, personalized service, and much more to fall in love with!
Highlight: This property exemplifies the theme, "Do not disturb", you will find yourself to be in an oasis of relaxation with no disturbances from the outside world.
Bubali Bliss Studios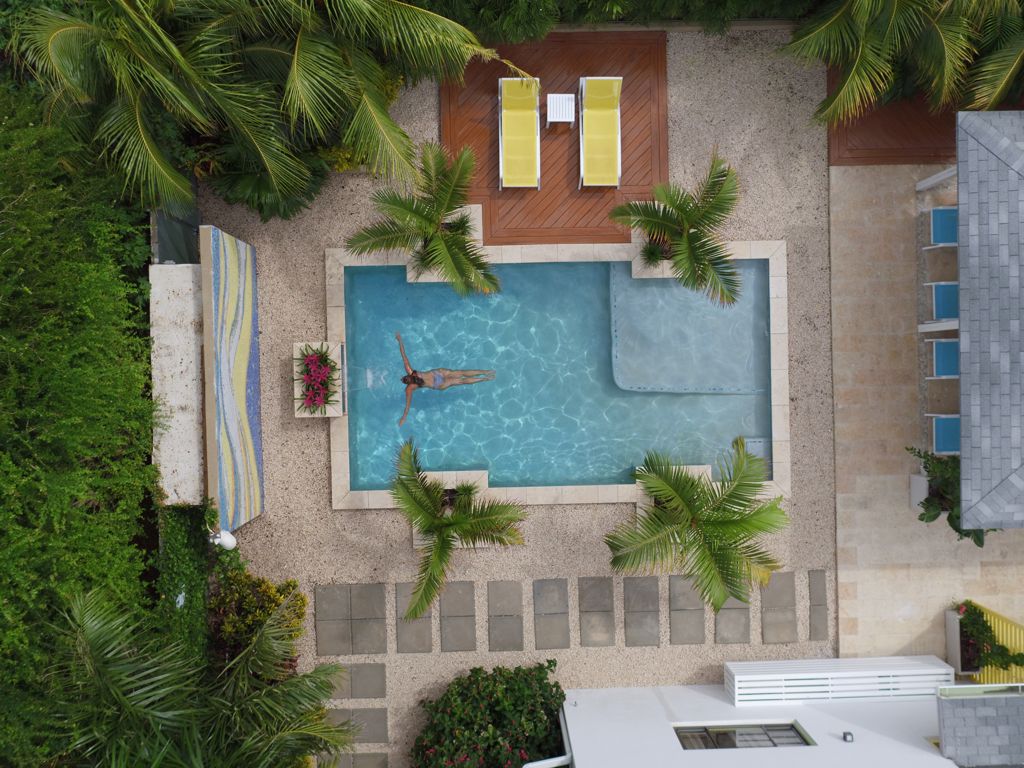 Is convenience a priority for you when it comes to vacation? Look no further, Bubali Bliss is the perfect choice for you! Located steps away from one of the island's best and biggest supermarkets, and just a 10-15 minute walk to the breathtaking Eagle Beach, what more could you need? The property is comprised of lovely modern apartments, a small sized pool and a tropical garden surrounding you making for quite the private atmosphere.
Highlight: Bubali has self check in, providing maximum flexibility for your trip!
Sea-Breeze Apartments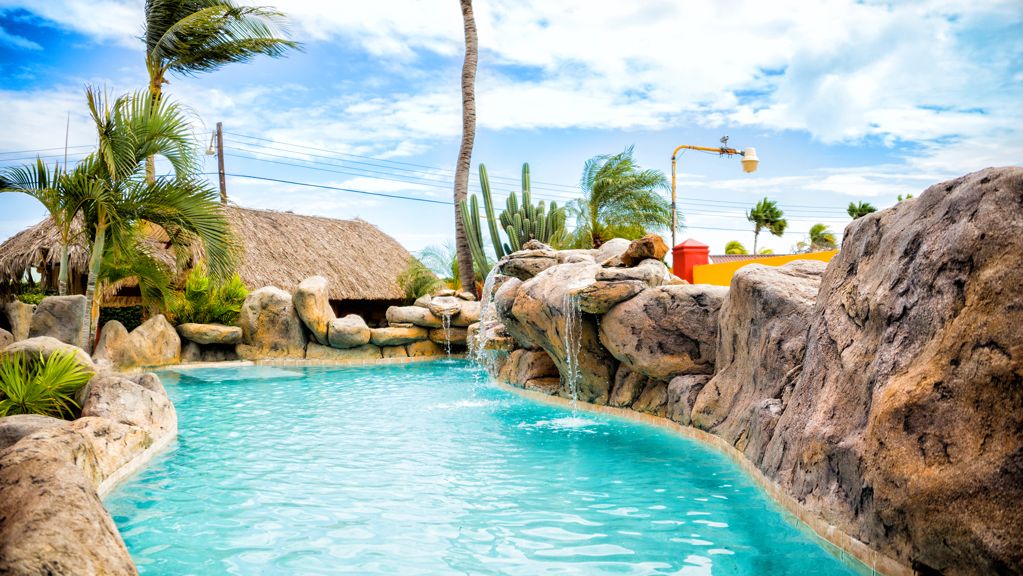 Unique, cozy and fun… Sea Breeze provides the perfect little stay in Aruba. They offer two convenient and attractive locations to choose from! Want something a bit more quiet, relaxing and steps away from one of the most beautiful snorkeling spots on the island? Located in Pos Chiquito, near Mangel Halto, Sea Breeze Ocean is close to the stunning attractions of the Southside of Aruba, yet only a short drive away from downtown. If complete relaxation is not your thing and you're looking for a bit more hustle and bustle, then opt for their Sea Breeze Town location, located in the center of downtown, Oranjestad.
Highlight: Best of both worlds, both locations allow for close proximity to beaches and Oranjestad, yet remain secluded enough for some peace and quiet.
Aruba Beach Villas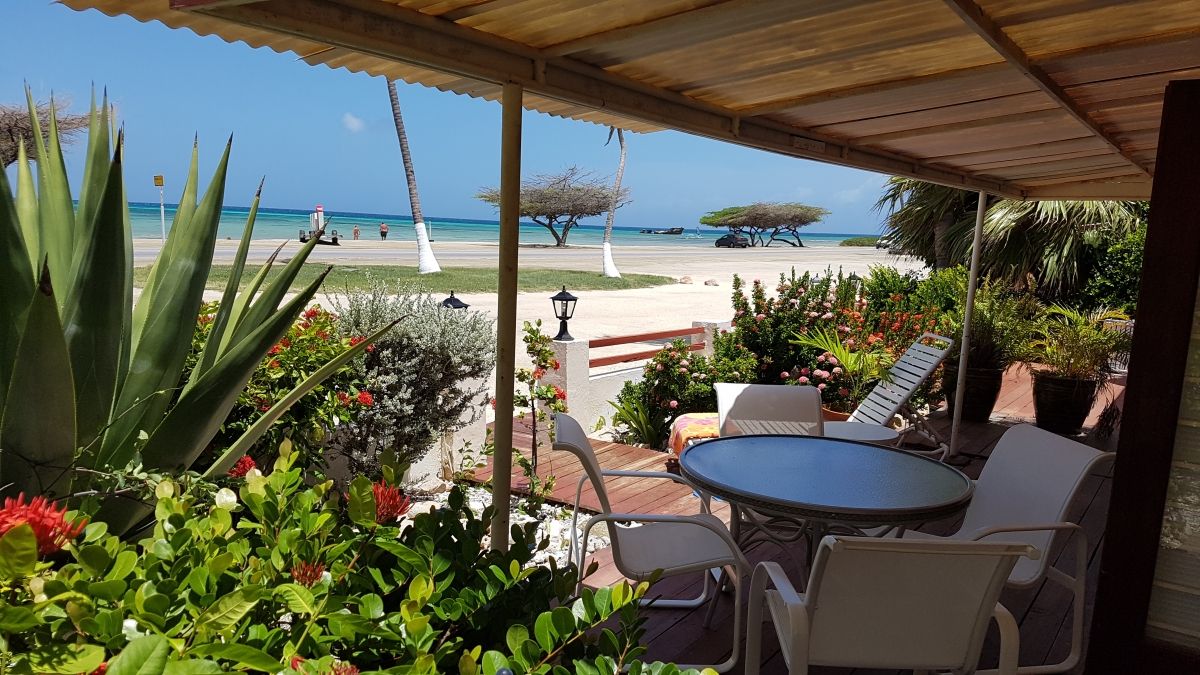 Three words: location, location, location! Located just across the street from Fisherman's Hut and Malmok Beach area, Aruba Beach Villas sits in a prime spot for beach lovers and water sport enthusiasts! The villas and property are simple, yet spacious and private, providing guests with any essentials needed for their stay.
Highlight: The ocean is just across the street, what more could you need? In case you get hungry or are looking for some entertainment head down the street to Palm Beach (within walking distance or a very short taxi ride)!
Boardwalk Boutique Hotel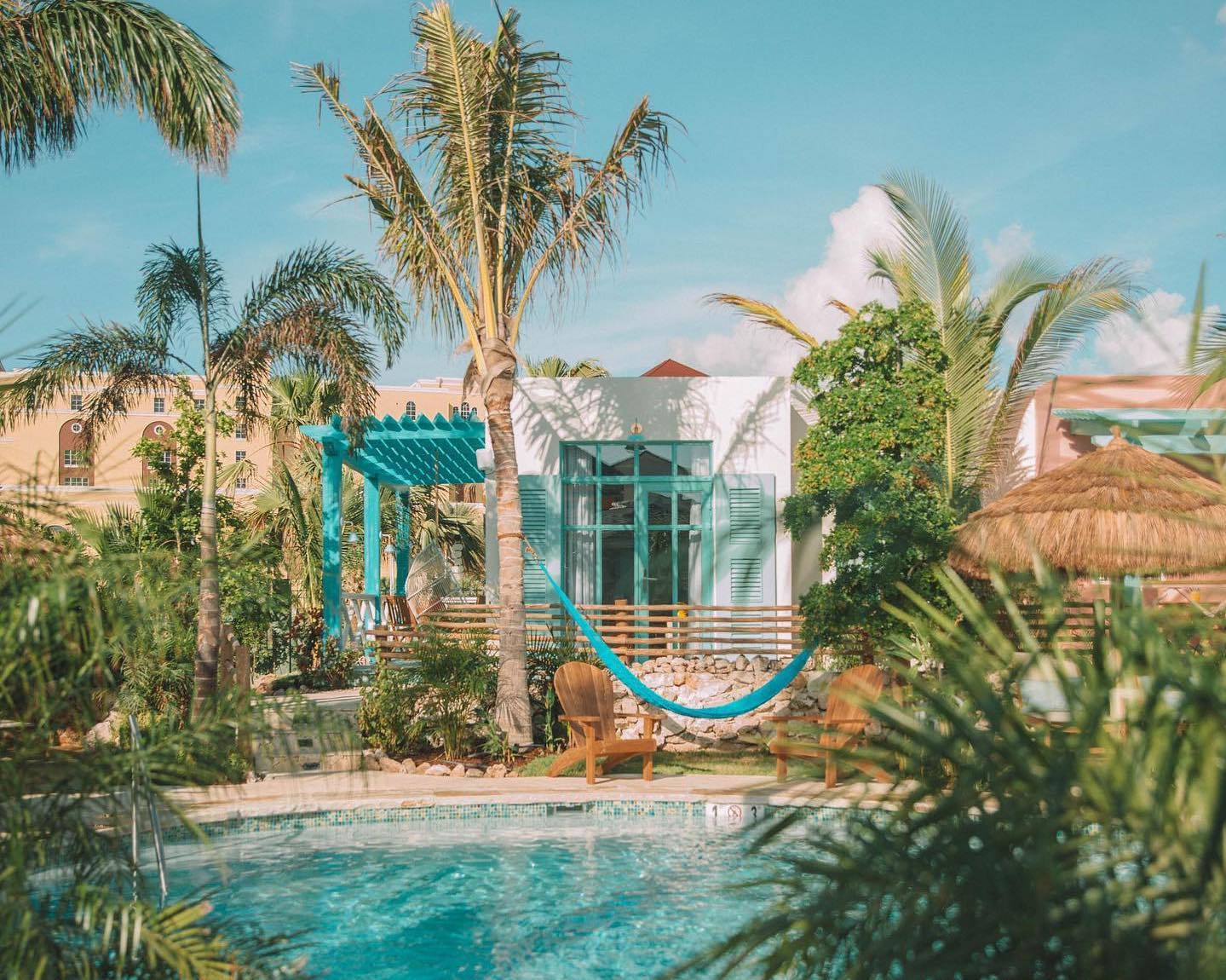 There is no doubt that Boardwalk will mesmerize you with their bright, vibrant tropical colors, lush gardens, charming casitas, and cozy and intimate atmosphere! Located on a former coconut plantation, every square inch of the property (both interior and outdoors) is charming, authentic, vibrant, cozy and intimate…it is pure paradise! The property is comprised of 14 unique, spread out casitas (a cute name for small house) with private patios. Each casita is decorated to tropical perfection and is filled with everything you need to make your stay one to remember!
Highlight: Boardwalk now has its very own beach area with palapas and lounges reserved just for their guests, only a short walk away, located across the street at Palm Beach!
Sasaki Apartments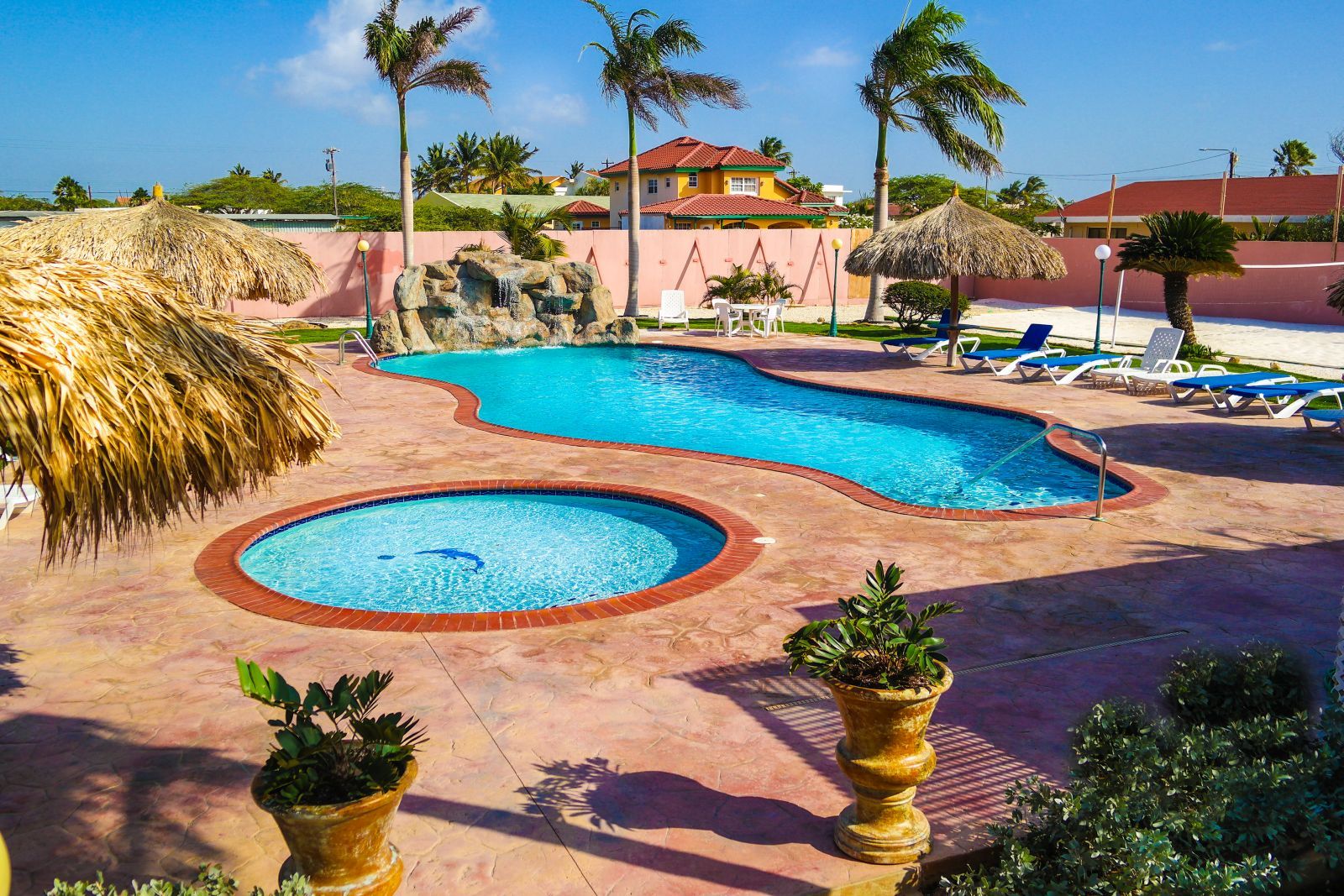 Everything about Sasaki screams convenience and comfort. The property, just as Bubali Bliss, is located right by one of the islands' biggest supermarkets and is just a short walk away from our beloved Eagle Beach! The property consists of spacious studio apartments, large pool, kids pool, large garden area and even a BBQ area!
Highlight: As the property is super spacious and equipped with lovely outdoor amenities, it is perfect for large groups and families!
Okay, enough with the vacation planning! Are you ready to book your much needed escape to paradise?
Discover a full list of accommodations in Aruba here and book your stay now!