You don't need to have a white Christmas to feel the holiday cheer. In Aruba we celebrate the holidays with events, music, and of course great food! Although the beaches are Aruba's main attraction, there is so much more to experience in this eventful time of year. If you are thinking about visiting Aruba this December, you will be interested in getting the locals' inside scoop of what to expect.
Street Decorations
The first sign indicating that it's that time of year again are the ornate streets of Aruba. Every year our streets come to life with lights, garlands, poinsettia flowers, and everything Christmas. In downtown Oranjestad you will see life-sized figures of the nativity scene, in front of the parliament building. In addition, 2015 was the first year that a Jewish Menorah was also displayed. Our culturally diverse population paves the path for embracing different religions and nationalities.
Aruba's roundabouts, or traffic circles, also undergo a complete makeover with elaborate decorations. Decorating roundabouts is a big event, because it sometimes turns into an undeclared contest between the different sponsor organizations. Each year local businesses are assigned a roundabout to decorate, and they invest a lot of creativity and effort in them. Santa sculptures, lit-up giant candy canes, and Christmas trees are some decorations you can expect to see.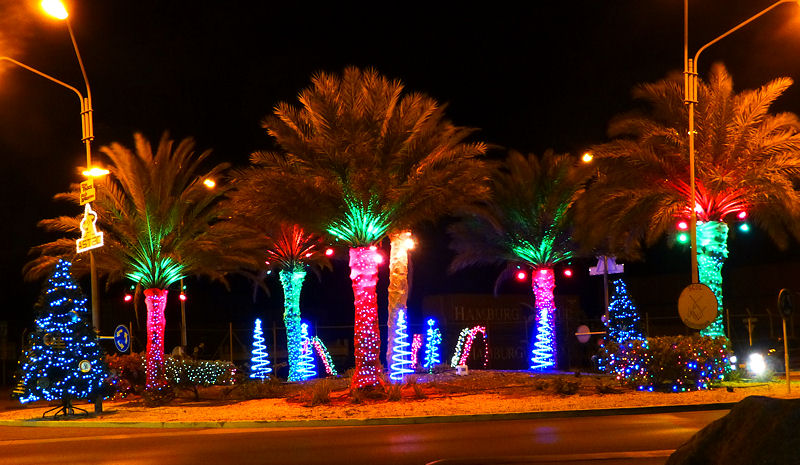 Christmas Trees & Lights
Aruba's warm weather does not stop us from decorating our Christmas trees! Every year real pine trees are imported from North America for people to purchase. If you decide to drive around the island on your own, you will notice several pop-up Christmas tree sales along the road. This might seem a bit unusual if you come from a cold country, but that's the Aruban way. Another thing you will notice while exploring the island at night, is that many families decorate their homes with Christmas lights.
One more holiday tradition, and a free and fun activity, is to visit the house of lights. The main house of lights is located in Seroe Preto, and literally looks like Santa's house! Every year people go back to do a walk-through and take pictures. There are a couple of tours taking place this time of year for visitors to see the different houses.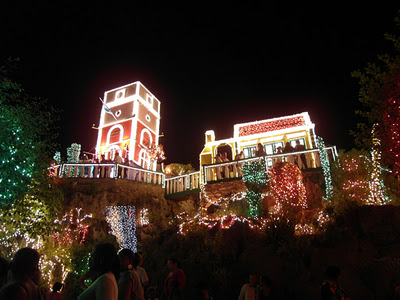 Gaita Music
Christmas in Aruba would not be complete without our holiday Gaitas. Although Gaitas are originally from Venezuela, we have found a way to adopt and customize this holiday tradition to make it our own. There are several popular bands that play at events, business, and restaurants this time of year. If you rent a car you will surely notice a lot of Gaitas playing on the radio, although you will also hear "Jingle Bells" and "White Christmas" from time to time. The distinctive sound of Christmas Gaitas originate for instruments including the maracas, cuatro, charrasca and tambora.
Shopping
Giving and receiving gifts is a big part of celebrating the holidays in Aruba. Good thing Aruba has so many stores to choose from! Downtown Oranjestad is a popular shopping location including, main street, Renaissance Mall, Renaissance Marketplace, and Royal Plaza Mall. The shopping malls in the Palm Beach area are also great shopping destinations. Although shops are open late on select nights during this season, don't wait until last minute to purchase your gifts! Almost all businesses, excluding restaurants, close early on Christmas eve and close all day on Christmas day.
Food & Restaurants
The main part of celebrating the holidays in Aruba is, of course, the food! Whether it's at a restaurant or in the intimacy of our homes, we love to feast. Many restaurants put together special holiday menus for everyone to enjoy these typical Aruban holiday delicacies. Find out more about Aruba Christmas specials.
A very popular Aruban holiday dish is the ayaca. Once more, this is a typical Venezuelan dish that has found its way to our hearts and tummies. If you go to the supermarket during your visit you will notice packs of plantain leaves being sold. The ayaca consists of a corn dough, filled with pork, chicken or beef, wrapped in a plantain leaf, and boiled. You must definitely try an ayaca while on the island. Along with the ayaca there are plenty of other holiday favorites including ham-filled bread, pineapple ham, and chicken with rice. If you're interested in trying to make these yourselves we have the authentic Aruban ayaca recipe!
New Year's Dande & Fireworks
After Christmas, we prepare to welcome the new year in style! New year's in Aruba is an entirely different experience in itself. This is when we start hearing Dande, a different type of music that specifically welcomes the new year. Dande consists of a band of musicians playing and singing from home to home. The band sings to each person in the home individually, wishing him or her a happy new year filled with blessings, health and prosperity. The singer has to demonstrate the ability to improvise while a hat is passed around so money can be deposited for good luck.
Fireworks sales begin the day after Christmas, and continue until the 31st of December. You will see a lot of containers along the streets and signs that say "Klap" or "Klapchi", which means fireworks. The great variety of fireworks gives everyone a chance to light and enjoy them. Although you will see fireworks being lit throughout the week, the main show begins when the clock strikes 12 on New Year's Eve, and the sky completely lights up. Many families like to welcome the new year from one of the island's high points such as Altovista or the California Lighthouse, to better appreciate the fireworks. Other families go to the beach at night time to view the firework shows organized by the hotels.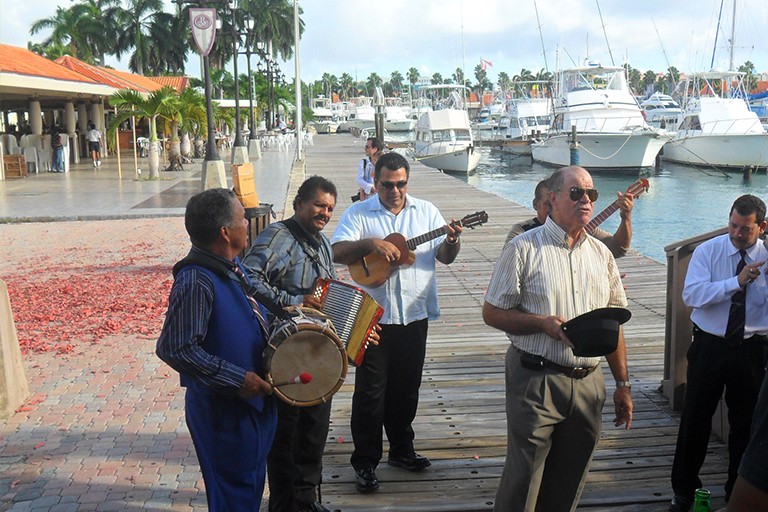 Now that you know a little bit about our holiday season, we hope you are excited to visit us and experience the holidays the Aruban way. If you can't make it this year, no worries. After New year's the party continues with preparations for Aruba's Carnival season!