Are you coming to Aruba soon? Then these tips might help you! We've put together a list of tips for you to take away some of the stress that comes with preparing your trip. We want to help make your vacation unforgettable!
Of course, the first thing you need to do is pack your bags. So let's go over that first.
Tip 1: What to pack?

Before you leave, you want to pack the right clothes and items. We can't go over every single item you should take with you, but we'll mention the most important ones.
Clothes – You may already know this, but the weather in Aruba can be pretty hot, so take clothes with you that are not too warm. Keep in mind that there is always a steady breeze in Aruba, making the warm weather bearable. Of course, don't forget your swimwear. At night, the temperature more or less stays the same. For cooler evenings (mainly around December and January), you might want to pack a light sweater, just in case.
These are the weather averages in Aruba throughout the year:

www.holiday-weather.com
So, the sun is shining most of the time, but even in Aruba we sometimes have our rainy days. Most of the rain falls between September and January. If you're not scared of some warm rain drops here and there, then no need to pack your rain jacket. Rain generally passes by relatively quickly; the sun will soon make its appearance again!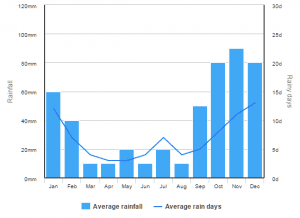 www.holiday-weather.com
Chargers
You also want to make sure you can charge your phone, camera or laptop. If you're from the USA or Canada, you don't have to worry. Aruba adopted the voltage standard of 110V, the same as in the USA and Canada.
However, if you're not from the USA or Canada, you might want to check if your devices need 220V or 110V, for example. If you need 220V or 240V(European and UK voltage), then you may need a converter. Many device transformers these days (e.g. for laptops, phones etc.) work with both US and European voltages so maybe all you will need is a converter for the plug to make sure your device can plug into the US-style 110V wall-sockets we use in Aruba. You can buy these in your home country or in Aruba at hardware stores or smaller supermarkets for a low price.
The list of things you should pack is too long to talk about in this article, so if you want to know what we suggest taking with you, click here for a packing list we've made for you!
Tip 2: Protect your skin
When in Aruba, don't forget to protect your skin with sunscreen every couple of hours, especially after swimming. If you're looking to get a nice tan, still use sunscreen. The constant wind on the island (and sometimes clouds) can make it feel like the sun isn't burning that much, but it does.
Also, if you think the shade of the huts will do just fine, you're wrong. The white beaches reflect the strong UV radiation right onto your skin. You're better off using sunscreen in the end. The tan will come!
You can use regular sunscreen, or you can use the water resistant aloe vera sunscreen. The aloe vera in sunscreen is locally grown in Aruba (smells nice!). You can find aloe vera everywhere!
Tip 3: Money

The currency in Aruba is the florin (Awg. or Afl.), but every place accepts US dollars too. You can withdraw both florins and US dollars from several ATMs (not all) if you want to keep using US dollars. Otherwise you need to go to the bank or casino to exchange your money.
Most places, like shops and hotels, grant a rate of exchange ranging from Awg. 1.75 to Awg. 1.80 per US dollar.
Let's say you want to know how much florin your 5 US dollars is worth in Aruban florins. Multiply 5 by 1.75, and there you go! This also works the other way around by simply dividing the florin price by 1.75, which will give you the dollar price.
More information about currencies and exchange rates can be found here.
Tipping
In Aruba it's not mandatory to tip, but it's your choice if you do so. However, some restaurants and bars add service charge to your bill. Usually, this adds up to about 10 to 15 percent on food and beverages. If you really like the service, you can still tip, of course!
Can't wait to see all the lovely menus? Find your favorite restaurant here.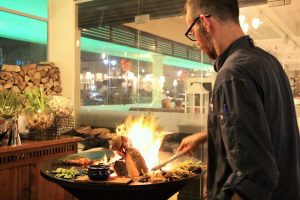 Tip 4: Language

Even though the main language in Aruba is Papiamento, most people can speak and understand Dutch and English too. Many people also speak and understand Spanish.
If you really want to impress people on the island, have a look at this small list of useful words in Papiamento we put together for you.
Tip 5: No need to buy water

The electricity in Aruba is a by-product of the water desalination process. The tap water in Aruba is of high quality and perfectly safe to drink.
Extra tip: Always keep drinking water, especially when you're at the beach. You want to be careful with excessive exposure to direct sunlight. You don't want to be out in the heat without water for too long. Keep drinking water and you'll be fine!
Tip 6: Shopping

In Aruba you can do two kinds of shopping; shopping in the hotel area or shopping in Oranjestad, the capital of Aruba. Most hotels in Aruba have gift shops and specialty stores.
If you arrive by cruise ship, you walk right into the shopping area where you can find all kinds of different stores. If you're coming from the hotels, you can take a taxi, rent a car or go by bus.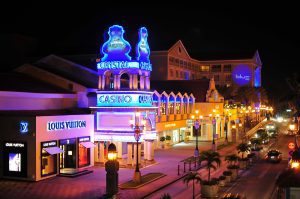 There are several malls in Aruba where you can go to do your shopping, such as Renaissance Mall , Palm Beach Plaza Mall and Paseo Herencia Mall. For more information about malls in Aruba, go check out our list of malls.
If you're interested in shopping discounts, check out this page!
Tip 7: Getting around
There are several ways to get around on the island. The most convenient way is by car, but you can find other ways to get from point A to point B.
Car rental
Renting a car is the safest and easiest way to get around on the island. There are dozens of car rentals with good quality cars. Click here for a list of car rentals.
Bike rental
Renting a bike is a bit more dangerous. Since there are no biking lanes, it is harder to get around. You have to ride on the same road as cars do, which can be tricky sometimes. Lots of roads in Aruba are sandy, off-road looking roads. Biking here can be tough. Something else to keep in mind is that stray dogs might show up at night.
If you still like biking, what you should consider is renting a mountain bike and go for a mountain biking trip! You can find more info about mountain bikes on this page.
Taxi
Another way to get around is to call a taxi. In Aruba, it's not usual to hail a cab off the street. There are lots of different cabs you can call, and they are all familiar with the places you want to go to.
The prices are always fixed. You pay for the cab, not the amount of people. Click here to see the fares and regulations.
Tip 8: Go with the flow

From the moment your plane lands till the moment you leave, you have to adapt to the Aruban lifestyle. The mindset in Aruba is different than in the USA, for example. Everything moves at a slightly slower pace. People worry less (one happy island), and everything will be alright. There is no need to rush. Just let it all go and enjoy your vacation.
Bonus tip
Do you want to make your trip to Aruba even easier? Try out the free VisitAruba app! Use it to find useful information, plan your activities, use maps, book restaurants and more!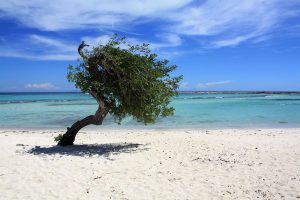 Tip 9: Emergencies

Let's hope it's not necessary, but it's good to know. In case of an emergency, you can call 911 for an ambulance or the fire department. For the police, you can call 100.
The Dr. Horacio Oduber Hospital is local near Eagle Beach, within close proximity to the low and high rise hotels. You can find more information about medical and emergency services on this page.
Tip 10: Have fun!

The most important tip is to have fun! Enjoy your vacation, don't worry too much and enjoy the happy lifestyle in Aruba. Go around, explore, discover and have a great time!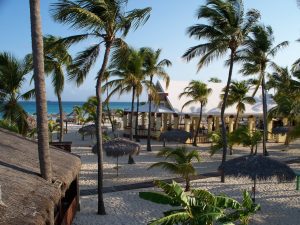 Are you making plans already? Make sure to check out all the things you can do in Aruba!