Did you know that San Nicolas, aka Sunrise City, is a major hot spot for eye candy when it comes to the visual arts in Aruba?
San Nicolas (SN) is Aruba's very own budding Art District, and if you haven't been yet, you need to go treat your eyes to some aesthetically-pleasing goodies by visiting Sunrise City.
Discover a few beauties that are true vitamina pa wowo* that you can experience in San Nicolas, Aruba, below!
Mosaic Benches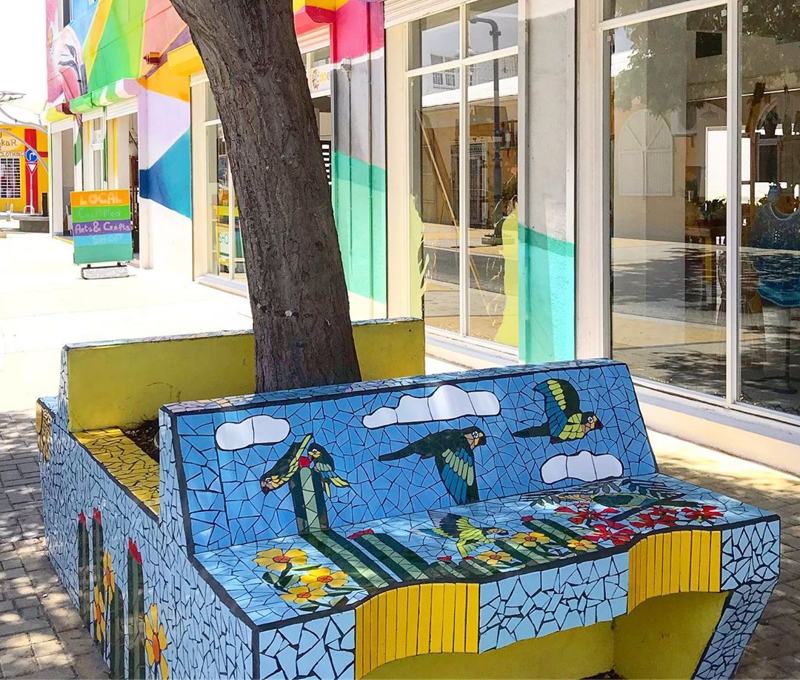 The mosaic street benches are most definitely worth your trip to the One Happy Island's south side. These colorful benches that decorate main street San Nicolas aren't just pretty to look at from a distance, once you check them out up close, you'll realize that there's so much fine detail work that was done when creating the pieces.
Each year artists add more and more colorfully-designed mosaic benches to the San Nicolas streets, and it's safe to say no one's denying this creative expression. It's always a pleasure to see the new creations. Not to mention, another reason to take a trip back to our Sunrise City.
*Photos by @wanderery_alice, @margoschachter & @ninablackblack
Street Art Murals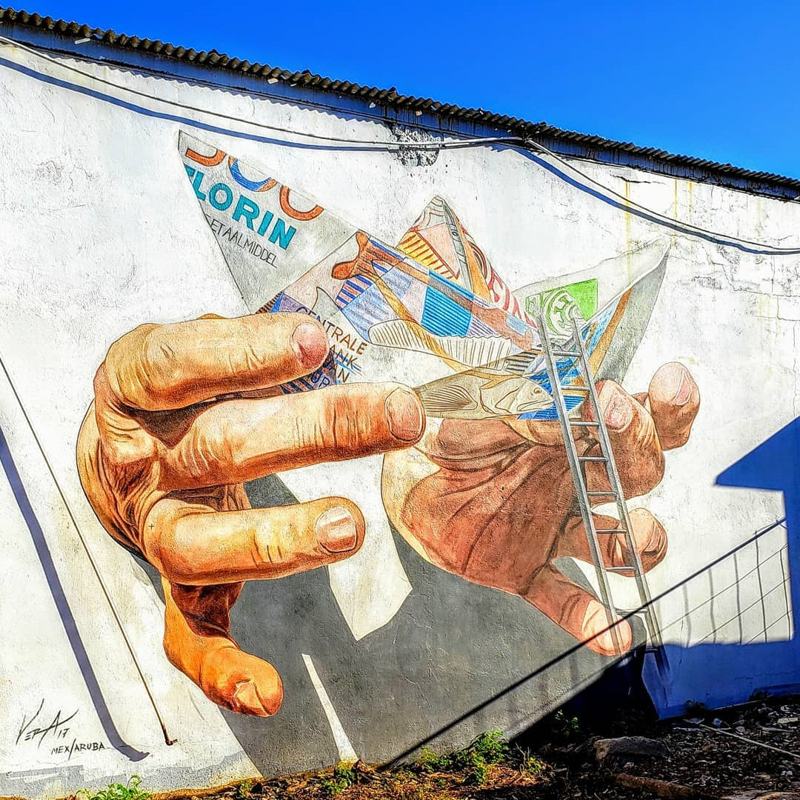 Just as with the mosaic benches, an initiative started and pushed by Aruba Art Fair organizers, the street art murals in San Nicolas are a big hit for both locals and visitors alike. This ongoing project has literally livened up the streets with all of the bright, and often times thought-provoking, designs.
These street art murals are gorgeously crafted by both international and local artists, and I can't get enough of them! Each mural is different than the other, which makes for a diverse collection of street art to be enjoyed by the public. Worth snapping a pic? Heck to the yes – and don't let anyone shame you in your street art appreciation game.
*Photos by @tyrelrice
Cosecha Aruba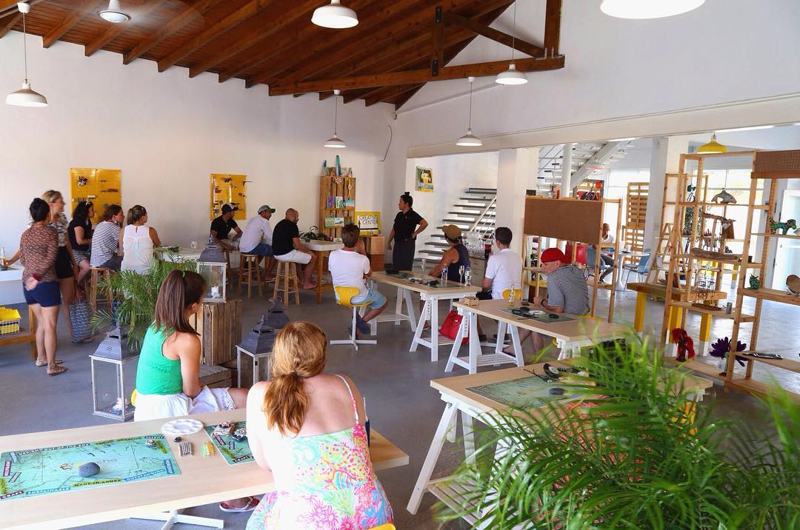 Get to know the local artisans and creatives at Cosecha Aruba's gallery and creative center, where all of the art pieces are handmade in Aruba!
"Cosecha is a store created for the purpose of giving local artists & artisans a place to display and sell their products. All of the artists & artisans have a SEYO (a Seal of Authentication), this is a proof that the pieces in Cosecha are guaranteed to have been made on our island, Aruba."
–Cosecha Aruba
If you're looking to delve into some creative expression on the One Happy Island, than this is the place to be. Cosecha regularly hosts various 1-day workshops where you get to create your own art piece in Aruba with the guidance of one of their certified artists.
Opening Hours: Mondays 1PM – 6PM & Tuesday – Saturday 10AM – 6PM
*Photos by @cosecha_aruba
Biblioteca Nacional Aruba – San Nicolas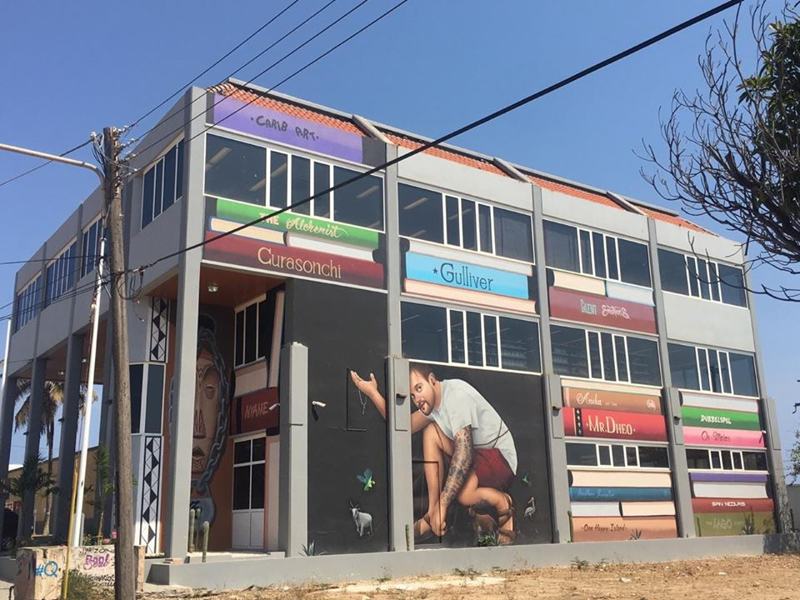 Biblioteca Nacional Aruba, aka Aruba's National Library, has a second library building that is located in San Nicolas on Peter Stuyvesantstraat. As you may notice in the images, our San Nicolas library is quite the artistic-looking establishment. This is actually a part of their new look which was presented to the public in April 2019 when they announced their opening after fresh renovation work.
Bring back the love for libraries and check out their collection of art books and other diverse reads. They even have a designated study space for those who are seeking some quiet reading and/or research time. Biblioteca Nacional Aruba – San Nicolas also frequently collaborates with creatives in hosting art expos, and they are normally one of the exhibition locations for the next SN artsy-must-see on this list.
Opening Hours: Mondays, Wednesdays + Fridays 8AM – 5PM
& Tuesdays + Thursdays 8AM – 7PM
*Photos by Biblioteca Nacional Aruba
Aruba Art Fair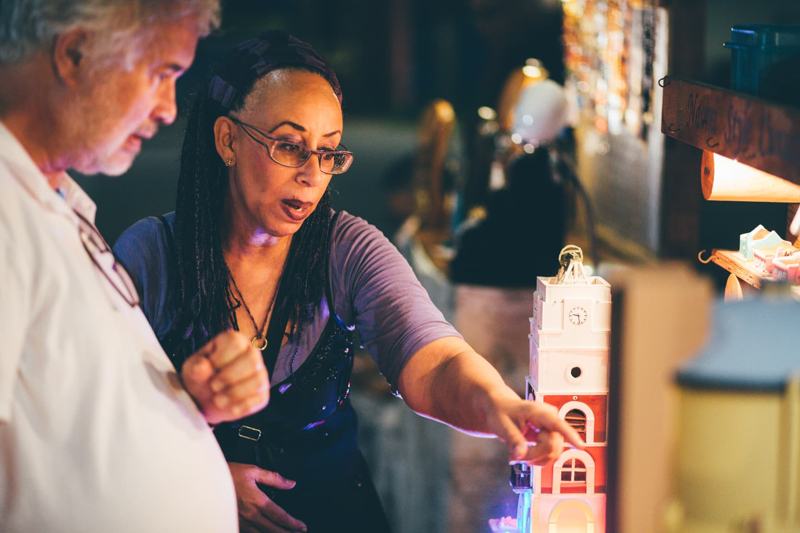 The annual Aruba Art Fair (AAF), which first launched back in 2016, presents an eventful weekend of art exhibitions and special artsy festivities in San Nicolas. This exceptional experience promises for visually-intriguing art works created by over 100 artists and artisans (both local and international), more than 60 performance artists, live painting sessions, and so much more!
AAF further promotes art in Aruba by hosting their Youth Art Fair where pieces are displayed from 25+ up and coming artists ages 9 to 17. They also organize a Nature & Faces photography competition where lovers of photography, professionals and newcomers alike, can submit their inspiring shots to be shared with the world.
🎨Discover the details for this year's Aruba Art Fair
*Photos by Aruba Art Fair,  @fundacionfenicelarralde and @arubabonbini
ArtFashion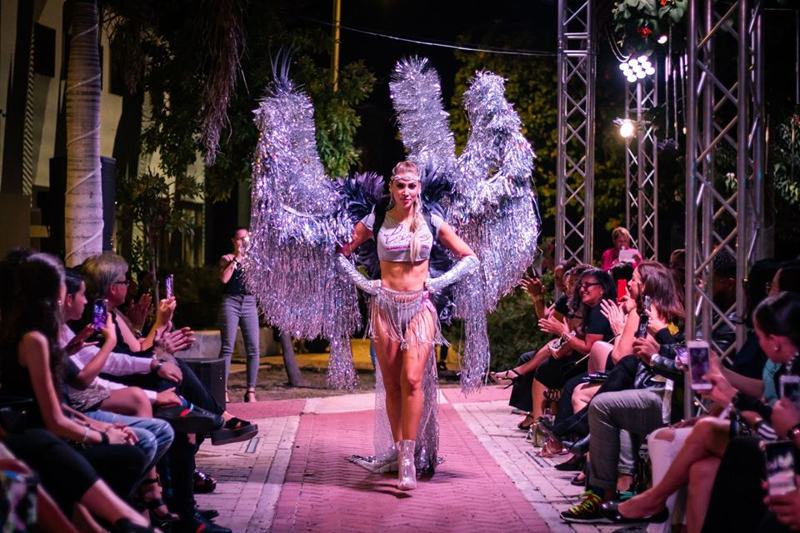 A sister project of Aruba Art Fair, ArtFashion, is quite the groovy concept where the line between fashion and art fades, and designers get to display their artistic fashion collections.  I got to live through firsthand behind-the-scenes experience of ArtFashion in 2018 by having volunteered as the Production Manager, and it was thrilling – to say the least!
It's truly incredible to get to see the creations of local and international artists, and their perspective on mixing fashion with art. Let's not forget that ArtFashion, with their slogan being Fashion with a Cause, has also consistently chosen to have their event themes highlight important social matters. Their 2018 theme, Speak Up!, highlighted numerous topics from environmental awareness, to body positivity, to female empowerment. Whereas their 2019 theme, Breaking the Silence, focused specifically on mental health awareness.
*Photos by dylxn_photogrxphy, @ivanajansen_ and Gillian G Studio
If you're looking to experience San Nicolas, Aruba's gorgeous art culture, but would also like to indulge in local foods, I'd highly recommend checking out one (or both – hehe) of the following monthly  events too: Meet San Nicolas & Island Fest. Until next time, Aruba Lovers!
*Vitamina pa wowo: eye candy, or vitamins for the eyes
*Feature photo by Experience San Nicolas