Prepare yourselves ladies and gentleman, strap yourselves in, pull that bandana up over your face, and start those engines… do you feel that heavy rumble taking over your body? That means it's time to hit the road!
As you may have guessed it, yes I am referring to none other than adrenaline rushing, down and dirty UTV off-roading!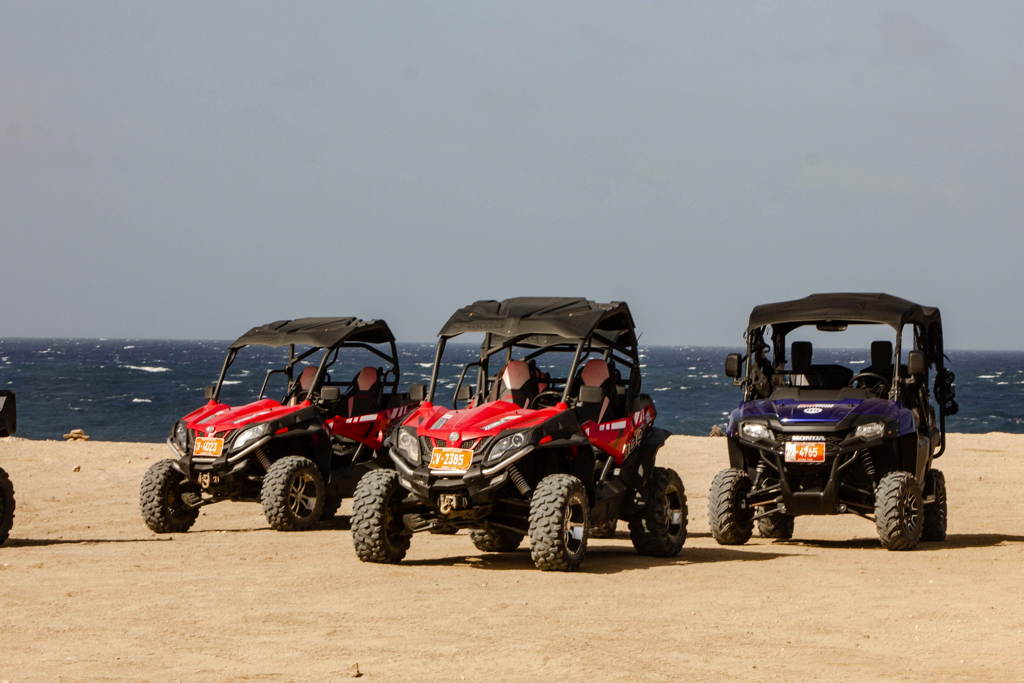 My colleague Randy and I were lucky enough to join Aruba's Secret Places Adventure Tour with Fofoti Tours. It was a fully packed day, a true island adventure (not designed for the weak and weary), lasting 7 hours, it entailed discovering Aruba's beautiful history, stunning landscape, mesmerizing beaches, breathtaking nature and of course –  exploring those secret spots!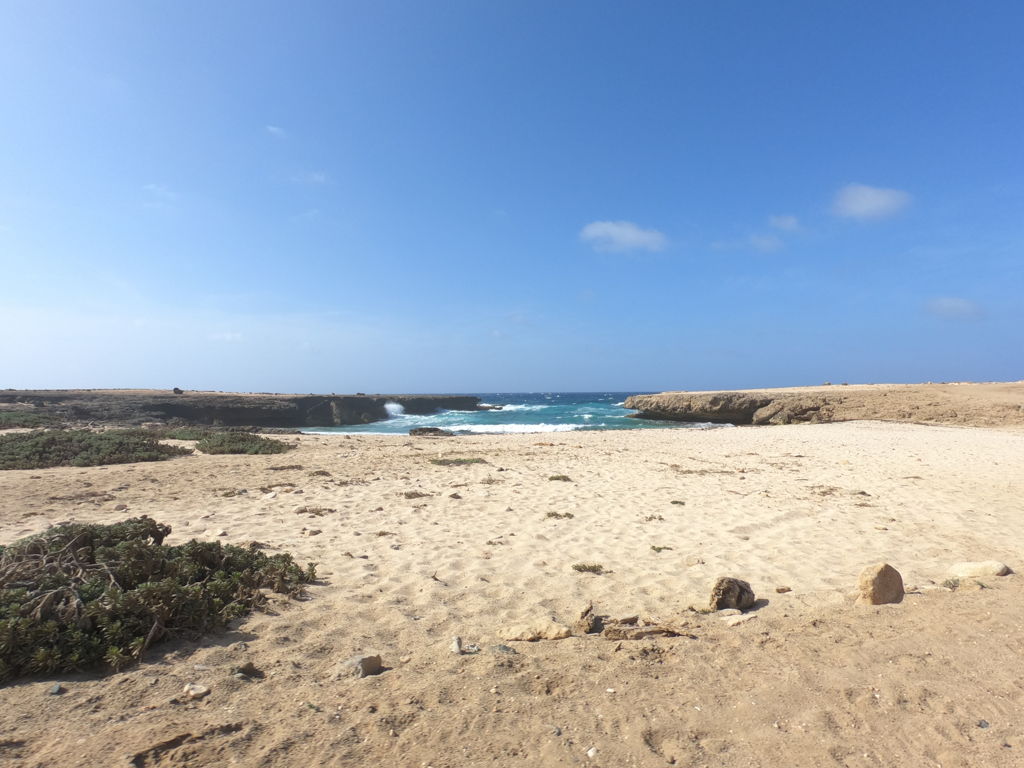 This tour is all about exploring hard to reach places that you've never seen before… all while learning a lot along the way!
Whether you are a repeat or first-time visitor, this tour is a MUST-DO! Even as a local resident myself, I was amazed at the new knowledge I was able to soak in and all of the beauty I came across during this tour, it is truly impressive.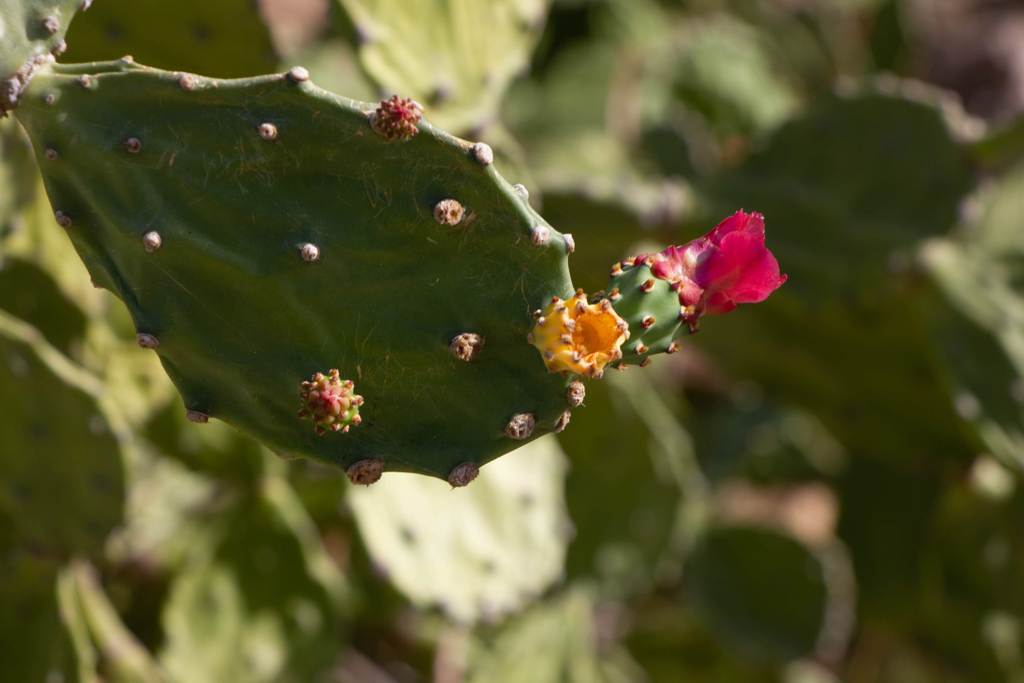 Important Notice: Before we hit the road, I would like to start off by reminding all of our adventure seekers that the ONLY mark you want to leave behind is a trail of dust clouds. It is extremely important to never veer off the path before you, always follow your tour guide and not to interfere with Aruba's nature and wildlife by any means! Much of Aruba's wildlife cannot be seen by the naked eye, such as the small owls, known as Shoco (they are adorable little creatures). Shocos nest in the dirt and sometimes in small rock rubble. It is OUR responsibility as tourists and locals to preserve and respect this island's beauty and wildlife as best we can!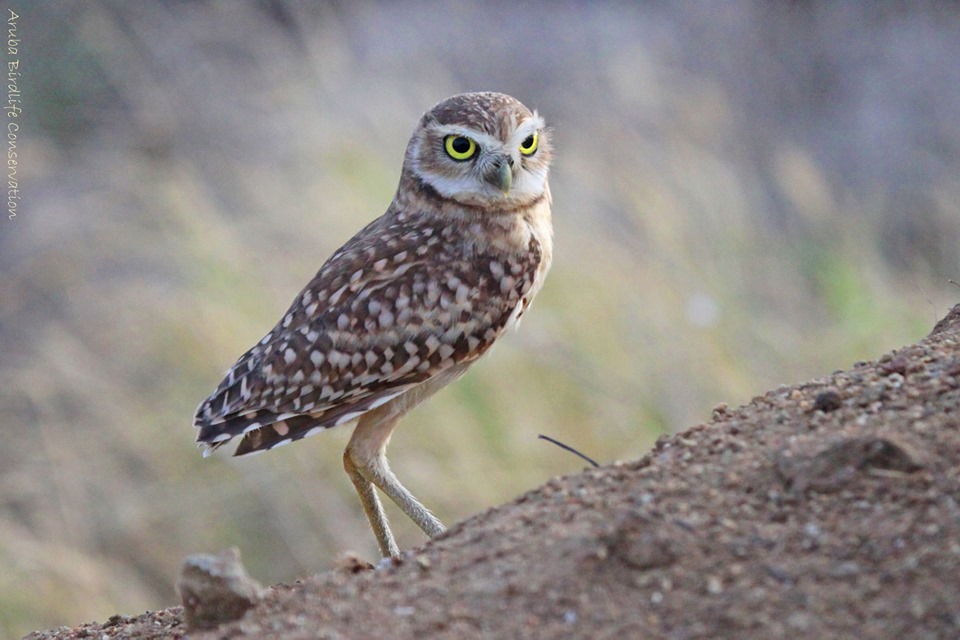 Okay, now that we've gotten that critical PSA over with, shall we continue?
Get ready and prepare yourself for a bumpy, exhilarating and thrilling ride!
Check out all of the sights and natural wonders we were able explore – thanks to our awesome tour guide Vince who lead the way!
Don't miss our video at the end of this blog to witness real, actual footage of our ultimate island adventure!
Frenchman's Pass
After receiving a very warm welcome at Fofoti's office it was time to get strapped in and hit the road!
We started off our journey by heading South to Frenchman's Pass, a unique starting point for our island exploration.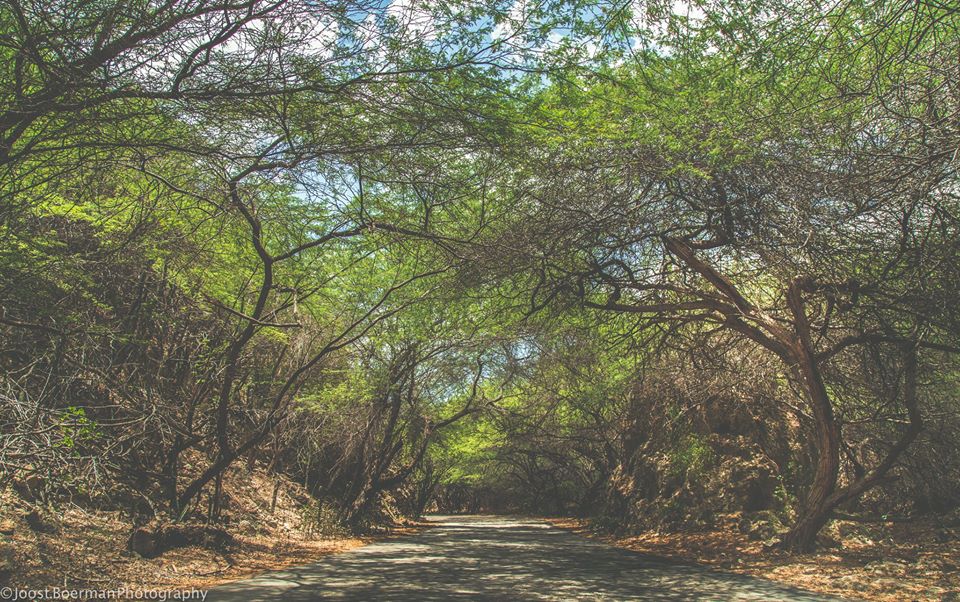 Frenchman's Pass is a beautiful narrow passage draped in greenery leading to the Balashi Gold Mill Ruins. It is said in the 16th Century the Indians of the island tried to defend the passage from French pirates who were trying to invade Aruba. Hence the name, Frenchman's Pass!
Balashi Gold Mill Ruins
This site consists of ruins of an old gold mill. It is quite a peaceful and pretty sight to see! The ruin remains are surrounded by large cacti, vegetation and flowers. A great backdrop for a photo op! After the ruins we took a scenic route to San Nicolas, passing the oh-so-very-blue and mesmerizing Mangel Halto and the Spanish Lagoon, as well as the Korps Mariners Base.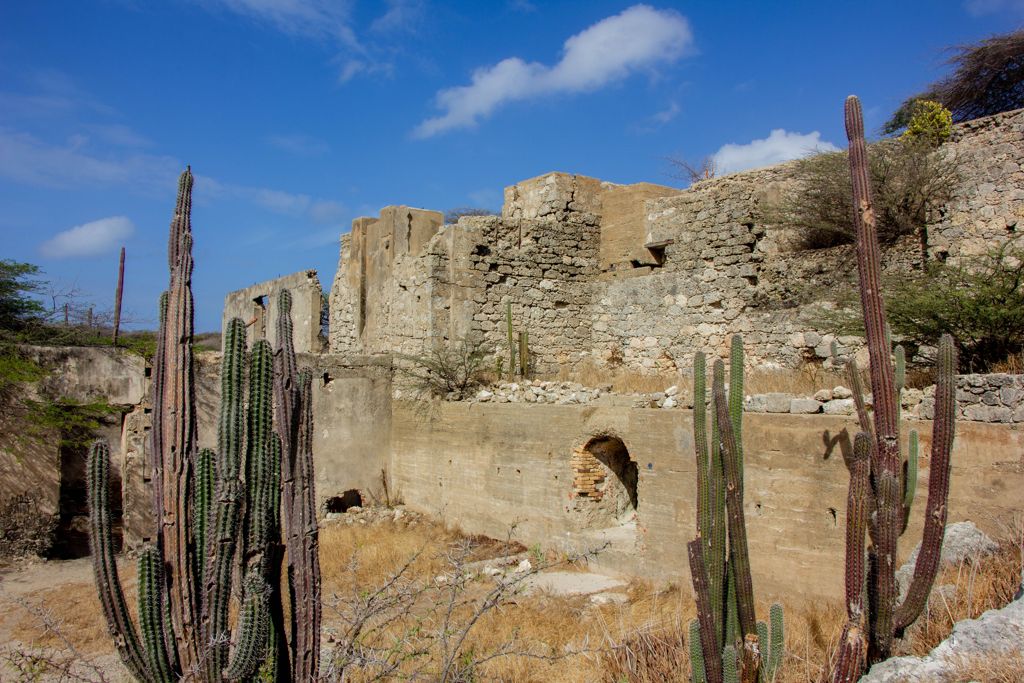 We continued our journey through downtown San Nicolas, passing all of the colorful and vibrant street art murals, shops and local bars (such as the famous, Charlies Bar). Next stop coming up… Museum of Industry!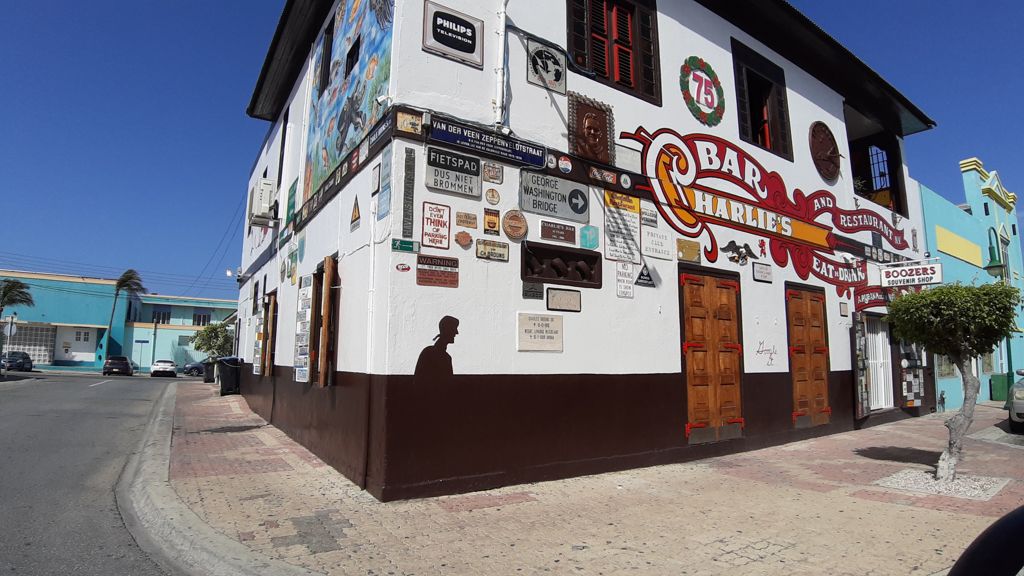 Museum of Industry
Located in the heart of San Nicolas, in the city's Water Tower (not in use anymore), this museum is FULL of Aruba's history and culture! Specifically, this museum narrates the island's industrial history beginning in the 19th Century.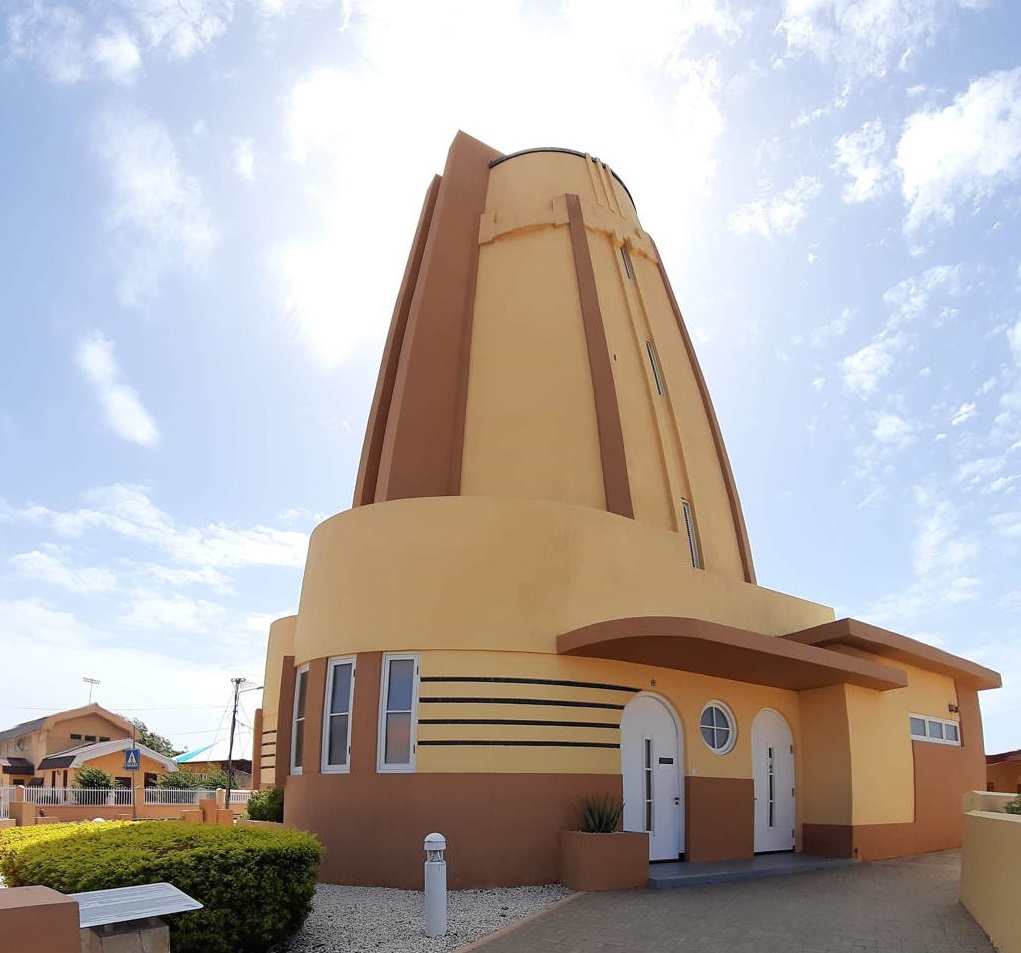 It was a special experience, the Museum of Industry is small, intimate and the museum's speaker took his time to thoroughly explain Aruba's history pertaining to gold, aloe, oil, tourism, and diverse population. When our museum tour came to an end we hopped back in our roaring rides and headed to Seroe Colorado.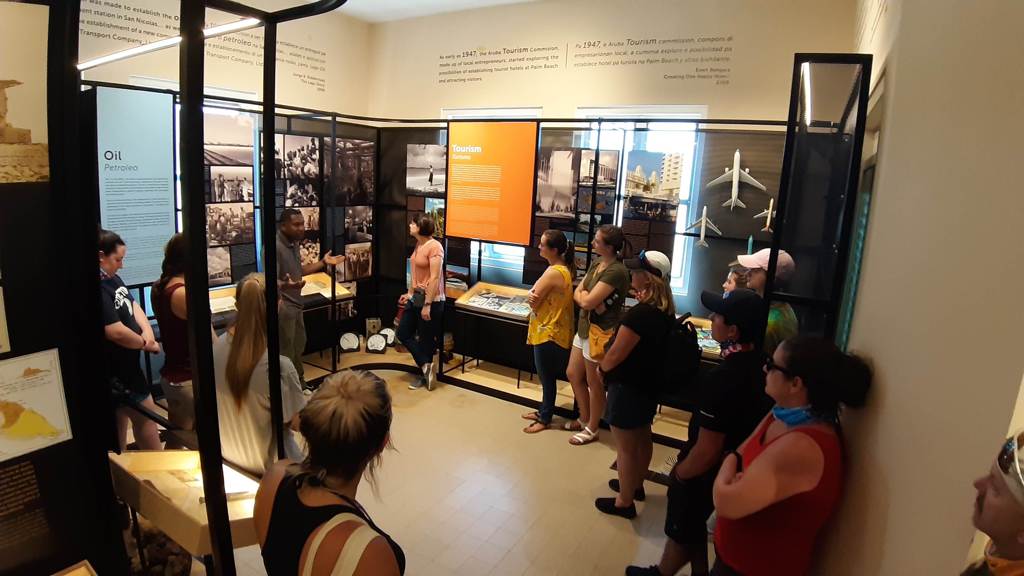 Seroe Colorado… and Donkeys!
Once reaching Seroe Colorado we made a right at the famous big red anchor (ahem, photo op), staying on the dirt path we stopped just before an underground water well alongside the beautiful wild coast of Bachelor's Beach.
On the way, to our surprise we were greeted by a group of happy donkeys!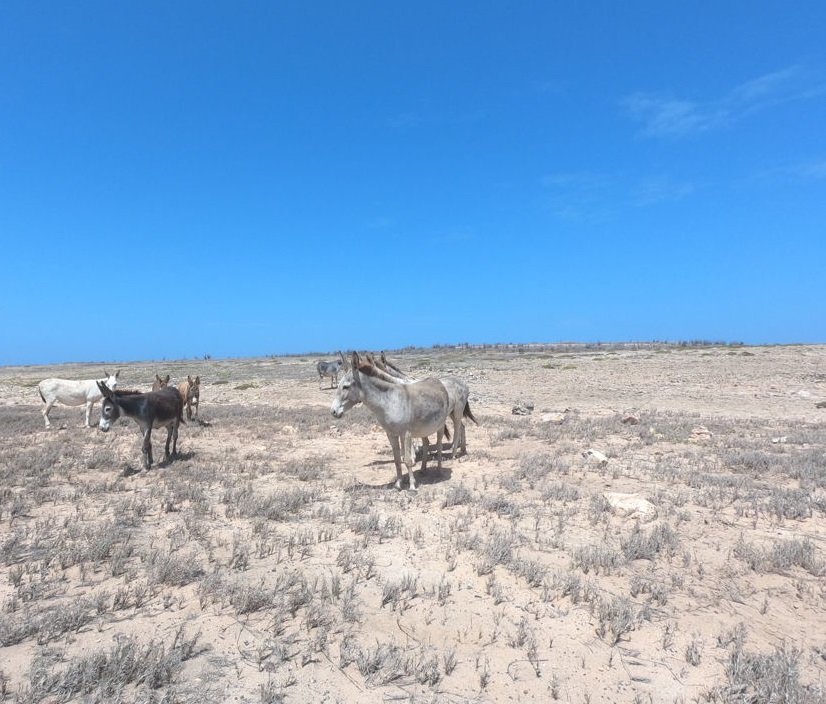 You may have seen plenty of donkey pictures but let me tell you unless you have encountered these beautiful creatures up close and in real life you will not understand the magnitude of just how cute they are! (Catch some donkey footage below.)
They were super friendly and loved all of the love and affection we gave them. One of them was clearly expecting a snack as he gently went to nibble for my hand, unfortunately I had nothing in it for him… next time I will pack along some donkey snacks (Googles: What do donkeys like to eat?). Sorry to disappoint donkey!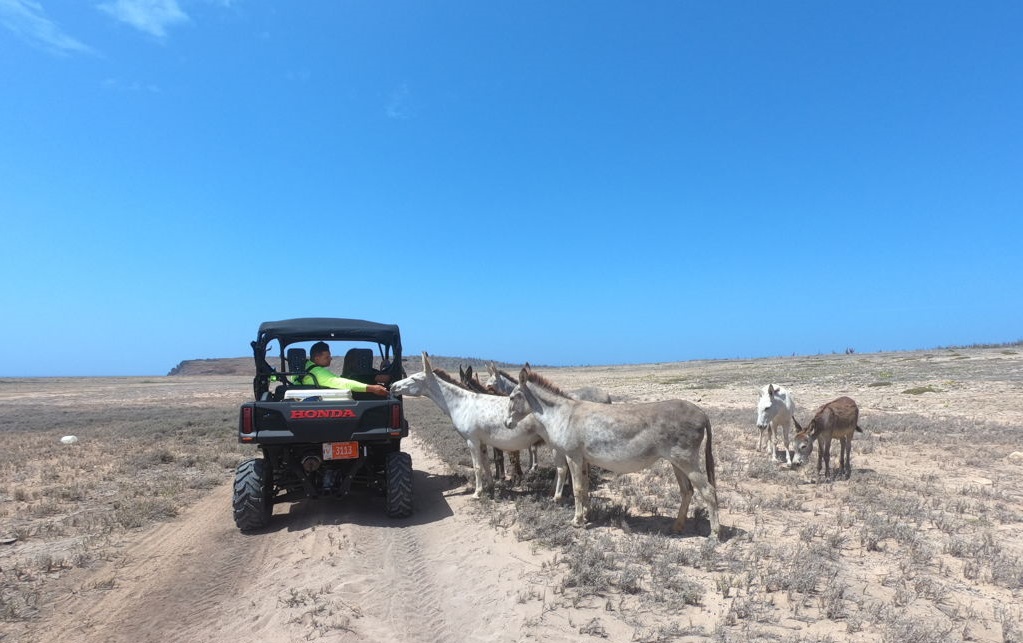 After the donkey petting session and cute little Shoco siting we drove up to light tower for a beautiful coastline view (envision deep wild blues crashing against the coast, salt in the air and wind in your hair – yes, it was amazing).
Our group snapped some beautiful pictures and then we headed back down the windy hill, we were told the next stop was a very special one. As we made our way down to ground level, I could see Baby Beach off in the distance, I assumed that was our next destination… but I was wrong!
All of a sudden our rides came to a halt and we pulled over to the side of the road. We seemed to be somewhat in the middle of nowhere, an area solely comprised of cacti, shrubs, dirt, and rocks!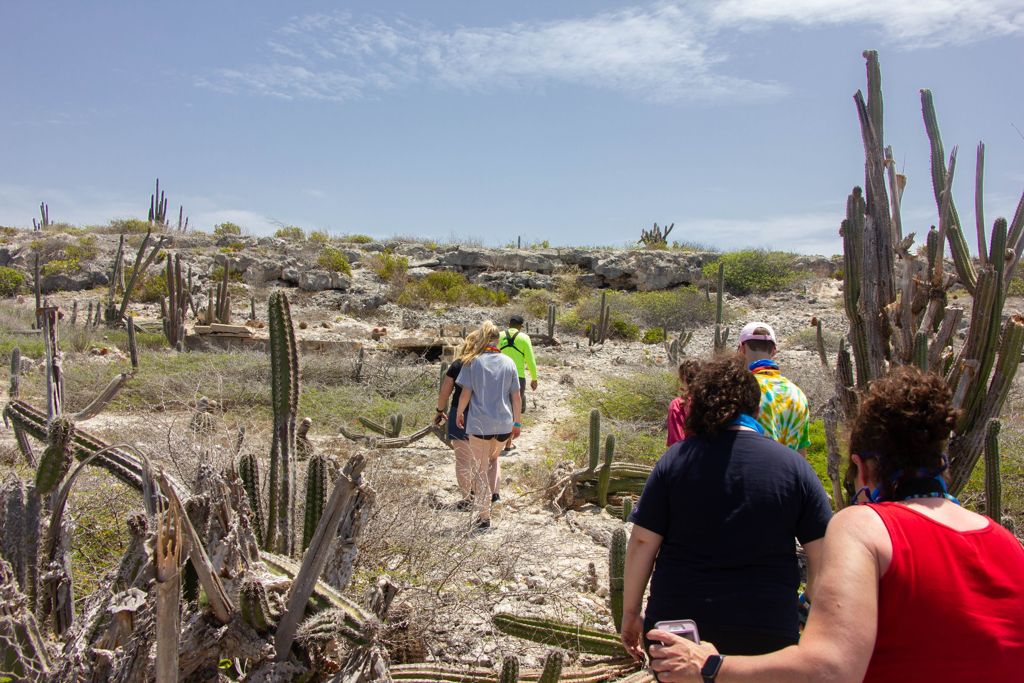 We followed Vince as he led the way through the shrubs and arrived at a concrete platform with a very dark and mysterious hole on top – to my surprise it was the entrance to an underground fresh water well! After peering in, I noticed a long, steep ladder (attached to the wall – don't worry it is safe and sturdy!), before I could ask if this was the only way in Vince handed out flashlights and commanded, let's go!
Underground Mangel Cora Well
This secret spot is super, super cool. I honestly cannot wait to go back there ASAP. Before this tour I had absolutely no idea this was here! As we carefully climbed down the steep ladder we were instructed to take anything out of our pockets or hands that was not water proof and to expect to get wet. I assumed as much, as it is a water well after all (duh), but let me tell you, I had no idea it was filled with as much water as it was!
Picture a cave-like tunnel, dark, very dark and waist deep water. Vince led the way and encouraged everyone to get past their fears and follow him until the end. I'm glad he was so encouraging and motivating because it truly was a one-of-a-kind experience!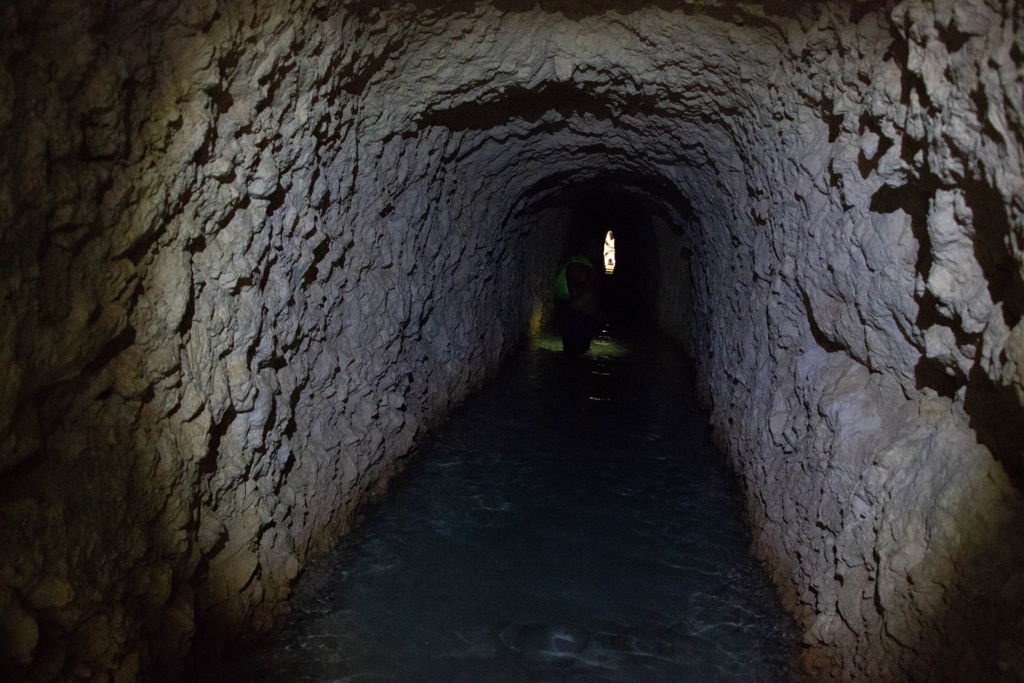 When we reached the end of the tunnel we stopped and all took turns taking scary pictures, a fun memento to document this adventurous underground trek.
Picnic at Baby Beach
After that intense water tunnel exploration I think we were all up for a little rest and… food!
Lucky for us, the beautiful and relaxing Baby Beach was just down the road. Vince unpacked a bunch of picnic baskets, blankets and cold, refreshing drinks. Everyone set up shop on the beach for an hour of relaxation. This was a nice little pause in our tour to take a moment to unwind, take a dip in the water or get a little sun. I decided to make use of my time by bronzing on the beach (priorities).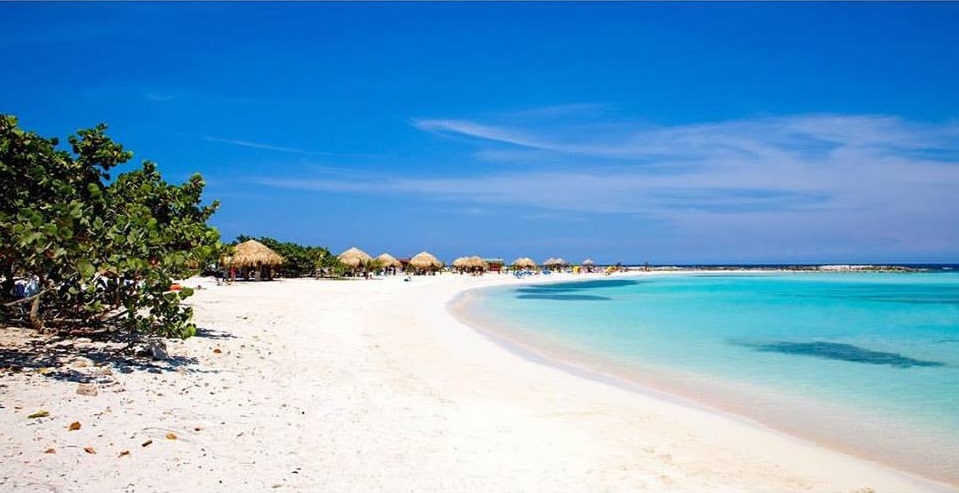 Time to Hit the Wild and Rugged North Coast!
This is the part of the tour that the adrenaline junkies and thrill seekers were waiting for… yes, we were finally tackling the rugged terrain of the North Coast!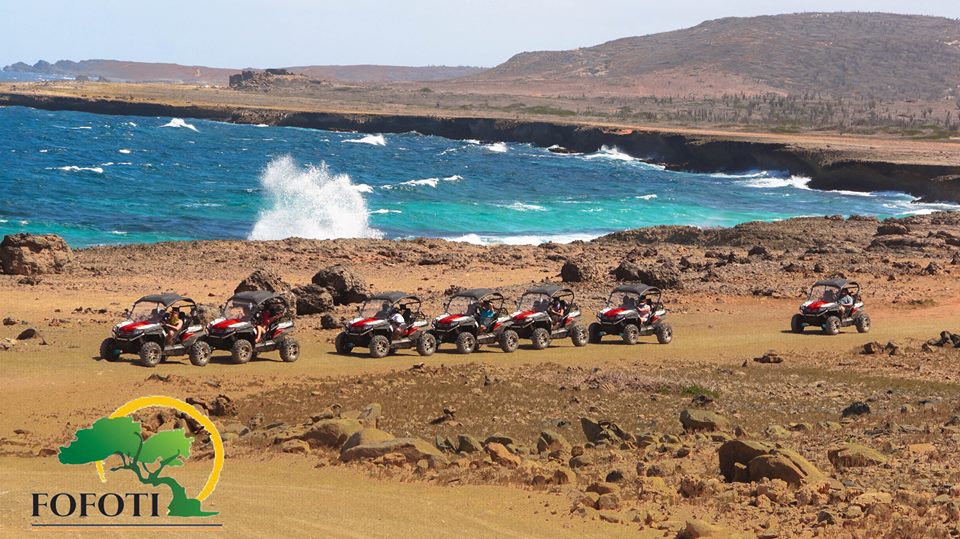 We passed Bachelor's Beach, Boca Grandi, Grapefield Beach, and made our way to the Guadirikiri Cave.
Guadirikiri Cave never ceases to amaze, located not to far away from the coast, it's comprised of two large chambers and has several openings in the ceiling, providing beams of natural light, making for the perfect pictures!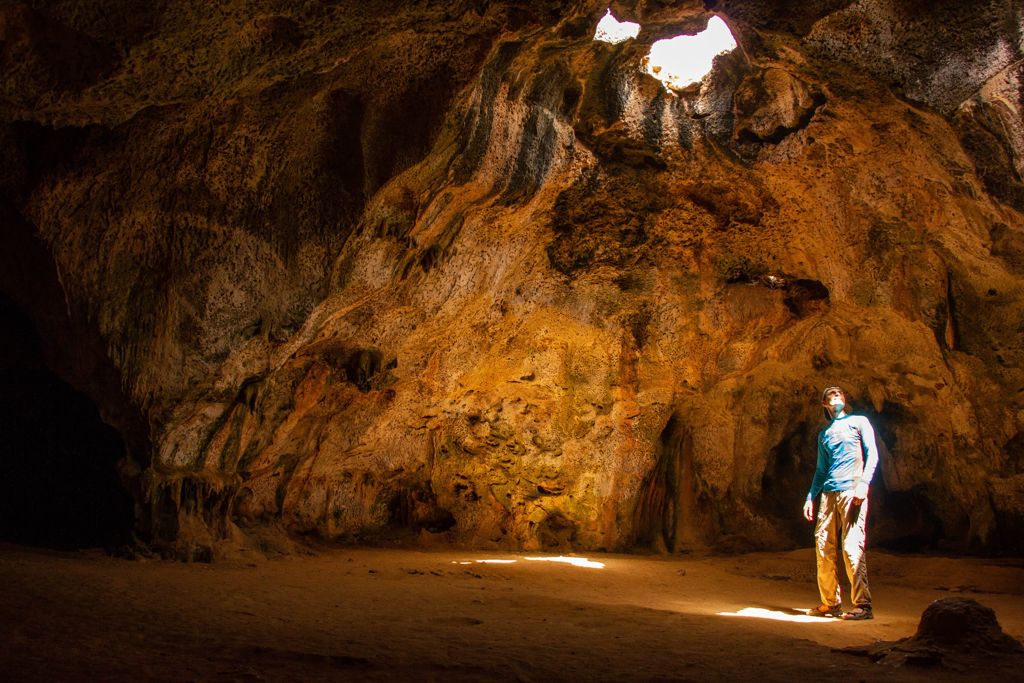 I must warn you, don't be alarmed if you see something small and black flying throughout the cave… yes, this cave is a home to some of Aruba's friendly bats! They are harmless, but if you are not aware of these little critters, they can be quite the scare!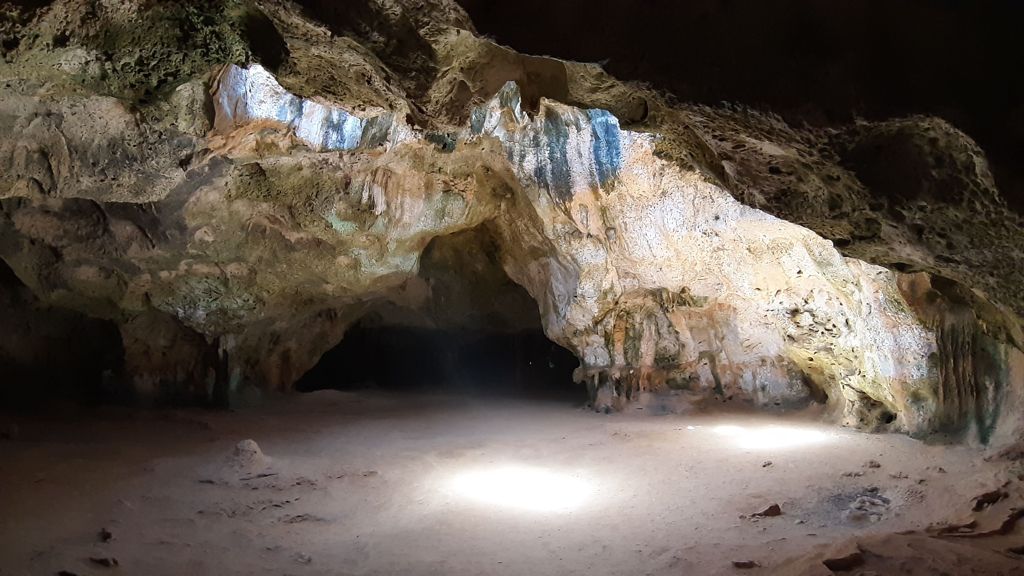 After climbing out of the dark cave and back into the warm sunlight, it was time to get back on the windy road!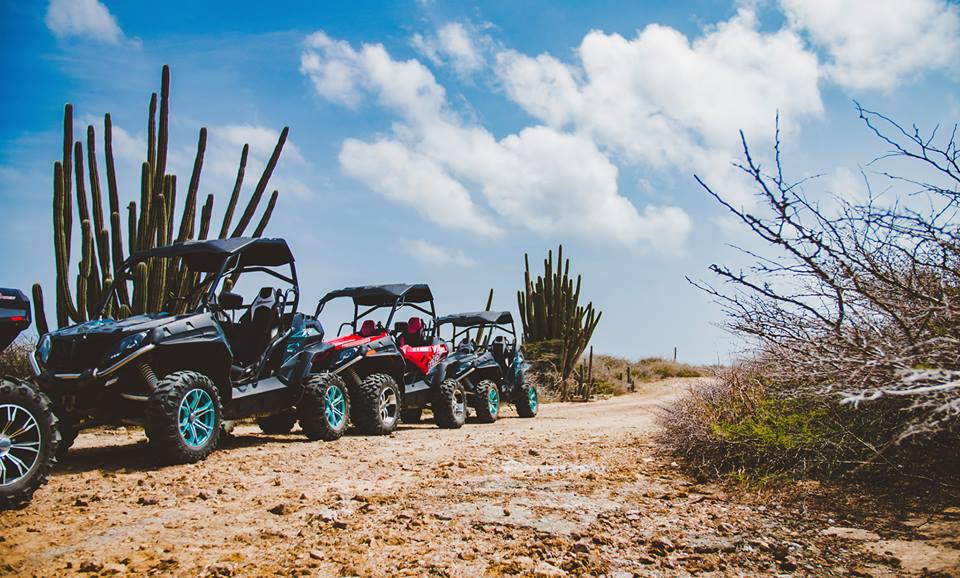 We entered the beautiful and protected Arikok National Park and headed past Boca Prins, where the Fontein Cave is located. Before entering the  Cave, Vince led us down a hidden path to a beautiful little natural garden by an abandoned house. At the end of the path there was a small fresh water pond with fish! To everyone's surprise these fish were here to assist us with our pedicures. Yes, we stuck our feet in the water and got a little fishy pedicure! If you don't mind little fish nibbling at your toes, this is a very fun and free way to get clean and pretty feet. After our pedicures, we went into the Fontein Cave and came across super cool ancient Arawak Indian cave wall paintings, as well as numerous interesting rock formations.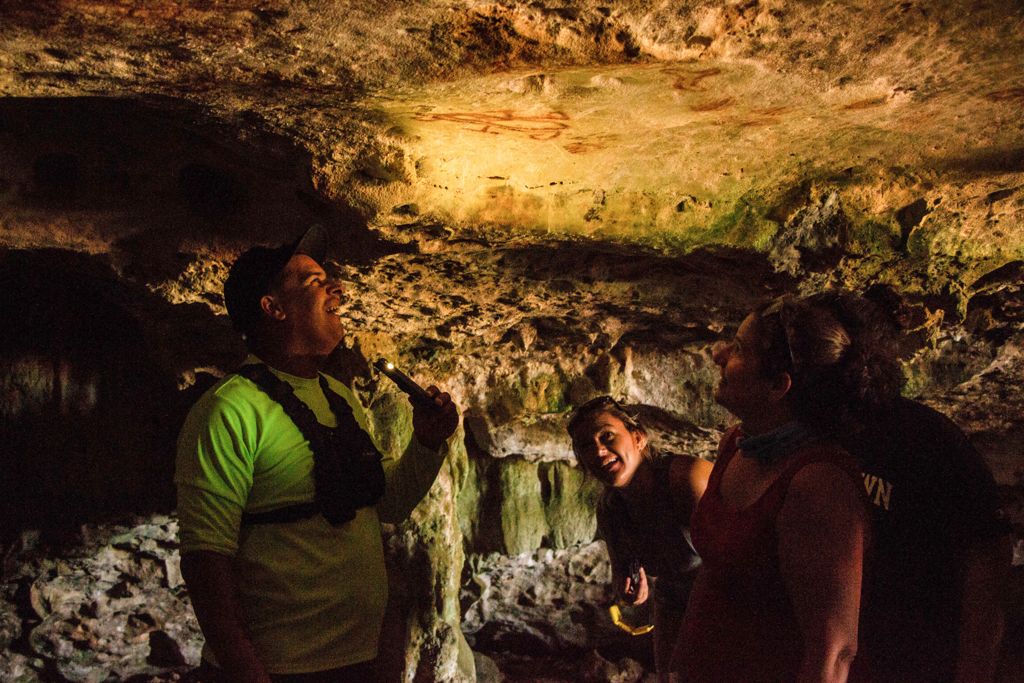 We continued onto the Bushiribana Ruins, took in the beautiful sight of the gold mill remains. Before heading off we grabbed a small snack and refreshment at the happy food truck!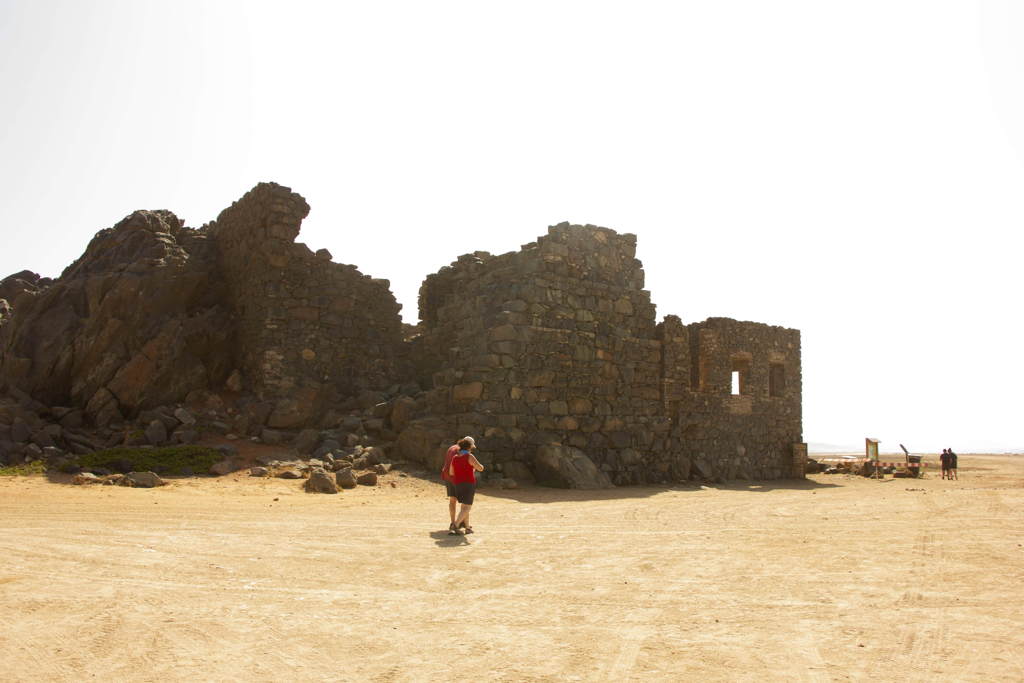 As we headed further down the coast, we passed the iconic and quaint Alto Vista Chapel and continued towards the most Northern point of the island, where we reached our final destination – the California Lighthouse. The lighthouse is a beautiful landmark with impressive views of the North coast, sand dunes and Arashi Beach.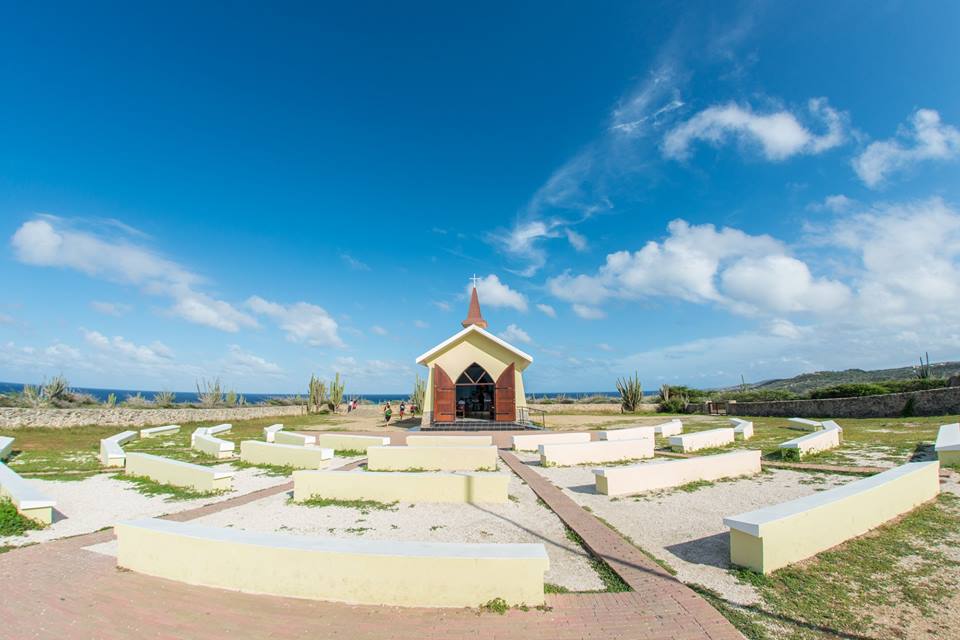 As our tour came to an end, we could not believe all of the sights we saw along the way. Starting at the Southern end of the island and making our way all the way up to the Northern tip, it was quite an impressive journey.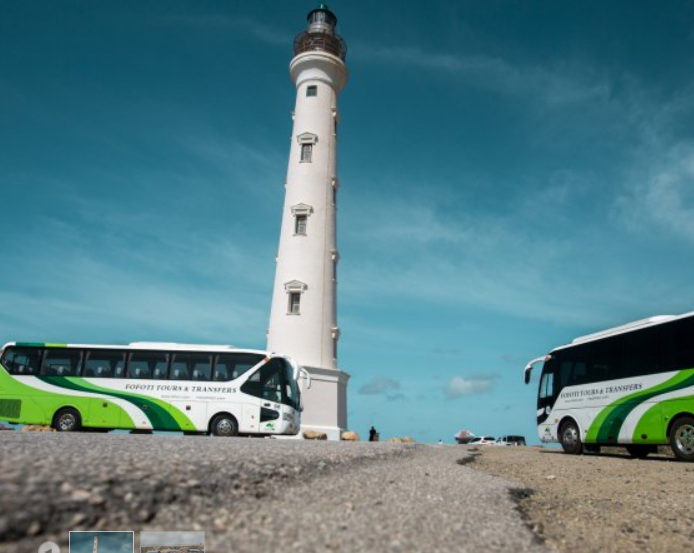 Zipping from one place to the next is the perfect way to maximize your time on the island, allowing you to see all sides of Aruba!
I hope to have given you a clear idea of what this Secret Places Adventure Tour all entails, but I must tell you, you will only really understand its worth if you experience it for yourself, and trust me you will not be let down!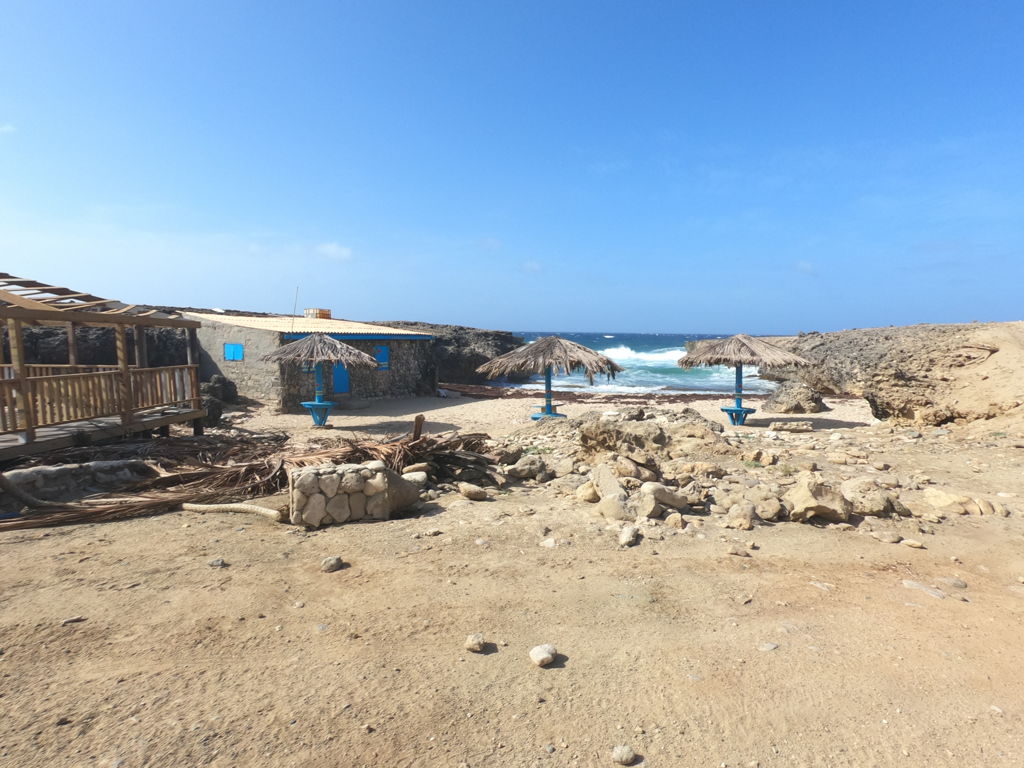 Lastly, I will leave you with a tidbit of advice: once you return to your hotel or vacation rental, make sure to take two showers (one won't cut it). No, that nice bronzed tint you've got going on is not just from the strong Aruban sun, it's layers of dirt you've managed to get on you along the way!
Check out our adventure with Fofoti below!
A huge thank you to Vince and the entire Fofoti Tours Team for making this island adventure one to remember!