After the new year begins and the holiday fun comes to an end, many people might consider this the perfect time to rest and recharge. However, in Aruba, the post-holiday season calls for more celebration and fun! In January, the island's most colorful and treasured celebration, Carnival, takes center stage.
Carnival in Aruba is not just a one-day, one-week or even one-month event. During January and February, the entire island lives and breathes Carnival. Each year when Carnival ends people are already preparing for the next one.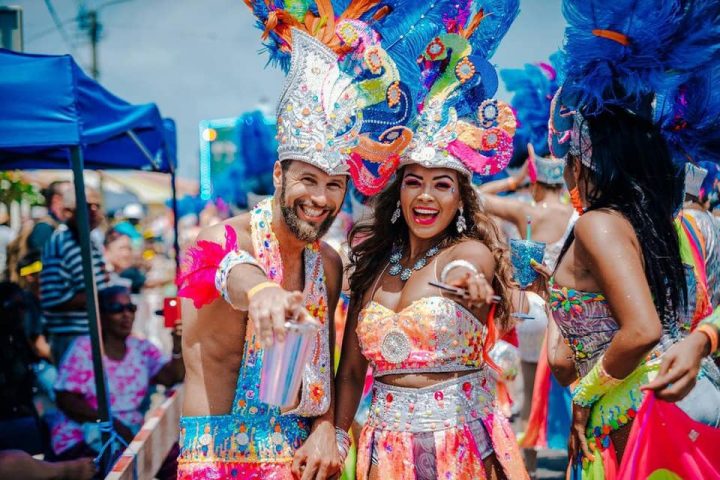 Here's everything you need to know about Aruba's biggest celebration:
The island's Carnival spirit is literally sparked by the first parade to hit the streets of Oranjestad, Parada di Flambeu (Torch Parade), better known as Fakkel Optocht. In the past this parade was filled with burning torches, which now have been long replaced by millions of bright, colorful (and often flashing) lights. Those participating or performing in the parade accessorize these lights however possible, whether it is on their hats, shirts, heads, or shoes…some opt to decorate their bodies with glow-in-the-dark paint.
The loud beats of traditional carnival music, singing and hip swaying immediately take over and the island is officially in full Carnival mode. Aruba's Carnival schedule is jam-packed with weekly events, leaving little excuse to miss out. It continues with Jump-ins, King and Queen Elections, Calypso, contests, live music, celebrations for children, parties (pre and after) and of course the most popular, parades.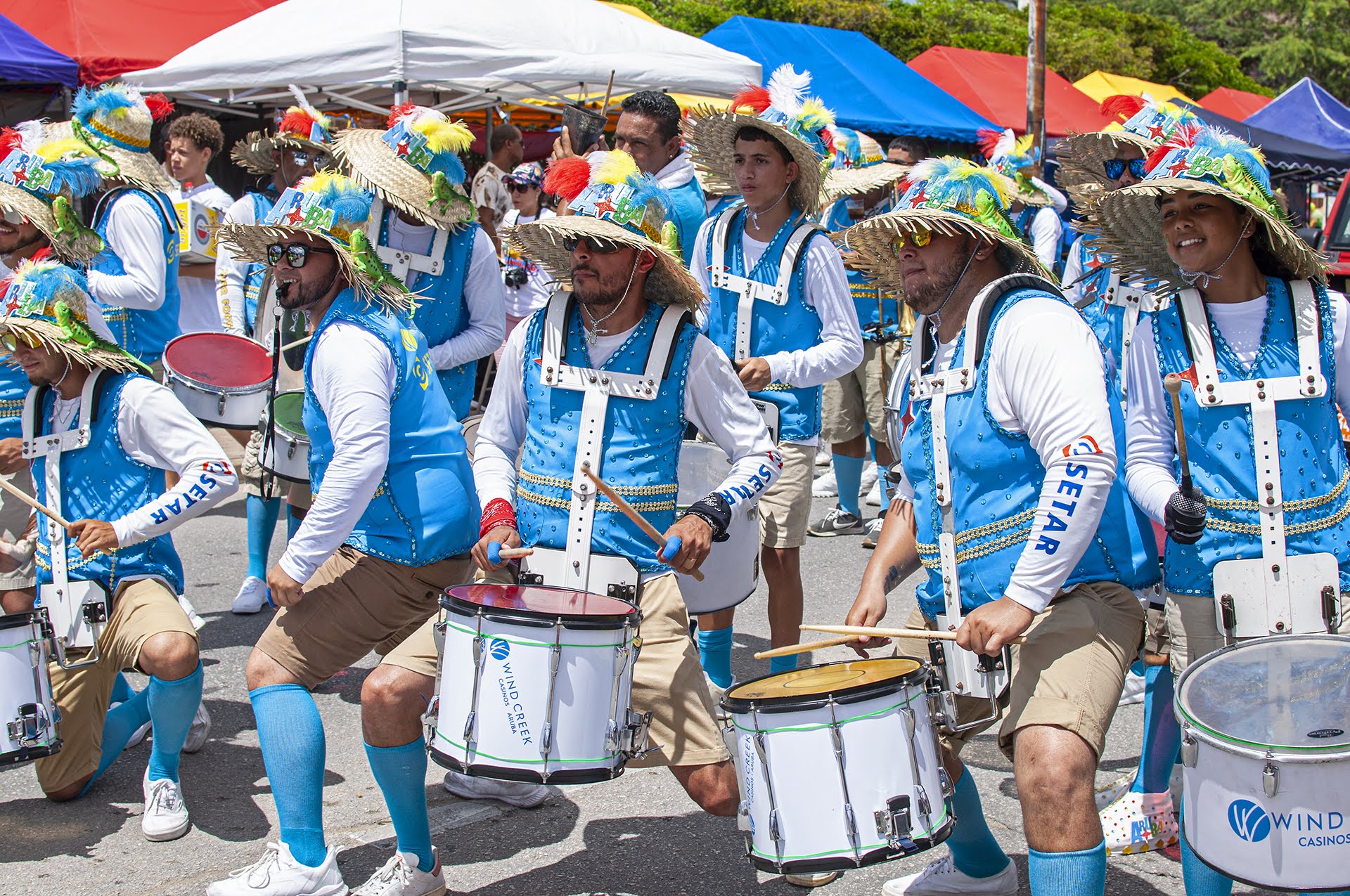 Some of the popular parades include:
Fakkel (Torch Parade)
Parada di Blaas (Children's Balloon Parade)
Jouvert Morning (Pajama parade in San Nicolas in the wee hours of the morning)
Grand Lighting Parade (Takes place in Oranjestad at night, a parade filled with spectacular twinkling lights on costumes, floats and all around)
Parada di Luz San Nicolas (Another beautiful Lighting Parade, this time taking place in San Nicolas)
Grand Carnival Parade San Nicolas (San Nicolas starts off the treasured Grand Parade celebrations, not to be missed!)
*Grand Parade San Nicolas usually takes place from 12 PM – 6 PM
Grand Carnival Parade Oranjestad (The queen of all Carnival parades and sadly the end of the party)
*Grand Parade Oranjestad usually takes place from 11 AM – 6 PM
View the full 2024 Carnival '70 schedule here.
*Note: this schedule is apt to change at any time, if adjustments are released by the official carnival committee (SMAC), we will update this schedule as soon as possible.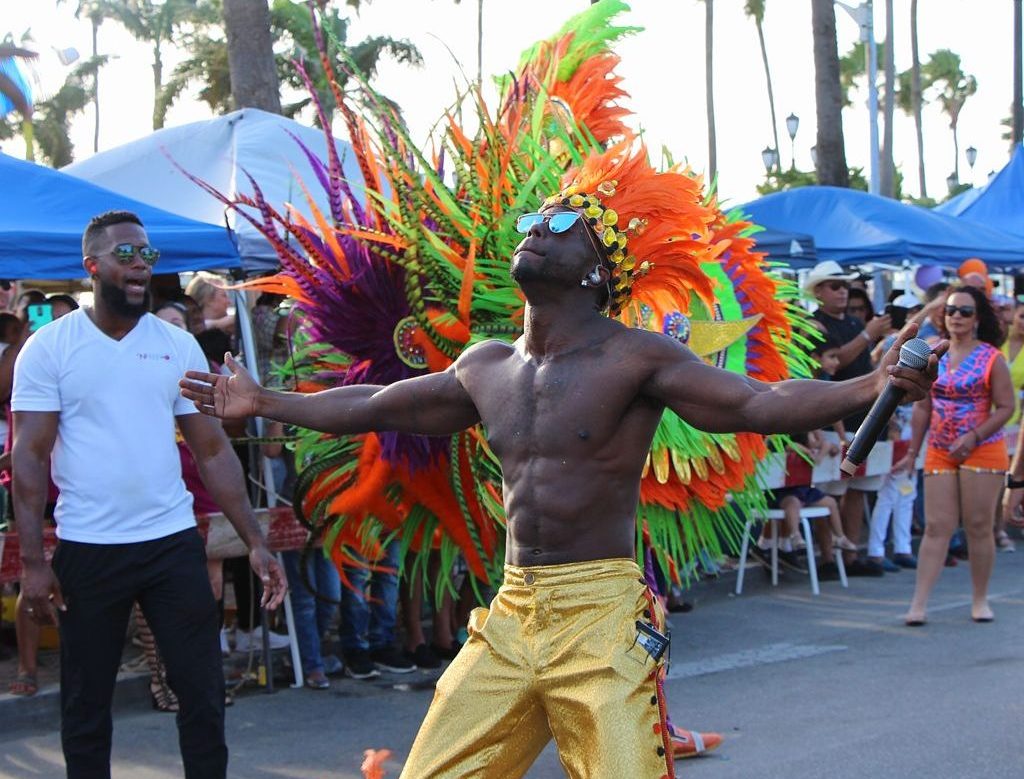 As you can see, the island does not close out Carnival with just one grand parade; the Grand Carnival Parade has always been celebrated in both Oranjestad and San Nicolas, making for TWO amazing final parades (because one just isn't enough). On Saturday morning, the people in the streets of San Nicolas dance, sing and parade until the sun goes down. And on Sunday when the sun comes back up the festivities continue in Oranjestad, lasting until the evening and for some, even longer.
Believe it or not, Carnival does come to an end. It ends at the Oranjestad Harbor just before the start of Catholic Lent, with the old ritual of the Burning of King Momo, a human-sized decorated doll that represents our earthly desires.
Our Carnival tips and advice
Where to watch:
Arrive early to grab a spot behind the barriers alongside the parade route, or, if you really want to have the full carnival viewing experience (and better mingle with the locals),  join a "kavel". For those familiar with "tailgating" at sporting events, this is rather similar.
A "kavel" is a designated spot reserved by large groups, usually under a tent with a built platform (not all are on a platform some are on the ground) including stadium-like seating or chairs. To join a "kavel" you must sign up and purchase a ticket ahead of time, admission tickets can include music, live DJ's, food, drinks, portable bathrooms, and more. Some "kavels" provide food and open bars, while others provide coolers, refreshments and ice for you to bring your own goods and serve yourself. Who hosts "kavels"? "Kavels" are usually hosted by restaurants, bars, organizations, and families.
Tip – for those not joining a "kavel" or a reserved tent area, make your way to the area in front of Chaos bar, just past the Renaissance Marketplace and across from Wilhelmina Park, where there tends to be more open space, with less obstructing your view, again, do arrive early.
Parade routes:
It is important to note that parade routes can slightly alter each year or depending on the specific parade taking place. However, for most of the main parade events (particularly the Grand Parades) this is the general route to expect in San Nicolas and Oranjestad:
San Nicolas
Joe Laveist Sport Park – Pastoor Hendrickstraat – Torenstraat – Caya Dick Cooper – Caya Captain R. Rodger – Lagoweg – Bernardstraat – Dr. Scheapmasntraat – Pastoor Hendrickstraat – Joe Laveist Sport Park
Oranjestad
Aruba Entertainment Center – Avenida Milo Croes – Vondellaan – Rotonde Las Americas – LG Smith Boulevard – Rotonde Wendy's Boulevard
Important Note – The routes above were valid for the Grand Carnival Parades 2023 (Carnival '69), routes for the 2024 Carnival Parades (Carnival '70) are still pending release.
Essential Carnival gear:
As a spectator, you will want to come to these parades prepared (trust us, it will make all the difference). Here are some essential items for our proposed "Aruba Carnival Starter Pack" so that you can enjoy your day to the fullest:
Drink tumbler – This is a must so that you can keep your beverage of choice cool all day long! Browse and order yourself a tumbler so that you don't go thirsty.
Backpack cooler – To get to your viewing spot you're likely to be doing some walking as many streets are closed off, rather than lug a heavy cooler around in the crowds come prepared with a backpack cooler so that you can easily bring along your beverages and snacks. Reminder: don't forget to pack plenty of water to stay hydrated, Aruba's sun is no joke! Browse and order a backpack cooler and leave no drinks and snacks behind!
Chair – If you aren't one for standing up for hours on end and you are not joining a "kavel" with provided seating, we suggest you bring along a fold-up chair so that you can take a rest every now and again. Browse and order a fold-up chair so you can take it easy. PS – you can also use it for the beach.
Big hat – You may not be lucky enough to stand under a tent or shaded area, this is where a big straw hat, bucket hat or baseball cap will come in great handy.
Sunglasses – Don't forget a pair of shades, the sun is bright out there and it will be a long day!
Reef-friendly sunblock – As mentioned before, the sun is strong, and while you may not always feel it due to the constant breeze, you'll want to protect yourself from harmful UV rays. Browse and order your sunblock to protect your skin.
Earplugs – There is one thing about Carnival that will not go unnoticed, it is extremely loud. The plethora of bands and marching bands passing by from the very beginning of the parade to the very end create quite some noise and it is impossible to get away from. If you have sensitive hearing or would like to protect your eardrums, definitely bring a pair of earplugs!
Eco-friendly body glitter or body paint – Body glitter and/or body paint of course is not exactly a necessity but it does add some extra fun pizazz, and allow you to be a part of the colorful and sparkling Carnival scene! Browse and order bio-degradable glitter.
Join a local Carnival Group:
Interested in experiencing Carnival on the other side of the road barriers? If you have it on your bucket list to participate in the Carnival madness and join in on the actual parades check out a selection of Aruba's local Carnival Groups below and contact your group of choice directly to inquire if there is availability and for ways to purchase a ticket.
Every year there is a range of parades to join, from the casual Fakkel parade (where you only need to purchase a ticket for a small fee and receive the group t-shirt to join) or, officially join a Carnival group and purchase a ticket for a larger fee to be a part of the entire experience (participation of all the main parades, a full costume, open bar, etc.).
Carnival Groups
Note: Groups can alter at any time.
Royal Carnival Group
Dushi Carnival Group
Empire Carnival Group
Infinity Carnival Group
TOB Carnival Group
Champagne Carnival Group
Los Laga Bai Carnival Group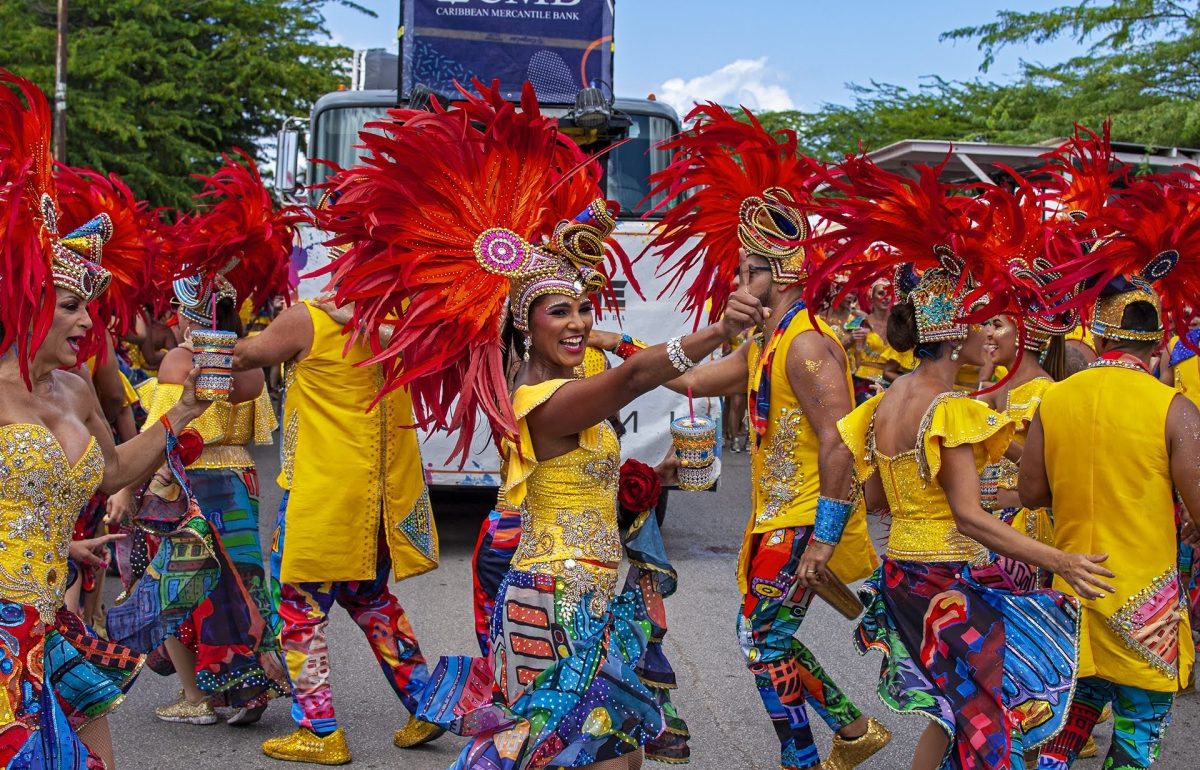 For more information or questions on Aruba Carnival, please visit the Facebook page of the official Aruba Carnival organization committee
Don't let the Aruba Carnival whirlwind pass you by! View the Carnival '70 schedule here to join in on Aruba's favorite time of year.
*Please note the Carnival schedule, times and locations are subject to change.