Our story begins on a beautiful Aruban day but the golden, morning sunshine and bright blue sky weren't doing much to calm my nerves. After living on Aruba for over a decade, I was about to go off-roading for the first time – rather reluctantly at that.
Little background info for context: I'm about as adventurous as your typical Hobbit. Seriously. Sometimes I get overstimulated while watching Game of Thrones. I carry a tiny first aid kit in my pocketbook at all times. I was on the back of a motorcycle one time – it ended in tears. I'm THAT chick. I was going with an awesome group of people, so I was desperately trying to be cool and pretend that I hadn't terrified myself by binge watching "Off Road Disaster" videos on YouTube the previous evening.
My dashing mate, Alex, and I met the rest of our group at El Tours at 9am. El Tours has cultivated quite a reputation for themselves for being an incredibly accommodating and professional tour group. Aside from comfortable air-conditioned tour buses, they have a fleet of various off roading vehicles and cater to their customers tour desires – within reason, of course!
Our tour guide's name was Xion. I was immediately comforted by his charming confidence as well as the immaculate Jeeps that were waiting for us. They looked sturdy and very much like none of them had ever been involved in any mishaps. We divided up into three groups. Alex was driving our car. As I triple checked my safety belt and said a quick prayer to St. Frances , he asked me if i thought I'd like to drive at some point. Driving isn't my favorite activity. Honestly, I don't even really like driving my own car on civilized roads all that much; so I said I was going to take a hard pass.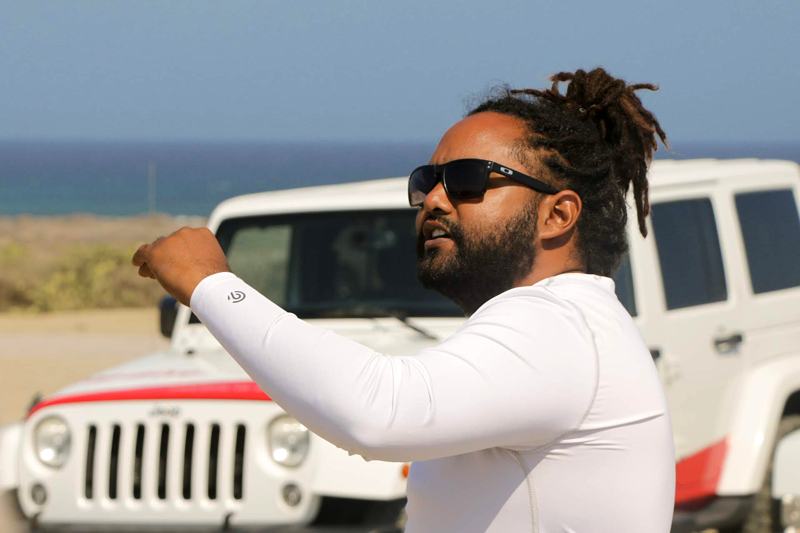 SPOILER ALERT: I ate those words while taking a particularly challenging path behind Bessy's wheel. Yes, that's what I named our Jeep. She'll always be special to me – she taught me the true meaning of 'horsepower' and a girl never forgets her first time.
We meandered through Malmok, made a brief stop at gorgeous Arashi beach, one of Aruba's spectacular white sandy beaches, and then made our way up to the California Lighthouse. I've been to that lighthouse countless times while I've had the privilege of calling Aruba my home, but I never once noticed the weathervane that sits at the top of the lighthouse until Xion pointed it out to the group. He proved to be not only hilarious, but also a wealth of information about the Island. Our tour ran on Caribbean Standard Time and we were given the freedom to decide how long we wanted to stay at the designated stops. After a little chit chat we got back in the Jeeps – the off roading part of the adventure was about to begin.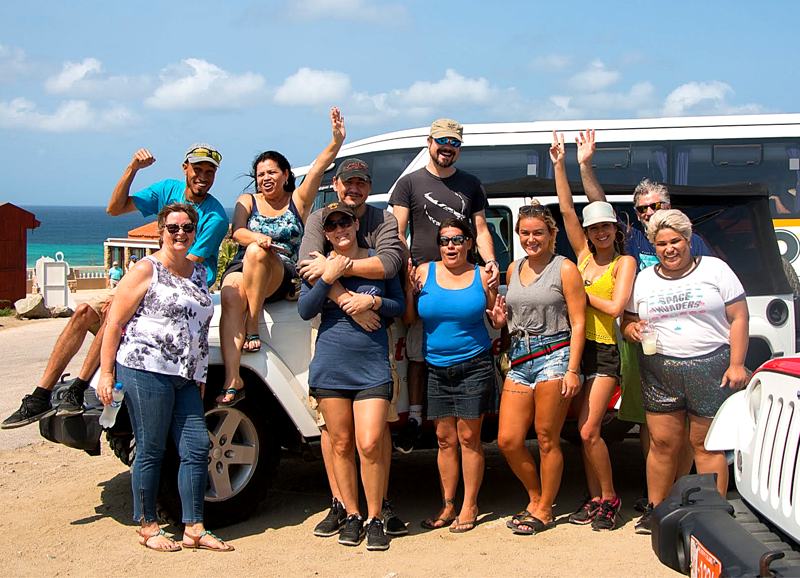 Xion led the way in a small ATV that he drove like it was an extension of himself. We followed him single file down a trail that goes behind the golf course at Tierra del Sol and soon found ourselves traversing land that's barely been tamed. I was a lot more comfortable than I expected to be. We drove with the top up and the airco on because it was incredibly dusty out there. Watching sand billowing out from the Jeep in front of us was an otherworldly experience but it made it a little hard to see – we learned quickly to keep a safe following distance from the vehicle in front of us.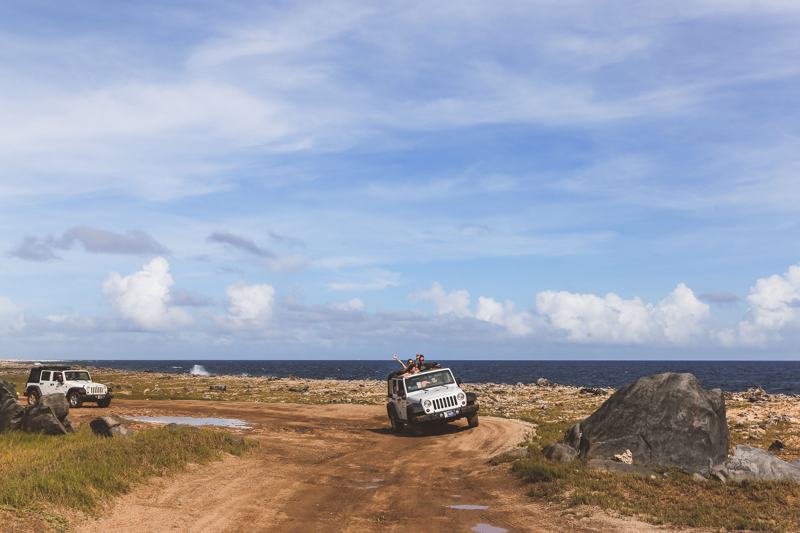 It was a seriously bumpy ride (consider wearing supportive clothing – unless you enjoy having various parts of your anatomy bouncing around) to our first stop. This is a side of Aruba that you can only get to in an off road vehicle and the best way to get there is with a guide. The guides at El Tours have years of experience traveling the North side. They know how to navigate the terrain and what areas to stay away from out of respect for our wildlife.
We traveled Northwest from the lighthouse and wound up by the landmark chapel at Alto Vista – one of my favorite places on the island. It was a Sunday morning and the chapel was hopping. Tourists and worshippers alike gathered to bask in the tranquil vibes of Aruba's oldest church. In back of the chapel is a new addition to the area – a peace labyrinth. Perfectly placed rocks form a circular maze set in pure white sand and a list of good intentions printed on thick, colorful ribbons flutter in the breeze.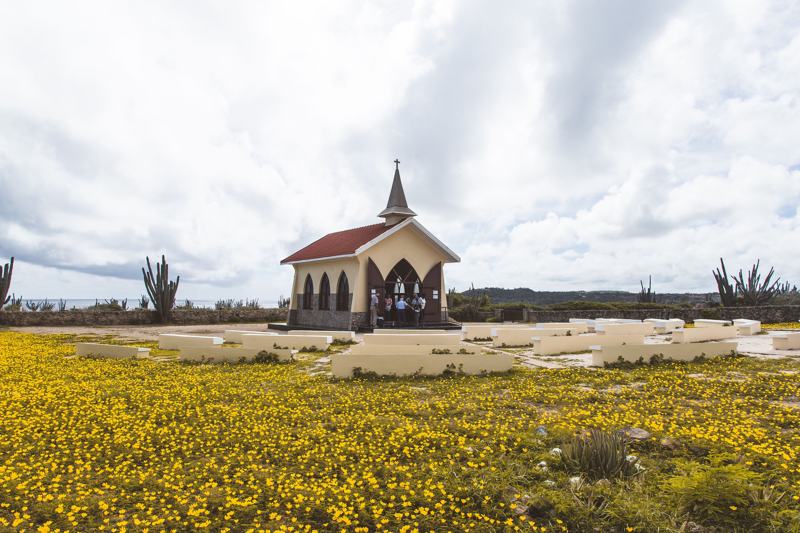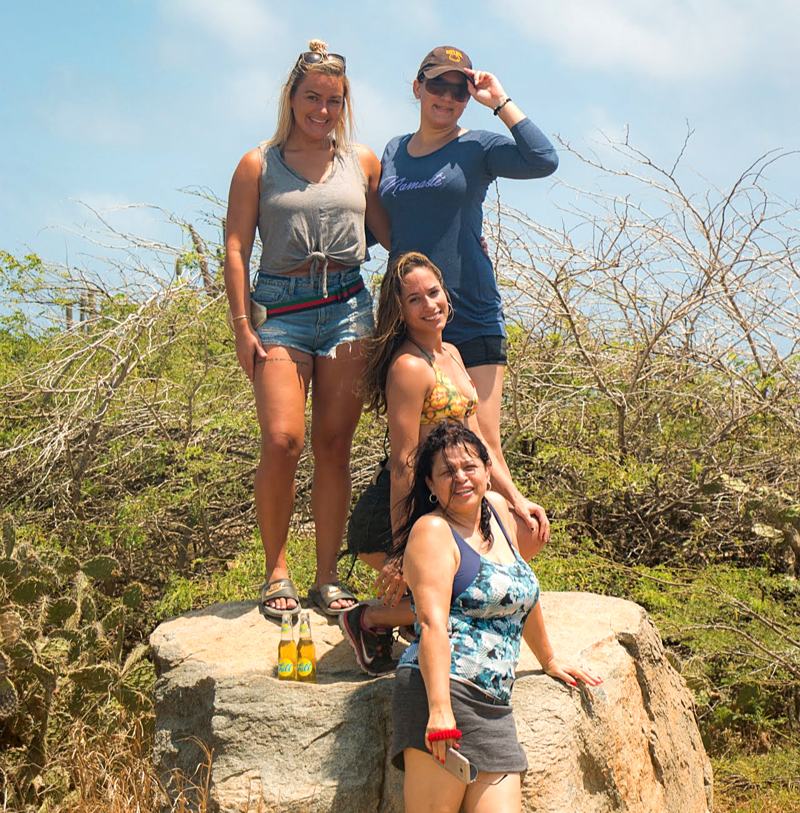 After some meditation we herded ourselves back into the Jeeps and set off for parts unknown. Our third stop was along a rocky beach that inspired a lively discussion about rock stacking.
Environmentalists have expressed concern that excessive rock stacking is detrimental to the fauna that live on the coast. Rock stacks are impressive to behold, but they are not nice for the creatures who depend on rocks in their natural state to provide shelter and shade during the heat of the day. Rock stacking became popular of the island because a legend has it that you can leave a wish with your cairn. However, in light of the negative impact rock stacking has on the ecosystem, you should probably stick to wishing on stars.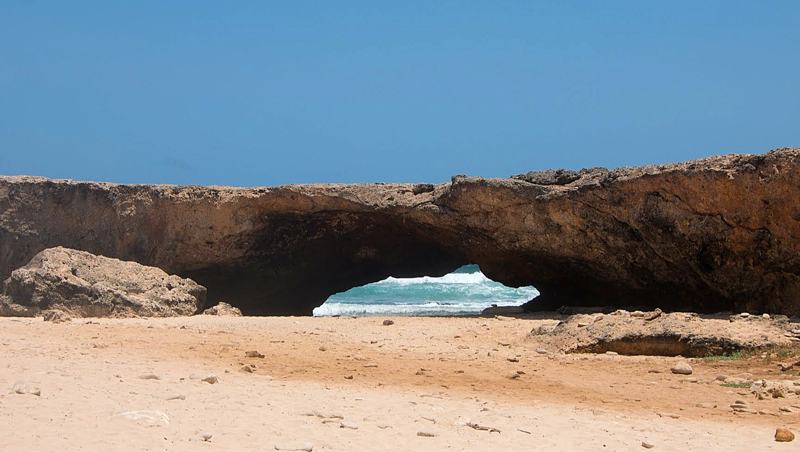 Our next stop was some way away, the wonderful and wild Wariruri beach, part of it having it's own cave-like inlet. The way there was full of wonderful vistas, raging ocean to our left and unspoilt landscapes to our right. Once we arrived there, the faction of our motley crew that wanted to swim made a beeline for the waves. At this beach it is not recommended to venture too far out – just enough to get wet and cool off a bit, since the water can be quite rough and currents treacherous. The views of the ocean are spectacular though! Again, I marveled at the unfamiliar landscape of the North side. With the sun shining overhead, sparkling on the sea and huge rocks casting the only shadows on the ground, I had to remind myself that I was still on Aruba and not on a deserted island. We took some amazing pictures, left some footprints and set off to our next destination.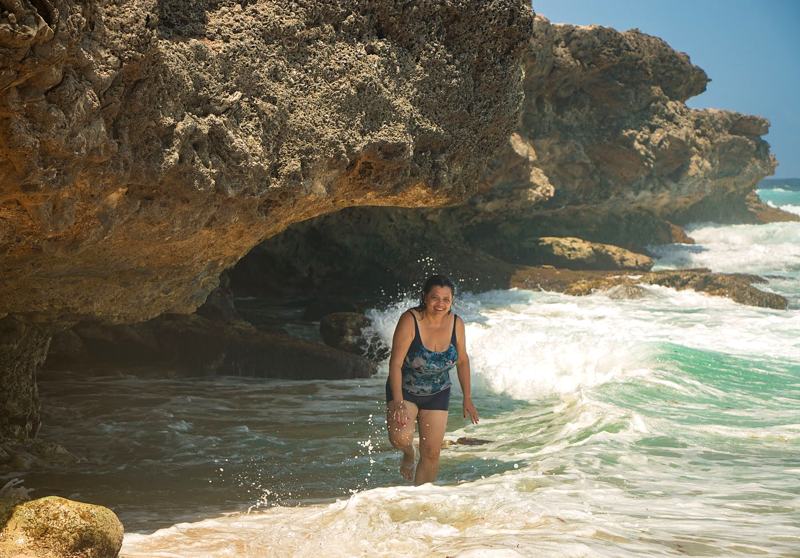 Our next stop was at the Gold Mine ruins at Bushiribana, another fabulous historical attraction – which conveniently boasts a mobile snack bar and rest stop. We had some food, hammed it up for the camera while taking some fabulous group pictures and then headed back to the Jeeps. It was a short distance between the goldmine and our next stop, the Natural Bridge.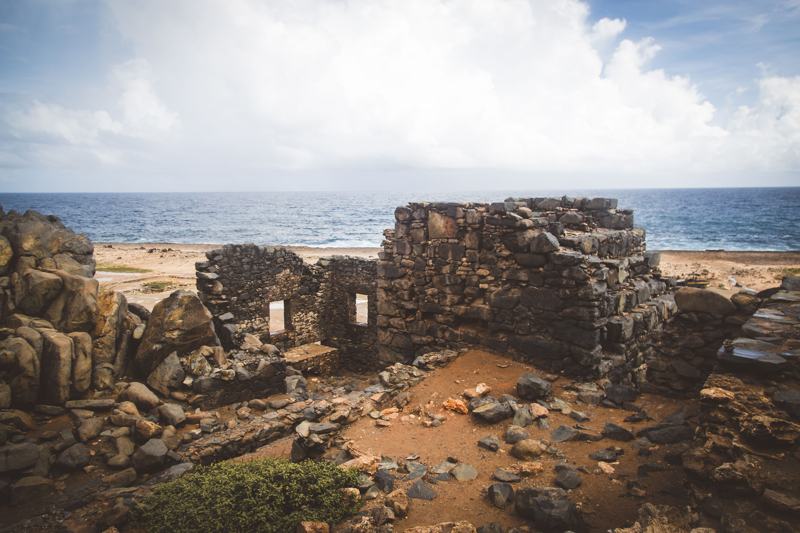 This time as we were headed back to the Jeeps, Alex dangled the keys in front of me and I had a wild impulse to grab them but then I remembered that I'm a big chicken and got into the passenger side. This ride was much smoother, I had time to appreciate how truly beautiful Aruba is. On those dusty trails, with nothing but huge rocks scattered throughout vast, open space, framed by Aruba Blue sea and sky, the view is breathtaking.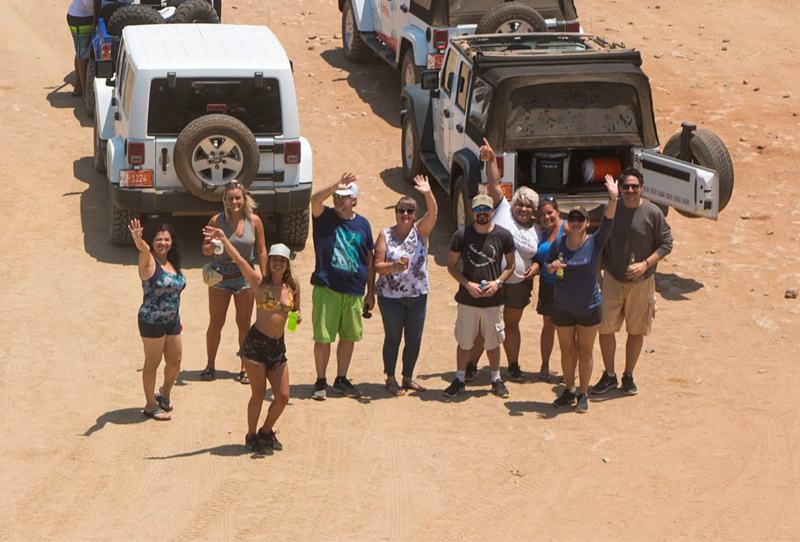 Once we arrived at the Natural Bridge, it was getting close to peak sun strength so we reapplied sunblock and slapped on some hats. I didn't pay attention to my nose and went home with a bit of a burn (rookie mistake) and with 20/20 hindsight I would have brought something more substantial than Pringles. Who knew just driving around could work up such an appetite?
After taking in the views at the Natural Bridge, it was time to start heading back towards the El Tours main office. All in all, this tour was an amazing experience – I can't believe I waited so long to try it. We managed to take in several of Aruba's beautiful landmark sites and enjoy spectacular views, with an upbeat, entertaining and informative guide!
Check out the highlight reel of our trip:
Want to experience this island adventure for yourself?