As a local, I am always looking for new and different things to do. With Aruba being a small island, it can sometimes feel like you are stuck doing the same things over and over again… So whenever an opportunity comes up to experience a new adventure, I jump on it faster than you can say "Fast and the Furious."
Known for their delicious dinners, swinging a la carte brunch on Sundays and cozy restaurant ambiance, Taste of Belgium Aruba always keeps guests coming with their amazing service, delightful cuisine and great specials.
Taste of Belgium Aruba is definitely no stranger to introducing fun and unique experiences for their restaurant guests and their latest "Dinner & Escape" is a must do for anyone living on or visiting our island!
An escape room is a physical adventure game in which players solve a series of puzzles using clues, hints and strategy to complete the objectives at hand. Players are given a set time limit to unveil the secret plot which is hidden within the rooms. Starting back in Japan in the early 2010's, it has now taken over the world in popularity with many different escape rooms across Europe, The US and South America.
We arrived at the restaurant super-intrigued about what this "Dinner & Escape" experience would entail. As we walked in, we were greeted by the always smiling restaurant manager Menno and Michel from The Escape Room Aruba who joined forces to bring us this awesome experience.
As we were being seated, I noticed a theme going on in our section of the restaurant. There was an Al Pacino picture frame, a cigar and other different little things that made me feel I was in an episode of "The Sopranos", Michel then explained that the theme for our evening was "The Italian Mafia."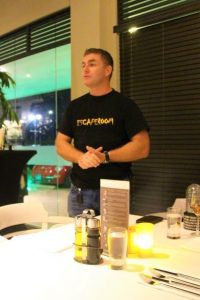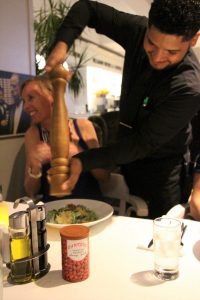 We started our dinner with a Caesar Salad that was honestly out of this world tasty! I tend to not order Caesar Salad as an appetizer when I go to restaurants because it's normally not that exciting to eat and I can pretty much make it at home. But… this Caesar Salad had a mouthwatering touch of anchovy (salt fish) that left me wanting more.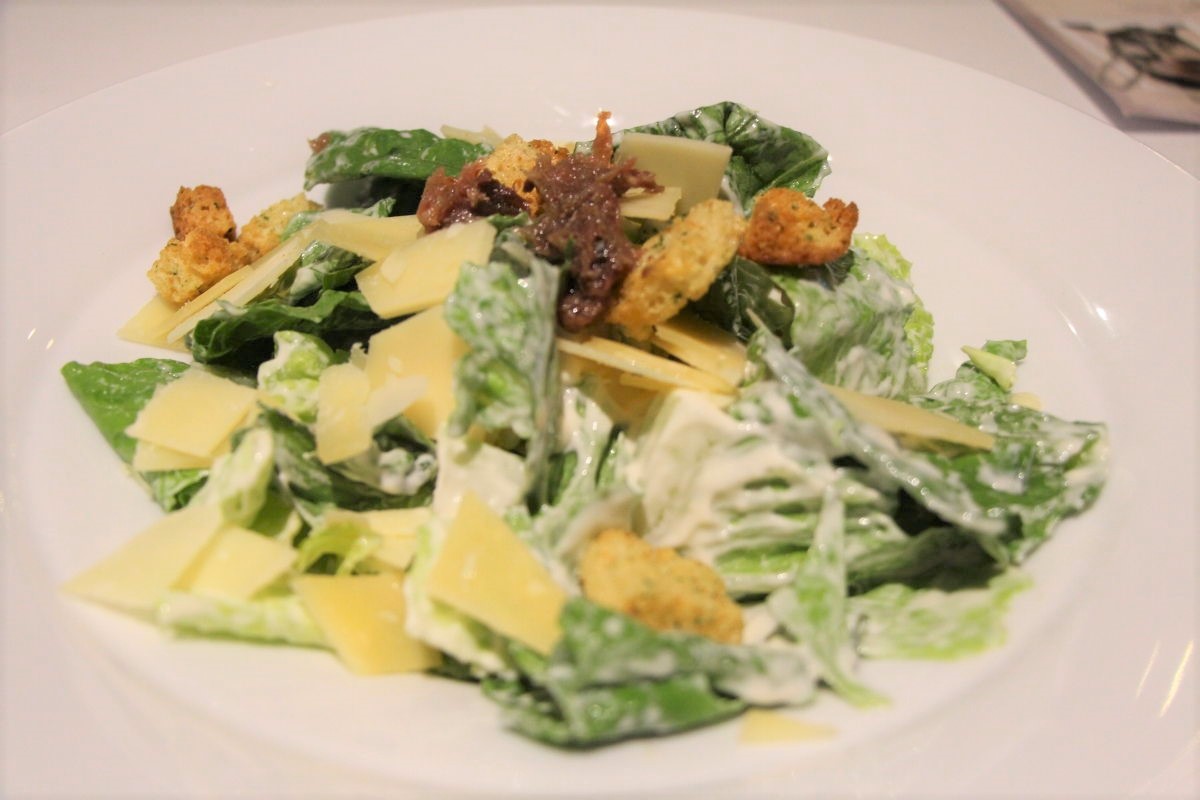 A bit after delighting in our appetizer, we were kidnapped by an "Italian Mob Boss" and he was asking for ransom! Our skills and intelligence were put to the test as we needed to find all the clues to be able to crack the code and escape from the "Italian Mafia."
We were a total of six guests plus the TOB Team and Michel. We all scrambled throughout our section of the restaurant to find all the clues we could get. From a cut-off finger, a police record from a famous gangster to a safe containing a special flashlight, there were all sorts of tools to help us solve the mystery. It was a lot of fun trying to figure out how to get out of the room. (I don't want to say too much; otherwise I'll give all the clues away) But in the end we figured it out and were freed!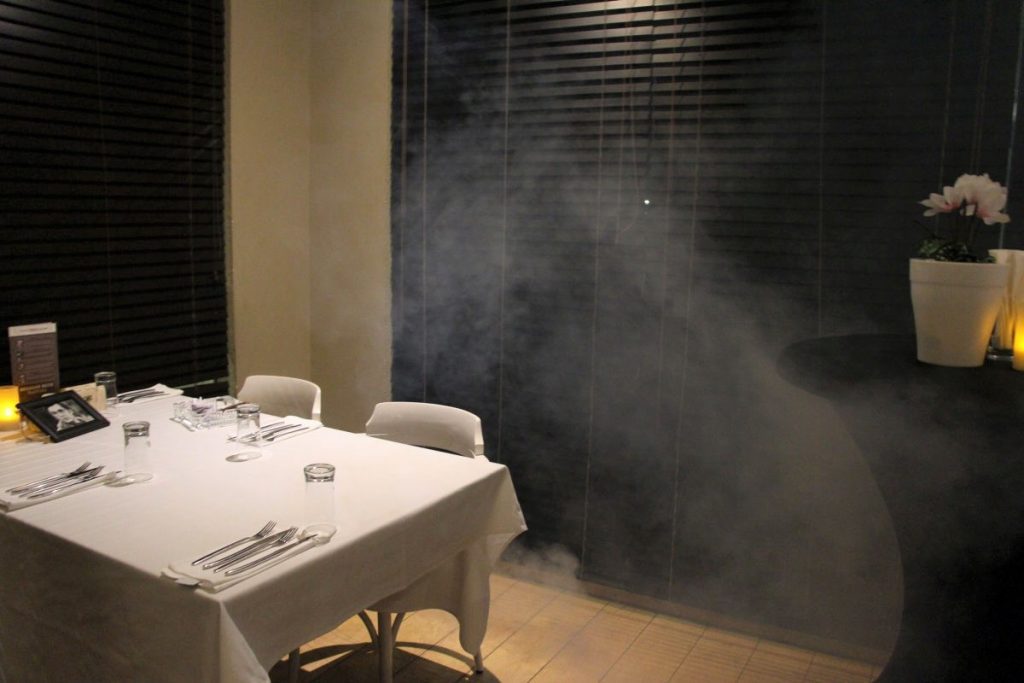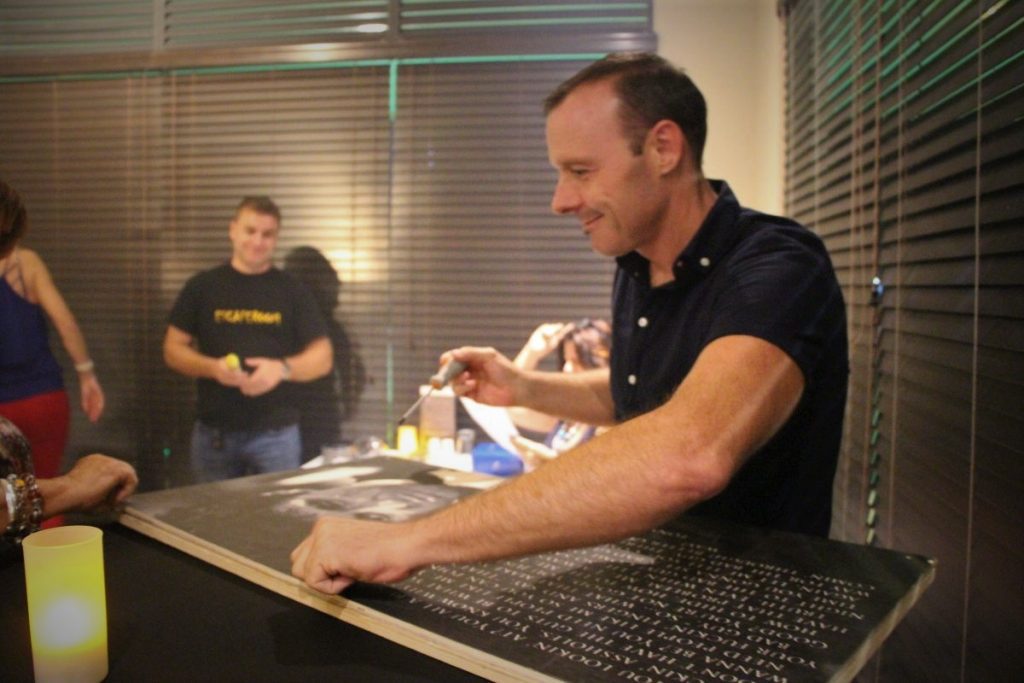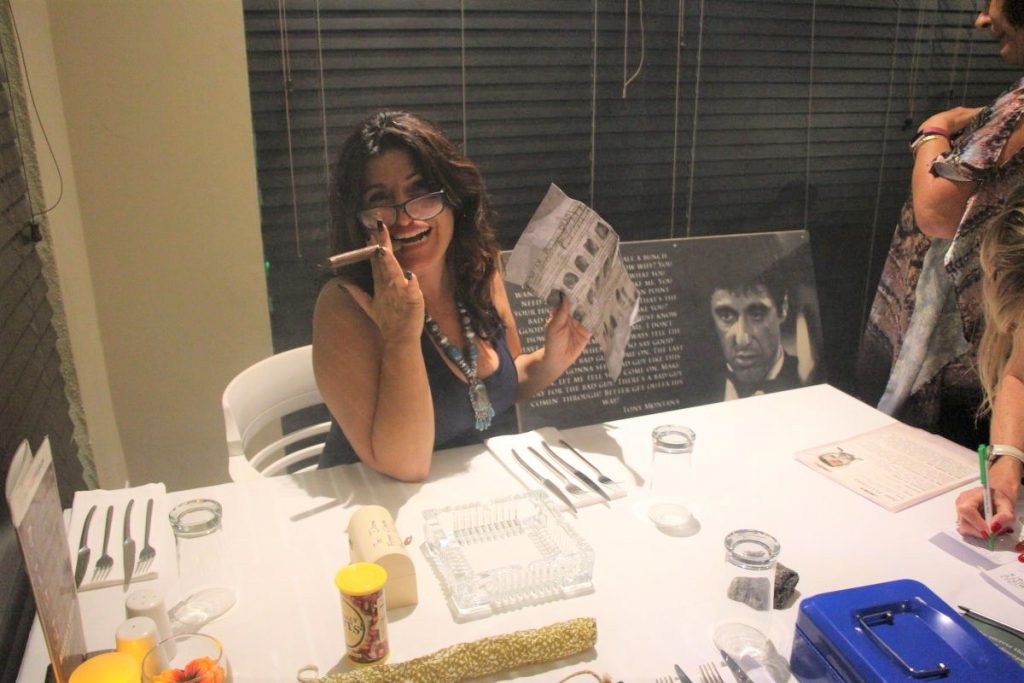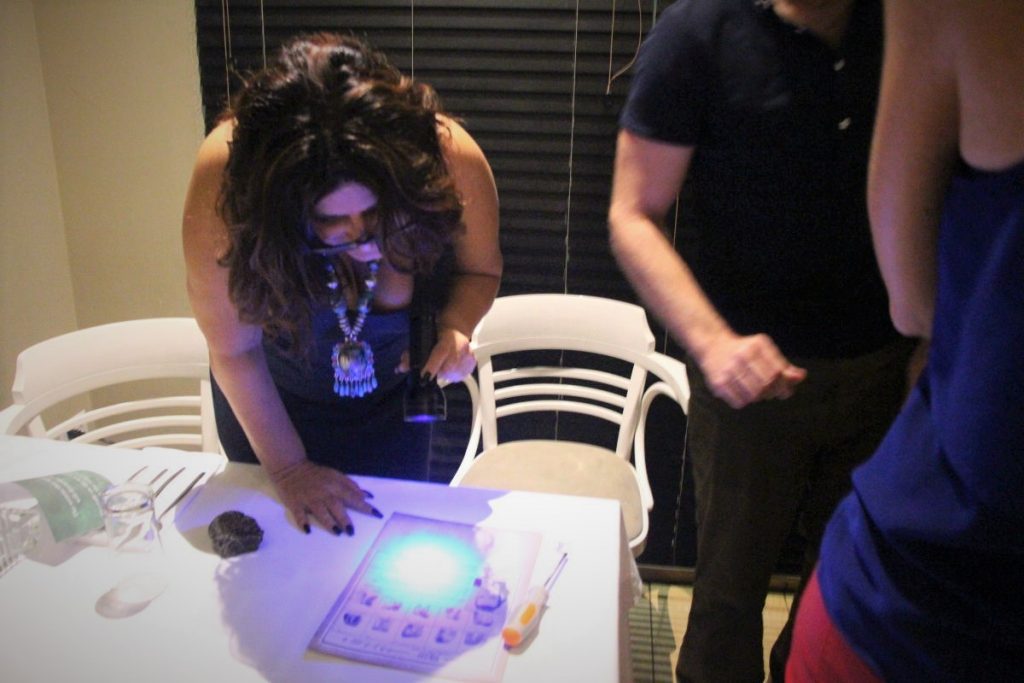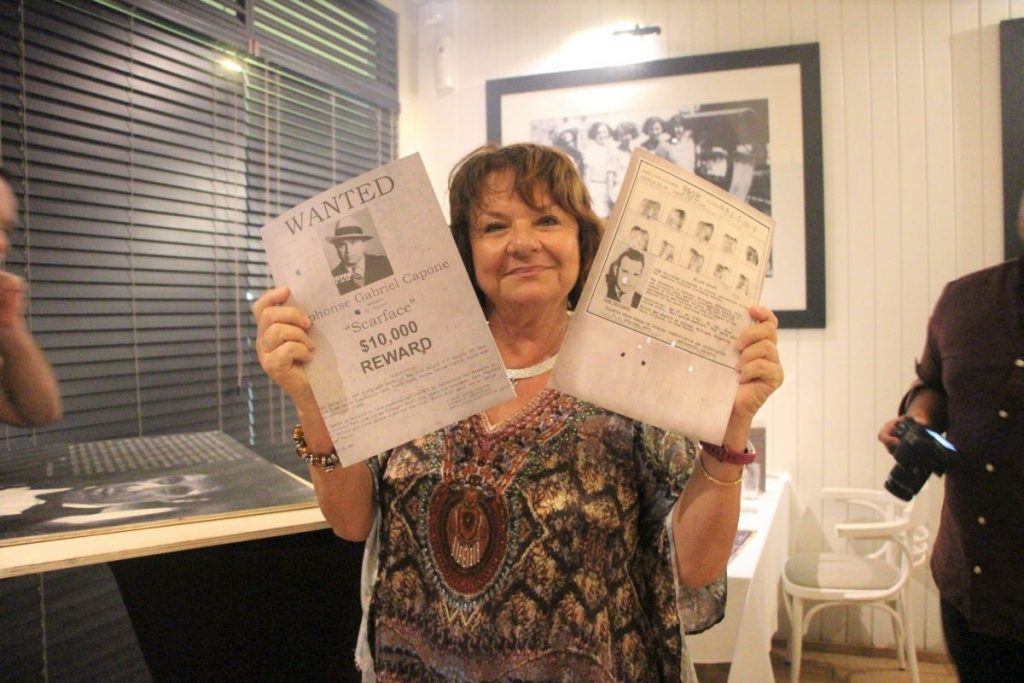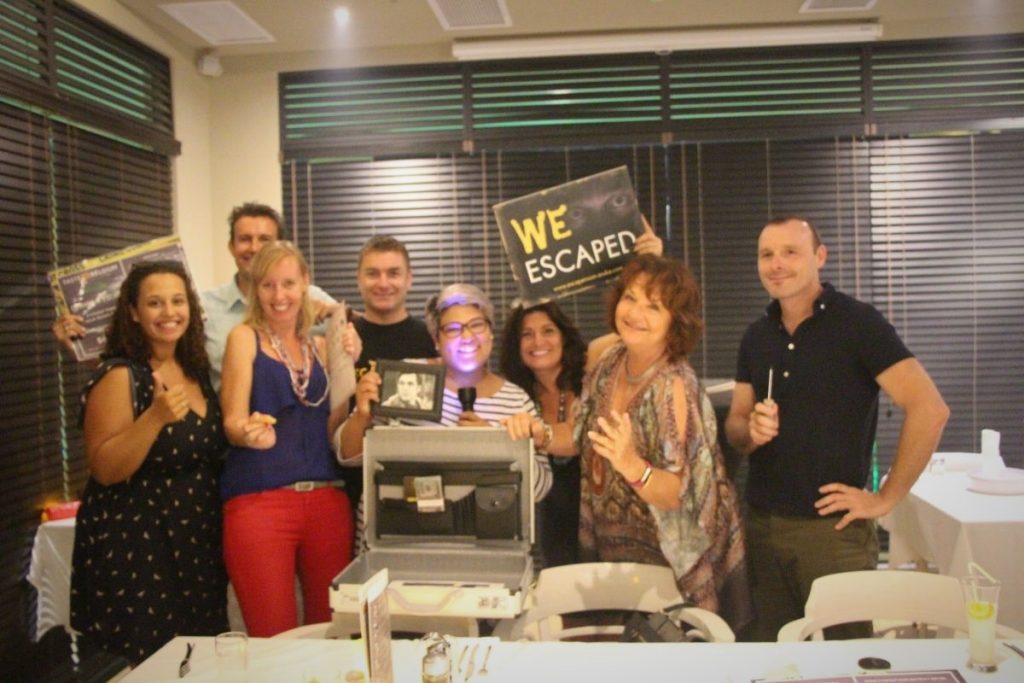 Feeling happy that we escaped from the Mafia, we definitely worked up an appetite and Taste of Belgium then presented us with a sample of all the Main dishes that were available in the "Dinner & Escape menu." We had beef teriyaki with onions, mushrooms, bell peppers, white rice and a slightly spiced soy sauce, grilled red snapper filet with a scrumptious Creole sauce, fried plantain and funchi… And my personal favorite of the evening "Kluisbos" – egg fettuccine in a creamy sauce of mushrooms, truffle and shaved parmesan cheese! Oh my, that meal was the highlight of my week. I am still dreaming about it! To satisfy our sweet tooth we ended the dinner with vanilla ice cream served with fresh fruits (honey dew, pineapple, strawberry & melon).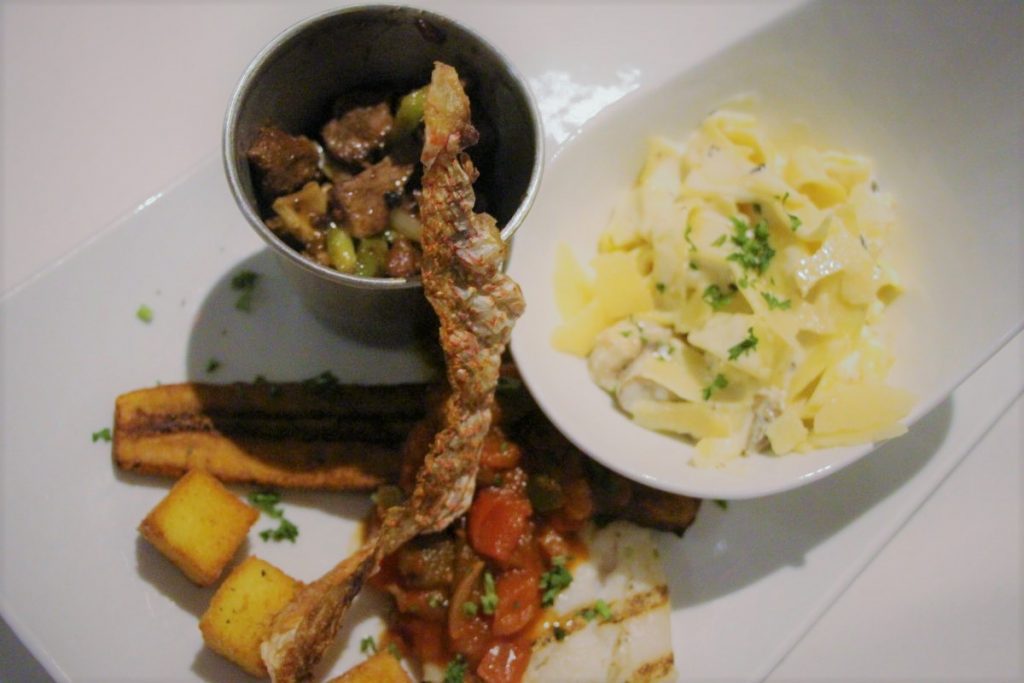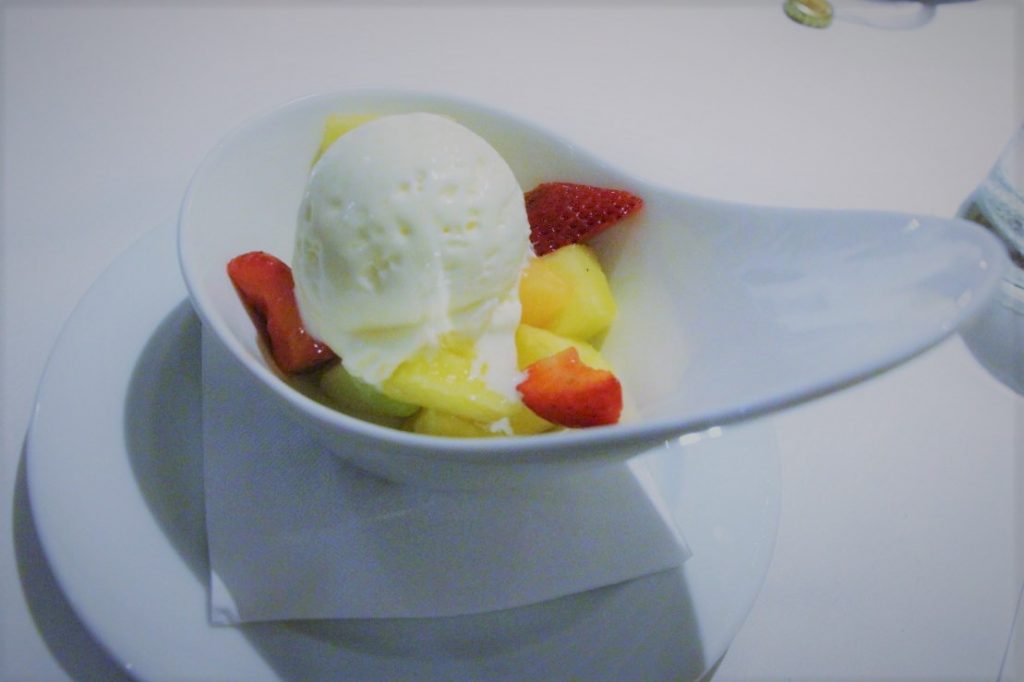 We were all having such a great time and the restaurant atmosphere is so cozy that we couldn't help but stay a little longer, chit-chat and sip a few more glasses of wine.
Menno from Taste of Belgium and Michel from The Escape Room Aruba have created a great combination of fun, mystery and really good food!
So, if you're looking for a delightful atmosphere, yummy dinner and a fun time with your family, friends or colleagues… contact Taste of Belgium and reserve your "Dinner & Escape" experience right away, you will love it! For just $68.50, you will enjoy a delicious 3-course dinner, 1 hour Escape Room adventure and a promise of a night to remember! Reservations are for groups up to seven people to allow enough time and space to complete the challenge of escaping the CSI-themed room.
They also cater for birthday parties or bachelorette nights. Escape Room Aruba and Taste of Belgium now offer the possibility to enjoy an "Escape Room On Location" at your own venue with the option of a full dinner, drinks, snacks and hors d'oeuvres all customized to your liking!
Visit Taste of Belgium's website or call Tel. +(297) 586-6388 to make your reservation now!