Inspired by World Health Day, our VisitAruba Team put together a short list of healthy dishes found at some of Aruba's top restaurants. If you are looking for a tasty AND healthy bite, visit one of the restaurants below!
Not only does this dish look incredibly tasty but you'll find it's extremely healthy too! The Seared Chilean Sea Bass is served with shallots, habaneros, cilantro, and sauternes beurre blanc. This dish is served with asparagus and fingerling potatoes. Your taste buds are sure to be left satisfied. Don't forget to try their fresh, raw seafood bar while you're there!
Are you a seafood lover? Aqua Grill is a must-try! Go here for more information.
Insalata Faro Blanco (Gluten-free, vegetarian)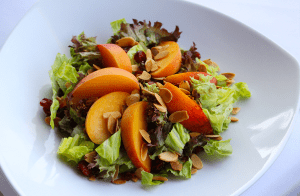 Faro Blanco is located at on of Aruba's most popular landmarks, the California Lighthouse. When you're visiting the lighthouse, don't forget to experience the sweet flavors of the Insalata Faro Blanco dish; one of their most popular salads on their menu. This dish consists of mixed lettuce, sliced almonds, cranberries and peaches. It's served with their very own home made house dressing. The ingredients of this dressing are secret, so you have to taste it yourself and enjoy!
Visiting the California Lighthouse? Don't forget to enjoy a fresh salad at Faro Blanco!
Picture this: your feet in the sand, watching the sun go down, fine dining and listening to the calming sounds of the sea in the background. Sounds lovely doesn't it? Atardi, located at the Aruba Marriott Resort & Stellaris Casino is one of the top beachfront restaurants on the island. The Macadamian Grouper (served over a bed of quinoa) is just one of the many delicious (and healthy) dishes on the menu. Recommended by Chef Penacino himself, it is a must-try!
Don't miss out on Atardi's beachfront dining experience. View more information here.
Have you ever been to Elements Restaurant? Located at Bucuti & Tara Beach Resorts, known for their top notch dishes and amazing beachfront view you cannot afford to miss out! And while you're there, enjoy the tangy, irresistible flavors of Mango Chicken. This dish is prepared with seared free-range, corn-fed chicken breast with fresh mango and soft peppercorn sauce.
Is your mouth watering yet? Make a reservation and try it for yourself at Elements Restaurant.
If you are looking for endless healthy options, then Texas de Brazil is the place to go! Texas de Brazil may be known for their famous plentiful meat selection but did you know they offer an extravagant salad area containing more than 45 fresh items? Find items such as grilled vegetables, fresh salad, imported cheeses, charcuterie, rice, black beans, soup, fish, shrimp and sushi! With the many mouthwatering choices you will surely not leave disappointed!
Do we have you convinced? Go here to find out more about Texas de Brazil.
With the many excellent dining options in Aruba this is only a tiny preview of what one can find. To view a full list of dining options, make reservations and explore the different cuisines offered on the island, visit ArubaRestaurants.com!