Every hour is happy in Aruba. Whether you have a cocktail in hand, or none at all, you will discover our island's happiness is infectious and you will have no choice but to let it take you over!
The island is filled with bon (good) vibes, year-round sunshine, smiles… and dushi (sweet/tasty) cocktails! So, with that being said, don't feel obliged to wait until 5 o'clock to order that tropical cocktail of choice, worry not, there is no judgment in Aruba, only a happy time to be had from sun up till' sundown!
We started this series to feature a different tropical cocktail (or mocktail) found on the island, with hopes that you will follow our recipe and join in on our virtual happy hour! Our first happy hour featured the famous Aruba Ariba, and today, we are switching it up with a frozen cocktail favorite… the Slippery Monkey!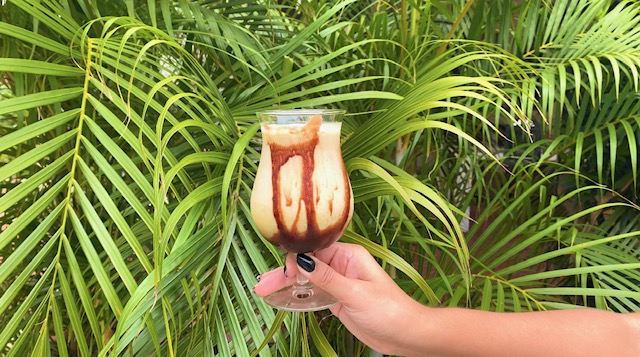 No matter where you are in the world, you can instantly teleport yourself to the happiest little island in the Caribbean. So join us, your escape to paradise is just one sip away!
Enjoy this frozen delight with us by joining in on our "Virtual Happy Hour"!
Fun fact: If you are a frequent guest of Aruba Marriott's Surf Club then it's quite likely you may recognize this delicious frozen treat, as it is a guest favorite at the pool & beach bar!
Tip: We recommend adding half of a fresh banana to the mixture and pouring a dash of Kahlua at the bottom of the glass (before pouring the mixture in), rather than Creme de Cacao, so that the cocktail is not overly sweet. The chocolate syrup on the inner glass already gives you enough of that sweet chocolatey flavor, trust us! Lastly, if you're not so into banana flavor, it is perfectly fine to leave those ingredients out, making it more of a coffee and chocolate tasting cocktail, however, you must know, the monkey will be very disappointed!
Feel free to switch up some of the ingredients to your liking. Below you will find our featured recipe, however, it is important to note, measurements and ingredients can vary based upon your liking!
Recipe
1/2 oz Coconut Rum

1/2 oz Kahlua
1/2 oz Vodka
1/2 oz Baileys (or cream or ice cream)
1.4 oz Creme de Banana
1/2 Fresh Banana or Banana Juice
Dash of Creme de Cacao
Chocolate Syrup
Ice
Directions
Place Rum, Kahlua, Vodka, Baileys, and Creme de Banana in a blender and blend with ice at medium-high speed for 15 seconds. Pour a dash of the Creme de Cacoa or Kahlua at bottom of the glass (a chilled collins glass or stemmed goblet is recommended). Drizzle chocolate syrup in the glass, partially covering the inner sides of the glass (for all the chocolate lovers go crazy, not so into chocolate? Skip this part!). Next, pour the blended ingredients into the glass, top with a small dash of Creme de Banana or a dark rum floater and….voilà, enjoy!
View more details on how to make this frozen cocktail here.
Stay tuned for our next happy hour! Want to get the recipe for a specific cocktail you've tried (or want to try) here in Aruba? Just send us a message and maybe we will feature it in our next happy hour!