Summer is off to a good start… especially if a trip to Aruba is on the agenda!
Although we have a constant breeze to help cool you off from that strong Caribbean sun, Aruba can still experience a bit of a Summer and early Fall heat wave, making these days feel a bit more toasty compared to other months.
However, there's no need to fret, as there are a few things that will help you survive this summer heat. Some of our summertime heat survival suggestions: sunscreen, a stylish hat, floating in the sea, a cold & refreshing beverage, and last but not least… ice cream!
Check out these 8 dushi (sweet) ice cream spots to help you stay cool in Aruba this summer:
Gelatissimo Bistro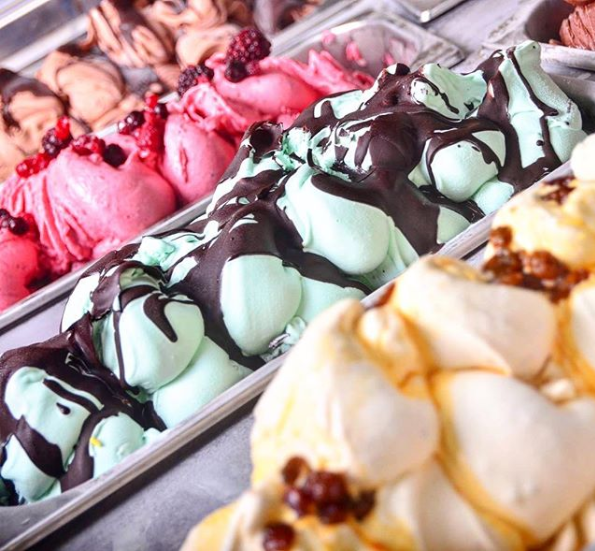 The Chill Down: So many options, so many locations, so convenient… so yummy! Not only do they have what seems to be an endless amount of mouthwatering gelato and ice cream flavors but they also serve breakfast, lunch, snacks, dinner and have daily happy hour! Quaint gelato shop meets chic, hip outdoor lounge.
Find this Sweet Spot: Palm Beach on the high-rise hotel strip in between Amore Mio and Craft, De Palm Pier by Bugaloe Beach Bar & Grill, and Paseo Herencia (outdoor mall).
Time to Get Your Scoop: Open daily, Palm Beach Location: 7 AM – 1 AM, De Palm Pier Location 10 AM – 9:30 PM, and Paseo Herencia Location: 4 PM – 11 PM.
M's Crepe Shack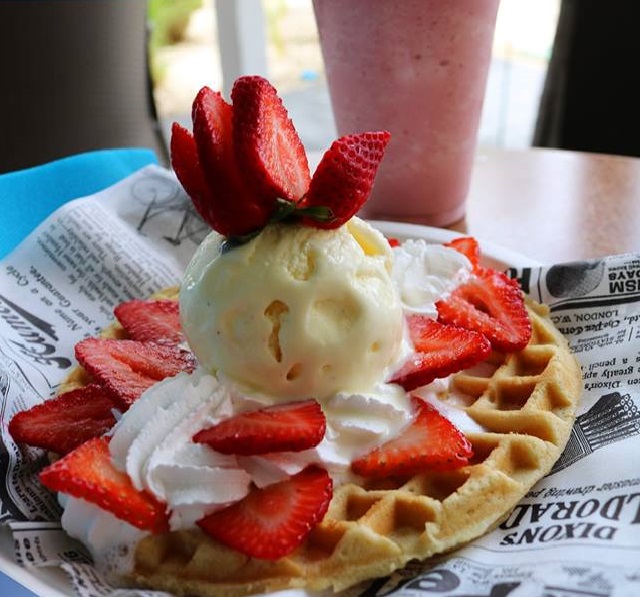 The Chill Down: You better come to M's Crêpe Shack with an appetite because it is not just your typical serving of ice cream… yes, as you may have guessed from the name, it is served with a Crepe! Choose from sweet or savory crepes, ice cream, fresh fruit smoothies, coffee and more. Not only will you indulge in a delicious treat but you will get to enjoy is beachside, it doesn't get much better than that!
Find this Sweet Spot: Next to Matthew's Beachside Restaurant, poolside at Casa del Mar Beach Resort.
Time to Get Your Scoop: Open daily, 7 AM – 5 PM.
Eduardo's Beach Shack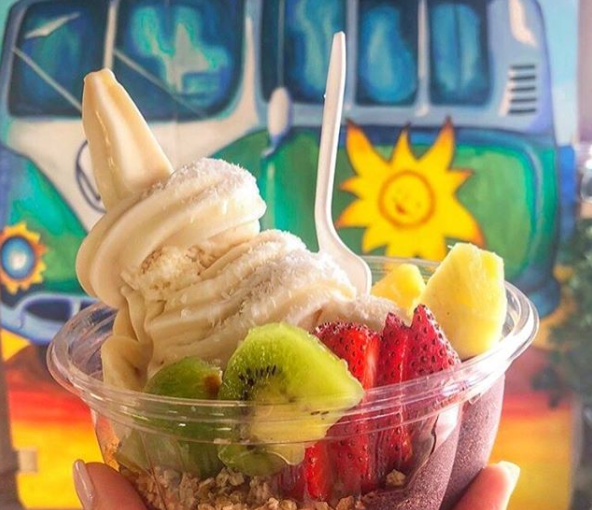 The Chill Down: You cannot visit Aruba without visiting this small (yet famous) colorful beach shack (totally 'Instagramable')! Serving healthy and delicious smoothies, vegetable juices, fresh fruit, acai bowls, lunch items, and yes, specialty ice cream… known as Coco Whip!
Find this Sweet Spot: On Palm Beach by Playa Linda Beach Resort, at La Cabana Beach Resort and Eduardo's Hideaway is located in Noord.
Time to Get Your Scoop: Mon – Sat, 7:30 AM – 4:15 PM and Sunday, 8 AM – 4 PM.
Ritz Snack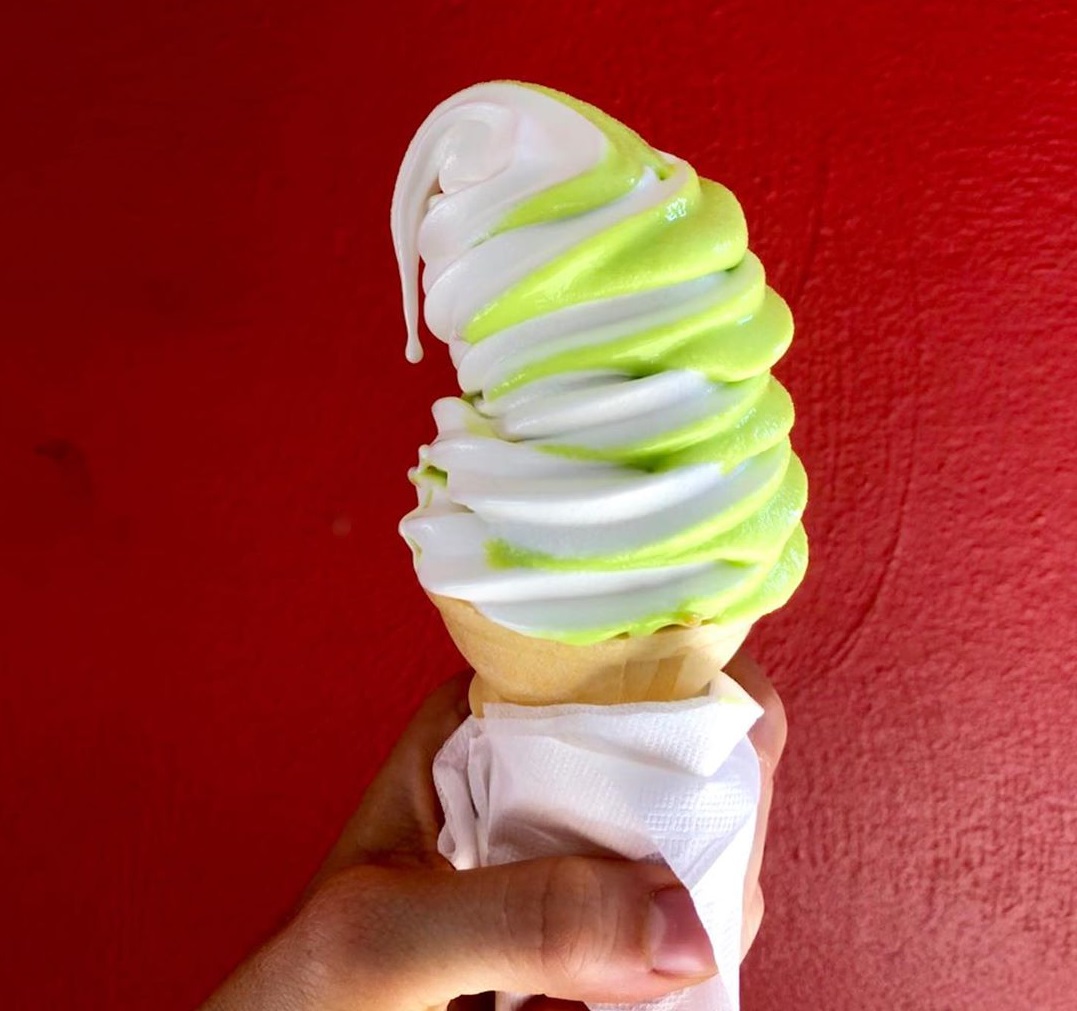 The Chill Down: Ritz is known as the OG of ice cream and snack spots in Aruba, open since 1938, it has always been a local favorite. Quick and convenient, you can pop in for breakfast, lunch, snacks, and of course ice cream – the real star of the show! You may be familiar with soft serve ice cream but here in Aruba it's known as a "Super"!
Find this Sweet Spot: Located off of L.G. Smith Blvd. in the shopping mall strip, near D Shop.
Time to Get Your Scoop: Open daily, 6:30 AM – 11 PM.
Coco dushi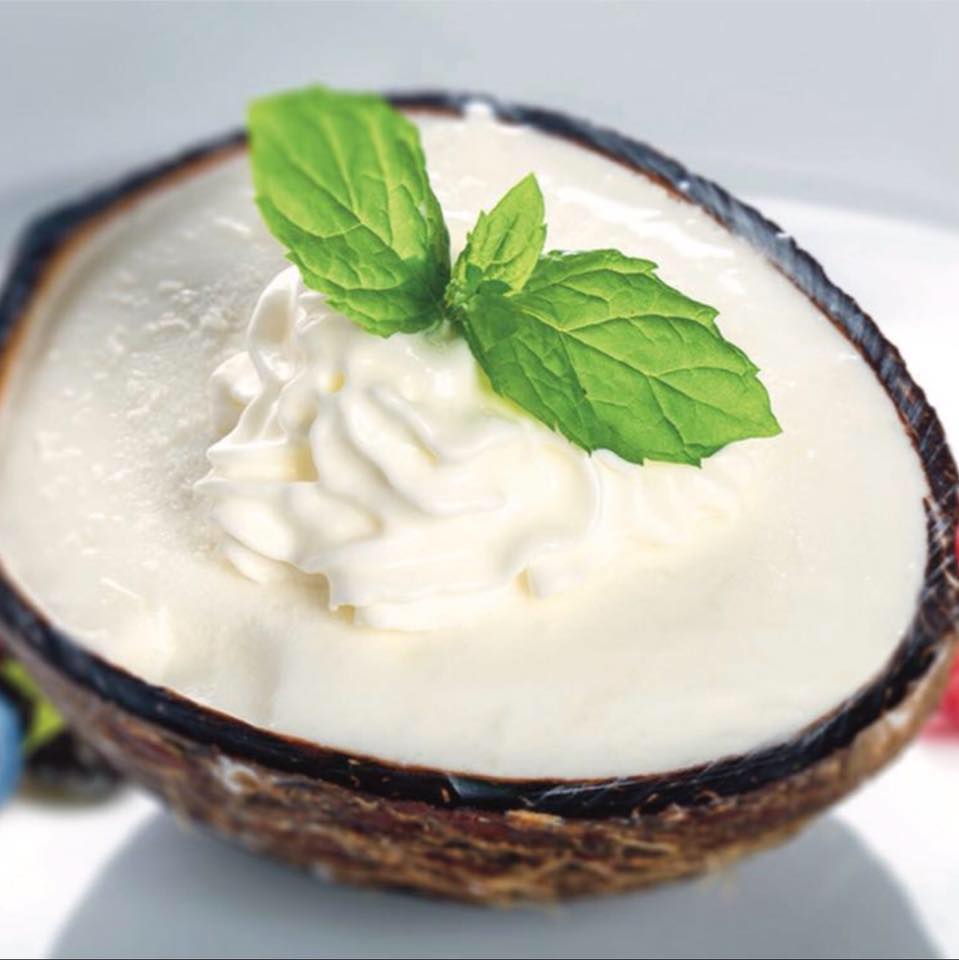 The Chill Down: A fresh gelato shop on the island that is absolutely worth trying! Have you spotted those amazingly delicious half coconut shells filled with gelato? You can find those here! Not only do they serve a variety of gelato flavors but you can also indulge in fresh fruit smoothies and sushi.
Find this Sweet Spot: Near the neighborhood of Saliña Cerca in Noord, just a small drive from the Palm Beach area.
Time to Get Your Scoop: Mon-Wed and Fri, 3 PM – 10 PM, Closed on Thurs, Sat – Sun, 12 PM – 10 PM.
Mimo's Ice Cream Rolls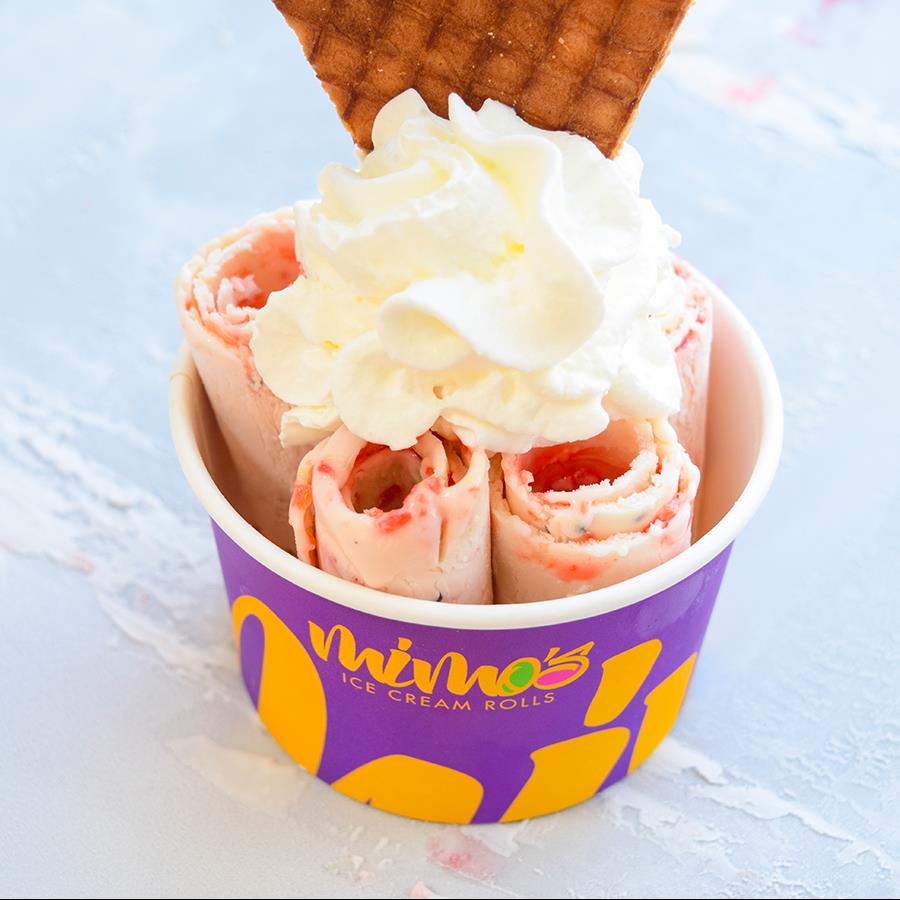 The Chill Down: Conveniently located in the Palm Beach area, if you are taking an after-dinner stroll or heading to the movies make sure to stop by Mimo's stand! Serving their unique ice cream rolls with an array of delectable toppings and mouth-smacking sauces.
Find this Sweet Spot: Paseo Herencia (outdoor mall) in Palm Beach, their stand is located just across from The Lazy Turtle restaurant!
Time to Get Your Scoop: Open daily, 5:30 PM – 11:0 PM (in the plaza) and 2:00 – 11:00 PM (streetside)
Aruba Marriott's Gelato & Co.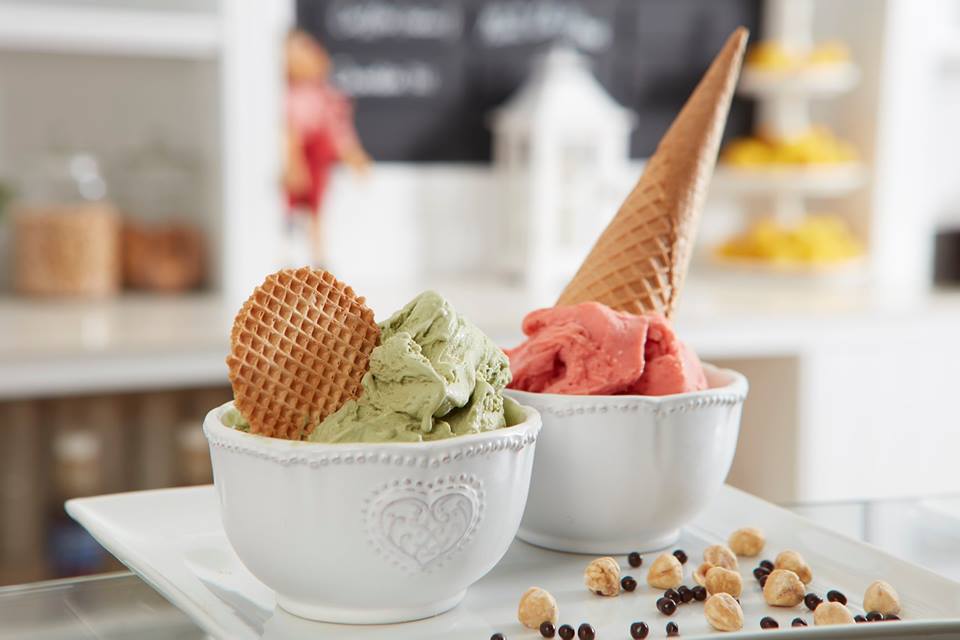 The Chill Down: Serving fresh artisanal gelato and sorbet, it is the perfect sweet treat to end your day or cool off with during a day of fun under the sun! While you're at Marriott's trendy and chic lobby you may as well check out their amazing sushi options at the bar too!
Find this Sweet Spot: The Lobby of Aruba Marriott Resort & Stellaris Casino.
Time to Get Your Scoop: Open daily, 11 AM – 12 AM.
Fat Tuesday Aruba (for adults-only)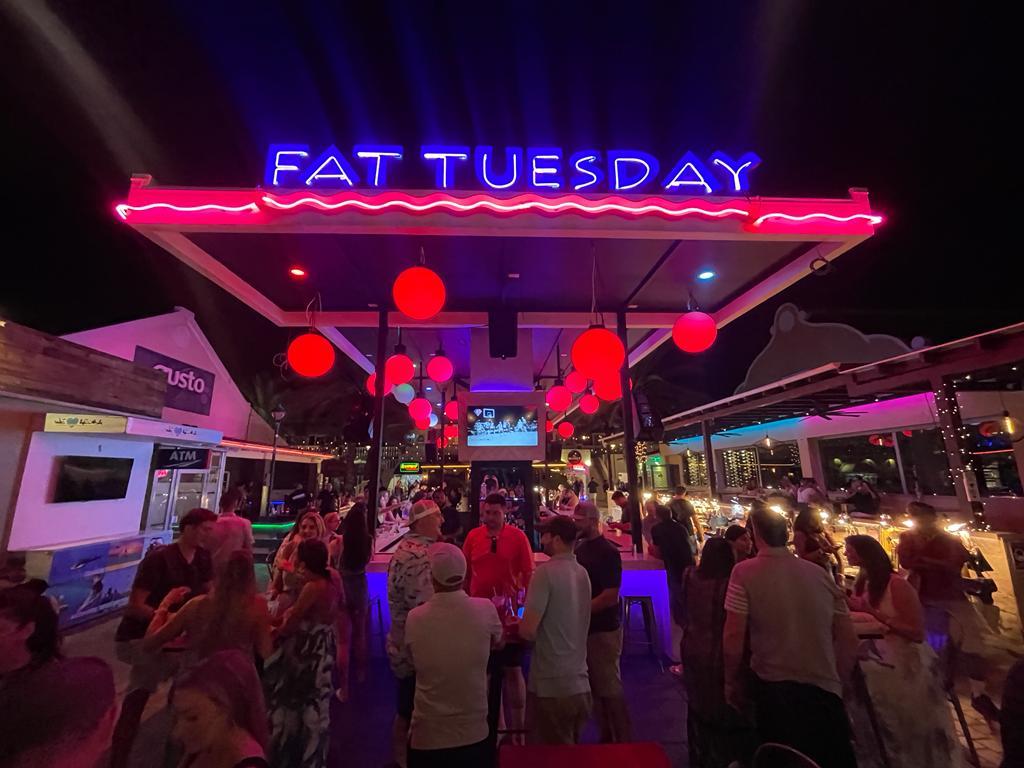 The Chill Down: Did you hear Fat Tuesday has made its way down to Aruba? Serving frozen beverages infused with liquor, they have plenty of refreshing tropical flavor combinations, yum! Nestled in between several hot spots in the heart of Palm Beach, this newest addition to Aruba's nightlife is in a prime location. They are open for daytime fun until the wee hours of the morning, so stop by to cool down from the hot island weather and have some fun while you're at it!
Find this Sweet Spot: The Village, just across from Hilton Aruba Caribbean Resort & Casino
Time to Get Your Scoop: Sunday – Thursday 11 AM – 1 AM, Friday – Saturday 11 AM – 3 AM
Bonus: If you are having a lazy beach day and can't get yourself to go anywhere (totally understandable)… keep an eye open for the ice cream truck! It usually stops by Arashi Beach, Boca Catalina and sometimes Eagle Beach!
If you spot this truck: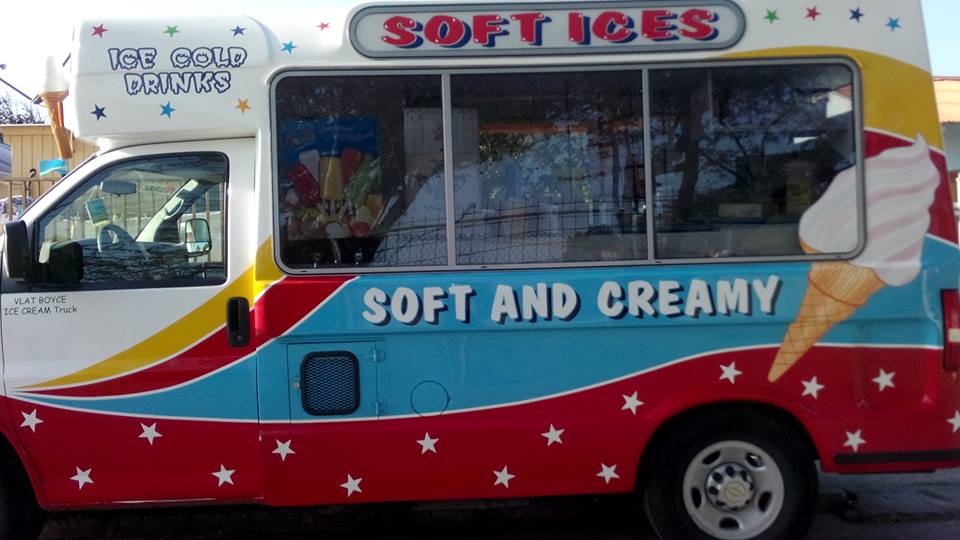 Run, run as fast as you can, and make sure to get your cold treat before the ice cream man heads off to his next stop!
Stay cool, and for more summertime fun in Aruba go to VisitAruba.com.
Article last updated on June 24, 2022