The One Happy Island is home to many diverse and delicious restaurants, but when it comes to buying food after regular dinner hours, you may feel a bit lost. One thing to note is that most of Aruba's hidden foodie gems are known by the locals via word of mouth. Especially the drool-worthy finds for late night food.
So, us locals, aka Megan & Airany, have decided to share the secrets of late night dining in Aruba, to spare you from the distresses of being hangry in the middle of the night!
The following 10 food joints are perfect options to treat yourself to whether you're struggling with the midnight munchies, or simply looking for a bite to eat after you dance the night away at one of Aruba's nightlife hot spots.
Keep reading to reveal the scrumptious lineup for yourself!
Update: Hours of service might differ due to COVID.
L.G. Smith's Steak & Chop House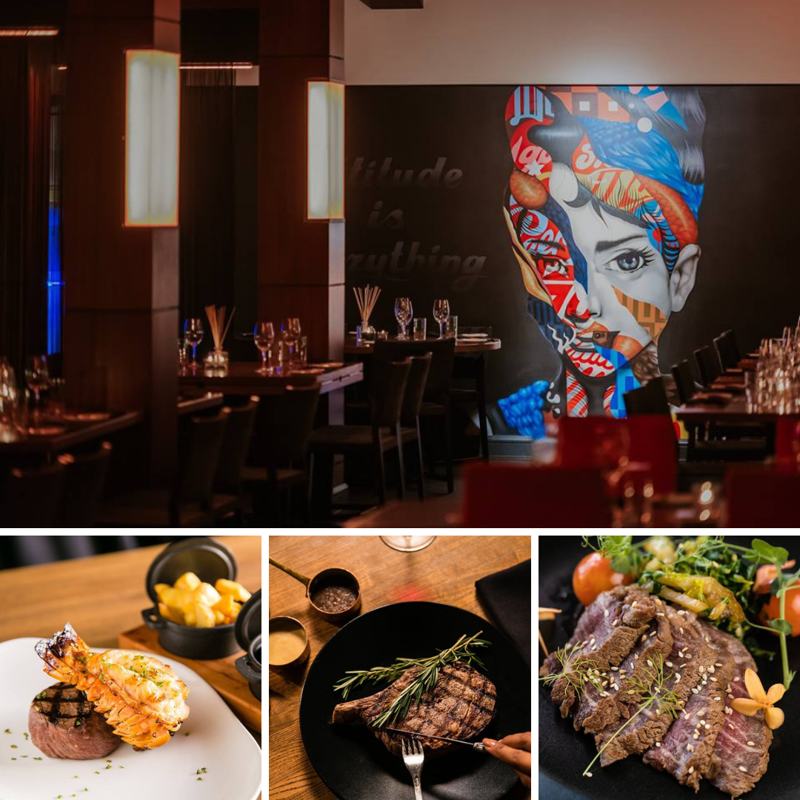 The wonderful find that is L.G. Smith's Steak & Chop House is one of the only spots in Aruba  that you can dine-in at 5am in the morning. Some personal favorites off of their late night lounge menu include: their burgers, the Fisherman's Sandwich, and Fried Calamari.
Local Tip: If you want to feel fine-and-fancy, they also have quite the extensive wine list. P.S. Their lounge area overlooks Wind Creek Crystal Casino, just in case you enjoy playing slots.
Opening Hours: 6 pm – 6 am, Daily
Julio's Corner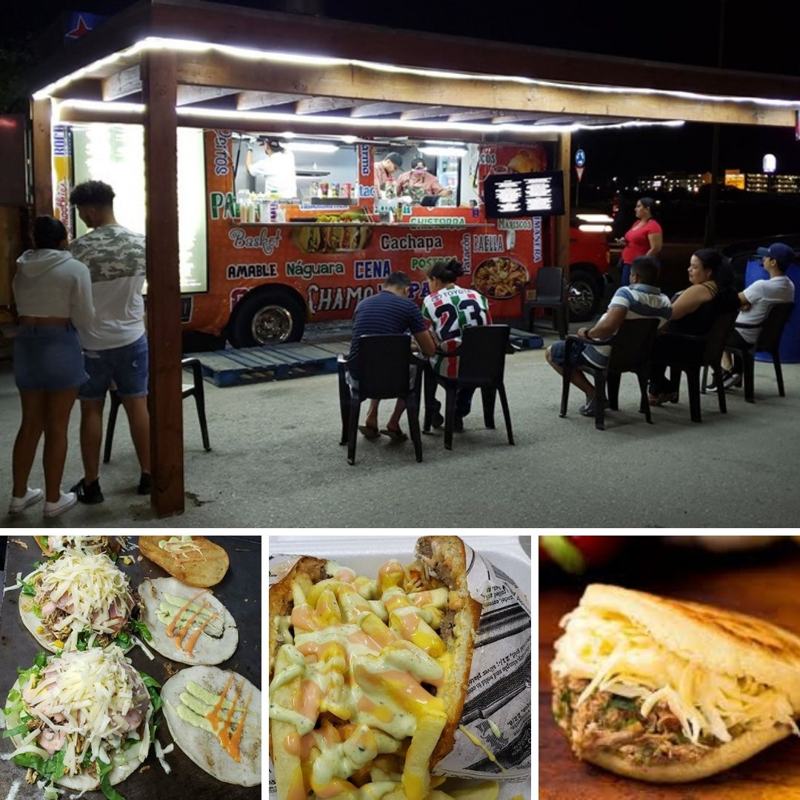 Now if you're craving some Latin flavor to feed that grumbling tummy… like tequeños, arepas and patacon…Julio's Corner is where you need to go. Located near the well-known Pizza Hut roundabout, it's safe to say that Latin food is always a good idea for late night cravings, especially from Julio's Corner. Our favorite menu item? The Patacon, a neatly prepared plantain concoction with a burst of flavor that is sure to make you come back again…and again.
Local Tip: They also have, and YOU CAN QUOTE US ON THIS… the best late night veggie burger on the island.
Opening Hours: 8 pm – 4 am *Closed Mondays & Sundays
Candela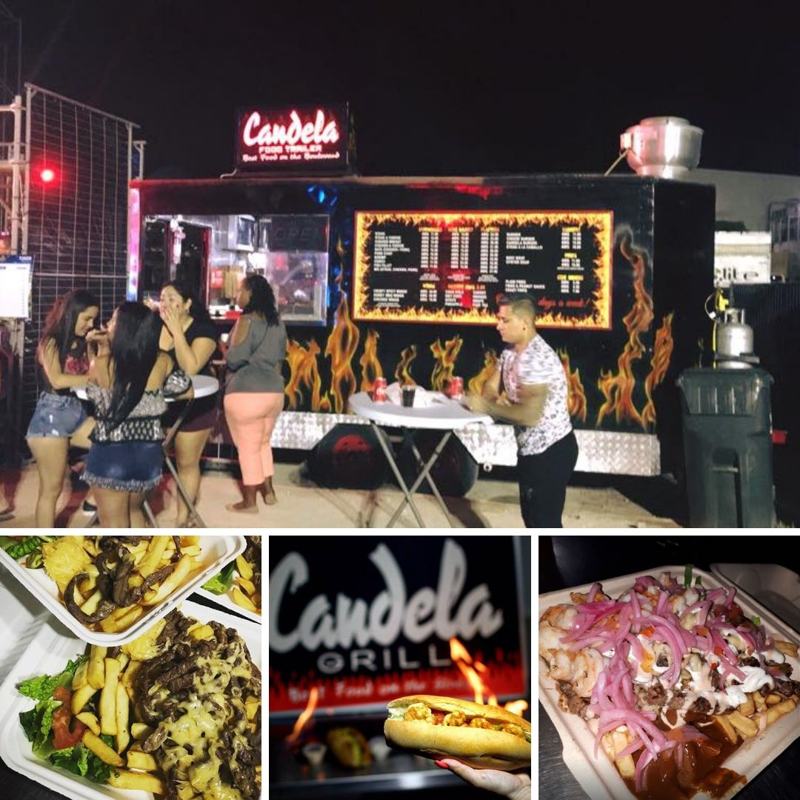 You've probably passed right by this local-favorite food truck on your way to your Aruba resort without even knowing of its glorious reputation. It's centrally located in front of Royal Plaza in Oranjestad and walking-distance of the cruise terminal. Candela means fire in Papiamento, and that's exactly what you can expect from this food truck. STRAIGHT FIRE (not in a spicy way, but more of a dang-that's-delicious kinda way)! It should be considered a local crime to not have tried their steak & cheese basket or calco stoba!
Local Tip: Make sure to request both, garlic and rosada sauce. A bomb diggity combination.
Opening Hours: Sun- Thu: 9-4 am | Fri-Sat: 9 pm-5 am
Amore Mio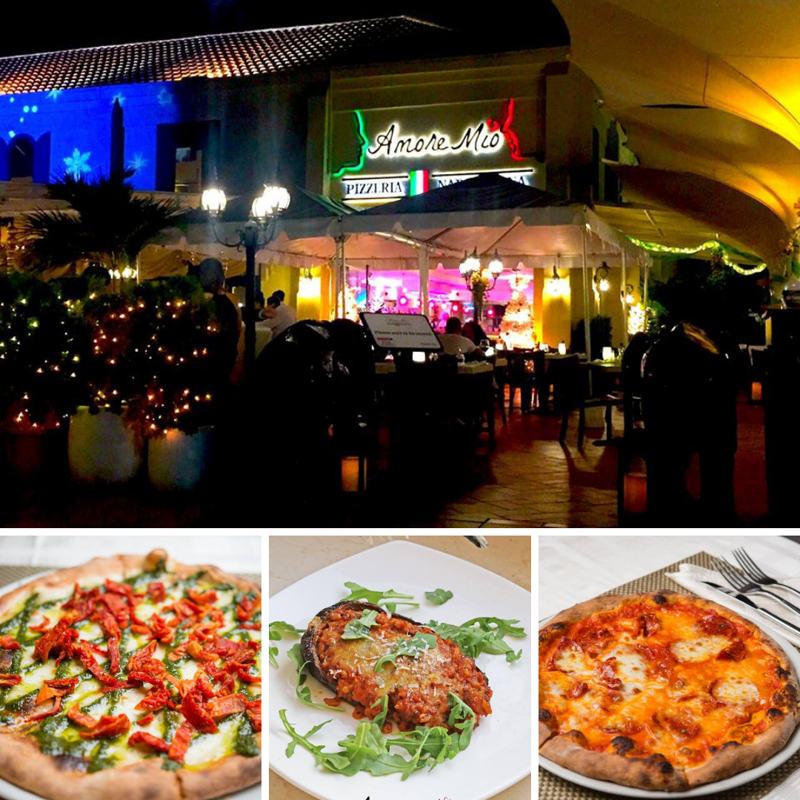 This Italian restaurant has so many must-try dishes, but if we had to choose….here's our fave picks: Airany – the Pesto Alla Genovese Pizza & Megan – the Vegan Pizza which comes with vegan artisan sausage & veggie cheese. Also, be sure to treat yourself to their mini johnny cakes (not on their official menu – but this should be on your palate's menu for the evening).
Local Tip: If you want something sweet for dessert, there is a gelato shop right next door that's also open till late.
Opening Hours: 11 am – 1 am, Daily
El Mexicano aruba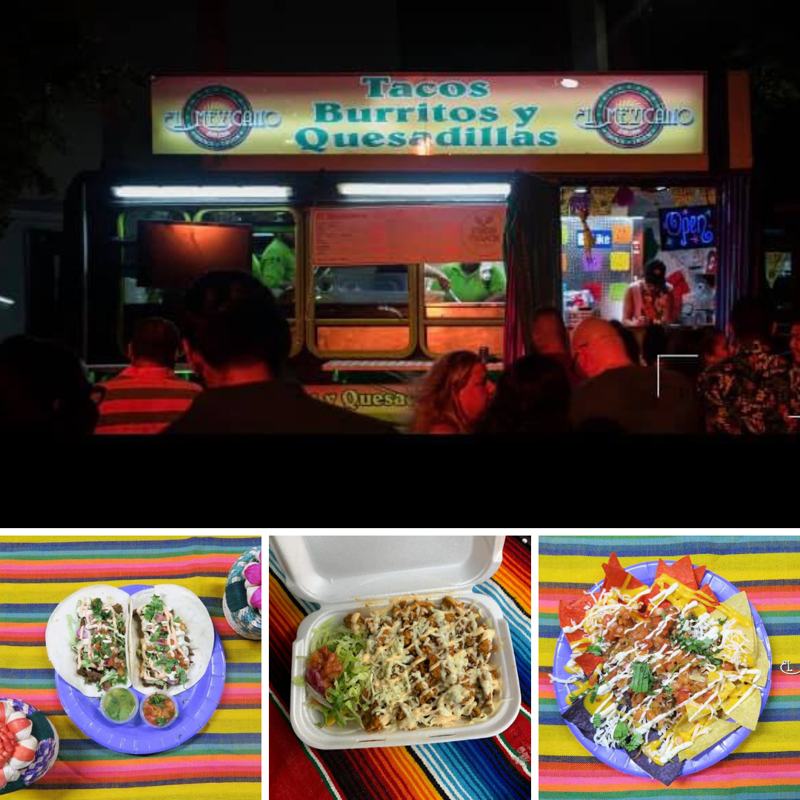 Traditional Mexican made-to-order tacos and burritos during the wee hours of the morning? Yes, please! Also, look at those pictures…it's a fiesta on a platter waiting to be enjoyed by true lovers of Mexican munchies. As you can see they are very generous with their sauce, which we definitely appreciate.
Local Tip: Ask them about their #SpecialOfTheDay. You'll be pleasantly surprised by their offerings *wink wink*
Opening Hours: Tue – Thu 9 pm – 3 am | Fri + Sat 9 pm – 5 am
Lola Taqueria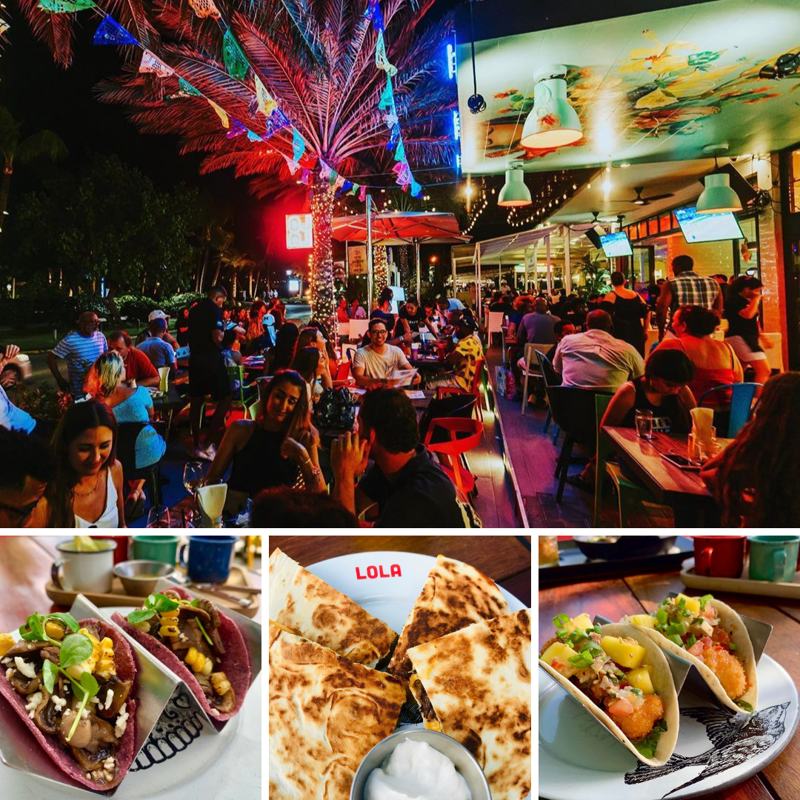 Lola's tacos are divine creations of earth. A must-try is their shrimp tacos that are deliciously decorated with mango salsa. Plus, if you love sauces (and we sure do), then you'll also appreciate the fact that they give you a bunch of different sauces when serving your dish. Encouraging you to dip your heart away.
Local Tip: If you're lucky you can get to experience being serenaded by a LIVE mariachi band
Opening Hours: 11 am – 1 am, Daily
Fireson Brewing Company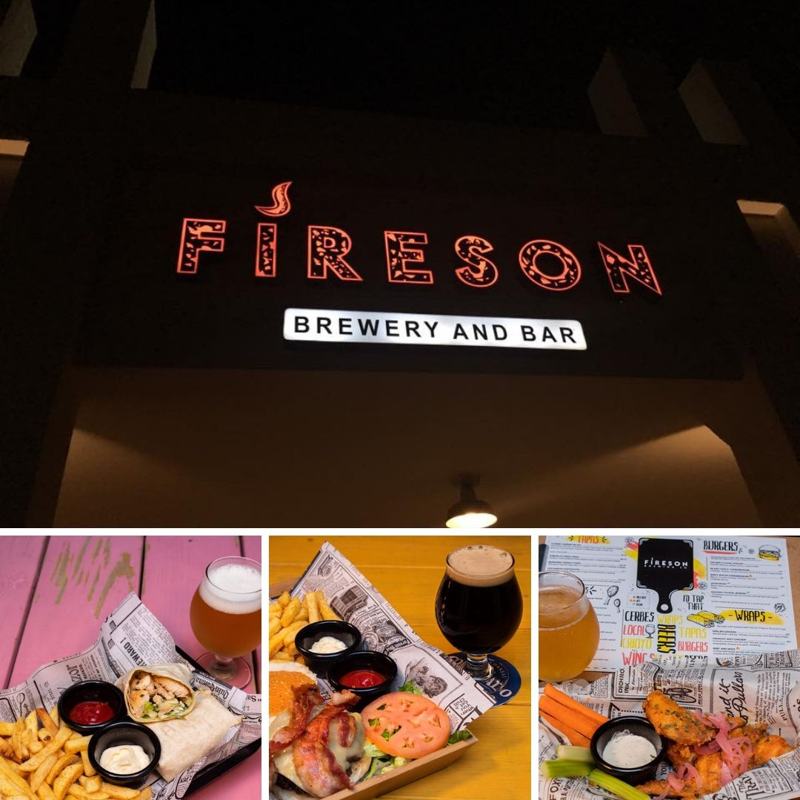 If you're in the mood for wings, burgers or wraps…. with a side of chill vibes, then Fireson is the place for you. Located conveniently at Palm Beach in front of Holiday Inn Resort Aruba's Casino. P.S. It's Aruba's first and only craft brewery. Go for the food, stay for the local quality beer.
Local Tip: Every Friday and Saturday they have a local-priced special on Amstel Brights offering them at just $4 a beer!
Opening Hours: 5 pm – 1 am *Sundays Closed
UpinSmoke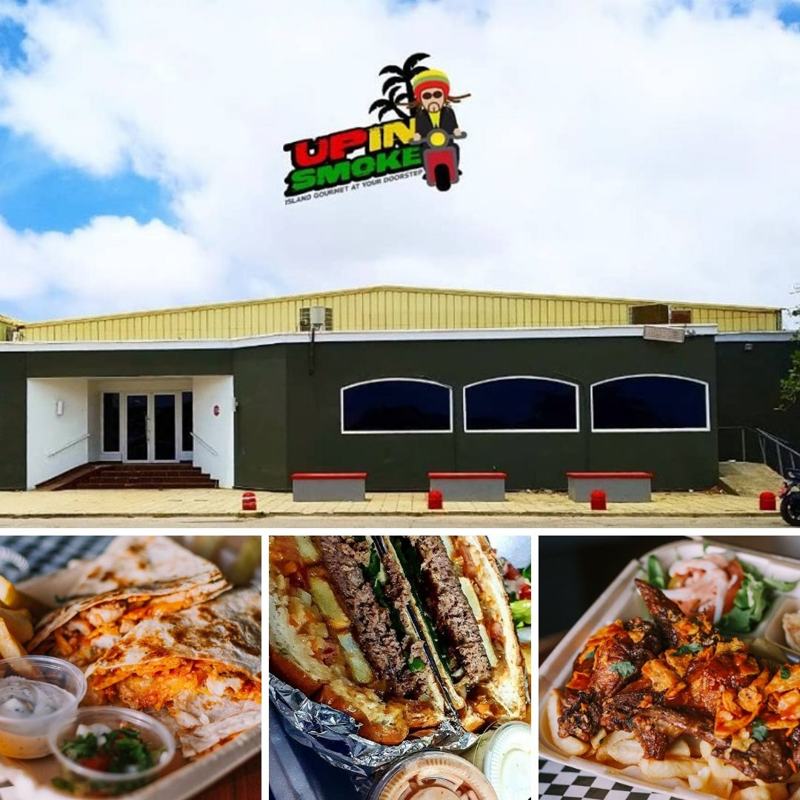 Where there's smoke, there is fire and if fire food is what you're looking for…whether it be wings, burgers, ribs…you name it, THIS IS THE PLACE! Situated inside Eagle Bowling, UpinSmoke, is one of the island's best food joints. You know you'll always get your money's worth while visiting this venue! Make sure not to miss out on their muy delicioso BBQ Quesadillas. Bonus: they also deliver.
Local Tip: They started hosting their ROOTS ROCK REGGAE FRIDAYS event which includes all-night-long specials On BBQ Chicken Quesadillas, and LIVE music by local bands, such as Roots I Riddim.
Opening Hours: Currently closed due to COVID
Lucy's Retired Surfer's Bar & Restaurant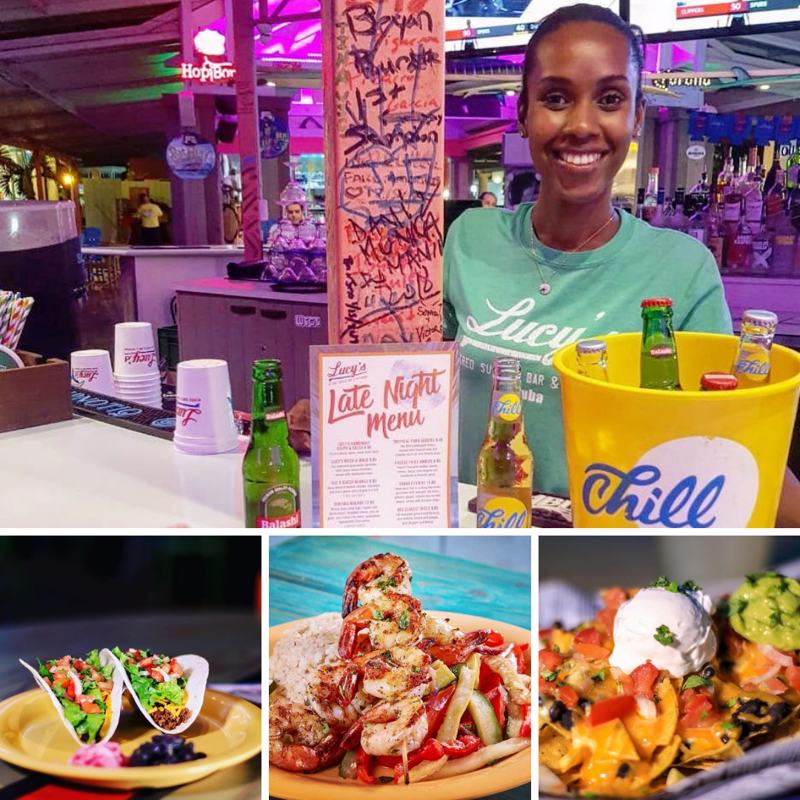 If you're looking for a late night spot with colorful ambiance and a gorgeous view of the marina at night, then Lucy's Retired Surfers Bar & Restaurant is the place to go! Make sure to grab their nachos and treat your taste buds to one of their fun cocktails. Bonus: this spot has different Insta-worthy photo op areas
Local Tip: Head over to this venue for their $1 tacos and $3 margaritas during Lucy's Taco Tuesday special
Opening Hours: 11 am – 1 am, Daily
Tia Rosa Snack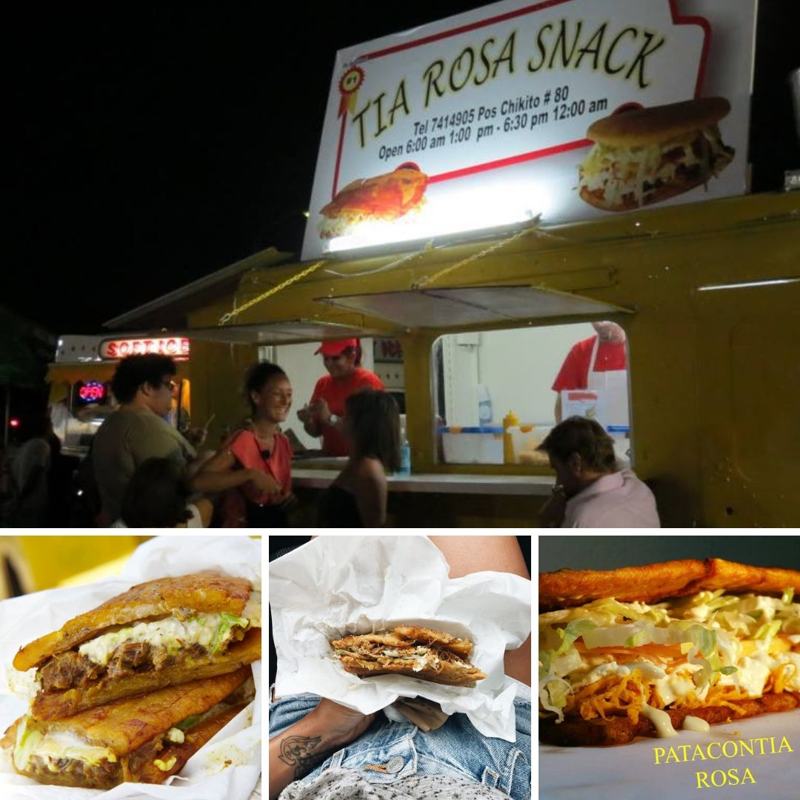 Ask any local at around 5 am, after a good night out…where they are heading to eat and the name Tia Rosa is for sure to be dropped among the other dushi places. Some people even end up hanging around Mangel Halto beach just to wait for this food truck to open. Heck, we might just go grab ourselves some arepas and patacones and head straight to the beach to indulge in Tia Rosa's treats.
Local Tip: Queso blanco. That's it… make sure to include it in whatever you choose to order (AKA get those cheese pills ready…and by cheese pills we mean lactase pills for the lactose intolerant #WorthIt).
Opening Hours: 6 am – 1 pm | 6:30 pm – 12 am, Daily
🤤A general local tip from us: When in doubt–> Choose both garlic sauce and salsa rosada. And yes, we are in fact shameless sauce fanatics.
We hope you enjoy indulging in ALL of these spots! We're drooling just thinking about them. FACTS: might, or more like probably will, just give into the cravings and treat ourselves to one-of-the-above food spots tonight.
Zero shame in our late night cravings game. See you there!
Keep up with the latest updates, especially created for the Aruba lovers of the world, by liking us on Facebook and following us on Instagram.
*Written by Megan Rojer & Airany Heyden