Vacation in Aruba often calls for plenty of fun-filled and action packed days, however, if you find yourself in need of some serious R&R (which is actually what vacation is for), we've got you've covered!
Check out our list of beaches where you can take it easy and get some ultimate relaxation in Aruba!
Ready, set… re-charge!
Boca Catalina
Location: Situated between Malmok and Arashi Beach.
Boca Catalina is a beautiful and peaceful little beach that offers great scenery and perfect conditions for snorkeling! You will find a diversity of aquatic life very close to shore. Sit back in your lounge chair with a drink in hand and enjoy the picture perfect scenery Boca has to offer!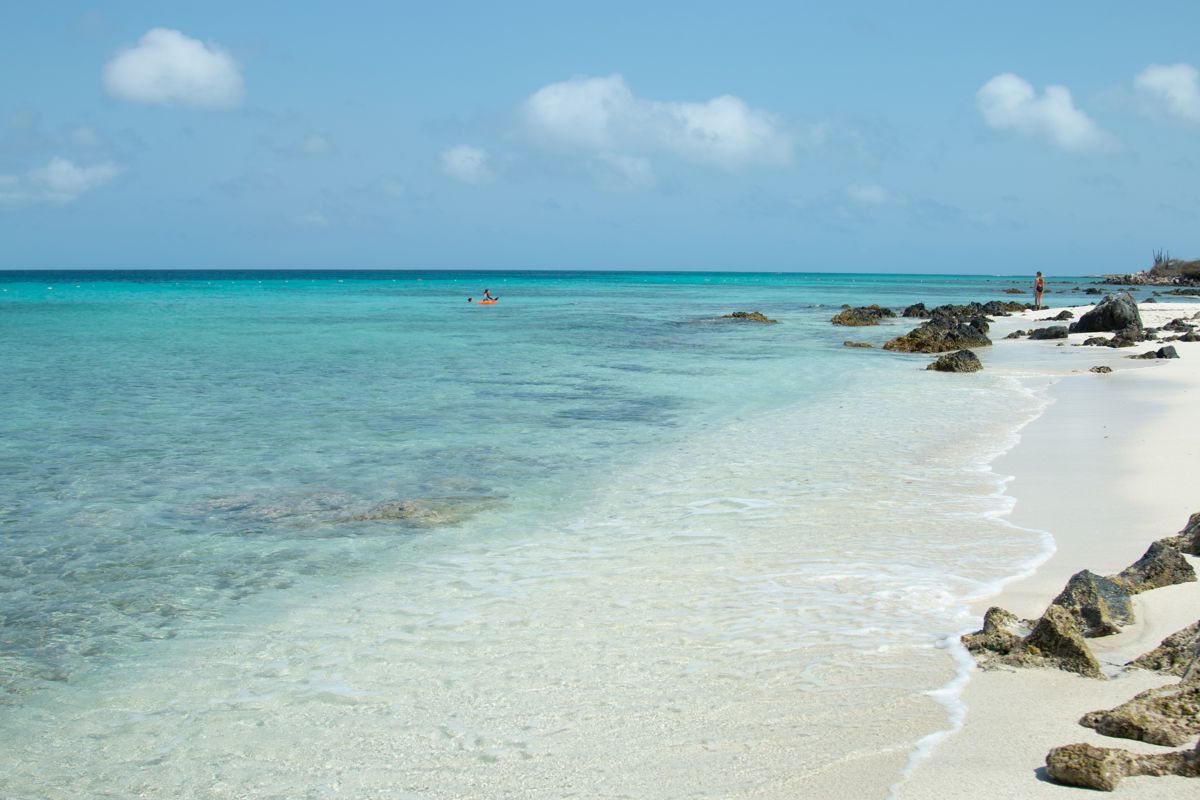 Tip: Try to get there on the earlier side to claim a palapa or shady tree area, as there are not too many available. Don't forget to pack your cooler, there are very few places to grab a snack or drink nearby.
Malmok
Location: Situated between Fisherman's Huts and Boca Catalina.
There's nothing quite like Malmok! Picture a narrow stretch of sandy beach among the rocky, limestone terrace lining the coast. There are plenty of little nooks and crannies to find for you to climb or jump into the sea. Spend the day lounging under the trees or take a dive in the sea to snorkel and witness the beautiful marine life in the Caribbean!
Tip: Don't forget your snorkel gear! This is one of the prime spots for snorkeling in Aruba thanks to its crystal clear waters and plentiful marine life. Bring a camera along you'll want to capture the beautiful scenery!
Fisherman's Hut
Location: Just past the Ritz Carlton, situated before Malmok Beach.
If you are a kite or wind surfer then Fisherman's Hut is your beach heaven! The wind and water conditions here make for the perfect playground. What better way to free your mind then experiencing an ultimate rush on the water? If you're not a surfer, no worries… you'll find watching along from the beach is quite soothing and relaxing (oh, and you don't have to move a muscle).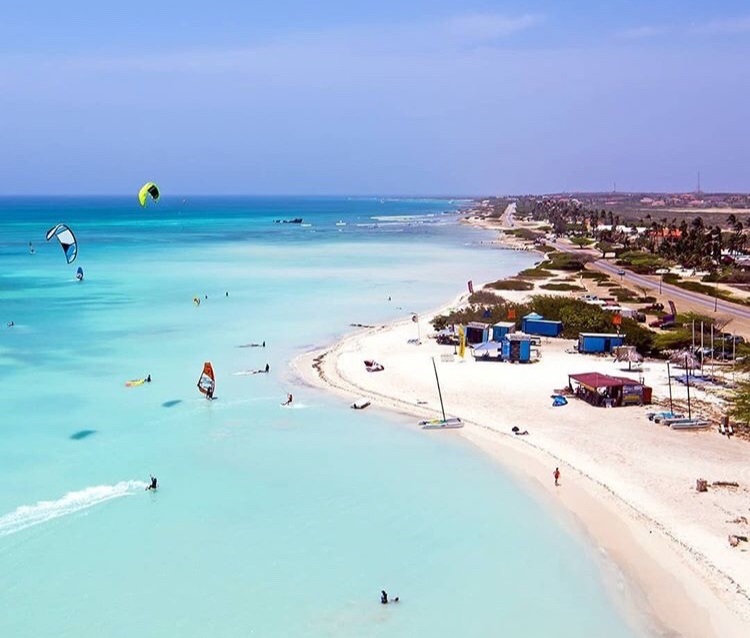 Tip: To be clear, this beach is not exactly for swimming, rather it is the ultimate spot to kite and wind surf watch (or surf yourself)! Plop your beach chair down in the soft, white sand, grab a cold one and watch the surfers fly by back and forth. Many surfers will put on quite a show and get some serious air and hang time!
Surfside Beach
Location: Surfside Beach starts just past West Deck Restaurant and runs all the way until the roundabout by Talk of the Town and Reflexions.
Since Surfside is located closer to the downtown area rather than the hotel area, you'll find this little 'hidden' gem of a beach to be less crowded than other beaches. It's a perfect place for some quiet time and pure relaxation. Okay, you may hear an occasional plane fly over head but that's part of the experience!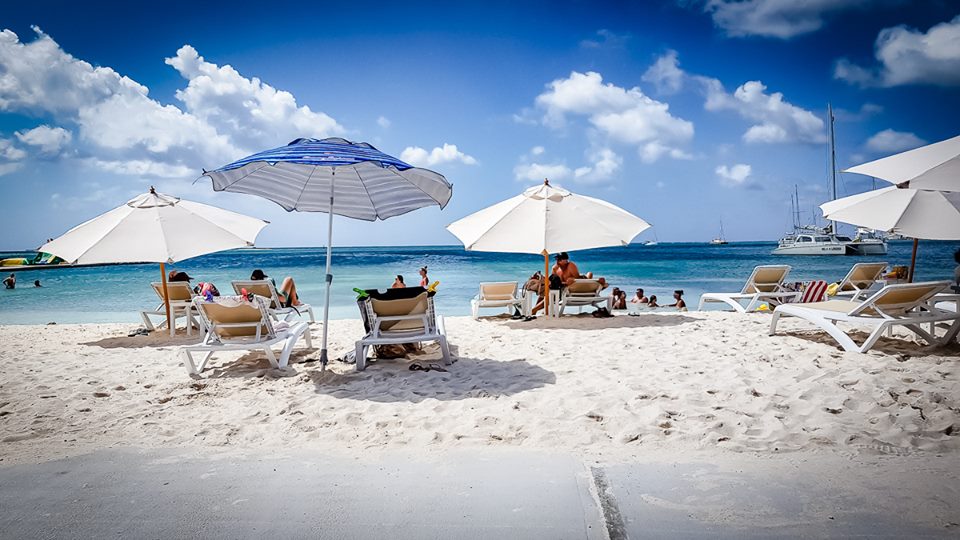 Tip: A trip to Surfside beach isn't complete without visiting Surfside Beach Bar for some delicious snacks and cold, refreshing drinks! Located near the airport, it's the perfect spot to watch the planes come in. This cozy beach bar not only has a perfect view of the bright turquoise sea, but they also have affordable, friendly prices!
Eagle Beach
Location: By the low-rise hotel area, starting from Amsterdam Manor all the way down to Manchebo Resort.
Eagle Beach is… simply perfection. Rated as one of the best beaches in the world and belongs to the top 3 best beaches in the Caribbean. This pristine long stretch of beach with soft white sands and crystal clear, turquoise waters makes for a perfect place to escape the crowds.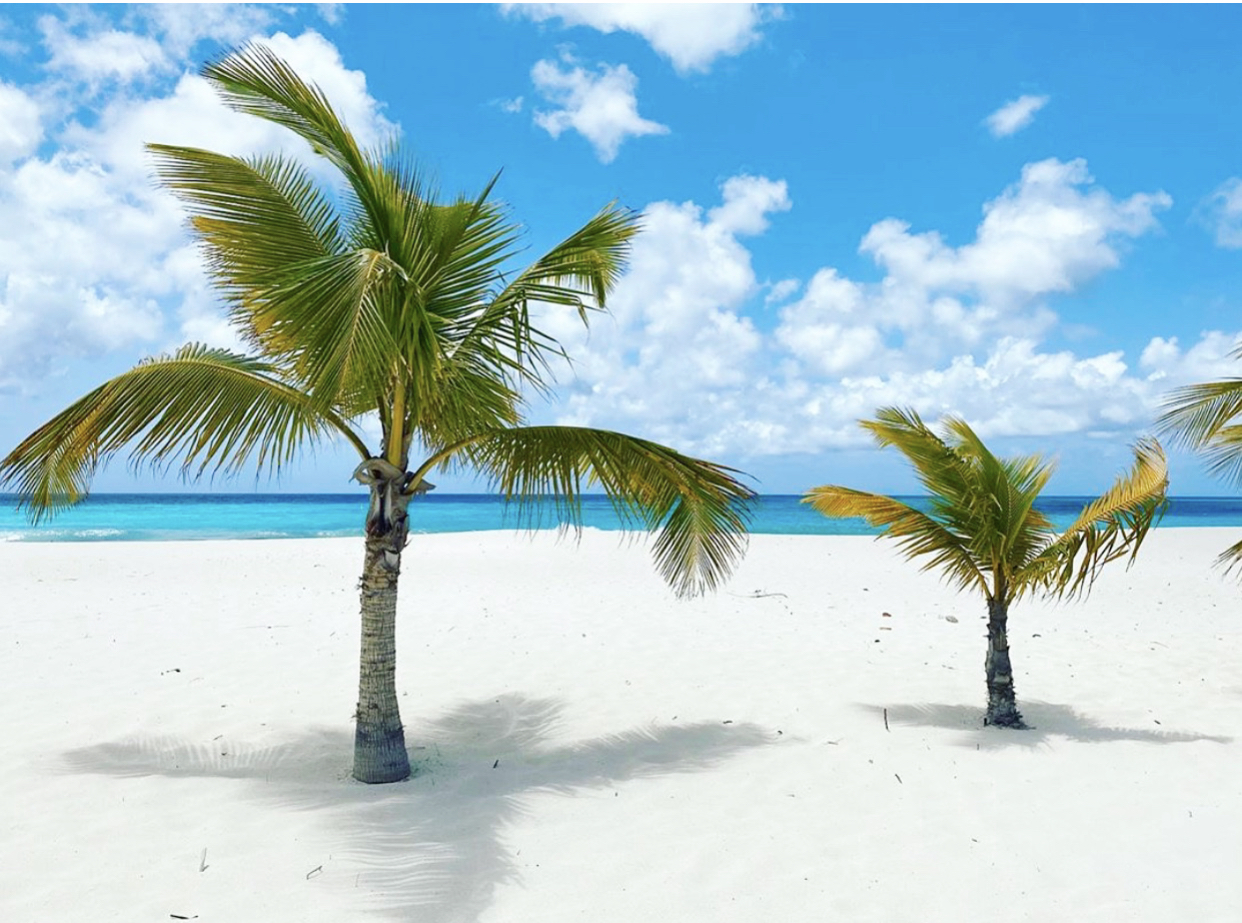 Tip: Bring your own beach chair or rent a lounge chair. As you may know Aruba is known for its constant wind and sometimes on extra windy days the fine, soft sand has a tendency to blow around causing an occasional annoyance for those laying down on the ground!
Mangel Halto
Location: Past the airport in Pos Chiquito situated by the beautiful green mangroves.
No matter how many times one sees Mangel Halto the view NEVER ceases to amaze. It is truly a breathtaking experience every time. It is the perfect place to escape the hustle and bustle and get your relaxation on!
Mangel Halto provides many different and unique places to lounge…such as on the small sandy beach hidden among the mangroves, the large dock looking out to what seems to be never ending, mesmerizing shades of blue, or taking one of the unique set of stairs down to the soft sand and directly into the calm, crystal clear waters.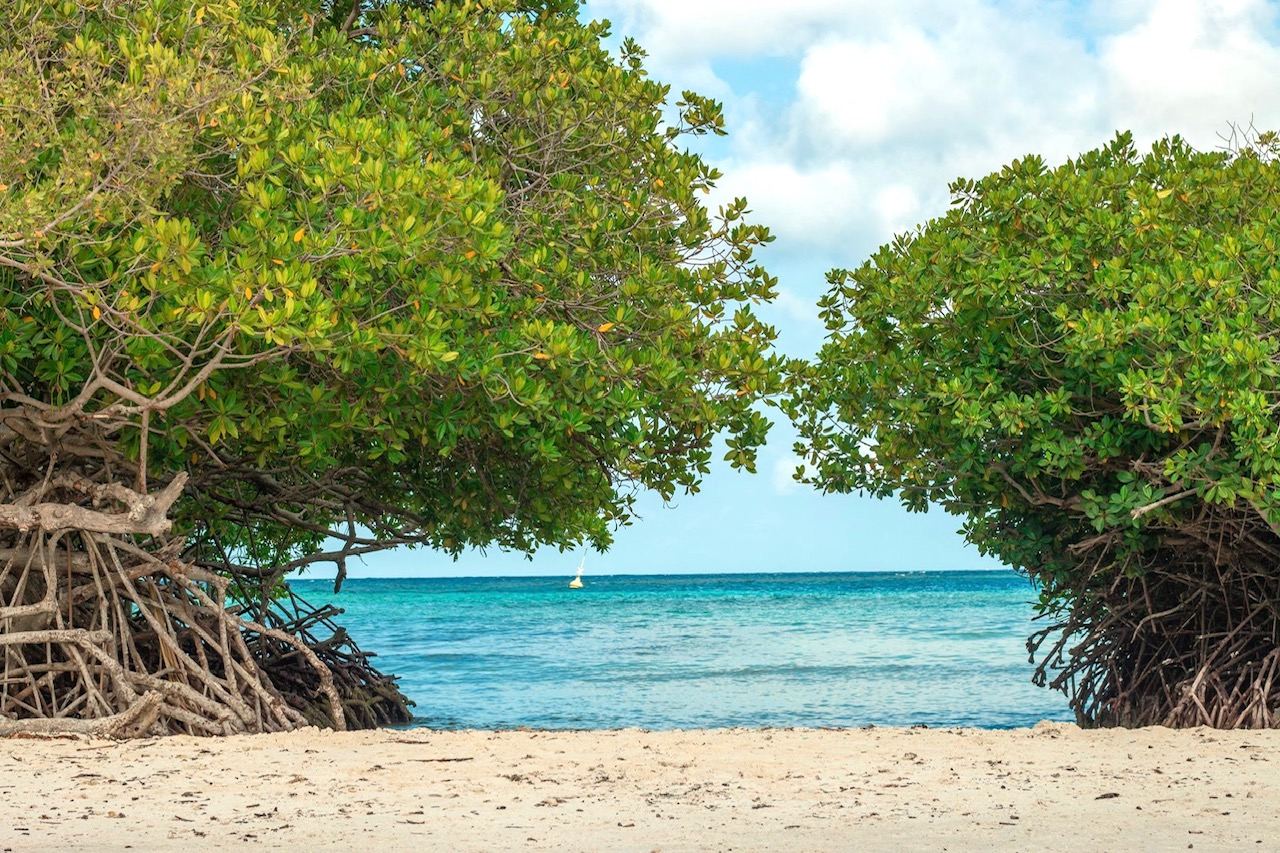 Tip: Go there on a week day to avoid the crowds and enjoy the place "for yourself".  Pack a cooler to quench your thirst and hunger. If you are up for it, two nearby delicious seafood spots, Zeerovers and the Fish House Island Bar & Restaurant, are just a short drive away to satisfy your mid-day hunger.
Baby Beach
Location: Head South, past the airport and drive through San Nicolas. When you reach the famous red anchor in Sero Colorado veer right and follow the road all the way down to Baby Beach.
Baby Beach may be on the opposite end of the island from the hotel area, but let me tell you, it is worth the trip! This beach is like none other on the island. Picture a pool of pretty shades of blue, calm and shallow – perfect for wading the day away!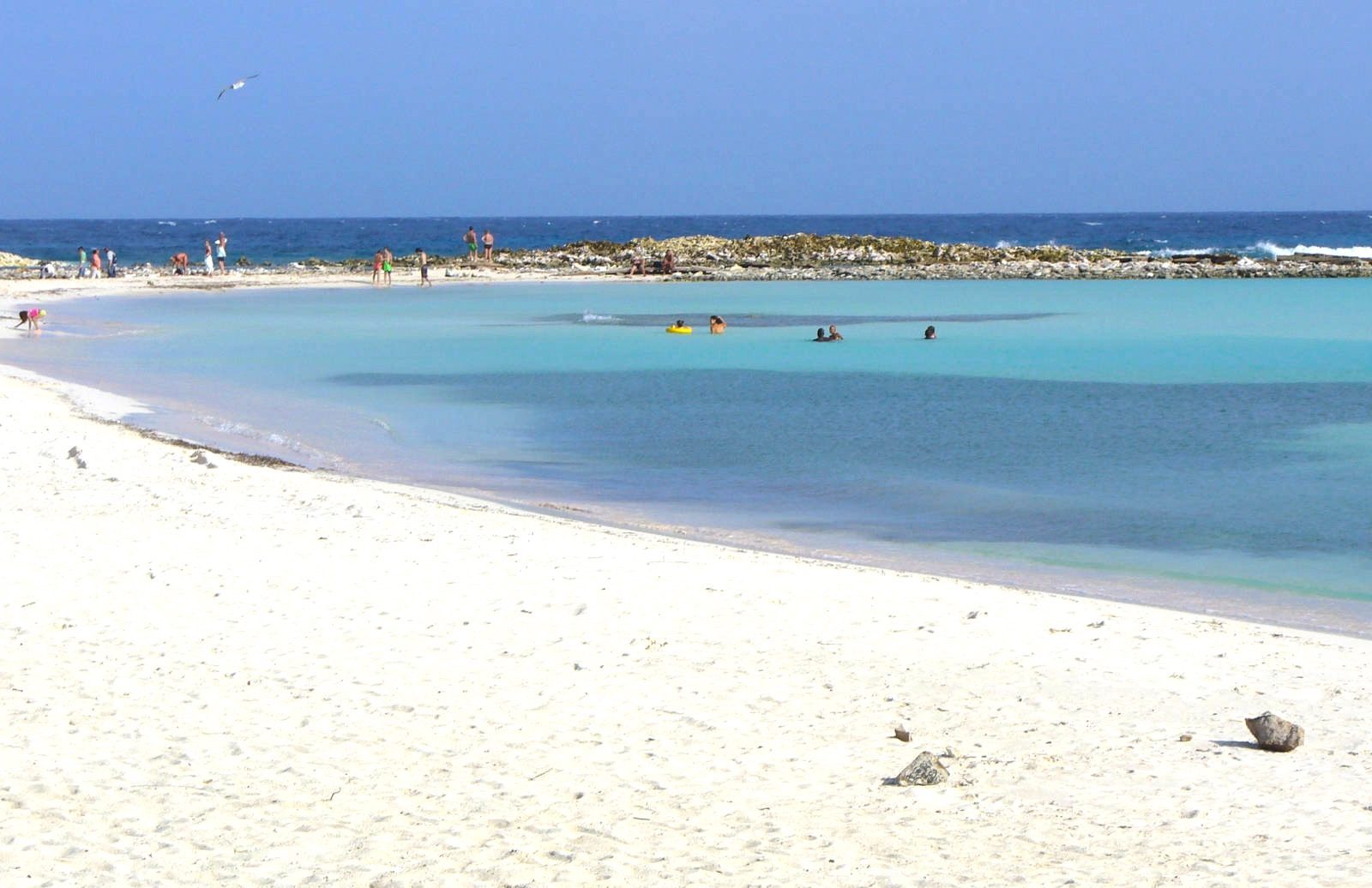 Tip: Bring a floaty! The calm, shallow, mesmerizing blue waters make for the perfect pool to get your float on… all… day… long! Pack a cooler of refreshments and snacks to help get through the day. Find yourself in need of a little more grub? There is a restaurant and bar on-site! Be sure to check out the infinity pool at Rum's Reef Bar!
Lastly, whichever beach you decide to visit for the day, please do yourself a favor and stay for the sunset to watch Aruba's magical sky light up. It's breathtaking and like none you've seen before – trust us!
Discover more beaches in Aruba.