The Hilton Aruba Caribbean Resort & Casino recently introduced new offerings at its open-air terrace restaurant, oceanfront on the Palm Beach walkway.
The friendly, outdoor eatery invites patrons daily from 11 am to 5 pm, to sip specialty cocktails from the Castaway Bar and savor delightful dishes.
The new menu at Gilligan's keeps land and sea aficionados happy, catering to both landlubbers and seafood lovers, with a number of innovative appetizers and main courses. The menu also carries a selection of Aruban classics, highlighting the island's culinary tradition. Vegans and Vegetarians will also find some truly palate-pleasing options, under the same turquoise awning.
From the sea, dishes include the Gilligan's Ceviche, with a choice of marinated shrimp or tofu; Coconut Shrimp, a perennial island favorite, with Aruban papaya sauce; Crab Cakes, paired with authentic Caribbean Johnny cakes; Grouper Tacos with a mango fruit salsa; a local grandma's recipe for Shrimp Croquettes; the timeless Millionaire Lobster Roll and the zippy Spiced Caribbean Shrimp Wrap. The tasty Island Fest delivers a Caribbean Shrimp and Grouper Stew, with funchi, an Aruban take on polenta, as good as the one served in local homes.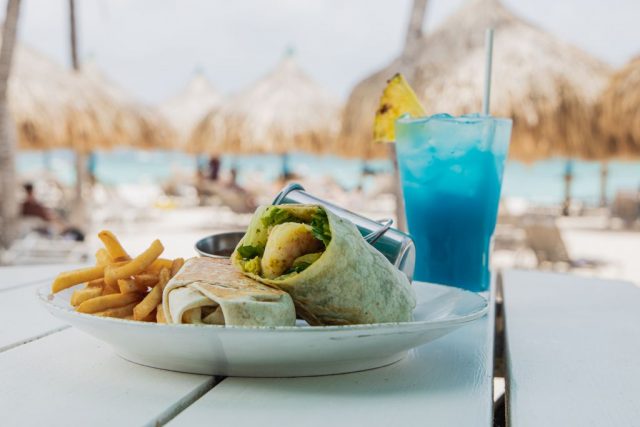 On the land side, the menu features popular beach bites, One Happy Island Buffalo Wings, with pineapple papaya hot sauce; Nachos Supreme piled high with ground beef and two types of cheese; an innovative crispy nori taco with pork belly or tofu; the Beyond Meat Burger and the irresistible Gilligan's Island Burger, layered with aged cheddar and smoked bacon.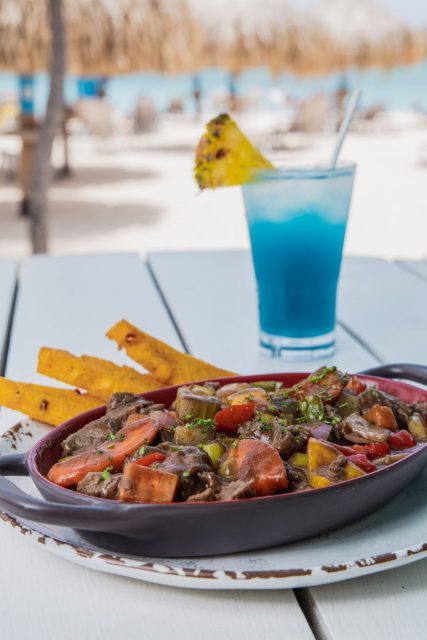 The eatery is named after a legendary sitcom from the 60's, Gilligan's Island, viewed by millions, in the years after the resort was originally constructed. The sitcom told the story of seven tourists accidentally stranded on an island, and their failed escapes from it.
At Gilligan's Seafood Shack, where the carefree ambiance matches the delicious food, guests entertain no thoughts of escaping. On the contrary, they come back to also enjoy the plentiful garden-fresh salads and the quinoa and rice bowls, with a choice of Tuna, Shrimp, Salmon, or Tofu, the latest culinary trend.
The resort's kitchen brigade, added some nice extras to the menu, besides French fries, namely yucca fries, sweet potato fries, and grilled vegetables, and guests may always take their time to ponder their lunch choices over homemade Chips, Salsa and Guacamole.
Complementing the menu, an equally inviting beverage selection, helping guests unwind with refreshing cocktails, sparkling, blush, red and white wines, and local beers.
Walk right in, no reservation required.
View more restaurant details or make a reservation here.
Article written by Hilton Aruba Caribbean Resort & Casino