The resort's open-air terrace restaurant at the edge of the boardwalk is now open for dinner. The popular seaside eatery caters to resort guests during the day, and recently the decision to extend the restaurant's opening hours was made to also open it for fun casual dinner – just walk in, no reservations required.

The new dinner menu offers a selection of salads and a variety of seafood and land appetizers followed by fish market entrees, butcher block specialties and vegetarian and gluten-free offerings.

You may start your evening's meal with a Caesar or a Garden Salad, then go on to enjoy Jerk Ahi Tuna, Crab Cakes or Shrimp Tacos, all nicely plated and plentiful. Classics, such as Buffalo wings and stuffed mushroom conclude the menu's list of crowd-pleasing appetizers.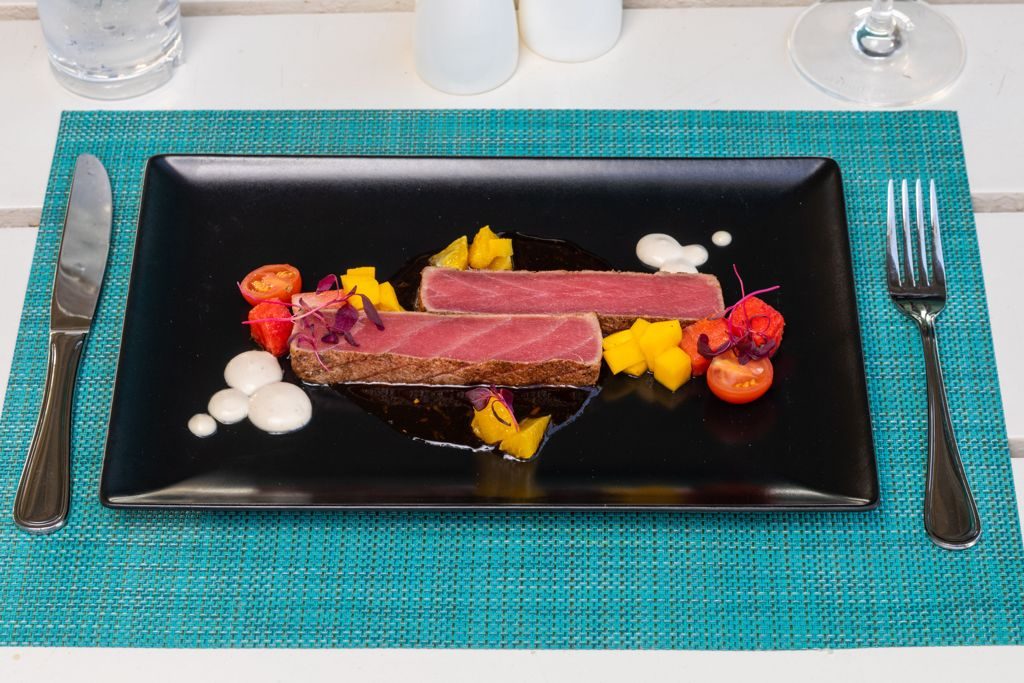 True to the restaurant's name, the menu highlights a number of fresh fish preparations; Salmon, Snapper and a Mahi Mahi & Shrimp combo. The butcher block delivers Beef Churrasco, Chicken & Mushroom, and an irresistible mouthwatering burger.

Guests in search of vegetarian options will delight in the Fettuccine Forestiere, with roasted mushrooms and the Grilled Eggplant & Vegetable.

The eatery is named after a legendary sitcom from the 60's, Gilligan's Island, a few years after the resort was originally constructed. The sitcom told the story of seven tourists accidentally stranded on an island, and their failed escapes from it. With a carefree and casual ambiance matching the delicious food, guests entertain no thoughts of escaping from Gilligan's at the Beach. On the contrary, they come back to enjoy one of the desserts such as Chocolate Ganache Cake or the famed Homemade Cheesecake.

The resort's Executive Chef and the mastermind behind the new dinner menu, Matt Boland, is Aruba's esteemed celebrity chef and is often the Tourism Authority's popular choice to wow attendees at travel shows with food demonstrations and tastings. Famous for his energy, creativity and passion for fresh food concepts, Boland set out to make Gilligan's at the Beach a family favorite, a casual dining destination in a premier location. Unwind with refreshing cocktails, wines and local beers while dining on delightful island flavors.