From international gastronomic flavors to sustainable seafood, natural meats, and locally grown produce, Elements Fine Dining Restaurant caters to all dietary needs, including vegetarian, vegan, and gluten-free diets. Finding and using premium, organic,  and sustainably sourced products are one of the main tasks of Michelin-trained Chef Marc Giesbers',  Director of Food and Beverage at Bucuti & Tara Beach Resort. This has led the restaurant to receive numerous awards and accolades, which include a Wine Spectator Award of Excellence, being named one of the Top 10 Fine Dining Restaurants in the Caribbean by TripAdvisor, and being recognized for providing guests with the most romantic private dining experience on the island and in the Caribbean.
With Marc's extensive F&B experience, he is continually on the lookout to offer memorable culinary experiences that feature fresh ingredients. "There is currently a food evolution on-going in Aruba, and it is spectacular to see. More and more farmers produce high-quality crops that are added to  Elements' dishes," Chef Marc explains.
Located in Bucuti & Tara Beach Resort, the most eco-certified hotel and the first and only resort to reach carbon neutrality in the Caribbean, obtaining ingredients that are sustainably sourced is crucial.  "We have been working with many local farmers for years, and not only does our relationship with them have to do with quality and freshness of their products, but it also with the carbon footprint they leave behind," Chef Marc elaborates. Since transportation of food items forms such a large part of greenhouse gas emissions, buying products that are produced locally reduces their carbon footprint substantially.
One such farm working closely with Elements restaurant is Local Pride Farms, founded in 2018. "Our farm currently measures 446m2 and is located in San Barbola. We produce different leafy greens in a  sustainable hydroponic system," Renzo Ruiz, Director of the farm explains. The leafy greens include baby leaf lettuce, fresh baby arugula, cilantro, baby kale, and microgreens.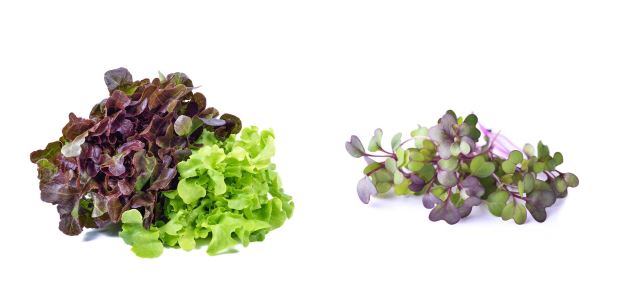 Over the years, the farm has been expanding and collaborating with other farmers to meet the growing demand. The company aims to help the island in its stride towards becoming more sustainable by overhauling the food system with climate-smart farms and efficient cultivation systems.
"Bucuti & Tara Beach Resort was one of the first clients to place an order with us. Our experience as their supplier for fresh greens is excellent! We are always greeted with a smile, and the F&B staff is very supportive. Having a client that puts their trust in local farmers is what makes local production possible and gives us the ability to grow," Renzo explains. Together the restaurant and the local farmers are creating a culinary scene that keeps our environment and people at heart.
Learn more about Bucuti & Tara Beach Resort.
Article written by Bucuti & Tara Beach Resort