On the last Sunday of 2019, December 29th, Laguna restaurant at Hilton Aruba Caribbean Resort & Casino will be serving its famous legacy breakfast from 7am to 12:30pm, with more food choices, unlimited champagne, mimosas, specialty coffees and live entertainment at $34.95 per person.
Locals in possession of a local ID get the special $28 prices, service charge and tax included.
With one of the island's most unique and picturesque settings, Laguna restaurant is the perfect spot for family members celebrating the holidays over breakfast.
Guests will be offered indoor, air-conditioned seating or al fresco tables on the large deck overlooking a Zen-inspiring tropical garden with lush landscaping and a peaceful coy pond.
The Legacy Breakfast buffet serves all breakfast favorite including fresh fruit, hot and cold cereals, yogurts, freshly baked breakfast breads, muffins and pastries, a pancake and waffles station, hot items, made to order eggs and omelets, an interactive pasta station and freshly made smoothies and juices, sparkling wine, specialty coffees and tea.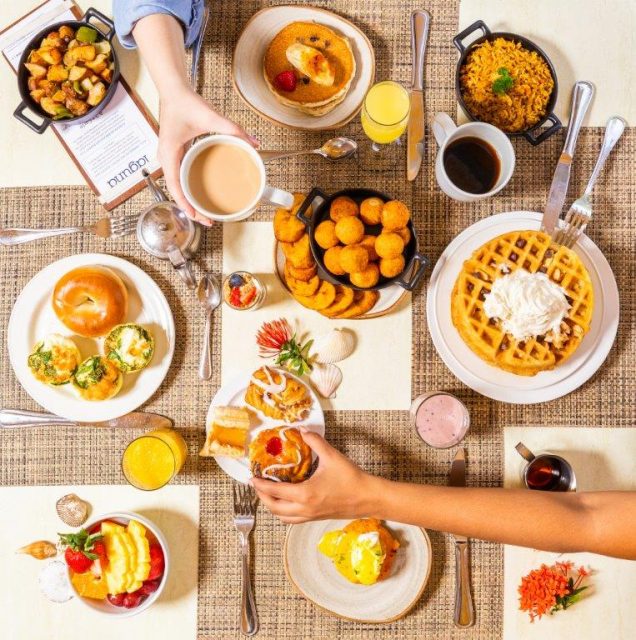 Laguna Restaurant is popular with locals and tourists for its wide selection of food, and congenial service. For more information, or to make reservations, call 526-6612.
Looking for a fairly priced holiday breakfast in an upscale spot? Laguna's restaurant Legacy Breakfast, at the Hilton Aruba Caribbean Resort & Casino is perfect. Spoil family members and friends at an unforgettable holiday celebration, over all-you-can-eat breakfast, unlimited mimosas, sparkling wine and live entertainment.
View more information on Hilton Aruba Caribbean Resort & Casino.
Article written by Hilton Aruba Caribbean Resort & Casino