The third annual KLM Aruba Marathon has been given green light by the Aruban authorities for a Covid-19 proof race on June 5th and June 6th 2021, with a number of races going on at the same time, namely 42.2km Marathon, 21.1km Half Marathon and 10km Walk & Run, Sunday morning, 5k Walk & Run, the previous day.
Aruba's 'One Happy and Safe Marathon,' was a unique running event, with all participants either vaccinated or in possession of a negative PCR test. It was officially sanctioned by AIMS/ IAAF, the Association of International Marathons and Distance Races, and unfolded under the management of Kees van Muiswinkel, Chairman & Founder of Run in the Sun Foundation Aruba/ KLM Aruba Marathon and the supervision of the Aruban athletics federation, with attractive medals awaiting all participants at the finish, followed by a memorable beach party!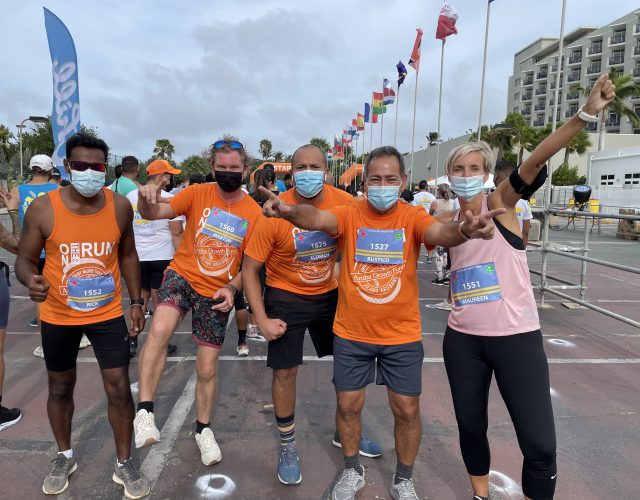 The Aruba Growth Fund, AGF, was represented at the race by a record of 206 participants hailing from its affiliated companies Botica di Servicio, Op=Op, Laboratorio di Servicio, Kosmetikos, Budget Aruba, and the Hilton Aruba Caribbean Resort & Casino, attesting to the company's Esprit Du Corps, a common spirit of enthusiasm, hospitality and support! 
"The Hilton Aruba Caribbean Resort is excited to host the KLM Aruba Marathon," says General Manager Vasco Baselli, "it's good to be able to run again at a public event, after months of Covid-19 restrictions. Congratulation to Kees and his team for having put together a fantastic event with the appropriate safety precautions and procedures."
The KLM Aruba Marathon course showcased the beauty of the island, running along Palm Beach up to the California Lighthouse then south to Eagle Beach. 
Participants from around the globe enjoyed excellent weather and great organization, on the highest international level, many of them arriving here with family members for a runcation.
Hosted by the Hilton Aruba Caribbean Resort, and the Aruba Tourism Authority, the event also enjoyed the backing of many local and international sponsors.
The Free KLM Aruba Marathon App, which included a Track & Trace feature helped usher in results: 
KLM Aruba Marathon winner, Juan Valencia 2:48:48; Hilton Aruba Half Marathon Winner, John Poray 1:15:57; Chill 10K Walk & Run Jethro St. Fleir 34:14; and Cavalier Logistics 5km Walk & Run Andre Angela 17:02.
See complete marathon results.
View more information on Hilton Aruba Caribbean Resort & Casino.