The 5th Annual Long Table Aruba hosted by Wind Creek Aruba returns to the island for a one-night, white-hot dinner that's billed as "The only meal worth $50,000 for Aruba."
This year's event will take place Sunday, June 11 and will feature the beloved 1,000-foot-long table setting for 1,000 guests located outside Renaissance Wind Creek Aruba Resort in downtown Oranjestad, overlooking the marina. Tickets are $50 and go on sale soon. Since its founding in 2017, Long Table Aruba has raised more than $225.000 for Aruba-based charities and is the marquee giving event for Wind Creek operations in Aruba.
This year's event also marks the sixth anniversary of the Wind Creek Hospitality acquisition of Renaissance Aruba. To celebrate this milestone, Wind Creek Hospitality will award five charities $10,000 each, totaling $50,000 in donations, the largest Long Table Aruba giving amount to date.
"We understand the importance of engaging with the community around us and want to support local organizations in ways that will truly benefit their communities most," said Paul Gielen, Wind Creek Aruba General Manager. "That is why this year, we wanted to award as many organizations as possible and help them continue to live out their missions of bettering our island."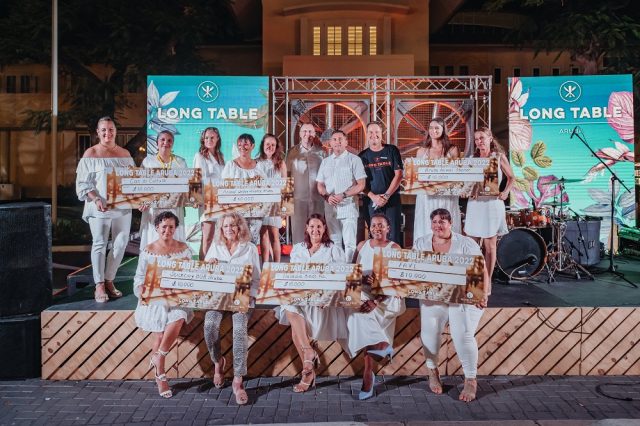 Beginning today April 28th, interested charities can enter Wind Creek Aruba's community-driven online video submission program, asking participants to share the reasons why they should be considered for the donation. Videos will be submitted on the Wind Creek Aruba website and voted on by the public to determine this year's 5 winners.
The following guidelines are required for consideration:
Only active organizations in Aruba can participate in the contest (current Wind Creek Aruba employees are ineligible for consideration).
Participants are asked to submit a 30 – 60-second video that showcases their organization (mission, who they are, what they do).
Videos will be posted in random order on the Long Table Aruba Facebook Page for public viewing.
The public will be able to vote on their favorite video between May 22nd through June 4th, 2023.
Like last year, community members will determine which organizations will benefit from the event's proceeds via an online voting process launching May 22nd. Community impact and disaster relief is a tenet of Wind Creek Aruba property operations. Since arriving to the island, Wind Creek Aruba has raised funds through their on-site hallmark events, Long Table Aruba, and Winter Wonderland, in addition to providing in-kind hospitality and food donations year-round to organizations in need of disaster relief.
Gielen continued, "We're excited to not only offer an exceptional experience to deserving key community leaders, but to also connect with these changemakers to see how we can better support them in their many efforts. We're honored to offer yet another memorable evening of giving back and celebrating our community."
View more information on Renaissance Wind Creek Aruba Resort.
Article written by Renaissance Wind Creek Aruba Resort