Fundashon Stimami Sterilisami has received a generous $8,000 donation from the US-based non-profit organization, One Love Foundation, which will help Stimami Sterilisami to continue with their national spay and neuter program. Over the last two months, Fundashon Stimami Sterilisami has received over 2,300 registrations and has subsidized an astounding 28,592 sterilizations between 2016 and February of this year. This One Love donation will be matched Dollar for Dollar by Bucuti & Tara Beach Resort, another generous donor, and together, they will cover an additional 500 sterilizations of cats and dogs.
"We are beyond grateful to Ellen Sirianni, Berkley Cameron, and the entire board of the One Love Foundation for this generous contribution and the help that they are providing to Stimami Sterilisami. It is heartwarming to see the effort they are making to help us and Aruba to continue with our mission to mitigate the suffering and abandonment of our island animals – and they are doing this from the US!" Ewald Biemans, President of Fundashon Stimami Sterilisami and owner/CEO of Bucuti & Tara Beach Resort, explains.
"Since we began two years ago, we have been working hard to change the lives of Aruba's street animals by helping local rescue organizations provide food, vet care, shelter, medical supplies, and spaying and neutering. However, we realized that we need mass sterilization to truly help these local rescue organizations because it is the only thing that tackles the root cause and prevents the number of strays from continuing to rise. We have been working hard to support Fundashon Stimami Sterilisami to help get as many pets sterilized as possible," Ellen Sirianni, President of One Love Foundation, explains.
Pack For A Purpose Program
Besides the generous $8,000 donation, the members of the board of One Love Foundation also brought toys and supplies for the second time this year to Bucuti & Tara Beach Resort for their Pack For A Purpose program, which supports the Imeldahof Children's Home.
Pack For A Purpose is an international organization whose mission is to positively impact communities worldwide by assisting travelers who want to make meaningful contributions to the destinations they visit. Bucuti & Tara Beach Resort is a proud member of Pack for a Purpose since August 2015 and averages 423 kilos of donated items annually, brought by guests and other island visitors.
"As animal advocates, we are always looking for ways to 'maximize our impact'. Through that thought process, we realized that maximizing our impact was an opportunity to actively support other charities during our travels, without expecting anything in return. Our research led us to Pack for a Purpose. We feel it's crucial to provide support for at-risk children. Children are our future and education is key. We need these children to learn to be advocates for themselves and the animals. We chose to bring backpacks full of requested supplies to Bucuti & Tara Beach Resort which supports Children's Home Imeldahof," Cassie Murvay, one of the Directors of One Love Foundation, explains.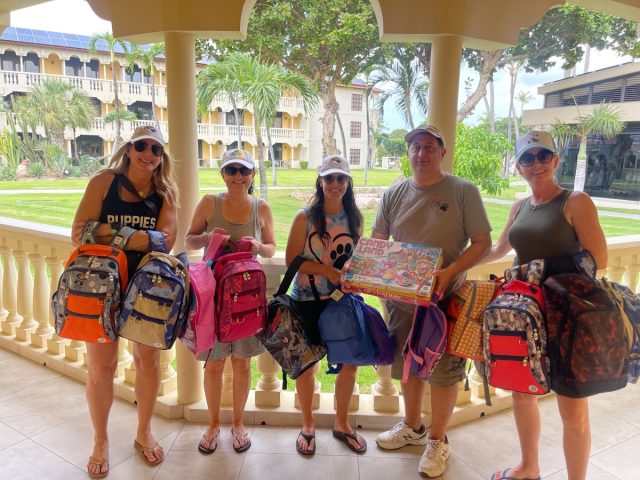 You can also help to make a difference
Fundashon Stimami Sterilisami is a non-profit organization that uses 100% of each donation received to cover the costs of sterilization for the general public and volunteer rescue organizations. Our books are audited and open to the public. For those who would like to support and donate to this significant cause, you can contribute directly to Fundashon Stimami Sterilisami via bank transfer:
Bank: Aruba Bank
Acc. Number: 6012630190
Acc Name: FUNDASHON STIMAMI STERILISAMI
Swift code: ARUBAWAX
Article written by Fundashon Stimami Sterilisami